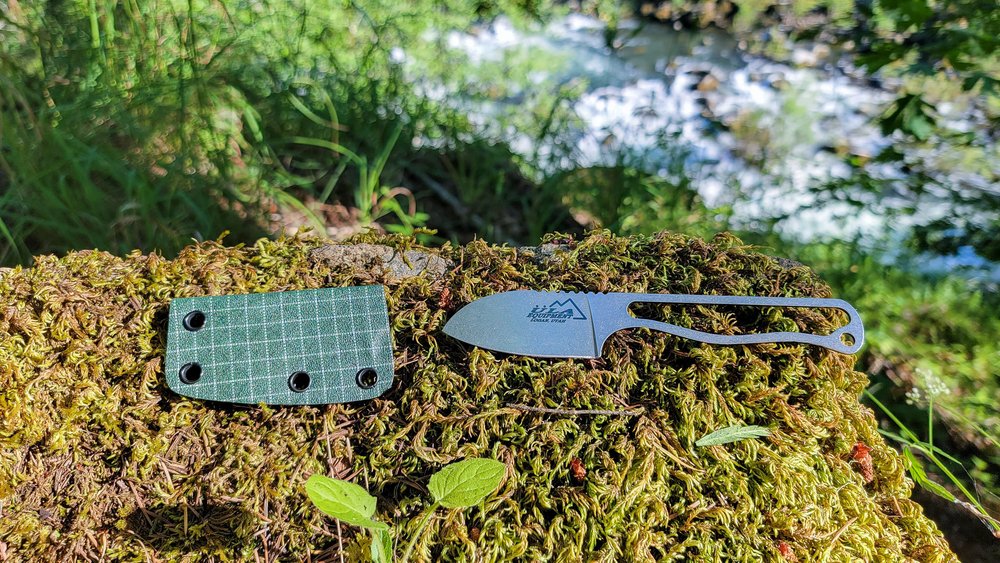 The ULA Alpha Knife is a collaboration between Ultralight Adventure Equipment - who makes some of our favorite backpacks, and Kestrel - maker of ultralight knives. The Alpha is a ridiculously lightweight knife (just over 1 oz. with the sheath) that was designed specifically for backpackers and thru-hikers. If you scrutinize every gram of weight that goes into your pack but would love to have a good size knife on the trail for everyday activities like food prep and opening packaging, the Alpha might be the perfect fit for you.
---
Quick Specs
MSRP: $130
WEIGHT: 0.85 oz. (24 g.) / 1.13 oz. w/ sheath
BLADE LENGTH / TOTAL LENGTH: 2.5 in. / 6.75 in. (w/ sheath)
View at ULA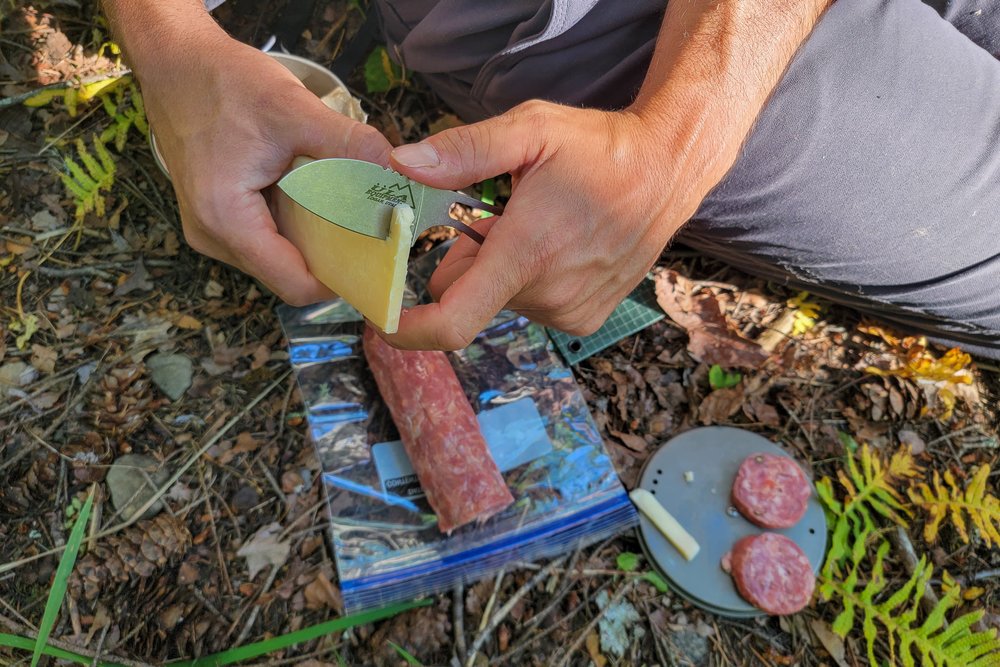 PROS
ULTRALIGHT - The Alpha's main strength is that it's incredibly lightweight. It weighs a mere 0.85 oz. (24 g.), which is less than half the weight of our other favorite ultralight pocket knife, the Benchmade Bugout (1.9 oz.). A full-size knife that weighs under an ounce is almost unheard of. So if you're an ultralight backpacker who counts their gear weight in grams, this may be the knife for you!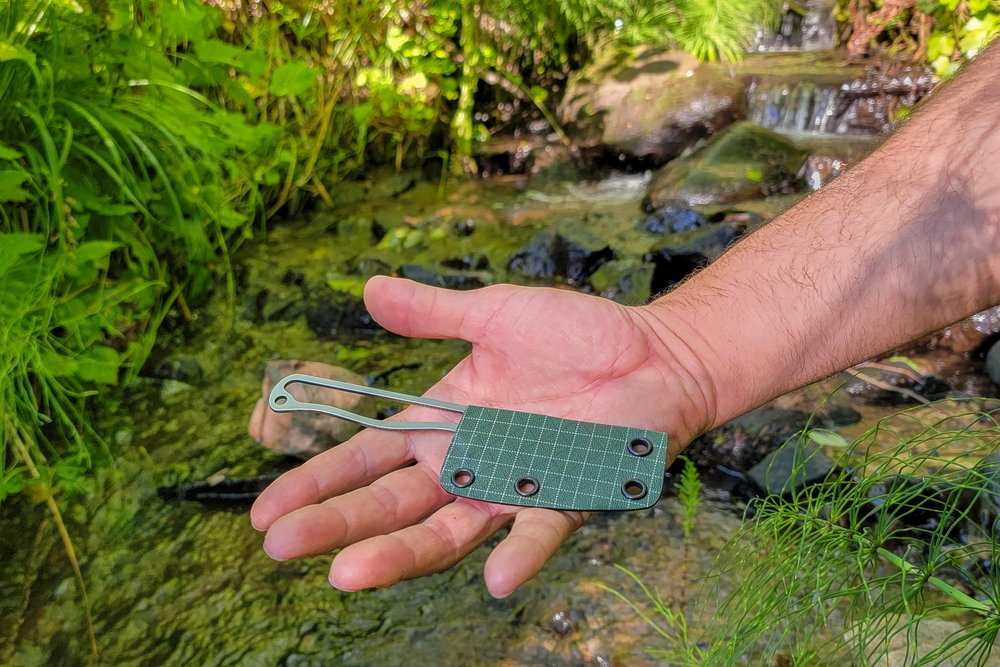 COMPACT - We were a bit skeptical of the Alpha's packability at first since it's not a folding knife. It's about six-and-three-quarter inches long with the sheath on. Fortunately, we found that it slips easily into the hip belt pockets on most of our favorite lightweight backpacking packs - at least those with spacious pockets (ULA, HMG, Zpacks, etc.). And it's so slim that it doesn't take up much space at all. There are also plenty of places where you could attach the knife by the handle or sheath to your pack with a tiny carabiner for easy accessibility if that's your style.
EASY TO CLEAN - One of the downsides of pocket knives is that they can be tough to clean completely. Food particles build up in the folding components over time, and you may have to disassemble your folder someday if you want to give it a thorough detailing. The Alpha, however, is one solid piece of stainless steel and can easily be sanitized by wiping it down or soaking it in boiling water after each use - a real plus for all the salami and cheese fans out there!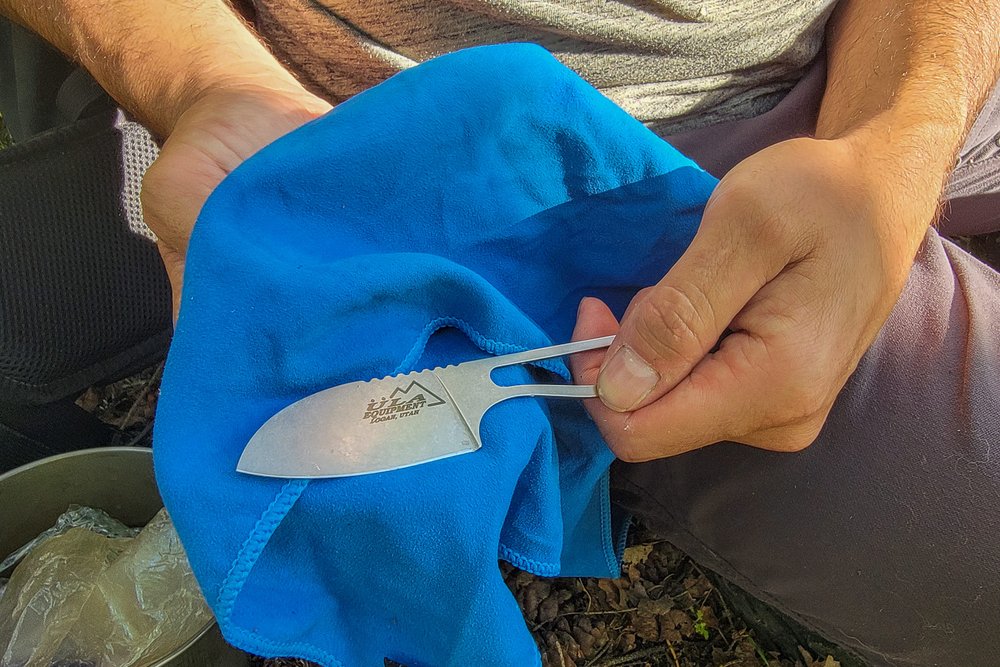 PRACTICAL FOR TRAIL USE - If you look at what most backpackers are actually using their knives for on the trail, it's practical tasks like meal prep, opening packaging, and maybe occasionally cutting some paracord. The Alpha's sheepsfoot blade shape is great for slicing food and is also ideal for sawing through cordage. Ship captains often carry a similar blade to cut through netting. The long handle and jibbing along the top give the user a solid thumb grip and some leverage.
WELL-DESIGNED SHEATH - A sheath is essential for the Alpha since it's a fixed-blade knife. The sheath that comes with it is made of a high-performance thermoplastic called Kydex Robic. It feels super durable, and it fits the knife with expert precision. You can feel when the knife pops solidly into place and won't have to worry about the sheath inadvertently falling off, even if you choose to hang the knife by it on your pack.
CONS
LONG PACKED SIZE - The Alpha is close to six-and-a-half inches long, and about six-and-three-quarters inches with the sheath on. That means it may not fit in the hip belt pockets of all packs, but we found that it fits most of our favorite lightweight backpacking packs with spacious hip belt pockets (ULA, HMG, Zpacks, etc.). Backpacks with highly structured hip belts or small hip belt pockets may require you to store this knife elsewhere, which can be inconvenient.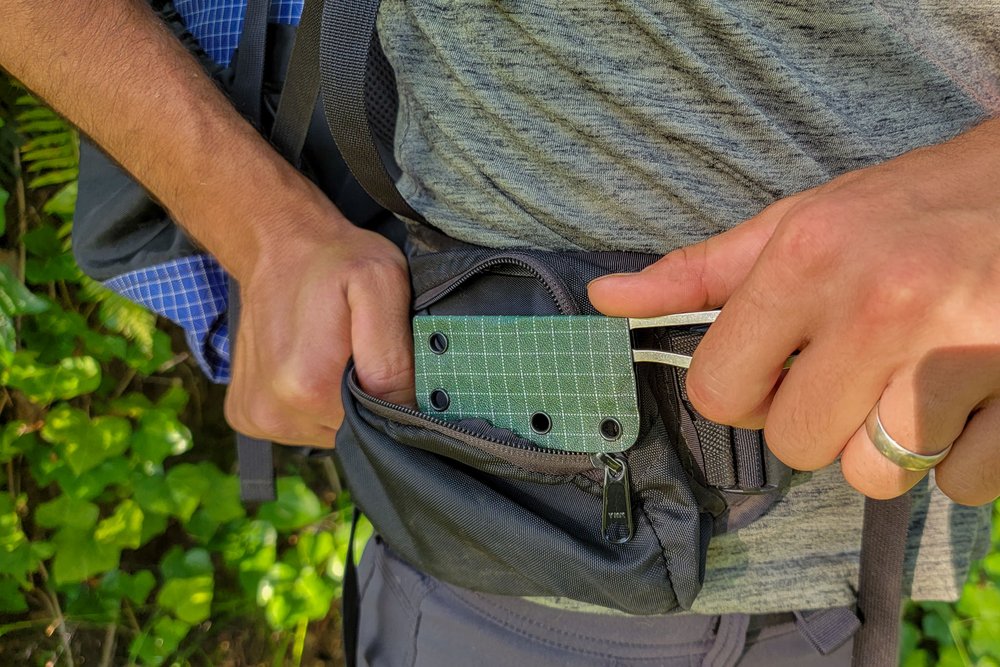 NOT IDEAL FOR EVERY TASK - The Alpha has a sheepsfoot shaped stainless steel blade. It's great for slicing, but not so good for piercing tasks. We wouldn't necessarily want to gut a fish or widdle wood with this knife, but that's ok. Those aren't tasks we do regularly on backpacking trips, especially when we're putting in big-mile days.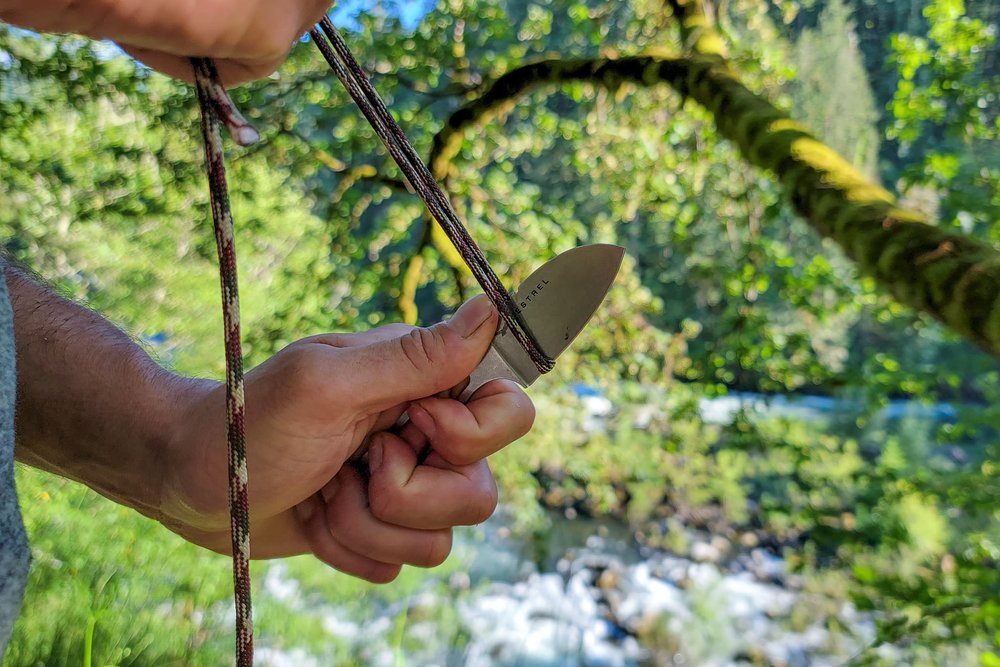 NO SCALES ON HANDLE - The handle on the Alpha is thin and barebones. It doesn't have scales, so it's not the most comfortable knife grip out there for extensive use. But, we're willing to bet that the people who will be most interested in this knife might be doing things like using a toothbrush with half of a handle and sleeping on a three-quarter-length sleeping pad to save weight. We found the handle on the Alpha to be ergonomic enough and overall it has a good feel to it.
SEPARATE SHEATH - The sheath that you need for the Alpha adds 0.28 oz. (8 g.) to the total weight of the knife. And, you'll need to keep track of it, so we recommend making some kind of tether to keep it with the knife unless you're fastidious. It would be a real bummer to set the sheath down and lose it. That said, it feels secure when it's on the knife.
MORE EXPENSIVE THAN SOME - The Alpha costs $130, which is a little steep for a small accessory, especially considering that you could do the same tasks with a lightweight, budget knife like the Opinel No. 6, which costs $17. But, it's a reasonable amount to pay for a piece of ultralight equipment that will last for many years. And the Alpha is still a little less expensive than some of our favorite pocket knives, like the Benchmade Bugout.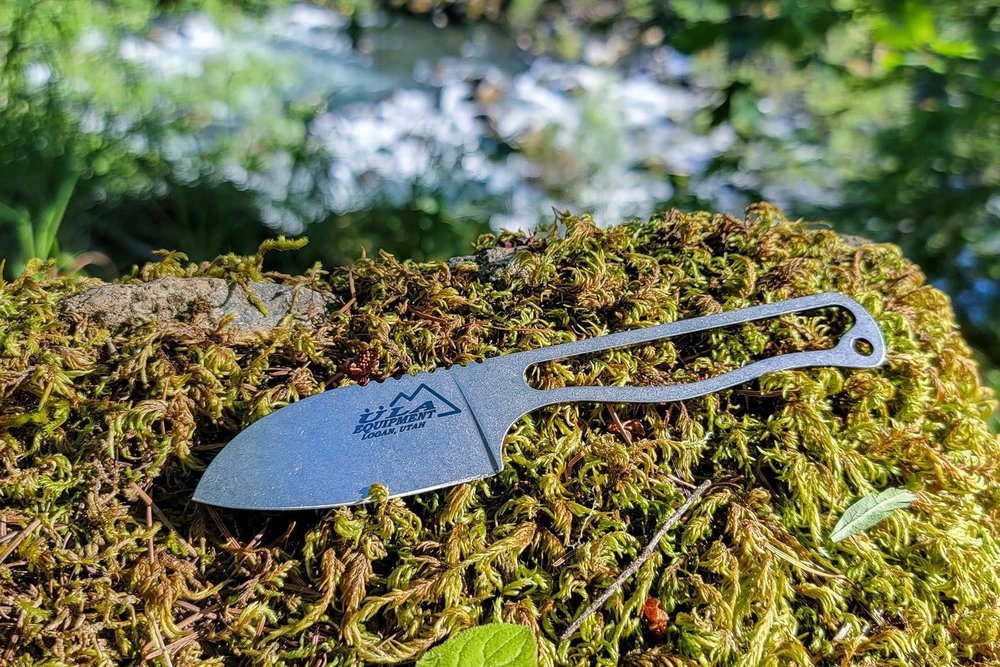 BOTTOM LINE
The ULA Alpha is a six-and-a-half-inch long knife, but incredibly it weighs less than an ounce, which is great for hikers and backpackers! It's a fixed blade, so it doesn't fold, but it still fits nicely in the hip belt pockets of most lightweight backpacks. The blade is great for slicing meats and cheeses. And, unlike a folding knife, you can sanitize it completely after each use. If keeping pack weight low is really important to you and you prefer a solid, one-piece knife, the Alpha is an excellent choice.
---
More Information
We hope this helps you decide if the ULA Alpha Knife is right for you. If you enjoyed this post, you'll probably like the CleverHiker Gear Guide as well. Here are some popular resources to check out.
---
---
Some of the links on this page are affiliate links, which means we may receive a modest commission if purchases are made through those links. This adds no cost to our readers and helps us keep our site up and running. Our reputation is our most important asset, which is why we only provide completely honest and unbiased recommendations.