---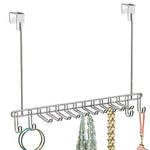 Save 35%
Sale price $12.99
Regular price
$20.00
Save 44%
Sale price $9.99
Regular price
$18.00
Blog
A decent tent is the key to getting the most out of a music festival. In this guide, we tested five for you to consider, to make sure you find...
Once a man gets past a certain size it's hard to find any clothing on store racks at all, much less enough of a variety to make significant choices and...
Two editors, thousands of products at the Outdoor Retailer Trade Show, and one mission: Find the most exciting gear of the future. This is what we found. The GearJunkie team...