Bags or backpacks are something that has undeniable importance amongst every user. It helps in easy carrying and organizing everything. If you are looking for an effective travel companion that will help you to sort out and organize all the essential things, then get a drop leg bag. Coming with many compartments, you can literally save anything inside it. Take it for hiking or for your office tasks, these bags are very classy.
Even if there are many options ruling over the market, the brands play a major role in the deciding factor. So, we put down the best drop leg bags that will surely standout.
List of Best Drop Leg Bags Review
10. Hebetag Drop Leg Bag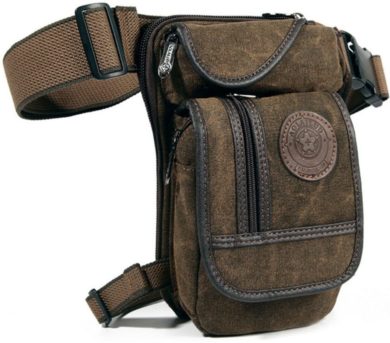 The Hebetag drop leg bag is desirable and compact artillery to take on your next adventure trip. This compact bag comes with many pockets and a lot of space to carry all kinds of articles. It weighs about 400 grams and has enough space such that you may even carry a small book. Besides, it is a multipurpose utility bag that is put to various uses. As a matter of fact, it can be carried anywhere such as around your waist, attached to your thighs, as a drop leg bag, or even as a body bag.
Carry the entire essential items such as wallet, keys, phone, tickets, and so on. Now, you can fulfill your needs immediately or near to hand while you are traveling around.
Key Features:
The largest main zipper in this bag has sufficient space to carry even a large 7.9-inches iPad mini.
At a dimension of 17cm width x 6cm depth x 29cm height, this bag has sufficient storage space. Hence, helps you with carrying all your essentials in an organized manner.
This is a vintage-looking bag that will be an amazing addition to your closet.
9. BootKitchenTan Tactical Drop Leg Bag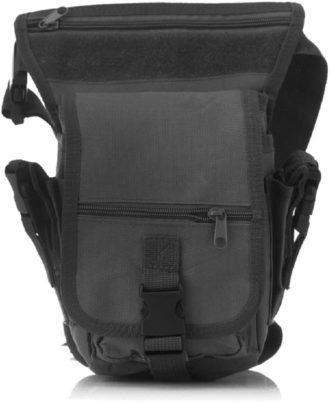 If you need a handy bag, then go for the BootKitchenTan bag. The bag is a compact structure but holds quite the space to carry all your devices, keys, wallet, etc. Plus, it accommodates such things which are always necessary while traveling or camping and such things. The material that went into the manufacturing is 420D nylon which is quite sturdy and features a durable surface.
Furthermore, the lining of waterproof PV coating ensures higher durability of the bag. The bag is also very low in weight and weighs only 520 grams.
Key Features:
It comprises many zippered compartments of different sizes which allows you to carry all kinds of articles.
The waistband in this bag is adjustable such that the maximum size it can reach is 40-inches. Whereas the minimum size is 8-inches allowing a variety of fit.
This body of the bag is scratch-proof and will not get tears easily.
8. DDHH Drop Leg Bag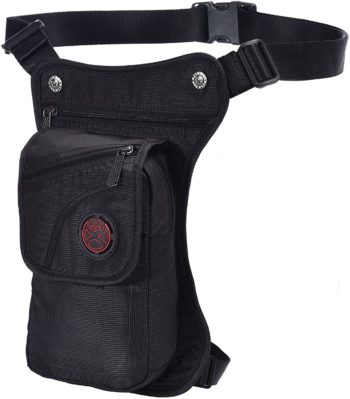 The DDHH bag is stylish and spacious and comes with 4 zippered compartments of various sizes. One of the zippered pockets is built with an anti-theft mechanism to secure anything that goes within it. It is also loaded with two slots for pens on the outside to be a complete package. Moreover, it provides a lot of space such that you do not miss any of your essential items.
Anything that you keep inside this bag is also highly safe at all times. Interestingly, this is coated in a layer of waterproof material that prevents the adversaries of nature to affect anything within. The bag is constructed from nylon material and hence is immensely durable.
Key Features:
It weighs a mere 0.54 pounds making it so easy to fill with all the required things.
A long and adjustable strap is attached to the bag allowing you to hang it from your shoulder as well as fix it to your waist.
It has a construction of nylon to gives beneficial properties to it.
7. Hebetag Motorcycle Drop Leg Bag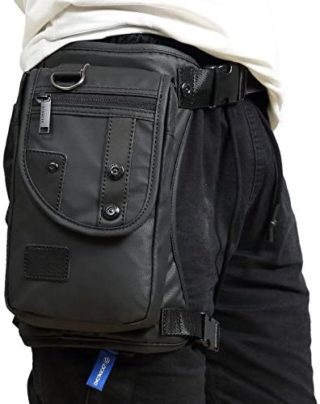 The Motorcycle bag is a quality product from Hebetag who is known to craft brilliant bags of such nature. If you are going for jogging or you are indulging in any adventure sport, this is going to help you out. It is made from high-quality oxford fabric which is sturdy as well as durable. The bag measures 15cm in width, 7cm in-depth, and 26cm in height and weighs a mere 290 grams which are about negligible.
Besides, the main zippered pouch may even hold an iPad mini which has a diagonal dimension of 7.9-inches. This is a very comfortable bag to carry around. Plus, it features adjustable straps such that you can carry it in any way you deem fit.
Key Features:
It is a perfect fit for anyone who carries it irrespective of age, gender, and even uses.
This has the highest grade zipper systems which will not wear out even after a long period of use.
A multipurpose bag you can use as a crossbody bag, thigh pack, messenger, shoulder, and lot more.
6. East Wet U.S.A RT519 Drop Leg Bag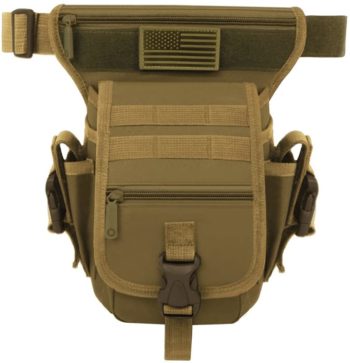 T East West U.S.A RT519 is a simple yet amazing bag to go with. It is compartmentalized in such a way that it is very handy. You can keep all your things separately and in an organized fashion. And all are kept such that everything is easy to reach on-demand. There are 5 pouches within the bag to store your things. The leg strap is adjustable thus always allowing a snug fit upon the user.
Moreover, you can keep wallets, id cards, keys and so much more in a neat manner. So, you can spot everything easily.
Key Features:
This has a construction from very durable materials that are built to last long.
The simple design and quick release buckle design to lick the bag or fix it to the waist is very helpful.
It is extremely spacious as you will find a lot of spaces to keep things inside this.
5. Bag Pack Thigh Drop Leg Bag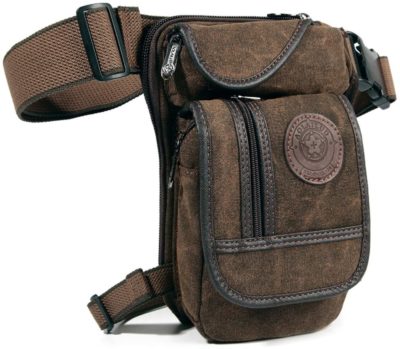 Whether you want a cross-body bag or a waist bag or a drop leg bag, this is a versatile product to have. It is from high-quality canvas cloth material and crafted in a very stylish manner. This is divided onto many compartments big and small, to organize and carry everything as and however, you need them. Besides, the bag is so constructed that you may easily fit an iPad mini having diagonal dimension 7.9-inches. Plus, you can even keep a small book into the biggest compartment.
The vintage design is sure to garner all the looks as this is very attractive. In fact, it is a handy bag to carry on your next adventure trip.
Key Features:
The leg bag features a perfect height which gives it a lot of storage space.
It is composed of adjustable straps and is attachable to the shoulders, the waist, and the thighs.
Being versatile in nature, anyone can use it for any purpose.
4. ANTARCTICA Military Tactical Bag
Want a bag that is used in your next camping or hiking expedition or may come in handy in your daily life? Go for the ANTARCTICA bag. This is a high end and very handy tactical bag. In fact, it comes with enough compartments to carry all your desired and required things in an orderly fashion. The bag features a dimension of 8.3-inches width x 11.9-inches height x 5-inches length.
Moreover, the waist strap like the down leg strap is completely adjustable to ensure a snug fit. Given that, it will give you complete freedom of movement. The straps are attached through a quick release buckle function allowing easy to put on and easy to remove setup.
Key Features:
This is a very handy bag to have with three main compartments. Plus, it has two side compartments and four hidden compartments.
From emergency first aid kits to smartphones, power banks, and other electronic devices, this can house all of them.
The 900D high-density Oxford fabric gave it the strength and water-repellent properties to this.
3. Steampunk Gothic Waist Bag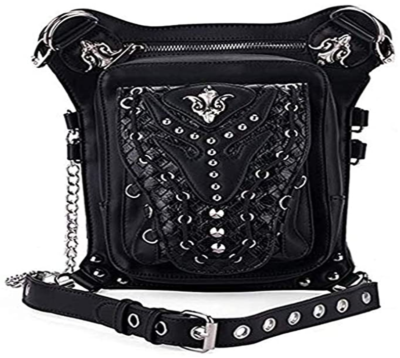 The Steampunk Gothic Waist Bag is a stylish drop bag but it is not designed for everybody. If you like to go the gothic way, this, however, is the ideal drop leg bag for you. You can attach it to your waist and thighs if you want to or may hang it from your shoulders through the included shoulder strap. The stylish bag has separate compartments to keep all your things at ease.
As a matter of fact, the PU layer on this bag makes it waterproof. Thus effectively protecting the contents from the vagaries of nature.
Key Features:
The stylish bag is crafted from synthetic leather-like material which gives it an exotic feel and is also durable.
Its detailing and intricate touch make it the beauty in everyone's eyes.
2. KEEPMOVE Tactical Drop Leg Bag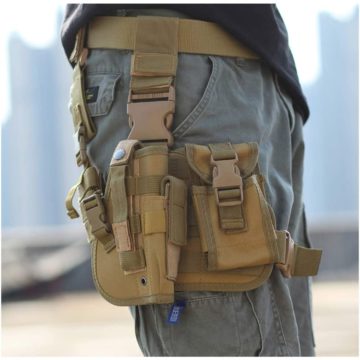 It is indeed a very durable drop leg bag that will serve you for a long period. This is constructed from 900D oxford fabric material which is known for its durability. The bag, though highly durable, weighs only 450 grams and can be loaded with all kinds of stuff that you may need on your journey.
It also features a molle system which is, however, removable. Having lightweight characteristics, you can take it up for any activities.
Key Features:
Cycling, biking, or hiking- this bag is an effective way to carry your required stuff in all such activities.
This is not only solid but also properly stitched to avoid sudden tears.
The bag uses both buckle release and Velcro attachments to secure it to your waist in a snug manner.
1. Le'aokuuMens Leather Waist Bag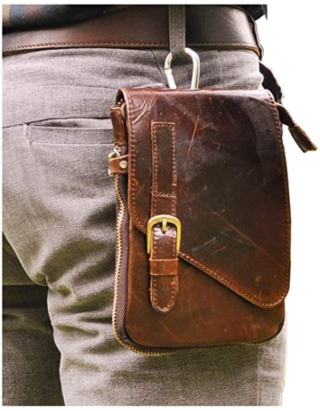 The Le'aokuuMens leather waist bag is one of the most stylish drops leg bags you can go for. It features a very attractive make and body. Though the dimensions are significantly smaller, it is made up for heavy-duty use also. This bag will measure 20 cm in length, 3 cm in width, and 15 cm in height. Plus, it features a compact storage area for your most essential things during travel.
These things include your wallet, keys, phones, and so on. The bag is also loaded with a removable shoulder strap allowing you different means to put it on.
Key Features:
The attractive, stylish, and handy bag is crafted from genuine leather material.
This is a bag that looks stylish and weighs only about 300 grams and thus does not cause much discomfort to the user.
It has leather construction that doesn't fall under those types which get scratches.
So, get a bag for your adventurous journeys or simply for style. See the drop leg bags' patterns and see versatile options on the list.
The post Top 10 Best Drop Leg Bags in 2020 appeared first on LISTAMAZING.