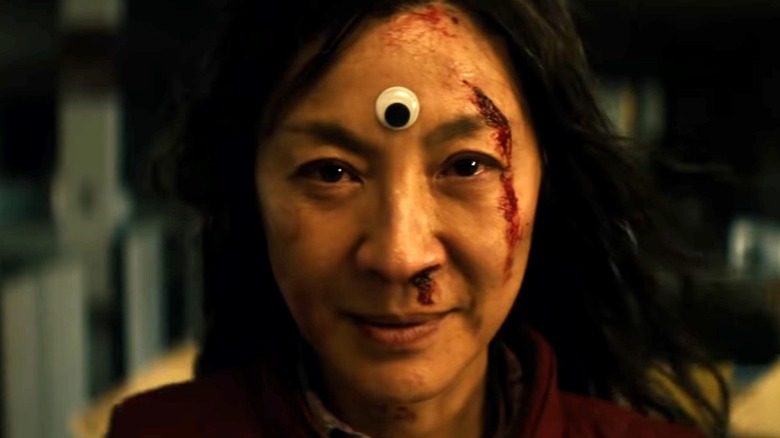 If you pick randomly, you have a one in 9.2 quintillion chance of getting your "March Madness" bracket right; which film or TV show will emerge victorious on this month's calendar is equally hard to predict. There are more than two dozen films and 100 shows vying for fans' attention, including the year's most-hyped superhero film, the return of Donald Glover's "Atlanta," and an erotic thriller starring two exes who were peak pandemic-era meme material.  Any one of these could dominate the public's attention. The question: Will they deserve it?
My guess is yes. March 2022 is unusually stacked with big-ticket attractions. There are new efforts from perennial critical darlings like Pixar and A24, of course, but even Peacock and Paramount+ are upping their prestige-content game. While it's impossible to guess who will emerge as the month's champion, it's going to be loads of fun finding out. 
Here are the most anticipated film and television shows of March 2022, ranked.
The Tourist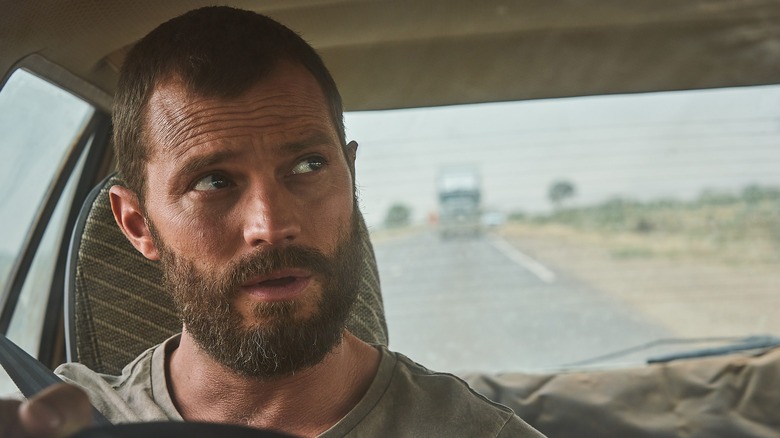 The Jamie Dorman-aissance has started.
Okay, so, we need a better nickname, but there's no denying that the actor who first became famous as Christian Grey is currently undergoing a massive reappraisal. There was his sterling turn as a beleaguered dad in "Belfast." His Earth-scorching performance in "Barb & Star Go to Vista Del Mar" saw Dorman belting his way to comedic movie musical glory. If you needed proof that Dorman is more than a pretty face, 2021 offered more than enough.
Now comes "The Tourist," a highly-praised thriller (all six episodes have already aired in the U.K.) co-produced by the BBC and HBO Max that stars Dorman as a nameless man who is pursued across Australia's hostile outback with no memory of why it's happening. The show is created by Harry and Jack Williams, and their recent track record ("The Missing," "Fleabag") suggests they have a knack for this sort of tale. Co-stars Damon Herriman ("Justified," "Once Upon a Time in Hollywood") and Danielle McDonald ("Patty Cake$," "Bird Box") serve as welcome backup to Dorman's imperiled protagonist. It's another sterling notch in the Irish thespian's belt, and shows that his career is anything but dormant.
"The Tourist" debuts on HBO Max on March 3, 2022.
Master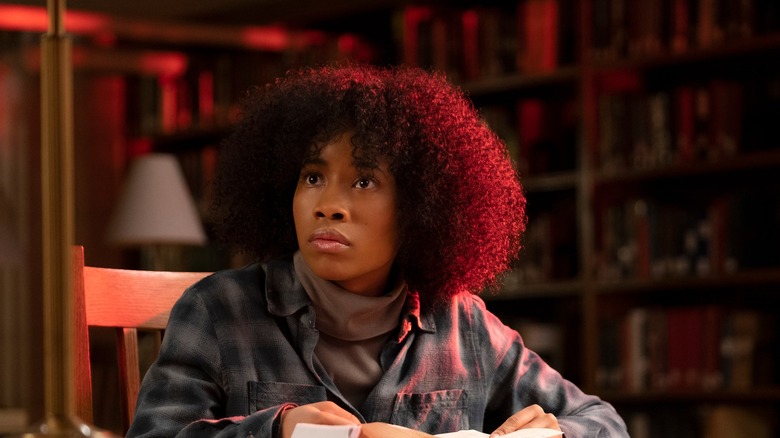 It's impossible to understate the influence that Jordan Peele's slight filmography has had on modern horror. His two features are instant classics that push the envelope in uniquely discomforting and important ways. His taste in terror can also be seen in his recent work as a producer and writer, with credits that range from Nia DeCosta's radically thrilling "Candyman" revival to the underwatched "Twilight Zone" reboot on Paramount+ (which aired when the service was still called CBS All Access). What's more, his projects have not only reached mainstream audiences, but have been embraced by them. They're changing the entire conversation around horror films.
Jordan Peele's legacy can be seen in Mariama Diallo's "Master," which debuted at Sundance and was snatched up by Amazon Studios. Having seen the film, I can confirm that Diallo has just as important a perspective as Peele, and that her voice deserves to be heard. "Master" excels from its first moments, chronicling the sinister hauntings and endless microaggressions encountered by two generations of Black women on a prestigious East Coast college campus with aplomb and precision. The movie begins a complicated dialogue about white privilege, passing, and generational trauma, all while scaring the living daylights out of the viewer (a giallo-like sequence in an empty dormitory is particularly blood-curdling). This is a horror movie that fans should be excited for, even if Peele's name isn't in the credits; if you like his films, this should be right up your alley.
"Master" will stream on Prime Video on March 18, 2022.
Bridgerton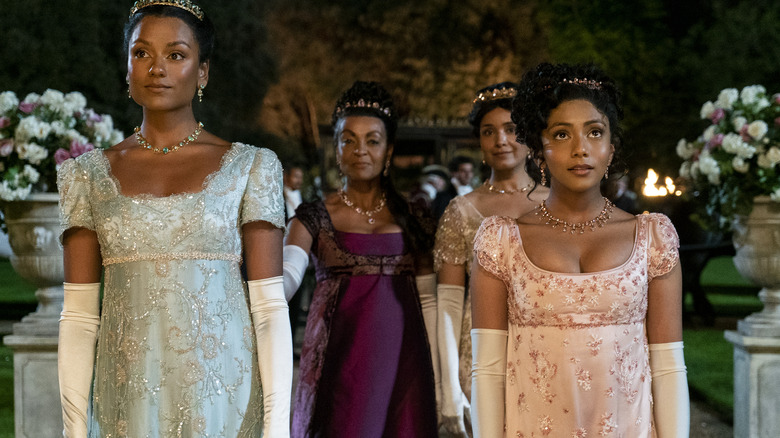 To be clear, I'm not in the target audience for "Bridgerton," and its low ranking on this list reflects that. However, I'm genuinely fascinated by what Netflix's smash hit will actually be this season. Yes, Julia Quinn wrote many novels to draw from, but that doesn't change the fact that "Bridgerton" has lost its breakout star and is making the caddish Viscount Anthony Bridgerton its center of gravity. Is that actually going to work?
Honestly? Probably. Three things in life are certain: death, taxes, and betting on Shonda Rhimes. The creator is unbeatable even when her shows stall out, and the addition of both Charithra Chandran ("Alex Rider") and Simone Ashley, who deftly plays the popular but lovelorn Olivia on "Sex Education," suggests that "Bridgerton" isn't done making stars on top of skewering social conventions and all of that bodice-ripping. Viewers can expect another cultural needle-shifting outing when season 2 premieres on March 25.
The Adam Project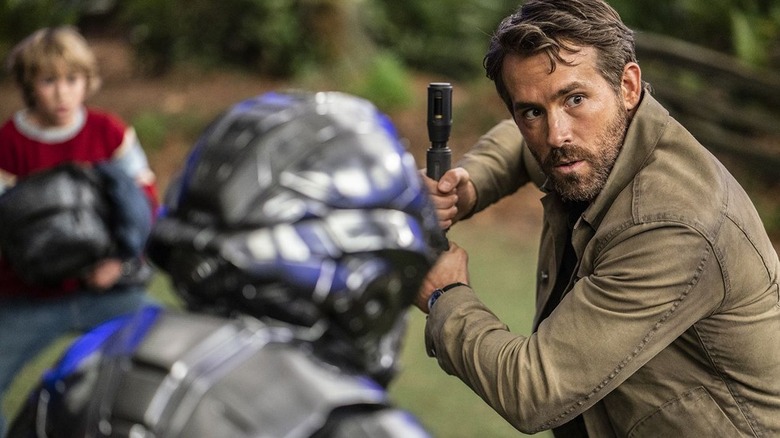 On paper, "The Adam Project" is already a smash hit. It reunites Jennifer Garner with her "13 Going on 30" co-star Mark Ruffalo, but does so in a Shawn Levy action-comedy. Levy, we are learning, is a low-key rock-solid craftsman, and "The Adam Project" is his second collaboration with Ryan Reynolds. The last one, "Free Guy," was one of 2021's more satisfying and financially successful movies. Why, then, is "The Adam Project" so low on this list?
It's simple: We just haven't seen enough. Yes, Netflix is enough of a pop-culture behemoth that it can drop pretty much anything and an audience will come running, and Ryan Reynolds is stringing together all the right buzzwords on his "Adam Project" press tour. But Netflix's blockbusters usually receive trailers on top of trailers, and normally that's only one part of a multi-pronged marketing campaigns. By comparison, the rollout for "The Adam Project" feels minuscule. That's not necessarily a bad thing, but it's ominous enough to knock "The Adam Project" down in the rankings. Only time will tell if it lives up to its potential.
"The Adam Project" drops on Netflix on March 11, 2022.
Formula 1: Drive To Survive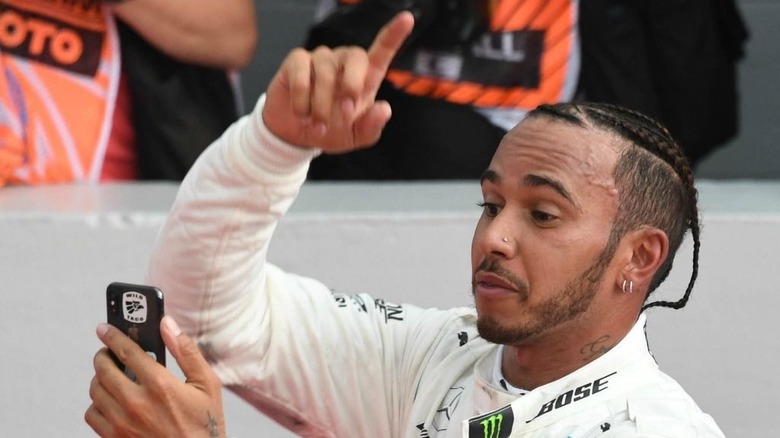 Documentary crews can rarely predict where their films are headed. Real life is too chaotic, seemingly laughing at the plans most productions make as they leave them in the dust. But, sometimes, that chaos bears fruit. There's no world in which the brains behind Netflix's breakout hit "Formula 1: Drive to Survive" could've anticipated that their show would capture a controversial finish that forever tarnished the sport. And yet, early reports indicate that, yes, "Drive to Survive" was in fact on scene during the infamous Abu Dhabi race, and that the series will offer an in-depth look at how race director Michael Masi made his controversial final decision. 
That gives season 4 of "Formula 1" added dramatic weight, something the show has hardly lacked thus far. The series really seems to be on track (pun intended) to offer its most revelatory blend of white-hot racing and behind the scenes antics, so if "Drive to Survive" hasn't made you a Formula 1 fan yet, season 4 may be the one to do it. Who would have ever seen that coming?
The newest season of "Formula 1: Drive to Survive" hits Netflix on March 11, 2022.
Fresh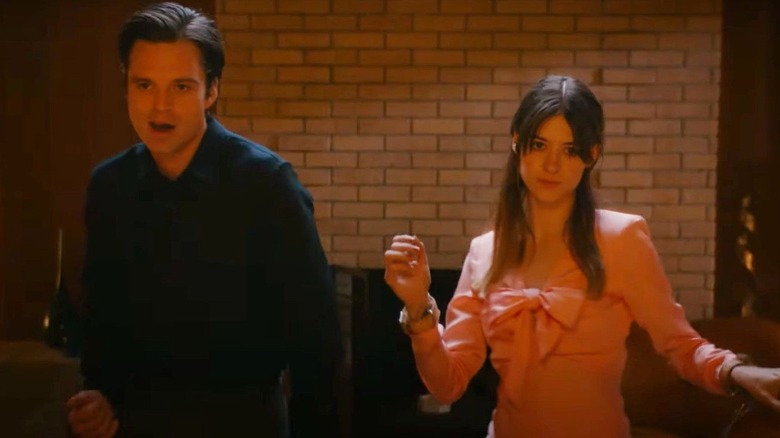 Before a lick of footage had been released, Fox Searchlight purchased Mimi Cave's "Fresh" for Hulu. That alone is enough to catch one's curiosity. The film stars Daisy Edgar-Jones of "Normal People" fame and the Winter Soldier himself, Sebastian Stan, as lovers whose dark secrets give way to unusual appetites on a weekend getaway.
Need more reasons to be thrilled? While "Fresh" is Cave's feature film debut, she has made a set of music videos that harken back to an era when the form was a gateway to arthouse cinema. In addition, Hulu's taste in horror films has been nothing if not singular over the last few years, with the service picking up everything from A24's "False Positive" to Fox Searchight's own "Run," a thriller that ranks among this young decade's finest. If "Fresh" was impressive enough to be swiped up before it dropped at one of the world's most important festivals, it must contain fresh horrors worth anticipating.
"Fresh" premieres on March 4, 2022.
After Yang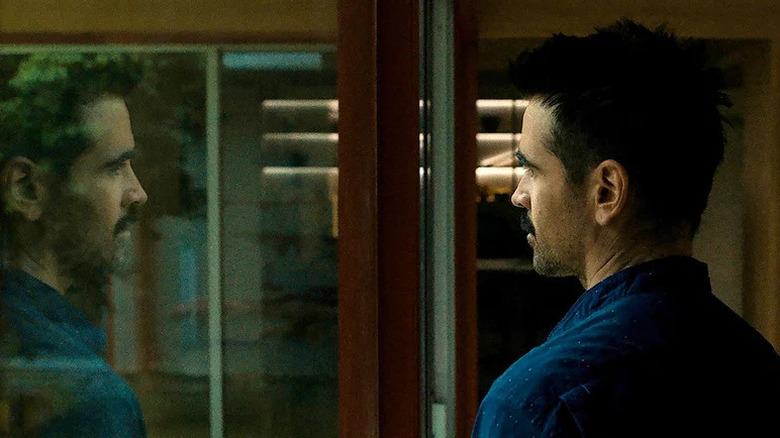 Colin Farrell has two movies coming out this month. In one, he plays an angry man whose life is turned upside down by dark, malevolent forces. In the other, he plays the Penguin. 
All kidding aside, March is something of an apex point for the perennially famous-yet-underrated actor, because "After Yang" and "The Batman" represent the actor's tastes in a microcosm. Farrell will often take on a leading part in a stirring, low-key indie, and then commit to an oversized character role in one of the year's biggest pictures. But "After Yang" deserves just as much attention as DC Comics' latest cash cow. See, "Yang" was directed by Kogonada, a frequent Criterion Collection contributor whose 2017 effort, "Columbus," netted universal acclaim. 
"After Yang," which concerns a father who goes on a quest to repair the family android in the near future, seems to be headed down a similar path; it received glowing praise from our own critic when it debuted at Sundance this January. And, as if this weren't enough, it's also one of three films coming this March from A24, a company with far more hits than misses. 
This all adds up to what should be a stellar showcase for both Farrell and the indie film scene. See it for yourself when "After Yang" debuts on March 4, 2022.
Deep Water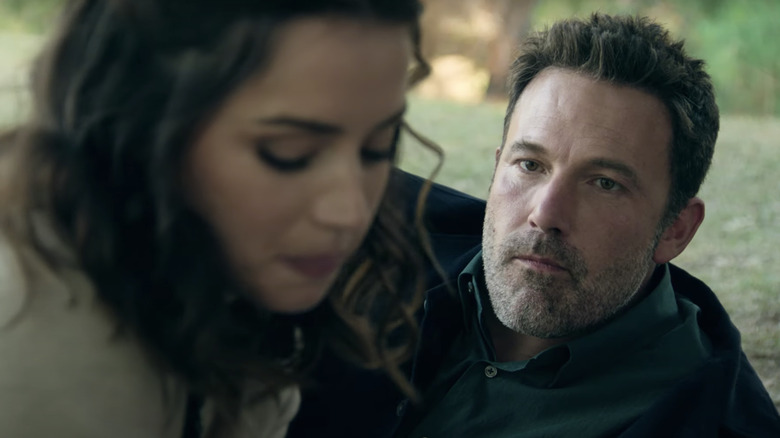 Can a film that hasn't been released yet already be a curiosity piece? That's the question surrounding Hulu's "Deep Water," because as highly anticipated as it may be, Adrian Lyne's film almost sounds like a spoof of itself: It's an erotic thriller directed by the man responsible for the '90s' erotic thriller boom, starring an extremely famous and tabloid-friendly set of exes. You could make a rom-com from that setup.
But there are reasons to be more than curious about "Deep Water." For one, it's kicking off a run of sexy thrillers that should make 2022 interesting (Ti West's "X," Olivia Wilde's "Don't Worry, Darling," and so on). For another, its cast is interesting beyond Ben Affleck and Ana de Armas. Finn Wittrock, your forthcoming Green Lantern, is often a project's secret weapon, and the one-two combination of Tracy Letts and Lil Rel Howery would be a potent pair in any film, let alone a thriller of this caliber.
Add it up, and it all suggests that "Deep Water" is fathoms deeper than it appears to be. Whether it soars or sinks, its lurid, Patricia Highsmith-penned source material and social media-ready stunt casting suggest that it will be a film we talk about long after it drops on March 18. For better or worse, "Deep Water" has our attention.
The Dropout
Kate McKinnon will appear in this month's "Joe & Carole," a dramatization of Netflix's "Tiger King." She was originally meant to appear in Hulu's "The Dropout," itself a docudrama about Elizabeth Holmes' transformation from scientific wunderkind to corporate fraud. While it's not necessary to imagine a sliding doors scenario in which McKinnon played Holmes instead of Oscar-nominee Amanda Seyfried, it's seriously tempting after viewing the trailer for "The Dropout," because the miniseries appears to have grafted itself to Seyfried's singular sensibilities. 
That may be giving Seyfried too much credit, given that most of "The Dropout" is directed by chameleon Michael Showalter and executive produced by Elizabeth Merriwether ("New Girl," "No Strings Attached"), but I don't think it is. "The Dropout" appears to be chronicling the rise and fall of an unfortunate American icon. As such, it's relying not on Holmes' practiced artifice, but rather the way her "stranger in a strange land" story made her a perfect foil for the narrative of the American dream. Seyfriend has excelled at being the odd woman out for a decade-plus, whether she's appearing in comedies ("Mean Girls") or horror films ("Things Heard and Seen"), so I'm glad the doors swung the way they did.
Catch "The Dropout" on March 3, 2022.
Phoenix Rising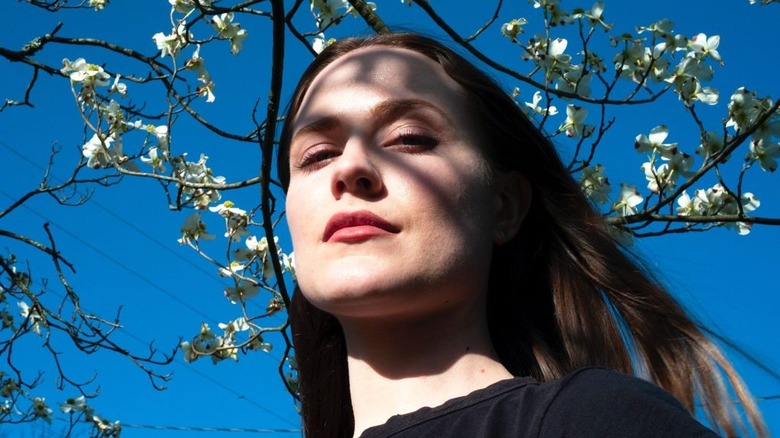 The following write-up includes allegations of domestic abuse and sexual assault.
"Phoenix Rising" won't be easy to watch. That's the point. The two-part documentary, which premieres on HBO on March 14, was produced and directed by Amy Berg, who helmed the also-difficult "The Case Against Adnan Syed," and follows artist and activist Evan Rachel Wood as she lobbies for passage of the Phoenix Act, a bill that would extend the statute of limitations for domestic abuse victims in California. Wood is herself a survivor of domestic abuse, which is documented in "Phoenix Rising."
This is where it's worth mentioning the Marylin Manson factor, because the musician's involvement makes "Phoenix" more relevant than anyone would like. In late February 2022, just weeks before "Phoenix Rising" premiered, Kanye West brought Manson and controversial rapper DaBaby on stage for his "Donda 2" listening party; while the internet decried the move, it appeared to have few consequences for Manson, who is accused of sexual assault and mental and physical abuse. That ongoing legal battle doesn't just make "Phoenix" timely. It makes the series a potential game changer. "Phoenix Rising" will be difficult to stomach, but it's important to engage with it. 
If you or someone you know is dealing with domestic abuse, you can call the National Domestic Violence Hotline at 1−800−799−7233. You can also find more information, resources, and support at their website.
If you or anyone you know has been a victim of sexual assault, help is available. Visit the Rape, Abuse & Incest National Network website or contact RAINN's National Helpline at 1-800-656-HOPE (4673).
The Lost City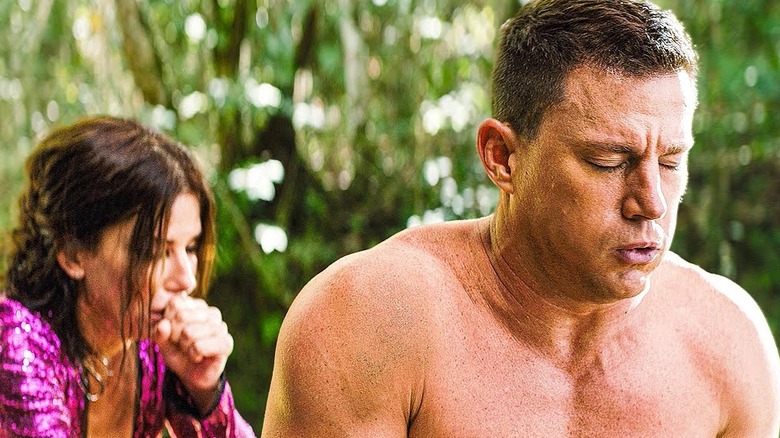 In the trailer for Aaron and Adam Nee's "The Lost City," there are title cards bearing Sandra Bullock and Channing Tatum's last names, which hang on the screen in an Indiana Jones-like font. "Bullock." "Tatum." That's more than a stylistic flex. It's a declaration of status and intent. Sandra "Speed" Bullock and Channing "co-director of the movie 'Dog'" Tatum are true movie stars, and "The Lost City" sees them unleashing all the charm and star power they have.
"The Lost City" has old-school blockbuster written all over it. Not only is it very reminiscent of classic romantic adventures like "Romancing the Stone," but elements of the film harken back to a time when big studio movies felt more like a layup than a half-court lob, and when all you needed to put butts in seats was a halfway decent hook and two marquee names. It's also loaded with A-list talent, from the previously mentioned Bullock and Tatum to Daniel Radcliffe and Brad Pitt. 
"The Lost City" is being released exclusively in theaters, a strategy most often reserved for comic book movies and franchise tentpoles in the COVID-19 era. Still, the promise of Bullock and Tatum braving a jungle in search of a lost city while falling in love with each other is enough for me (as is the involvement of the Nee twins — their 2015 film, "Band of Robbers," is excellent). We'll see if I'm alone on March 25, 2022.
Turning Red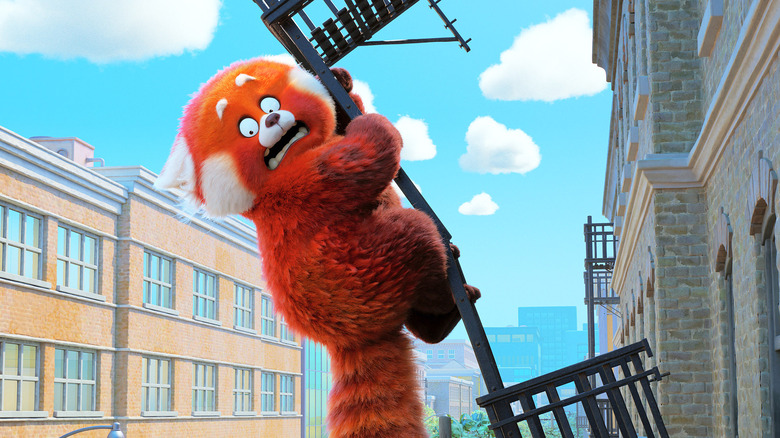 Advance reviews of films on Twitter can be a mixed bag. Many are filled with spoilers. Most struggle to convey anything noteworthy in under 240 characters. Honestly, that's understandable! So, it is with great pleasure that I report the initial reactions to Pixar's "Turning Red" are not only positive, but seem specifically calibrated to make everyone fascinated by Domee Shi's movie. Critic Courtney Howard calls it "hilarious, heartfelt [and] unapologetically horny." Shannon McGrew of Nightmarish Conjurings notes that, at one point, a character screams "THANK CTHULHU," which is something you'll hear in, say, "Cars 3."
But if "Turning Red," which tells the story of a 13-year-old girl who starts turning into a giant red panda whenever she gets too excited, didn't look great enough in its first trailers, the idea that it's pushing the Pixar brand (and the scope of family films in general) is icing on the cake. Pixar has been great for decades, but it has shown signs that it's growing stale. References to H.P. Lovecraft and a frank examination of puberty and womanhood sound like exactly what the doctor ordered. 
In addition, since the film is going straight to Disney+ on March 11, almost everyone will be able to watch and tweet about "Turning Red" from the comfort of their own home. That's been a controversial move, but for everyday viewers, it does make the film easier to look forward to.
Winning Time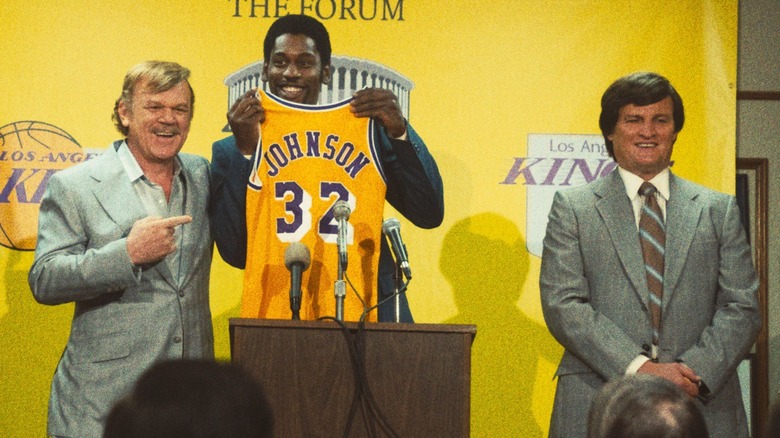 "Winning Time" will premiere during the middle of an unbelievable skid for the Los Angeles Lakers, one that has already seen the team clowned on by basketball commentators and abandoned by its owner. This is worth mentioning because HBO's "Winning Time: The Rise of the Lakers Dynasty," which comes from Adam McKay, examines the exact moment when the Lakers became important. Simply put, the Lakers are basketball. When they're better, the game is better, too. Only the New York Knicks have a similar power, but you can't tell a scintillating tale of Hollywood and California dreamin' starring the Empire State's Knickerbockers. 
But "Winning Time" is also pure Hollywood behind the scenes. McKay is on record as blaming the project for his split with Will Farrell, lending the show's March 6 premiere a bittersweet but alluring tinge. And if "Winning Time" is going to chronicle how Jerry Buss put together a one-of-a-kind squad that changed the NBA forever, it will surely look at those who were left behind as well. Look, you have to make sacrifices to end losing streaks. Winning isn't easy. These are the sports platitudes, but "Winning Time" promises, in more ways than one, to marry them with showbiz.
Star Trek: Picard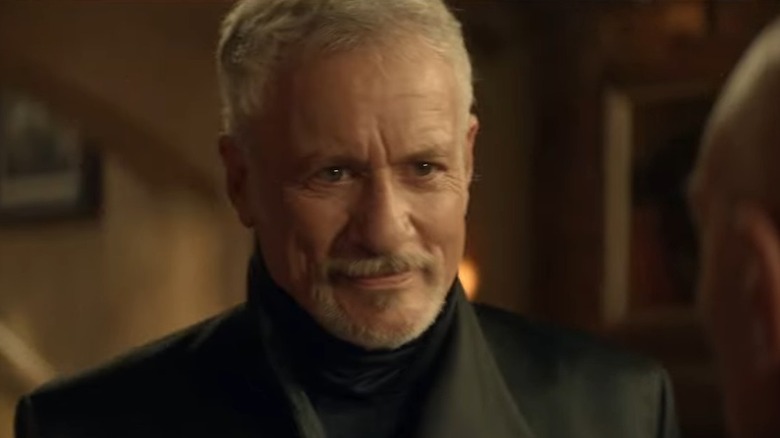 Q was an entire generation of viewers' first exposure to playful malevolence. The extra-dimensional being of unknown origin who possesses unlimited power over the laws of physics is famous for playing a metaphorical game of three-dimensional chess with everyone who he encounters, but his greatest rival remains Jean Luc Picard. So, yes, John de Lancie's return to the "Star Trek" universe on "Picard" on March 3 is nostalgic, but given his character's nature, it's also inevitable. Their match hasn't quite ended. 
"Picard" was doing just fine without Q, but his presence elevates the show to must-see status for "Star Trek" fans. A more focused antagonist might help narrow the show's frequently wandering focus, and a loaded battle of wills has made everything from "Billions" to "Killing Eve" soar. There's no reason to think that "Picard" will be any different. It's not clear if "Picard" will be boldly going where no show has before as much as traversing familiar ground, but that's bold in its own right. Let the games begin.
X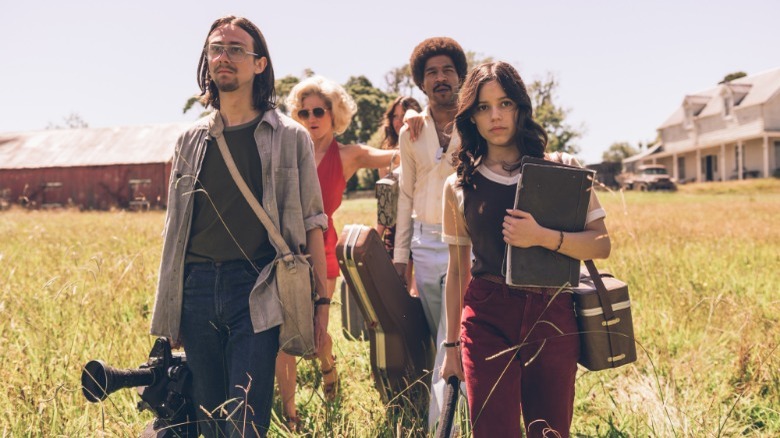 A24's upcoming slate of film releases plays like a parody of A24 releases. A sci-fi film full of multiversal madness, but make it a prestige drama, not a comic book flick. A feature-length adaptation of "Marcel the Shell with Shoes On." Finally, Ti West's "X," which appears to be a deeply meta "Texas Chain Saw Massacre" riff about attractive people making a porno.
If these films were from any other company, you'd worry that all of the above was just word salad — and if "X" came from any director but the exceptional Ti West ("The House of the Devil," "The Innkeepers"), there'd be additional cause for concern. But, as its first trailer indicates, "X" looks like nothing less than a lurid, expectation-crushing sensation. "X" is poised to be the latest A24 horror sensation, and that alone should make it one of the year's most anticipated releases. There will be conversations. There will be shocks. And, on March 18, there will be one deeply messed up horror picture playing in theaters.
Halo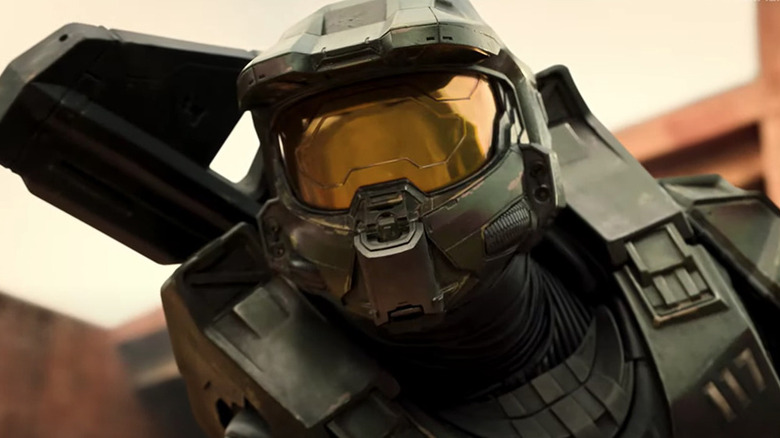 Video game adaptations are having a moment. Netflix's "Arcane" is a critical and commercial hit. "Sonic the Hedgehog 2" is one of the year's most eagerly anticipated family films. We've come a long way from the days of "Street Fighter: The Legend of Chun Li" and Uwe Boll's "Far Cry." But even lackluster recent efforts like "Resident Evil: Welcome to Raccoon City" understood what so many that came before didn't: A great game adaptation doesn't recreate what it looks like to play as much as it marries the property's world-building and overall vibe with a compelling narrative. And there are few games yet to be adapted for the screen with more compelling world-building than "Halo." 
Yes, the story of Master Chief is simple on its surface, and as a whole the franchise is probably better known for its multiplayer than its story. But the Chief's iconic design and the series' ever-expanding mythology are ripe fodder for a multi-season arc, and the gameplay is so cinematic that this TV series feels like a no-brainer. What's more, Paramount+ has thrown its considerable weight behind the series  — "Halo" was renewed for a second season over a month before its first's March 24 debut. If "Halo" can win over viewers and critics alike, video game adaptations will no longer be having a moment. They'll have completed an evolution.
Moon Knight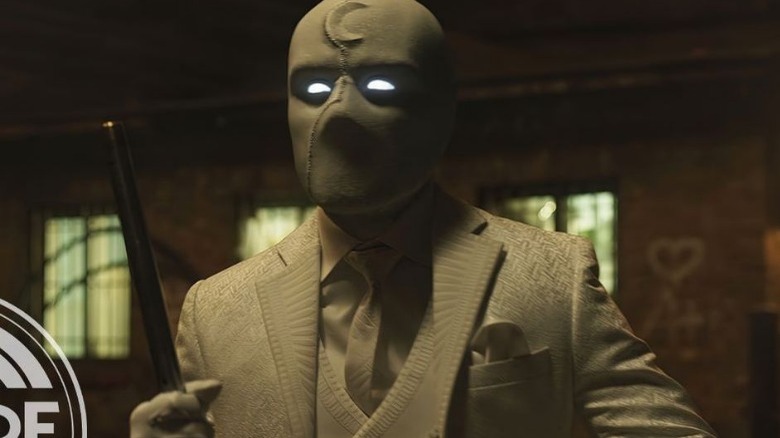 Earlier this year, I raved about Marvel's decision to hire Justin Benson and Aaron Moorhead as directors on "Moon Knight," which drops on Disney+ on March 30. The duo may not be household names yet, but horror fans should be very familiar with their feature films, which include the likes of "V/H/S: Viral" and "Synchronic." Nobody combines genre tropes, unrelenting terror, and human frailty quite like they do, and their involvement should be enough to get anyone hyped, Marvel fan or otherwise. 
But that was before a full-length "Moon Knight" trailer dropped, and before Benson and Moorhead were enlisted to direct a large majority of the 2nd season of "Loki," suggesting that the Marvel brass are more than pleased with their work on this dark vigilante series. Between that vote of confidence, Ethan Hawke's ecstatic praise for Oscar Isaac, and Isaac's promise that "Moon Knight" leaves it all on the proverbial court, it looks like this really might be one of the year's best shows, superhero or otherwise. "Peacemaker" set the bar. Time for another antihero to vault over it.
Everything Everywhere All At Once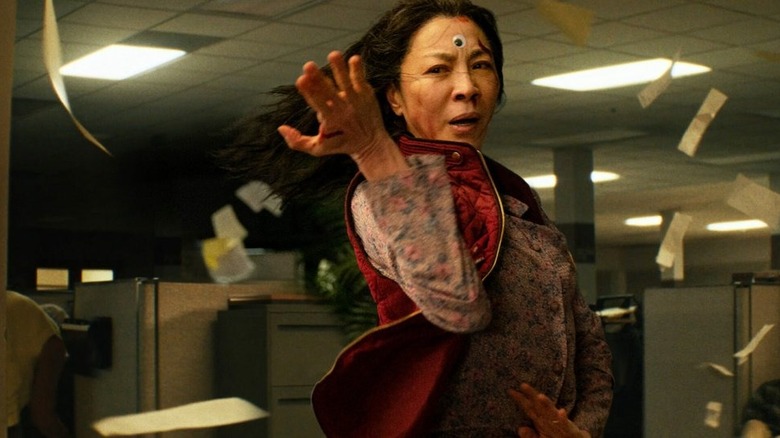 2022 is the year of the multiverse. Honestly, that tracks. After two whole years navigating a global pandemic, taking a trip to another timeline sounds very tempting. So, "Spider Man: No Way Home" — a December 2021 release, but one that dominated conversations well into the new year — fulfilled our cinematic wish to seeing three separate Web-heads join forces; "Doctor Strange and The Multiverse of Madness" looks primed to continue Marvel's giddy, IP-mashing frenzy.
But it's the Daniels' "Everything Everywhere All at Once," coming to theaters on March 25, that remains the most intriguing. This isn't just a timeline-hopping martial arts romp for the A24 set. If its trailers are any indication, it's a freewheeling celebration of Asian cinema and the endless possibilities that engenders. You don't cast James Hong and '80s legend Ke Huy Quan if it isn't, nor do you bolster their presence with genre stalwart Jamie Lee Curtis, who plays a tax auditor who throws Yeoh through a cubicle. That sentence is proof that "Everything Everywhere All at Once" will blend the banal with the giddy, and the violent with the hysterical, for what should be one of the year's most awesome efforts in this, or any, timeline.
Atlanta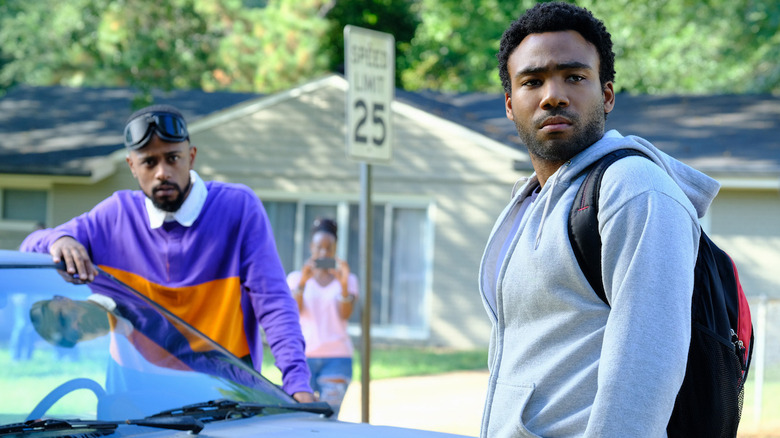 Few shows have had as massive an impact after two short seasons as FX's "Atlanta," but few shows can compare to "Atlanta" in the first place. Its four stars -- Donald Glover, LaKeith Stanfield, Brian Tyree Henry, and Zazie Beetz -- are all cultural institutions now, gracing everything from Oscar nominations to Marvel movies. Director Hiro Murai just co-helmed HBO's "Station Eleven." This would be remarkable if the show itself wasn't regularly dropping episodes like "Teddy Perkins," which are so abjectly terrifying that it's hard to remember that, technically, "Atlanta" is a comedy.
 Basically, "Atlanta" can be anything. That's why it's hard not to be breathlessly excited for the show's 3rd season, which premieres on March 24. But the world as it stands is a very different place than the one Donald Glover's show left when it went off the air in May 2018. Now, America has a president whose name isn't plastered across shuttered casinos (notably, the election that foiled him hinged on Georgia). A pandemic is (possible) ending. 
How will "Atlanta" respond to these developments? If the show's track record is any indication, the answer is "massively." It always is. That's just how things are in "Atlanta."
The Batman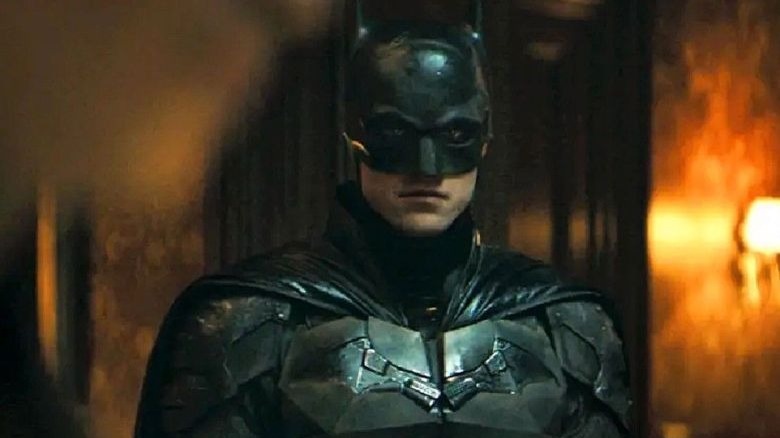 In the conclusion of Christopher Nolan's "The Dark Knight," Jim Gordon describes Batman as "the hero Gotham deserves, but not the one it needs right now." Oh, the irony. Against all odds, Robert Pattinson's Bruce Wayne feels like the caped crusader the movies both need and deserve at the moment. Not only does the box office need a champion, but the world is currently obsessed with cryptic six-letter puzzles and is navigating a dark geopolitical war waged by an imperial nostalgist; that Pattinson's Bats fights the Riddler and Carmine Falcone is a coincidence, but an uncanny one. It's a film as emo as any given episode of "Euphoria," it's proved eminently memeable, and it has already yielded some of the year's most buzzed-about celebrity photoshoots. "The Batman" is already a sensation, and it hasn't even come out yet.
That's why "The Batman" is the most anticipated film or TV show of March 2022. It's almost impossible to bet on what kind of an impact a piece of art will have, but we're already feeling the first ripple effects of "The Batman." Expect many more to come following it's March 4 debut.
Read this next: The Best Movies Of 2021
The post The 20 Most Anticipated Shows And Films of March 2022, Ranked appeared first on /Film.