What does the word minimalist mean to you? White-washed, Instagram-bait interiors? Overpriced Scandinavian designers? Kinfolk magazine? IKEA flatpack furniture?
You're not alone. Today, it's a word mostly used to describe a certain modern aesthetic. One that values blank space, a monochrome colour palette and clean lines above all else.
But in terms of lifestyle, it has another meaning. It's about having only what you need. No excess. No clutter. Just the essentials. The key possessions required to get by.
It's a school of thought we can really get behind, particularly when it comes to our wardrobes.
Imagine not having to worry about what to wear, safe in the knowledge that whatever occasion arises, you're equipped with the sartorial tools to deal with it. That's the beauty of a minimalist wardrobe. A clothing collection comprised of everything a man needs – and nothing he doesn't. No dead weight, no trends, just time-honoured essentials that can always be relied on.
Sound good? Here's everything you need to know when it comes to building your own.
What Is A Capsule Wardrobe?
The all-bases-covered clothing collection we're talking about here is sometimes referred to as a "capsule wardrobe". It's a concept underpinned by three core values: simplicity, versatility and cohesion.
To get it right, it's important to approach buying clothing in a different way; to purchase a garment because of how it fits within the bigger picture rather than on its individual merits. That's key when it comes to creating a wardrobe that functions as a whole.
Get it right and you'll have something that can take you from beach to wedding to bar to work and beyond. Immaculately turned out for each, yet using a streamlined selection of clothing.
Buying Considerations
It's a mantra we at Ape live by but it's always worth repeating: you get what you pay for.
The most important buying consideration you can make when stocking your minimalist wardrobe is quality. It might mean splashing out a little more, but if that's the difference between buying something once and buying it five times then it's a worthwhile investment.
As touched upon above, versatility is key in curating a successful capsule wardrobe. You should be able to mix and match garments to create multiple and varied looks, and colour is hugely important in achieving that.
Neutral tones are the way to do it. That's not to say bold colours are out entirely, but to do this properly, it's important your capsule wardrobe is built on a foundation of understated shades that work together. We're talking black, white, greys, blues, browns and greens. Always subdued, though. Nothing too bright.
The Essential Pieces In A Capsule Wardrobe
So, are you ready to rebuild your style from the ground up? Here's everything that should be present within a minimal wardrobe, split into handy sections. All killer, no filler.
Quick Jump: Outerwear | Casualwear | Tailoring | Footwear | Resortwear | Activewear | Accessories
Outerwear
Overcoat
It's classic, it's versatile and if you buy well it's something you could be handing down to your children and even their children after them. Wool is the obvious choice fabric-wise, as is camel in terms of colour. Perfect with tailoring, but also ideal for dressing casual outfits up, the overcoat is a cornerstone of any good outerwear selection.
Down Jacket
When the weather is less than tropical, a good insulating layer is key. A down jacket is lightweight, practical, warm and can work across most of your wardrobe if you opt for a versatile colour. Go for something low-profile if being able to layer on top is important for you, or opt for a full-blown puffer jacket for total cold-weather defence.
Transitional Jacket
Big coats are all well and good in winter, but when the seasons begin to change, something lighter is required. That's where a transitional jacket comes in. This could be a denim jacket, a bomber or even an overshirt. The important thing is that it can be worn either as a standalone piece or layered on top of if required.
Raincoat
It doesn't matter where you live, now and then, the heavens will inevitably open. When that time comes, it's vital to have a piece of outerwear that's up to the challenge. This could take the shape of a traditional mac or trench coat if you prefer classic, or a high-performance Gore-Tex shell if you desire something more advanced.
Casualwear
T-Shirts
A solid assortment of well-made T-shirts is the backbone of any good casual wardrobe. Go for plain, block colours for maximum versatility and stock up on black, navy, grey and white in particular – chances are, these are the ones that'll see the most daily action.
Don't fall into the trap of thinking T-shirts should be cheap, though. Sure, you can pick up a plain tee from a high-street chain for less than a good coffee, but will it last more than two washes before becoming a crop top? Probably not.
Slim-Fit Jeans
Denim trends come and go, but a good pair of slim-fit jeans is eternal. Not too loose, not too tight, if Goldilocks and the Three Bears had been about denim legwear as opposed to beds and porridge, these are the ones she'd have worn. For maximum versatility, go for a dark wash. Perhaps even raw denim. They'll be dressy enough to wear with smart-casual outfits, but relaxed enough for a T-shirt and trainers, too.
Flannel Shirt
You can't do winter layering without a flannel shirt. This workwear staple is great worn on its own, layered underneath a big coat, or worn open over a T-shirt or even a roll neck. Feel free to stray away from your neutral colour palette here, a red check being the obvious choice.
OCBD
A few Oxford shirts are almost as important as plain T-shirts when it comes to piecing together a capsule wardrobe. Pastels and light colours are always going to be good options here and in terms of how many you need, we'd say two or three is about right.
Chinos
You can't live in denim all the time. As nice as slim dark jeans may be, sometimes you'll need to do more. For dinner dates, work functions and other smart-casual occasions, a pair of chinos is the perfect option. Go classic with beige, or modern with navy or forest green.
Knitted Roll Neck
Good layering is one of the pillars of menswear and a knitted roll neck is one of the pillars of good layering. With that in mind, it's a good idea to have one in your capsule wardrobe for when the cold weather comes knocking. Go for a fine-gauge to enable it to slot easily under heavier layers and bonus points if it's cashmere or a cashmere blend.
Breton Top
Block colours are great, but sometimes you need something a little more eye-catching. A Breton top is the perfect tool for the job. Nautical lines, long sleeves and a T-shirt-like fit make this French favourite a seriously versatile piece of kit. Wear it on its own with shorts and canvas sneakers in the summer or layer beneath an unstructured sports coat on cooler days.
Crew Neck Sweatshirt
Cosy, classic and preppy, a crew neck sweatshirt is one of the few garments that's just as much at home on the sofa as it is paired with an Oxford shirt and chinos at the weekend. Look for something that fits well in the shoulders and has a relatively slim cut. Grey, navy and black are fail-safe hues that'll never go out of style.
Chino Shorts
Creating a capsule wardrobe is all about finding garments that cover as many bases as possible in order to whittle the contents down. While tailored shorts and denim shorts are both good summer legwear options, owning a nice pair of chino shorts or two removes the need for both of them. Smart enough to be worn with a shirt and shoes, yet laid-back enough to pair with a T-shirt and flip flops.
Tailoring
Navy Suit
If there's one colour suit that should be hanging in every man's wardrobe, it's navy. It's timeless, it's versatile and it can be easily broken up and used as separates with other garments from your capsule wardrobe. Grey is another option but it can come off a little too corporate for some settings, whereas navy has got your back whether it's a wedding, work or a special occasion.
Dress Shirts
Kim Jones spent most of 2019 sending models down the runway for Dior wearing tailoring topless, but the rest of us should really be wearing shirts. A couple of high-quality – perhaps even made-to-measure – dress shirts will lay the foundation for your formalwear. We'd suggest sticking to white and sky blue in order to get the most out of them.
Unstructured Blazer
Not all social social settings require a full suit, but casualwear doesn't always cut it. For everything else, an unstructured blazer is the way to go. Wearing a tailored jacket with casual legwear is a big no no as the angular lines up top can look jarring in contrast to the laid-back look going on downstairs. The relaxed styling of an unstructured blazer maintains the balance without straying too far into either casual or formal territory.
Wool Trousers
To enable mixing and matching of suit separates, a good pair of trousers is a must. Wool trousers are a winter favourite and the tactile element offers a great way to introduce some texture to a range of outfits. They'll also work outside of tailoring when styled correctly. Try teaming a pair with a tucked T-shirt, unstructured blazer and luxe leather sneakers for a contemporary take on smart casual.
Ties
There's no shortage of tailoring accessories but with minimalism in mind, the most important is a tie. Ideally, you should have a few in different colours and patterns, but always favour quality over quantity.
Summer Suit
Summer tailoring is easy to forget about but you'll be glad you have it when the annual barrage of wedding invites begins. A good warm-weather suit should be made from a breathable fabric – most commonly linen or cotton (or a blend) – and should be light in colour. Think beige, cream or even a pastel shade if you're feeling adventurous.
Footwear
Black Oxford Shoes
For every conceivable formal occasion, a pair of well-made Oxford shoes is your best friend. If there's just one breed of smart footwear you own, make it a pair of these. Extra points if they're Goodyear welted and sourced from one of Northamptonshire's finest.
Brown Derby Shoes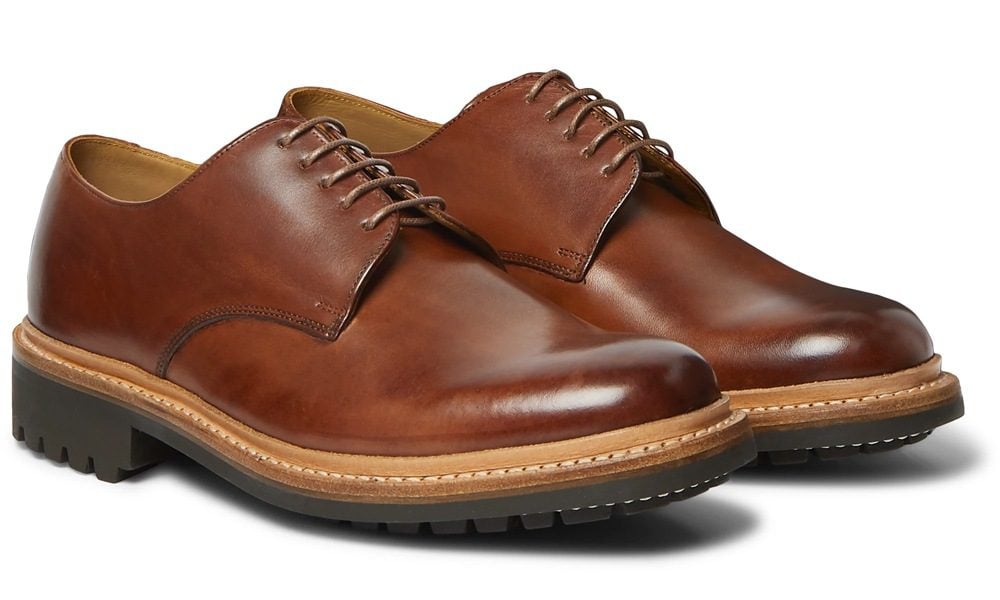 There's no other type of footwear that can span different dress codes quite like a brown Derby shoe. Great in the office, great at the weekend, great on date night, great at a party. There's nothing it can't do. Well, apart from the gym perhaps. Save your trainers for that. Again, opt for a Goodyear-welted sole wherever possible and buy from a reputable brand.
Work Boots
Sturdy leather boots are essential for the winter and when styled with consideration, can actually take you through most of the year. Stick to the classics and it's difficult to go wrong. A moc-toe style with a wedge sole is great for a retro Americana look. Or opt for a round toe and commando sole, as popularised by Timberland.
Luxe Leather Sneakers
There are many benefits to the general relaxing of menswear that's been taking place over the course of the last decade or two. One of the key ones is the rise of premium sneakers. A pair of minimalist, luxury leather sneakers can cover a lot of bases. Wear them with your navy suit and a plain white tee tucked in, or simply team them up with a crew neck and jeans at the weekend.
Canvas Sneakers
Leather sneakers are great but they can pose a problem in the summer heat. Canvas is a more breathable option that provides much of the same versatility. It's more of a challenge to find outfits they don't go with than ones they do, making them the sort of sneakers that can be thrown on daily without thought.
Running Shoes
Having a great minimalist wardrobe is one thing, but it's important to look after the body the clothes are going to hang on. As stated earlier, it's not the best idea to do your daily 5k in a pair of Derby shoes, so a pair of athletic sneakers is a must. Look for something with a lightweight, breathable upper, a springy sole and good traction.
Resortwear
Tailored Swim Shorts
Taking style cues from the French isn't usually a bad idea but their swimwear policy is a good place to draw the line. Instead of skin-tight budgie smugglers, invest in some premium, tailored swim shorts. The beauty of this type of swimwear is that it can go directly from beach to bar and be right at home in both settings. It's essentially a pair of casual shorts and swimming gear all rolled into one.
Cuban-Collar Shirt
If there was ever a garment that encapsulates what summer is all about, it's surely the Cuban collar shirt. Laid-back and breezy, it's a must for the hottest of days, particularly when woven from lightweight linen. Wear it open over a white T-shirt, done up with chino shorts and sandals, or simply sling it on with your tailored swim shorts once you've dried off from the pool and are ready to sample another cocktail.
Linen Shirt
A light and breezy linen shirt is great for vacation evenings when the air is cooler, or just for keeping the sun off your arms through the day. Go for summery pastel shades and a relaxed cut. It should be comfortable and floaty rather than overly fitted, while lighter hues help to reflect the sun and keep you cooler.
Sandals
Investing in an upgrade on your Havaianas is one of the best moves it's possible to make when it comes to beach-time style. Brown leather can't be beaten in terms of versatility and timeless appeal. Just avoid anything too trend-driven and give cheap rubber sliders a wide berth.
Activewear
Sweatpants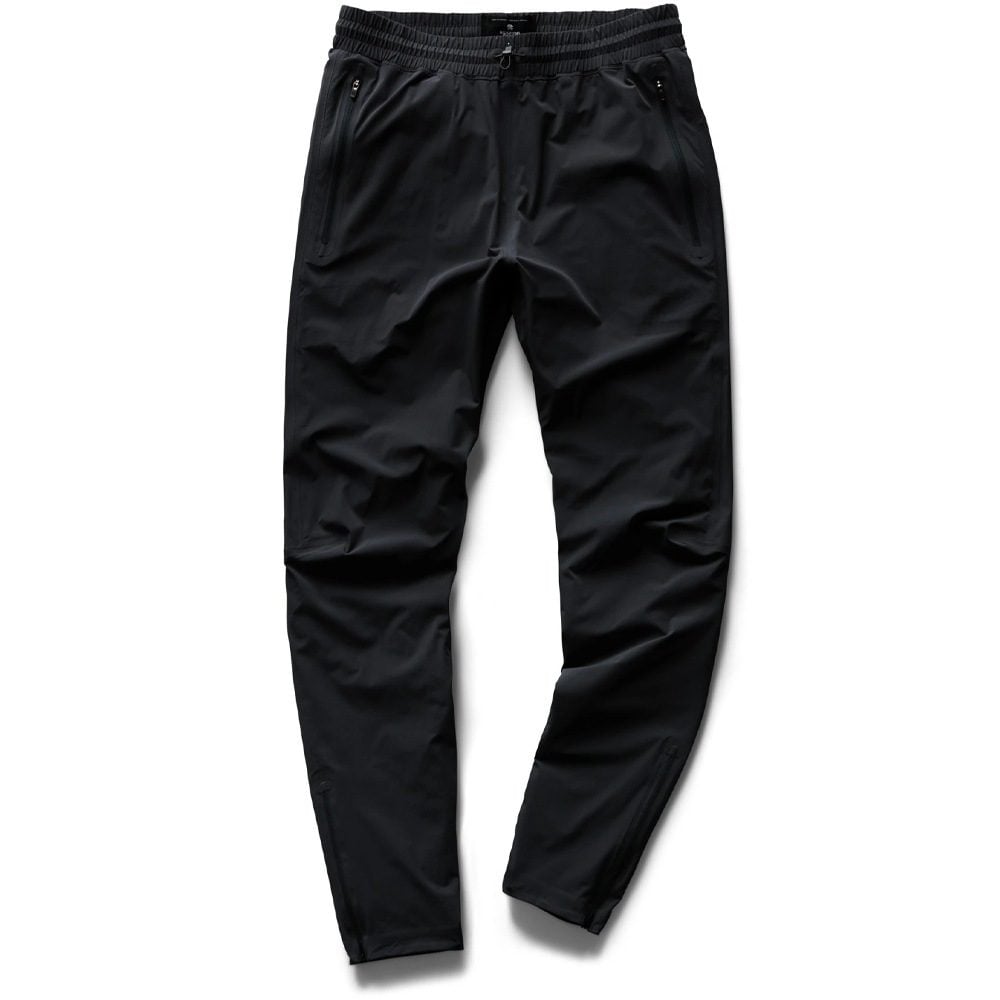 In the name of killing two birds with one stone, buy sweatpants that can hold their own in the gym and on the sofa for a Sunday afternoon Netflix binge. That means jersey fabric, a slim (but not tight) fit and simple, classic styling. Colour-wise, grey is very much the OG but navy or black hide stains much better.
Hoodie
A plain grey hoodie is a must own and will likely see a lot of daily action. Whether that action takes the form of a run, the gym or just lounging around the house is up to you, but stick to grey for optimum versatility.
Running Tops
Don't make the mistake of using regular T-shirts in place of purpose-designed workout kit. Cotton soaks up sweat like a sponge, leaving it heavy, sodden and prone to unpleasant odours. Instead, invest in a couple of moisture-wicking running tops for exercising in and keep your casual tees safe and dry.
Gym Shorts
Training in sweatpants is okay in the winter, but when the sun's shining it's best to let those legs breathe. A pair of lightweight shorts in a stretchy fabric will keep you cool and comfortable without limiting your range of motion. Colour and style is down to personal preference but just make sure they're made from something breathable.
Accessories
Brown Leather Belt
They can be the best pants in the world, but if they're hanging around your backside they're never going to look good. Rule number one of dressing well: pull your trousers up… and keep them there. With the option of being worn with either casual clothing or tailoring (provided the shoes match), a high-quality brown leather belt ticks all the boxes.
Sunglasses
Whether shielding you from the sun or shielding the rest of the world from your hangover, a stylish set of sunglasses is one of the most important accessories a man can own. Classic styles are best – think Clubmasters or Aviators – but some more modern acetate styles from independent labels are giving the big names a run for their money. Black is safe, but it's also a little boring so we'd suggest going for tortoiseshell instead.
Dress Watch
It tends to be the case that less is more when it comes to tailoring accessories, but a nice dress watch is a must. A clean, uncluttered dial is preferable, as is a leather strap. Steer away from anything overly bulky; this watch should be sleek and fitted, just like the suit to go with it.
Casual Watch
Robustness, comfort and style are the key things to shop for when selecting a daily timepiece. It should be high-quality, but not so expensive that you're scared to wear it; rugged, but never cumbersome; comfortable, yet reassuringly sturdy. Diving watches and chronographs tend to be good options in this respect, with either a leather strap, a bracelet or a NATO strap. In terms of price, spend what you can afford and you'll thank yourself when it's still ticking 50 years from now.
Weekend Bag
Be it the gym, a city break or an overnight work trip, multi-day jaunts require capable luggage, which is why a good weekend bag is of paramount importance. Buy well and it'll last a lifetime. Leather is the classic way to go.
Baseball Cap
It may be a divisive one, but the baseball cap is a key accessory nonetheless and an important part of a well-stocked capsule wardrobe. It offers a way to put a finishing touch to a casual outfit and if the fabric choice is right can even be worn with modern tailoring. Cotton twill if you're leaning classic, wool or corduroy for something a little more contemporary.
Beanie
A lot of men swear blind that beanies don't suit them. Those men just haven't found the right beanie. There comes a time every year when a woollen hat becomes mandatory, so it pays to spend some time finding the right one. Stick to neutral and earthy tones, perhaps with some flecks of colour. Material-wise, cashmere and merino will set you back more than lambswool but in terms of comfort, it's worth the extra.
The post How To Build The Ultimate Men's Minimalist Wardrobe appeared first on Ape to Gentleman.