Today, we are excited to have a guest post from Mary Egan of CraftFoxes! Since springtime is coming (but it's still snowing for some of us!), we thought it was time to post a round-up of free patterns for fabric flowers. Take it away, Mary!
——
As you all know (and are, no doubt, eagerly counting down to), spring is on its way! Although climates in the American Midwest and even over in England seem to think more snow is in order, I, for one, believe it's time for tulips and warm winds. A great way to maybe give Mother Nature a hint about the change in weather is to brighten everyday wardrobes with some fun fabric flower accessories. Luckily, there are plenty of ideas and patterns out there for you to create fabric flowers to pin in your hair or to make into jewelry. These six ideas might give you a head start if you're looking to add some spring to your wardrobe.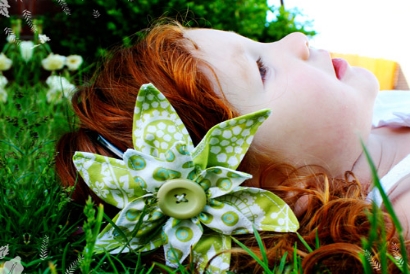 Flower Headband by Carina Gardner
This flower headband from Carina Gardner is absolutely gorgeous and very customizable. As the original post suggests, this flower can be used as a brooch, on a belt, or on a hair clip. But I think the most stunning way to use it is on a headband to inject a bit of spring sassiness into your hair.
Fabric Flower Hairpins by eDiva

Here is another adorable hair accessory made from fabric flowers. These flowers are created by cutting circles out of the chiffon fabric of your choice. Simply layer your circles on top of each other with the largest on the bottom of the stack and then sew some beads in the middle to join the fabric together. To create a hairpin, all you need to do is sew on a bobby pin.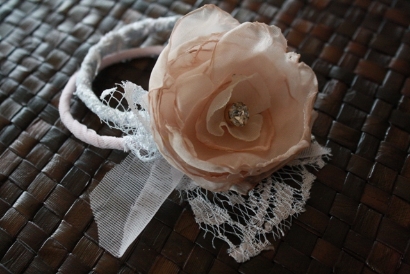 Fabric Flower Bracelet at Jewel Box Ballerina
The fabric flower affixed to this bracelet is made in pretty much the same way as the one linked above. Simply sew circles of fabric together with a stone or jewel in the middle for embellishment. To create the bracelet half of this craft, wrap some memory wire with a fabric of complementary color and tie a bow at the end. Hot glue your fabric flower to the bow and you have a charming bracelet for springtime!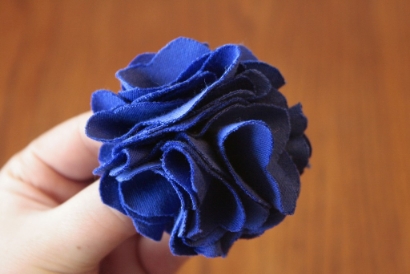 Ruffly Flower Tutorial at Craft Buds
Straight from Craft Buds is a great tutorial on how to create a ruffly flower. This flower is made by folding fabric and sewing those layers together to create a ruffly effect in the finished product. These adorable flowers can be attached to pipe cleaner stems for a synthetic bouquet on your kitchen table or can be made into headbands or brooches as well.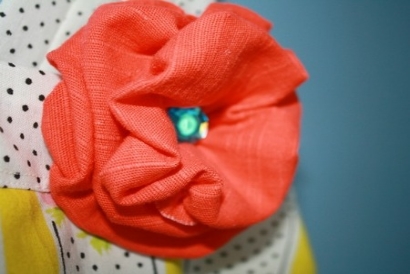 Easy Peasy Fabric Flower by Little Kids Grow
This is a super quick and easy way to create a fabric flower if you don't have much time to be crafty. Use a gathering stitch on a square of fabric and just keep gathering until you've created a little puff. Stack several puffs together and press down to sew them at the middle, adding a bead or jewel for decoration. This flower is so simple to make and can be used as a headband, bracelet, or anything else you'd like.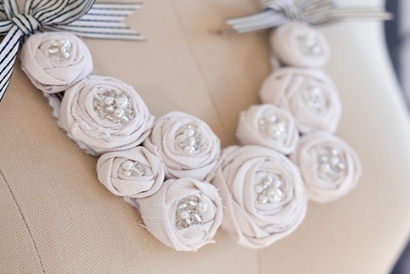 Fabric Rosette Necklace at Pattern Runway
This fabric rosette necklace is a gorgeous homemade piece of jewelry that is sure to get some comments from anyone who sees you wearing it. Fabric rosettes are created by rolling and twisting strips of fabric into a circular shape, eventually creating the appearance of a rosette. Glue your rosettes onto a felt pattern and add ribbons to hang the necklace around your neck. How pretty!
Have you tried your hand at making fabric flowers? If so, what do you use them for?
The post Free Fabric Flower Patterns appeared first on Art & Craft, DIY ideas and Tutorials - Craftbuds.