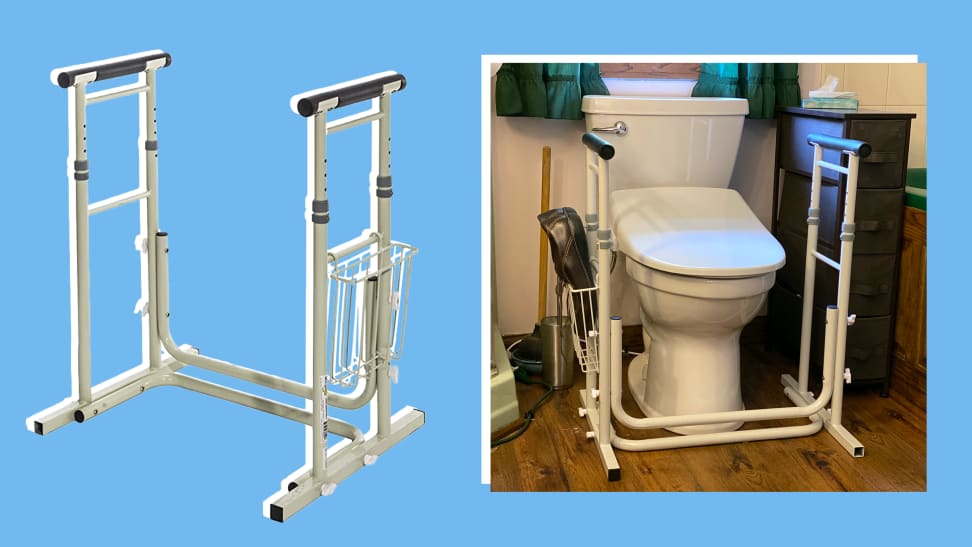 — Recommendations are independently chosen by Reviewed's editors. Purchases you make through our links may earn us a commission.
Like many seniors and people with disabilities, my mother requires a support bar to help her safely get on and off the toilet. The vast majority of support bar systems on the market attach to the back of the toilet seat, and this is the style my mother had used in her home for the past few years. That all changed when she was introduced to the Essential Medical Supply Height Adjustable Standing Toilet Safety Rail.
As my sister and I share caregiving responsibilities for my mother, I go back and forth between their home in Wisconsin and my apartment in New York City. The last time my mother visited me in New York was at least five years ago, when her Parkinson's was mild enough that she didn't require support bars in the bathroom. However, since we wanted her to resume her visits this year, I knew I needed to find a solution to accommodate her in my home.
My mother and I would both like her to visit me in New York a few times per year, but since it would only be for a couple weeks here and there, I didn't want to install any semi-permanent bars that would be difficult to remove every time she left. I also didn't want to have to get rid of the bidet on my toilet, which requires the same back-of-seat attachment space that most support bars require. Since I had read how helpful bidets can be for seniors or anyone with limited mobility, I wanted my mom to be able to try out my bidet to see if we should buy one for her own home.
I began looking for independent toilet support bars that could easily be removed from the bathroom that didn't need to be attached to the same back-of-seat knobs that were already occupied by my bidet. The first model I bought received very good reviews online and it did work in my bathroom, but it was so low that my mom still had difficulty getting up on her own. The next model I found, the Essential Medical Supply Height Adjustable Standing Toilet Safety Rail, worked much better.
Not only did the adjustable nature of this support frame allow me to raise the support bars a couple inches higher than other models, making it easier for my mom to stand up alone, but we both realized we loved how narrow this frame was. Initially I worried that the narrower frame would provide less stability, but that hasn't been the case. And, according to the hundreds of reviews the frame has received on Amazon, it doesn't appear to have been a problem for other users either.
About the Essential Medical Supply Height Adjustable Standing Toilet Safety Rail
The Essential Medical Supply Height Adjustable Standing Toilet Safety Rail is a freestanding toilet bar support frame that fits around the front of the toilet. The frame is 20.5 inches-wide and the height can be adjusted from 24 to 29 inches tall. It includes non-slip foam pads to keep the frame in place. It can support up to 300lbs, and it comes with a magazine rack that hangs on one side.
What I like about the Essential Medical Supply Toilet Safety Rail
It's very narrow
My bathroom is a typical New York City bathroom—it's quite small, and there's not a lot of room to move around. With the first freestanding toilet frame we tried, my mom had difficulty stepping over the support bar legs and dodging her walker's wheels in order to turn to get to the sink. It was extremely unsafe for her to do this alone and, even when I was there, I was nervous she'd lose her footing.
While I still stand behind her, holding her gait belt while she transitions from in front of the toilet to the front of the sink, this narrower frame gives her a few more inches of clearance to make the transition safely. Also, the previous (standard-sized) frame bumped up against the toilet paper holder on the wall because there was so little space between the toilet and the wall.
It feels safer than other toilet support frames
Not only is the freestanding system more convenient for our households, but this frame also feels safer. Because climbing in and out of the shower and standing up alone is so challenging for my mom, she does a lot of her morning and evening routine (getting dressed, undressed, and washing up) while seated on the toilet.
As a result of this additional movement, the toilet seat and the bars attached to it tend to also shift around and get loosened. The knobs on the bottom of the toilet seat seemed to loosen up every few weeks, so I was constantly having to re-tighten them at my mom's house so the support bars didn't slip out from under her. Since this freestanding rack is not at all affected by any movement on the seat, we don't need to worry about the bars coming loose.
It's easy to assemble
No tools are required to assemble the frame, you just insert a couple screws that easily twist into place. My mother does not have the finger strength or dexterity to assemble the rack on her own, but I was able to put it together in about 10 minutes.
What I don't like about the Essential Medical Supply Toilet Safety Rail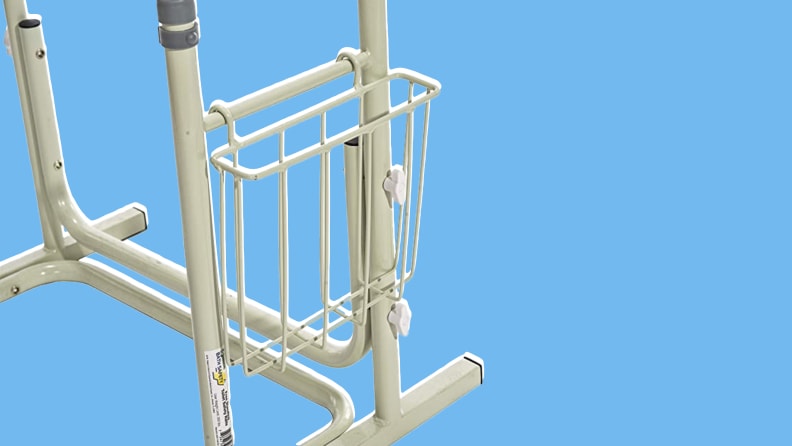 I wish it could go higher
I love that this frame is adjustable, but it's not the highest frame on the market and I do wish it could be raised a few more inches. Other frames (most of which must be attached to the back of the seat) are available several inches higher than this one, which I think would make getting off the toilet even easier.
It only has one magazine rack
The magazine rack is a really great feature that my mother loves, so I wish it came with two or at least had the option to purchase a second rack to hang on the other side. Instead of storing magazines in it, my mother stores other items that she may want to easily access while on the toilet, like wipes, slippers, and spare socks. For small bathrooms that can't accommodate a shelf or dresser next to the toilet, being able to store additional items in a second magazine rack would be very convenient.
Should you buy the Essential Medical Supply Toilet Safety Rail?
Yes.
If you or your loved one could use some assistance getting on and off the toilet, then my mother and I whole-heartedly recommend the Essential Medical Supply Height Adjustable Standing Toilet Safety Rail. Though it would work just as well in large, spacious bathrooms, it's especially convenient for small bathrooms and tight spaces. My mother liked the frame so much that we wound up buying one for her own home. Now that she finally has a better, safer toilet support bar solution at her house, I was finally able to install the same bidet on her own toilet that she liked so much at my place.
Essential Medical Supply Toilet Safety Rail for $56
Sign up for our newsletter.
Get twice-weekly reviews, advice, deals, and how-to guides from the experts.
The product experts at Reviewed have all your shopping needs covered. Follow Reviewed on Facebook, Twitter, Instagram, TikTok, or Flipboard for the latest deals, product reviews, and more.
Prices were accurate at the time this article was published but may change over time.