From simple and small to complex and engaging, there are so many options out there for kids' swings. However, not all swings are equal and there are a lot of factors to consider when choosing a swing for your kids. Finding the best outdoor swing for kids can be challenging. Luckily for us, Illinois mom of three, Meghan Garriott has tested a ton of them out and put together a great list of the best outdoor kids' swings. This is the perfect post to help you find the best swing out there for you and your family based on your needs, your budget, your space, and the ages of your kids.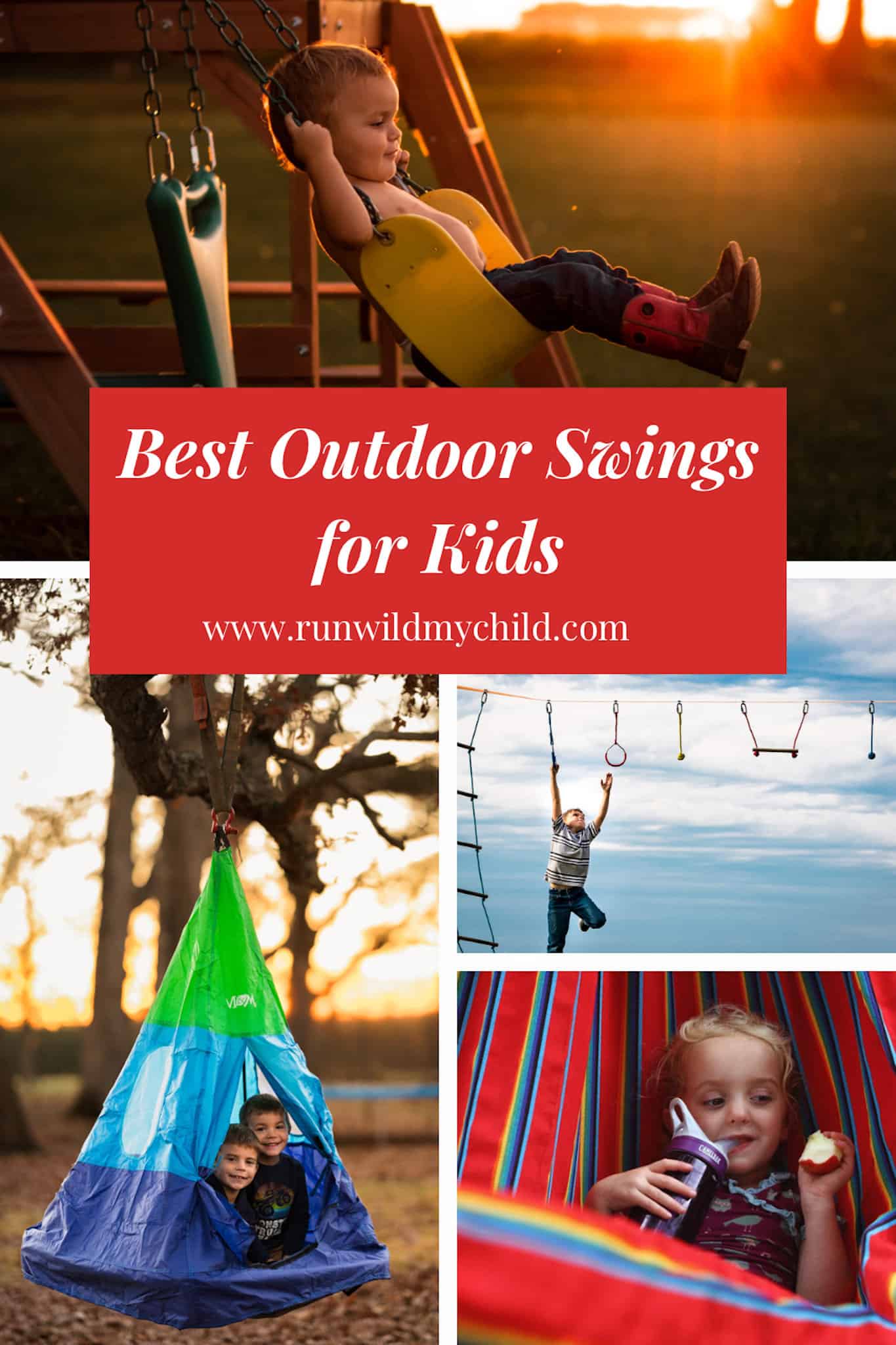 Popularity of swings
Undoubtedly, a swing is one of the most common pieces of play equipment at the park and in backyards, and for good reason. The benefits of swinging and having a swing aren't just physical. Swinging can help regulate emotions and help the brain! There are many types of swings out there for every person and every situation. This post not only covers why swings are great (and super beneficial for kids), but also contains a round-up of the best (and most fun) outdoor swings for kids that you need to try.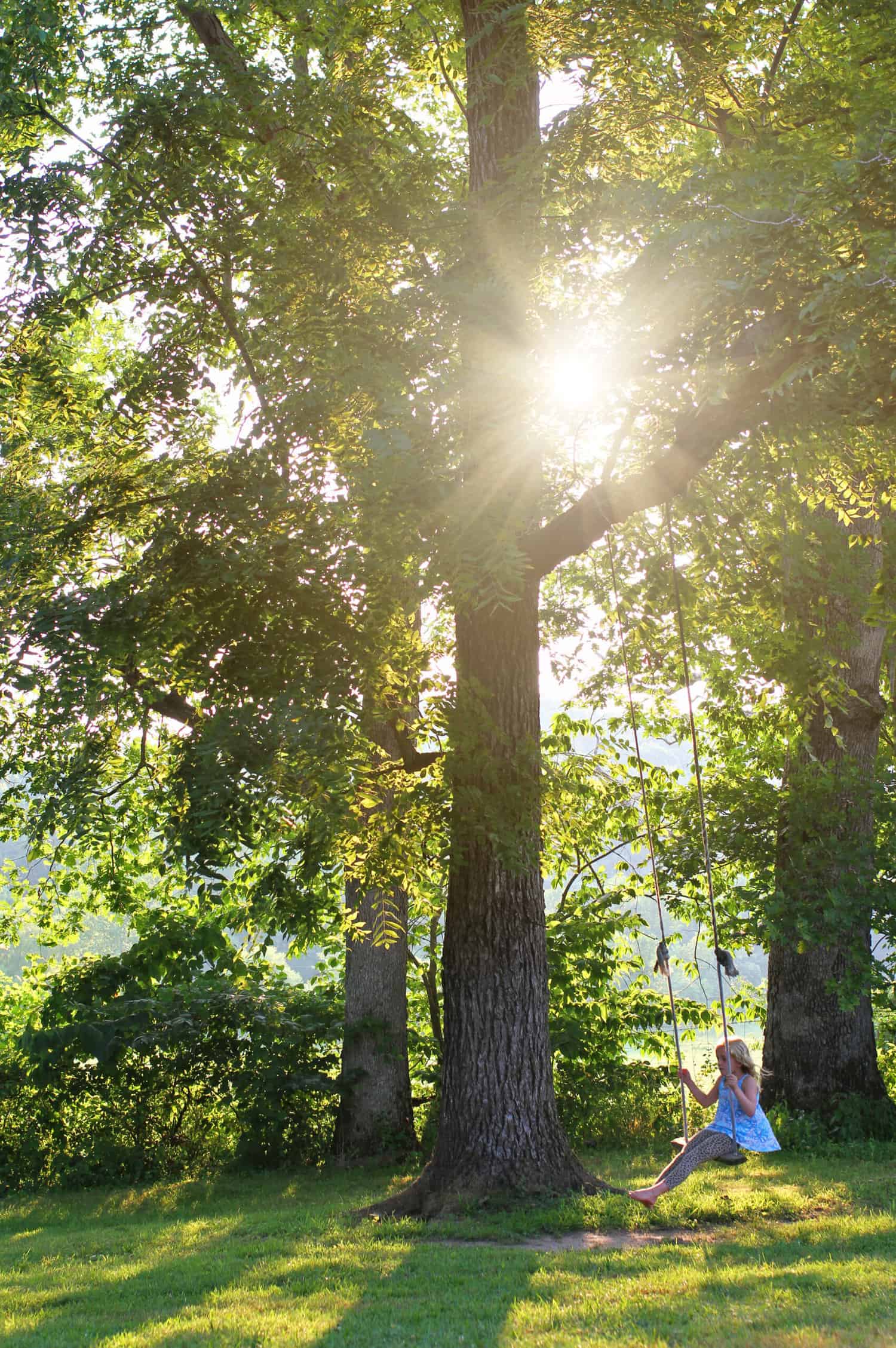 Photo credit @sara_mccarty
Benefits of swings for kids
Physical benefits of swinging:
Swinging is a full-body activity and can benefit every part of the body, from the brain down to the toes. Your arms and legs are used to help propel you, and your core is constantly engaged to keep you in place. Not only are your muscles activating, but your heart gets a great workout while pumping your arms and legs.  
Swinging on a swing addresses both fine motor and large motor. Holding onto the chains or ropes of the swing can improve fine motor and dexterity, while the pumping of the legs and arms benefits gross motor and coordination. 
Mental benefits of swinging:
Because swinging is a full-body activity, it takes a lot of brain power and coordination. Many different parts of the brain are used to facilitate rhythmic and fluid movements like swinging. The inner ear helps tell our brain where our body is in space. The motion of swinging help develops and improve children's body awareness. This leads to improved coordination and balance.
Swinging also increases blood flow to the brain, which can improve focus and attention for hours after. If you ever have difficulty focusing on a project, or if your child has difficulty focusing on homework, try going outside to swing for a bit and then coming back in. You will likely do better and be more productive after swinging!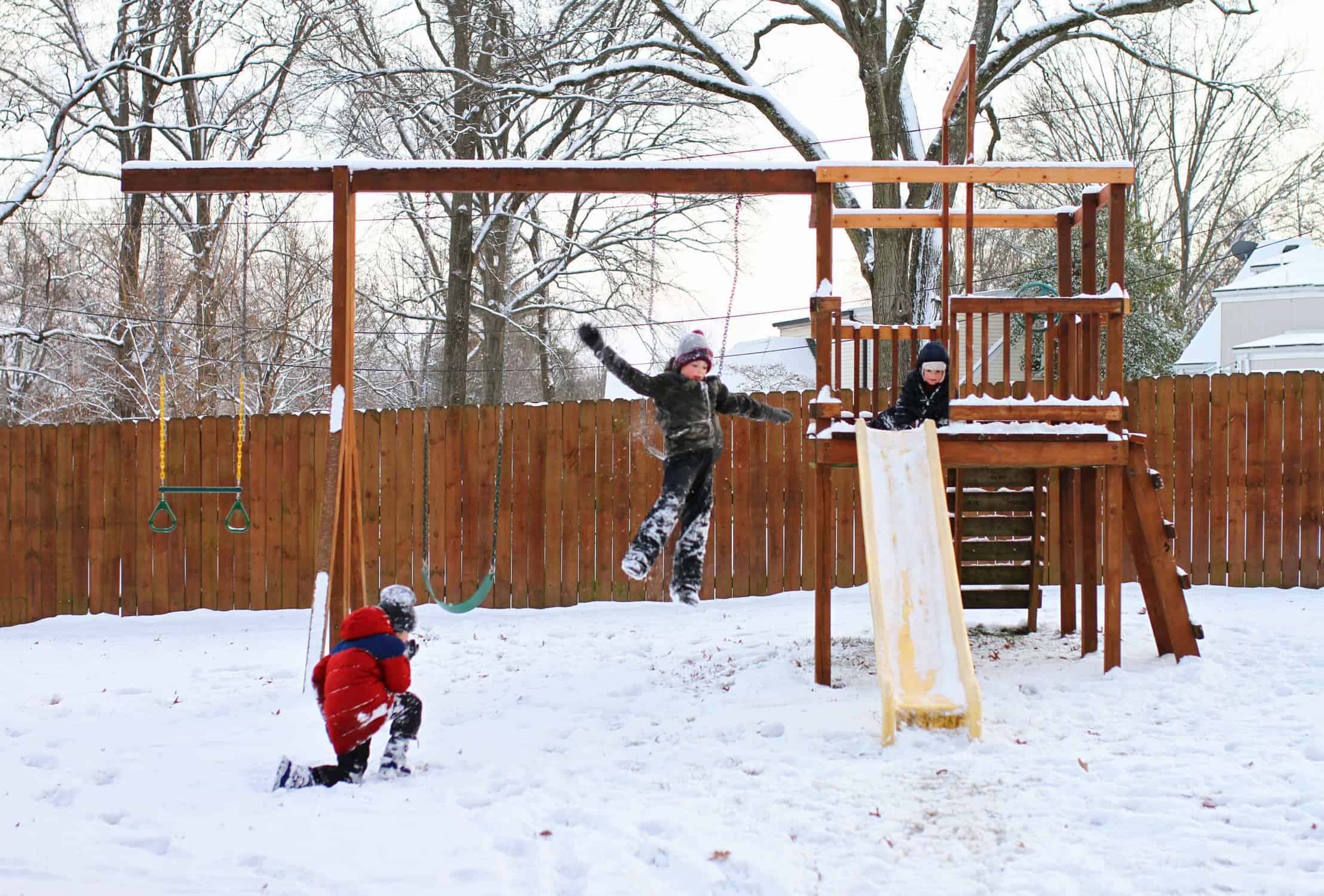 Photo credit @sara_mccarty
Emotional benefits of swinging:
The rhythmic movement of swinging is calming and relaxing. Being outside and swinging can bring added relaxation and peace. Swinging is usually a simple activity that kids can learn very easily and at an early age. Being able to do this activity independently can be a source of pride for kids.
Because swinging can be done alongside others or with the help of others, it can also be a great bonding experience between adults and kids, or kids and their peers. Taking turns on the swings encourages generosity and thankfulness, leading to feelings of happiness and contentment. The rhythmic movement of swings can be very calming for children of all ages but can be especially useful for those with sensory processing disorders.
Swings help get kids outside
Outdoor play is known to have benefits for the mind AND body. Just like wanting to be outside, swinging comes naturally to most children, when given the opportunity. A swing is an easy way to spend quite a bit much-needed time outside in any condition or location.
Check out these other Items that Promote Outdoor Play.

Choosing the right location for your swing
The good news is that you don't have to have a huge space to have a swing. There is a swing for every location.  Whether you're by the water, in the woods, in the backyard, or on the porch, there is a swing that fits your needs.
A rope swing can fit in a small area on a small branch, while a large climber swing will need a lot more room and more sturdy support. Some swings go forward and back, while others swing from side to side, so you'll want to check to ensure you have enough room in each direction. The area around the swing should Be designated just for the swing, with no walkways or other play equipment too close by.
Some swings are great at holding up to the outdoor elements, but others may need to be taken down during rain and wind. This is important to keep in mind as chose your swing spot.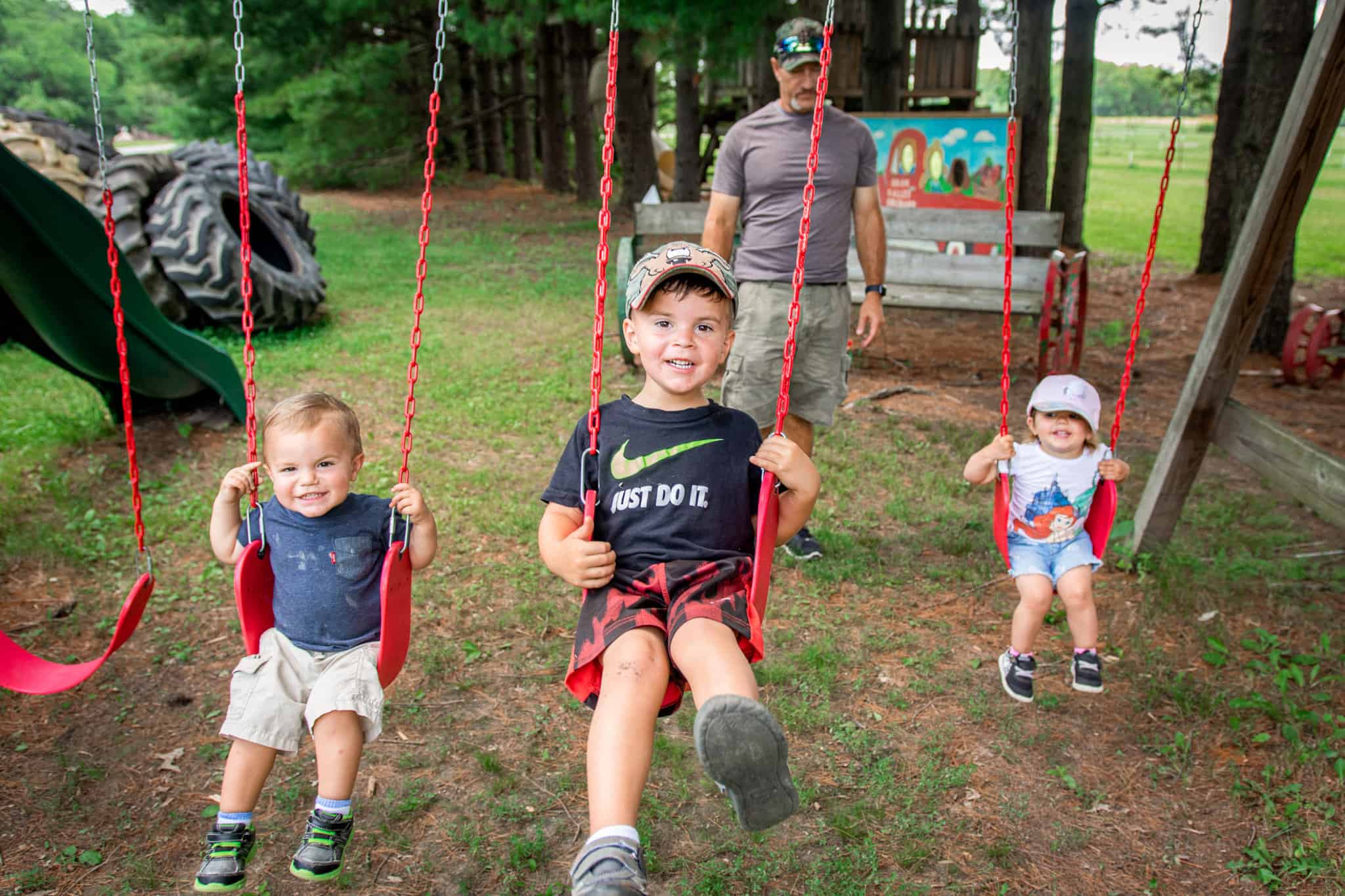 Where (and how) to attach your swing
If you don't already have a swing set to attach a swing to, this metal swing frame is a great place to start. For a nice sturdy tree branch, this tree swing strap is easy to install and holds up to 2,000 lbs. A slackline is another great place to add different swings if a tree limb or traditional swing set isn't accessible. 
Swing safety for kids
There are a few precautions that you'll need to take when enjoying a swing, but also some safety concerns to think about before buying one. All swings come with weight limits, it's important to follow these to prevent injuries. 
It's also a good idea to have specialized seats with straps, support, and a seat belt, to ensure safety for children under three years old. Little kids and children under 5 should have close supervision while playing on swings.
Make sure your swing or swing set is regularly maintained. Check for weak spots in the wood, broken or open links in the chains (so little fingers don't get pinched), and ensure all straps are secure at each use. Ensure that any adjustable ropes or chains are correctly positioned for the size of your children.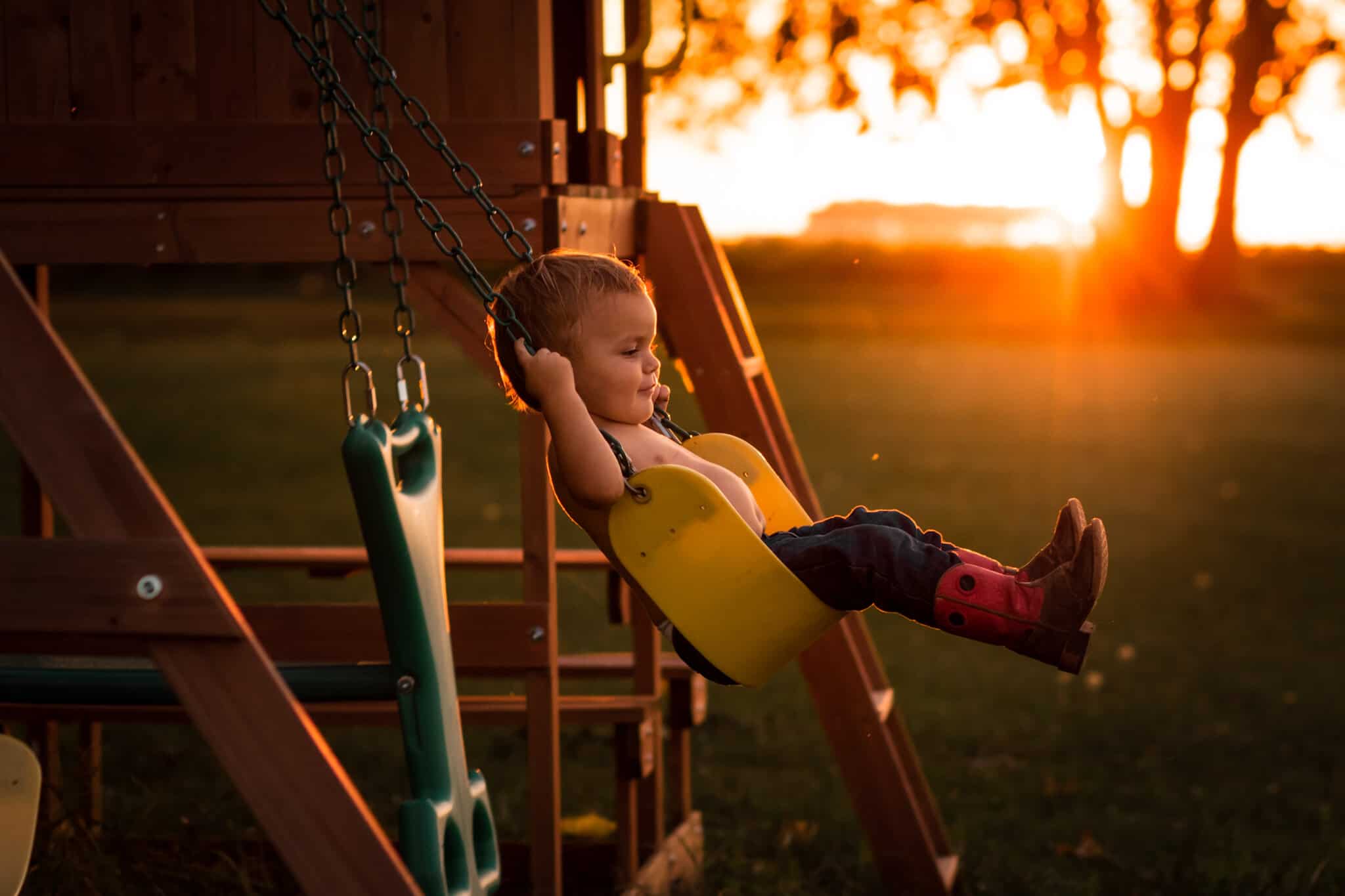 Best simple outdoor swing for small spaces 
Disc swing– A disk swing is great for small spaces and easy storage. You can stand on the disc or sit on the disc, making it feel like a classic rope swing (with a bit more support). It's a hit with both big kids and toddlers. This disc swing even has platforms for climbing up the rope. It has a 220lb weight capacity. 
2-in-1 bounce swing with hanging rings – If you don't have enough space for multiple swings, this swing is perfect. You can hang From the rings, bounce on the swing or sit and swing. The bar allows you to switch from one to the other easily. 
The classic belt swing seat– A belt swing seat is small, durable for outdoor conditions, and uncomplicated. Belt swings are classic swings that can be used in so many ways, depending on the age (and creativity) of your kids. Its weight capacity is 250 lbs.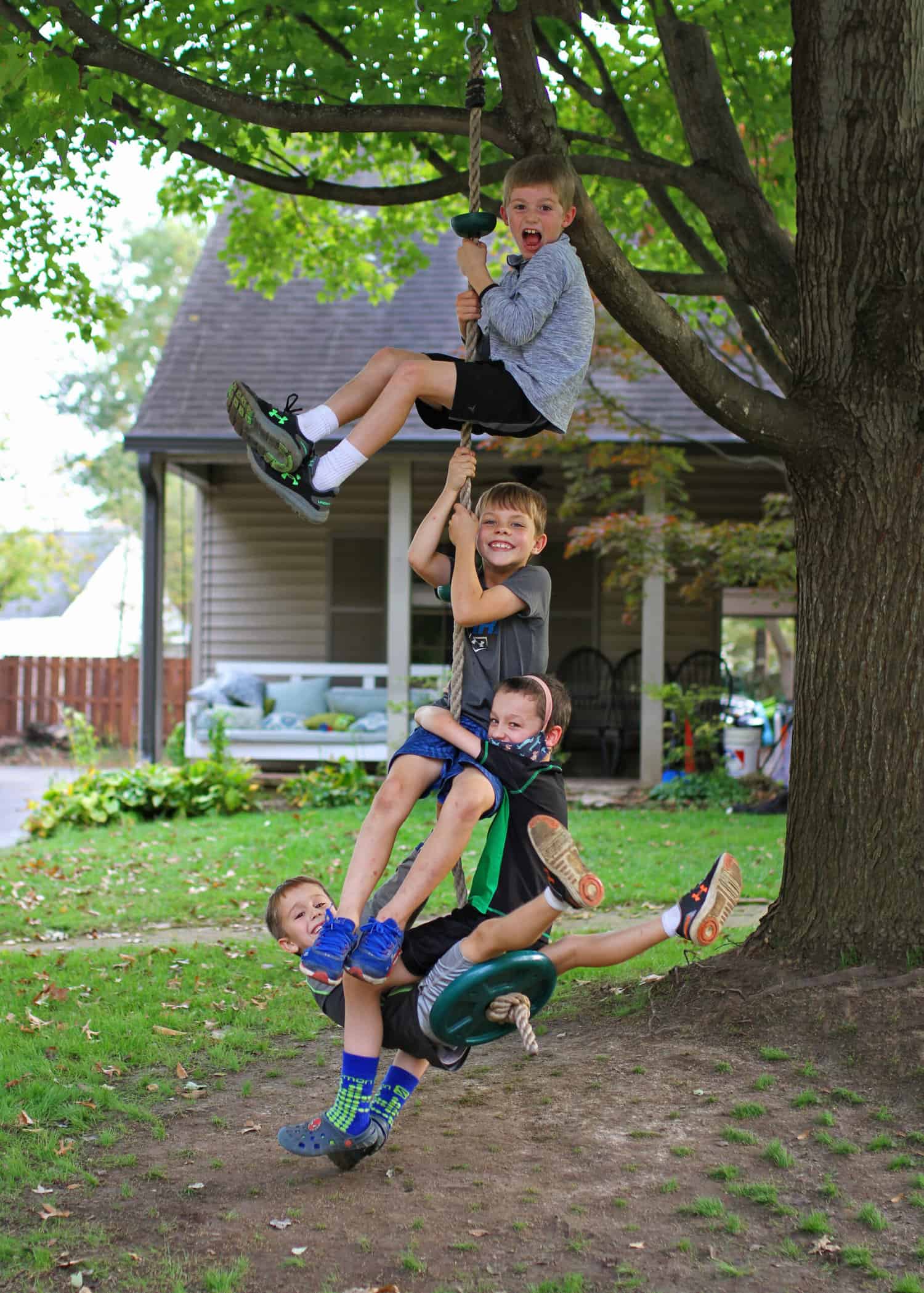 Photo credit @sara_mccarty
Best large area swings for kids
Climber swing– If you have a lot of room and some little monkeys who love to climb and swing, this would be a hit! This climber swing comes with its own frame! It's a great choice for a fun backyard swing for kids. 
Tent swing– A tent swing is a hideout and a swing all in one. Some are even waterproof with lights (although, be aware that they should not be left up when not in use). My kids love playing in their tent swing at night with flashlights. 
Hoopla Ring Swing – Just like a circus swing! This swing is round with a seat and handles to hold onto. It can spin and swing in all directions.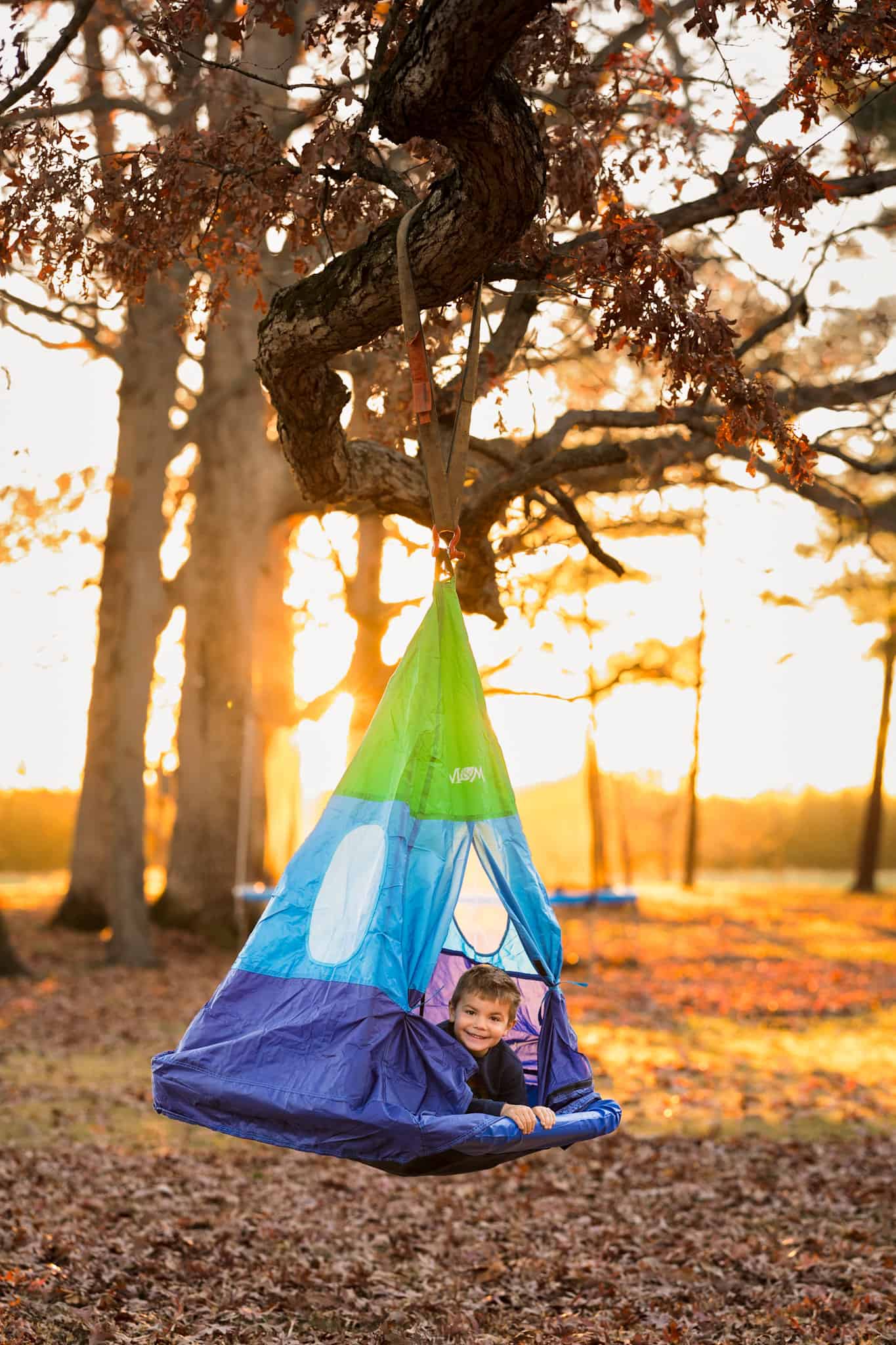 Best set of swings
Swingsets are a great option for your family, if you've got the budget and the space for them. There are so many different options and types of outdoor swing sets out there, from wooden swing sets to classic metal swing sets, to obstacle course-type swing sets. Here are a few of the best swing sets for kids. 
Steel swing set – This heavy-duty swing set allows for multiple different types of swings, is durable for all weather conditions, and has foam-covered poles for safety!
Ninja course swing set– With this set up, you can mix and match different types of hanging swings, sit swings, and standing swings! Basically, it's a new and improved monkey bars in your own backyard. Some available options to add are trapeze bar swing, monkey wheel swing, rope ladder, and a twister swing. These handle swings are great for developing and improving upper extremity strength, range of motion, and dexterity! This set is great for older kids because it is more engaging!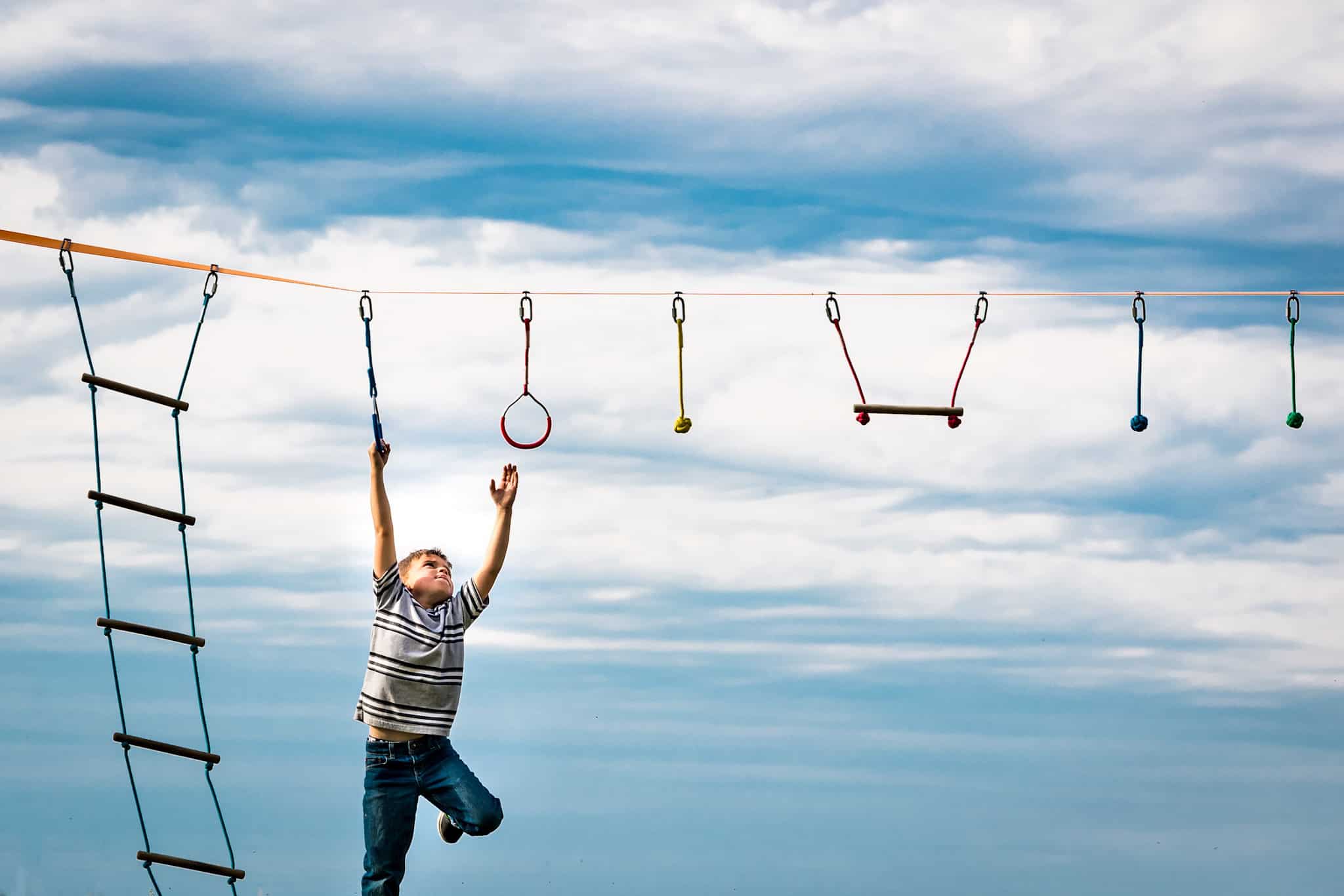 Best outdoor swings for babies 
Safety and comfort are key when looking for an outdoor baby swing. Having a high back for neck and trunk support is important. Straps or a harness are a must to keep babies secure. 
1st Little Tikes Snug and Secure– This classic is one of the most popular and best outdoor baby swings. It has safety features such as adjustable straps and a high supportive back. Fits children from 9 months to 4 years. 50lb weight limit. 
Baby bucket swing– A bucket-type swing is the best toddler swing for younger children. This type of swing is usually seen at parks and playgrounds and is a popular choice for young children. It is very durable and can withstand sun and rain. Easily add this to an existing swing set. Not as adjustable as other baby swings 
Character baby swings– Baby swings shaped like cars, trucks or tractors let your child drive and swing at the same time. It has adjustable straps and a high back for good neck and trunk support. This swing has thin plastic and can crack, so be sure to take it down when not in use.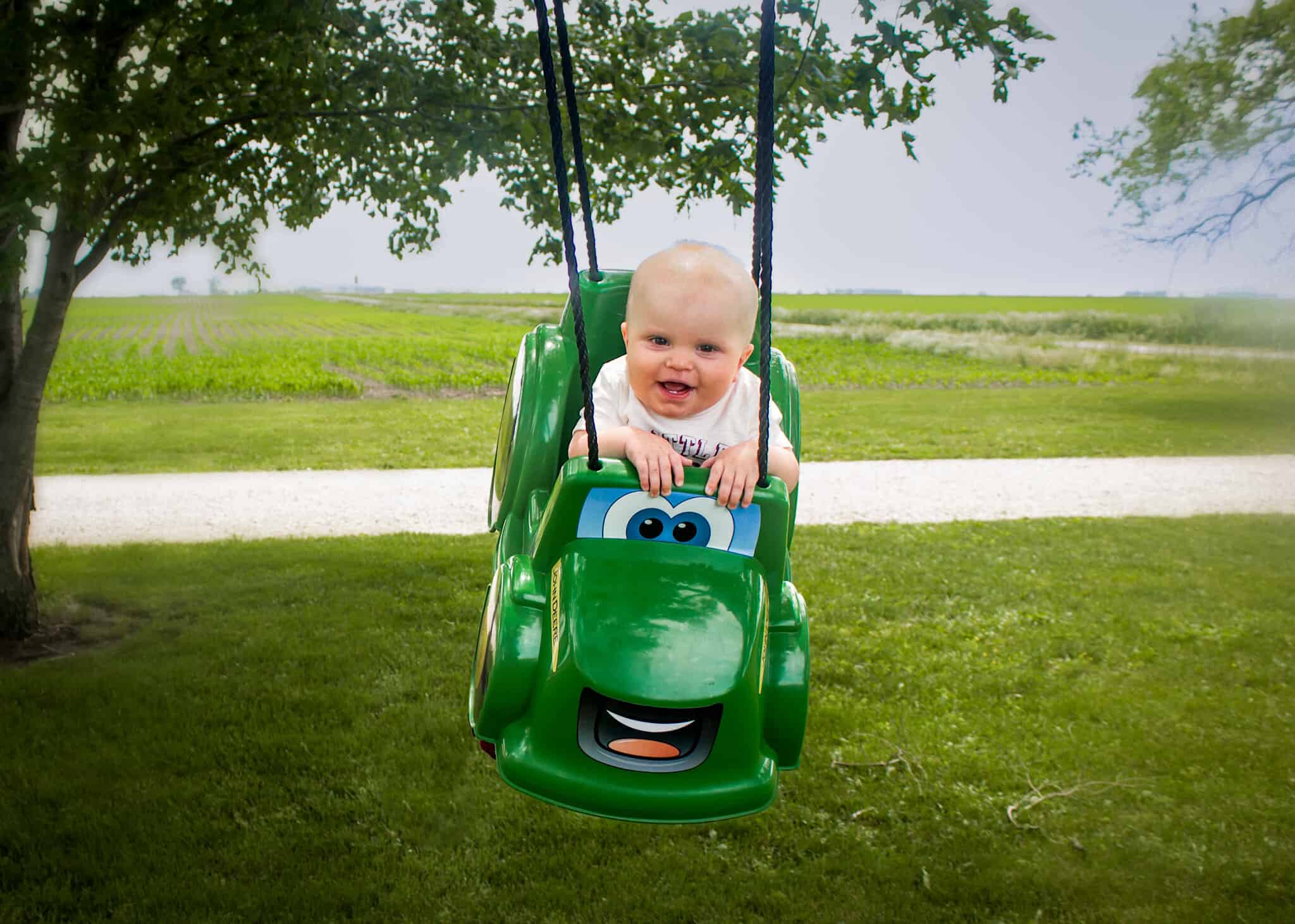 Best tire swings
Tire swings are so nostalgic and classic. I grew up swinging on a tire swing at my grandparents' house. Tire swings are great because you can sit on them, stand on them, or sit inside them. Tires can also be positioned up and down, or crossways. You may be able to find an old tire from your local farmer or mechanic, but here are some more fun options That might not be as greasy and dirty.
Pony horse tire swing– This pony/horse swing is a fun and creative take on the tire swing. Customizable! 
Classic tire swing– This tire swing is durable for outdoor conditions. The tire is positioned in a sideways position. It's great for multiple children. Comes in different colors.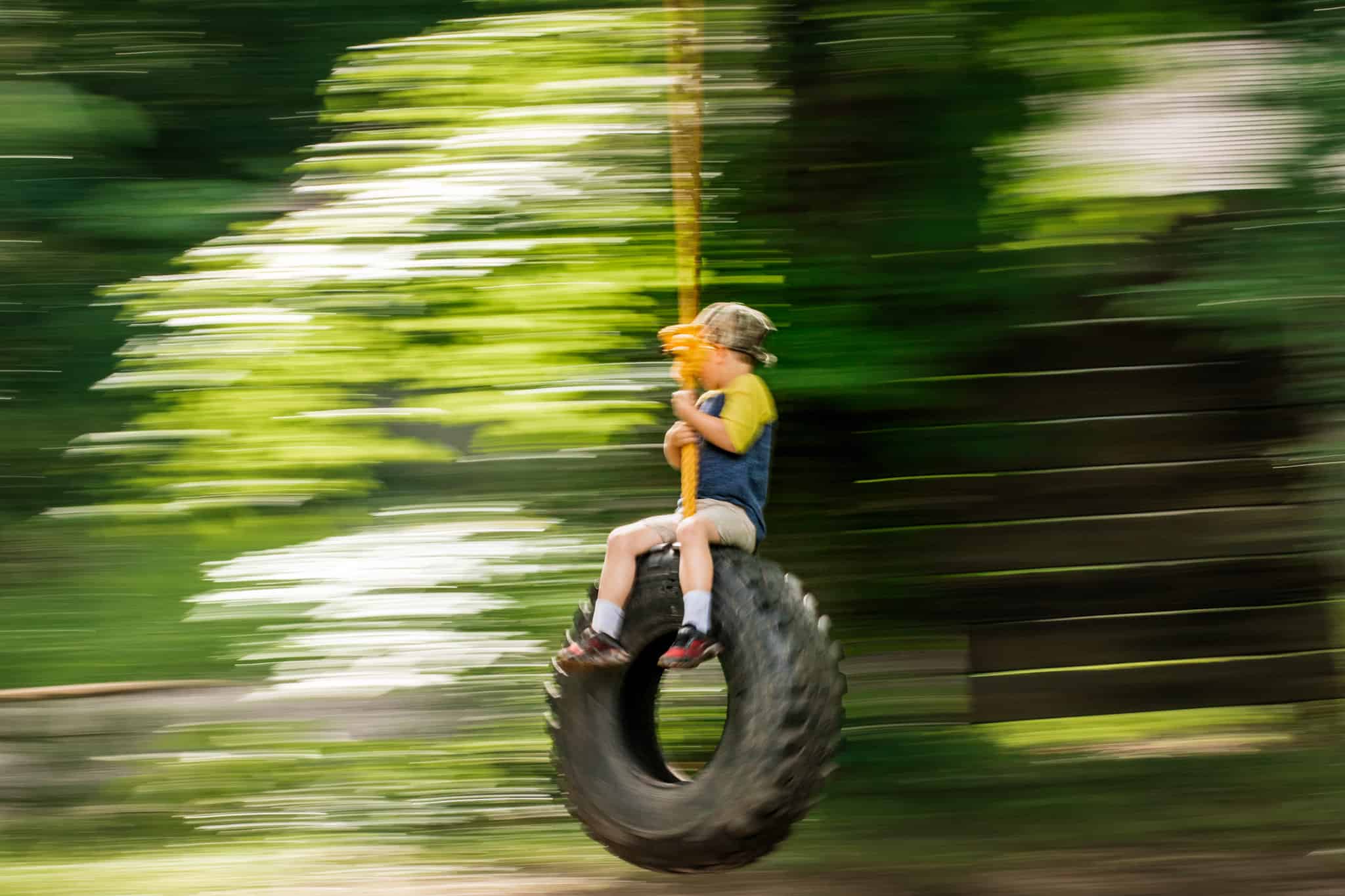 Best swing for multiple children
Saucer swing– These large round swings are great for multiple kids and for adults to sit on as well. Older kids will love this swing as much as the little ones. This swing has a high weight limit and is moderately durable in outdoor conditions. 
Web swing– This circular webs swing is shaped like a giant spider web and is a great option if you have multiple kids. It lets multiple kids sit, lay down or stand with lots of places to hold onto!
Vortex Spinning Ring Swing– This large multi-level swing spins while it swings. Think teacup spinning ride at the state fair. Can hold 4 kids and up to 300lbs but needs lots of room to move!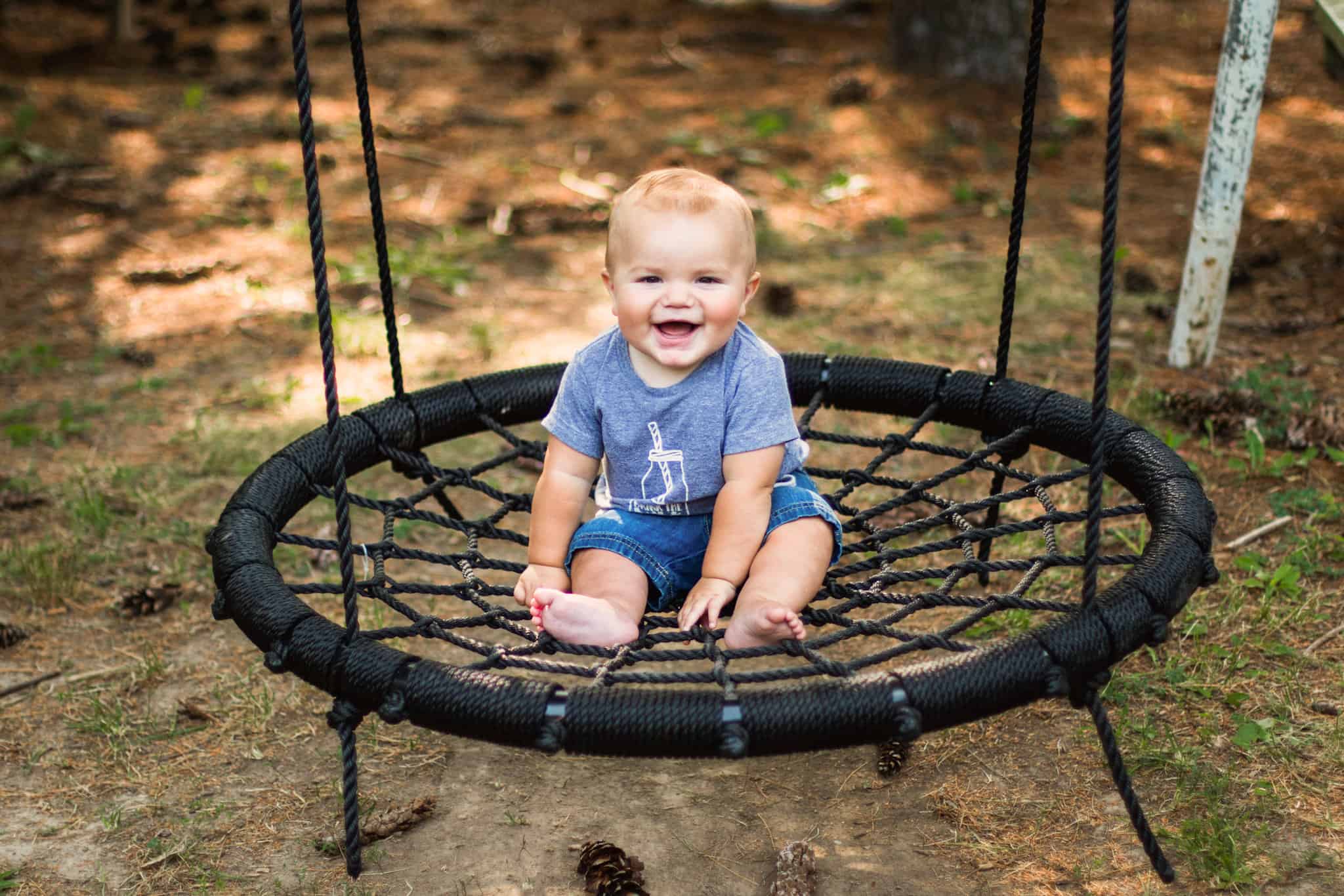 Best tandem swings
Expression Swing– This swing allows children and adults of all ages and abilities to enjoy swinging along with a caregiver or friend. 
Glider swing– With this glider swing, kids sit back to back, and using both arms and legs, they have to work together to swing. This swing is durable for all weather conditions. Great for siblings! Weight capacity of 150lbs total 
Boat swing– This fun swing is shaped like a boat, making it great for two riders to face each other and feel the wind in the sails. Weight capacity is 200 lbs. Due to the thin material, take this swing down when not in use. 
Hoop swing – This awesome hoop swing fits 2 riders and can hold up to 300 lbs. The stainless steel frame is durable and should last for years of fun and outdoor play.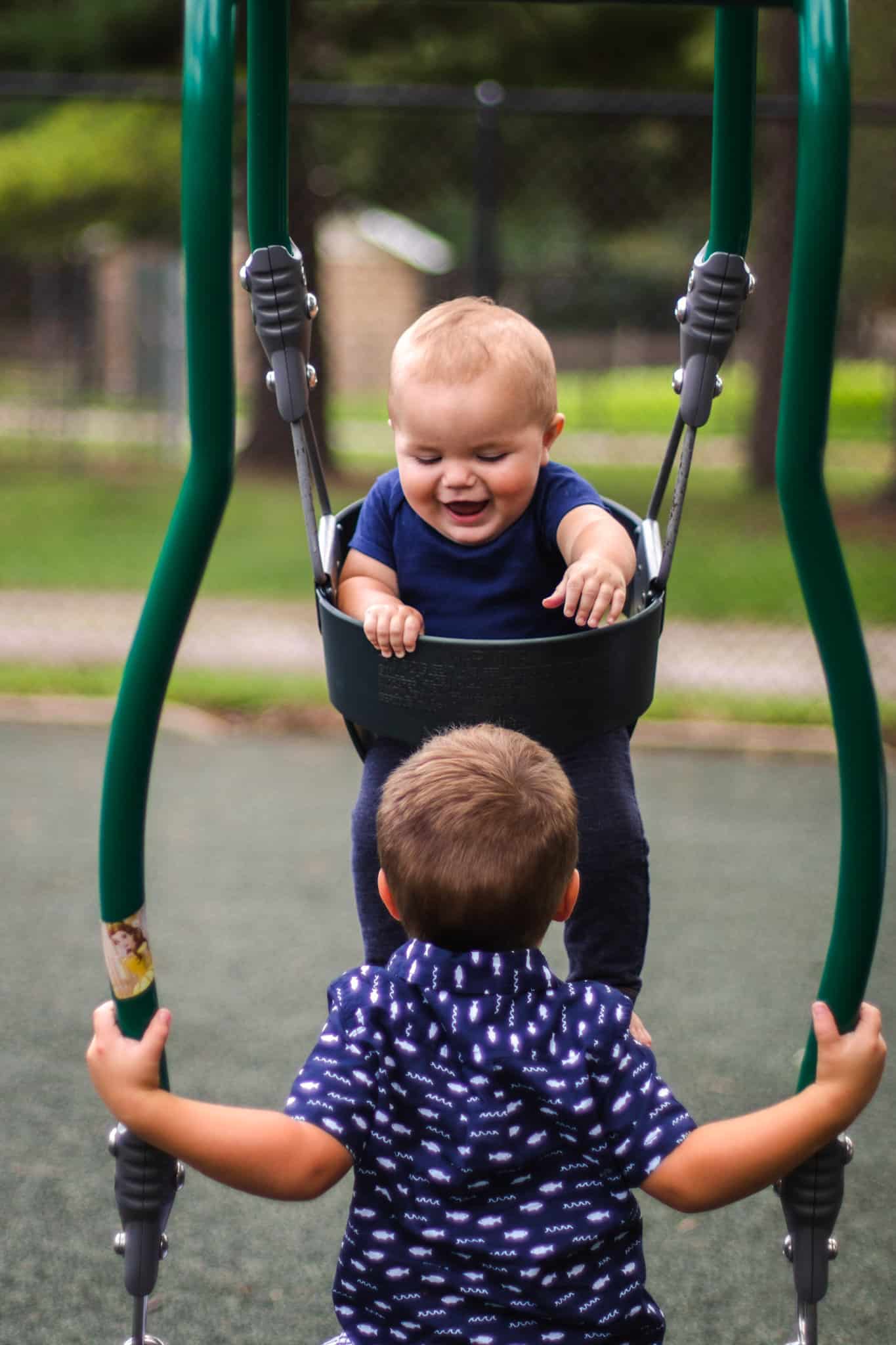 Best standing swings
Standing swings are not only fun but are the best for encouraging high-level strength and coordination! Unlike a regular swing, stand-up swings give your kids a new way to swing and usually move all over the place! 
Surf swing– Surf the wind! This Swurfer Swing allows children to stand and shift weight from side to side. This swing required a lot of open space laterally and may not fit well on traditional swing sets. Weight capacity is 150 lbs. It's great for older children that want to swing high and fast and love a challenge.  
Standing swing– This standing platform swing is a great option for big kids. It's square-shaped with indents for your feet. This swing allows forward and backwards movement while standing.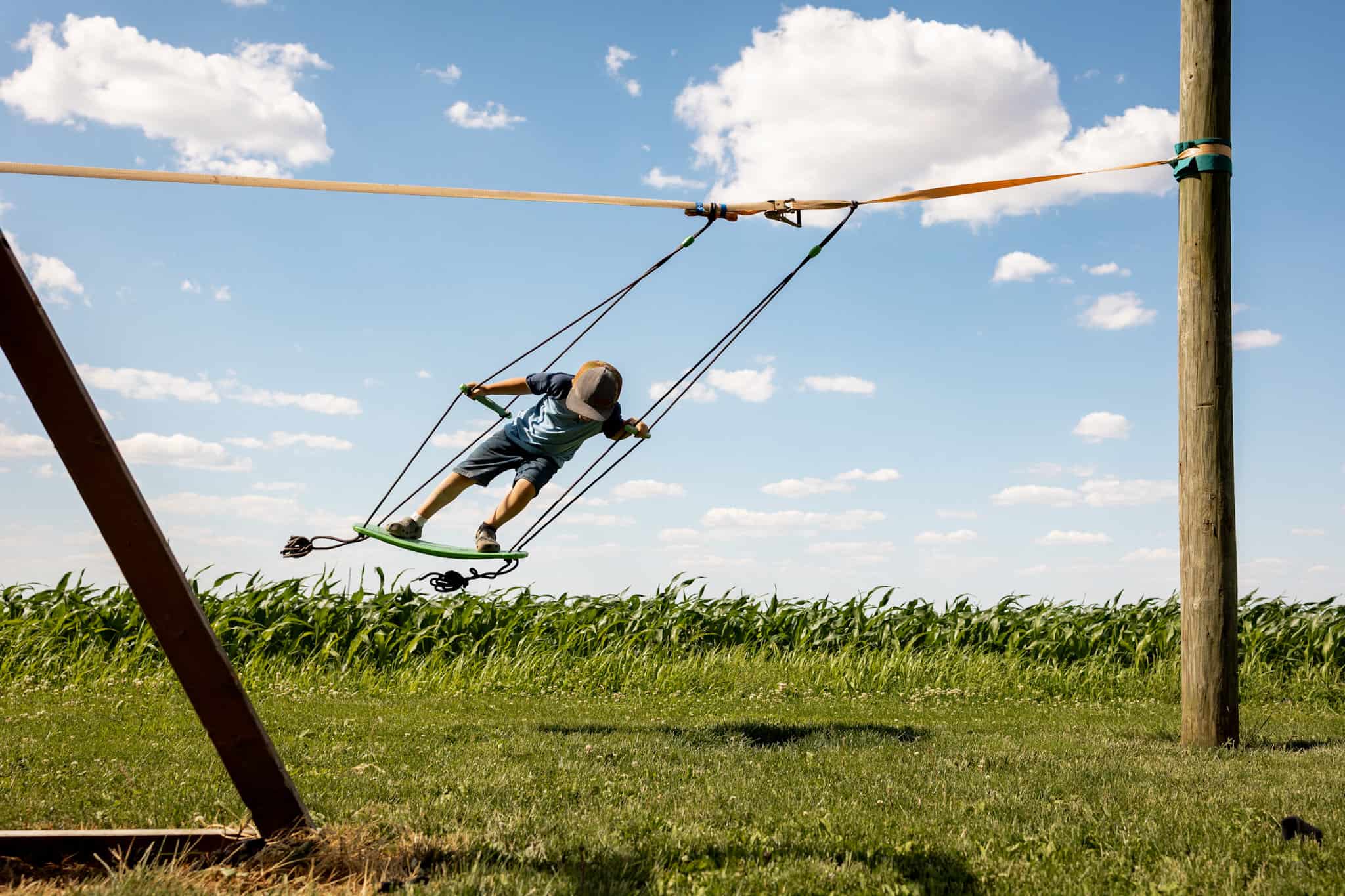 Best hammock swings for kids
Signature Yellow leaf Hammock– This hammock is durable for all weather conditions but light and easy to pack up and take camping. It is designed not to flip, making it safer for children to get in and out of. It can be hung from many different spots and has a 400lb weight capacity.
Hammock Chair Swing– A swing with pockets! For books or rocks, it has pockets to store things in while kids relax. It offers a little more cushion and support than a traditional hammock but has all the laid-back relaxation.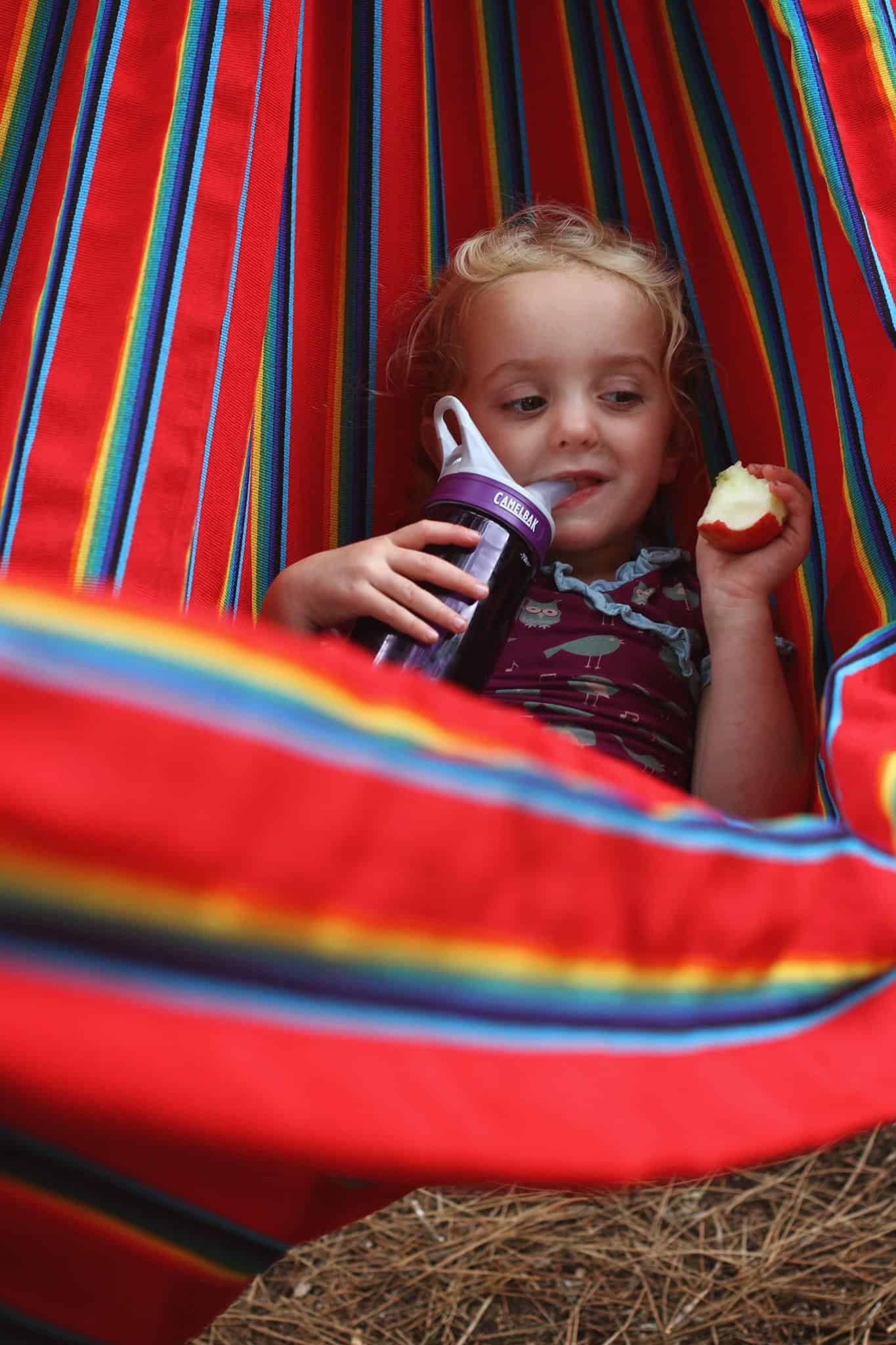 Inclusive swings for kids
A swing is a great tool for all abilities. Swinging gives vestibular and proprioceptive stimulation. The movement can help soothe and calm a child whether they are overstimulated or seeking more input to feel regulated.   Using the full body to swing activates muscles on each side of the body equally, which can help improve strength balance and coordination. Swinging can be a fun and engaging tool to address things like weakness, tone, sensory processing disorders. And kids love it. 
Little Tikes Inclusive Swing– this swing has a high back/neck support, sturdy 3 point harness and high grade plastic. Weight limit of 250lbs. The downside is it is more expensive.
Deluxe swing seat– This highback swing seat has leg support and secure straps. It has a weight capacity of 200lbs but can come in smaller sizes as well. 
Portable Swing Chair– sitting still is hard, when kids need sensory input in the go this portable swing chair is perfect! It is great for camping or sporting events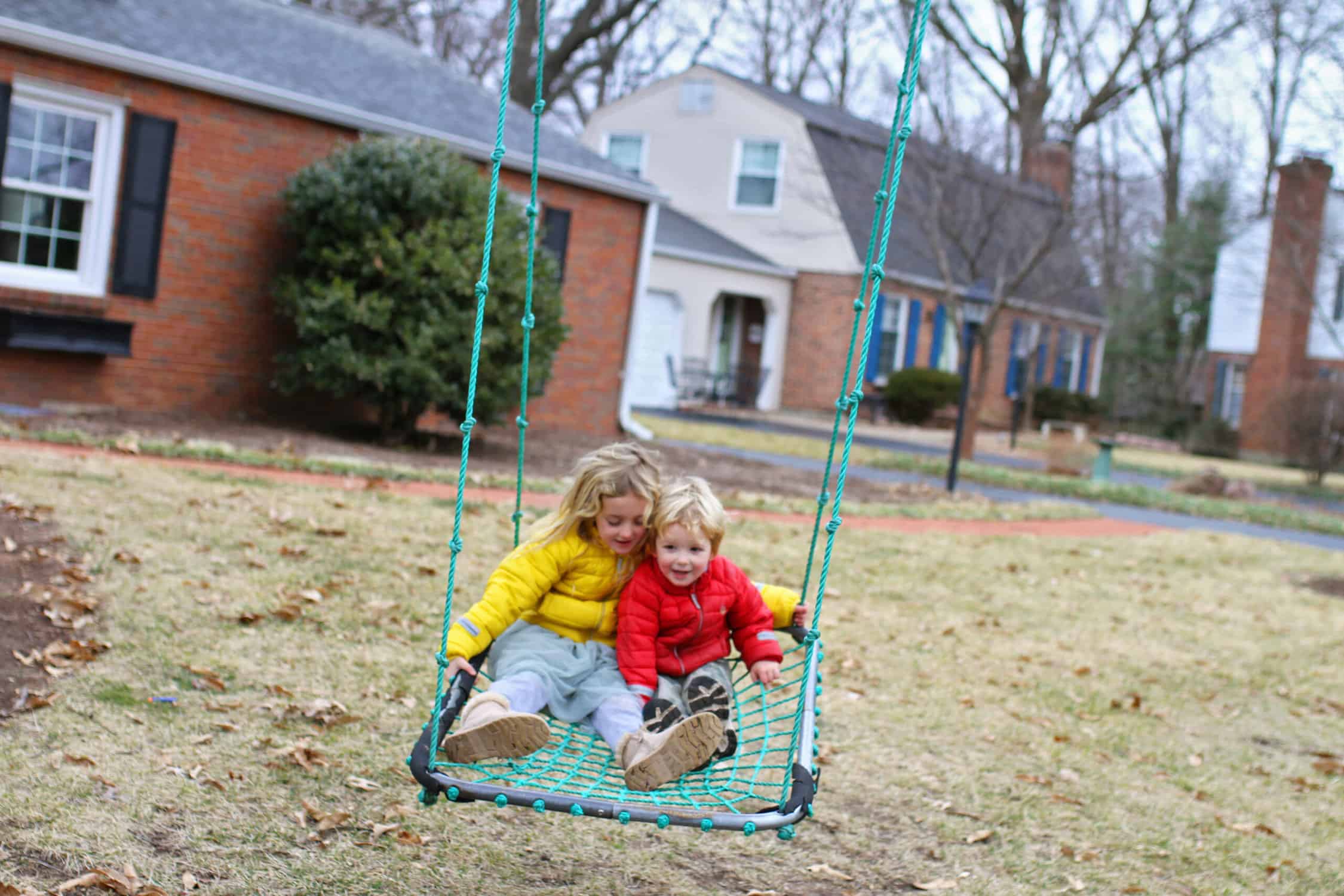 Photo credit @sara_mccarty
Best porch swings
Family Wooden Porch swing– Take some time to sit back and enjoy the sunrise or sunset while sitting on a porch with your family. It's such a great way to start it end the day. This porch swing is durable and customizable!
Porch swing with stand– If you don't have a sturdy porch or don't have a porch at all, you can still enjoy the outdoors with this swing that includes a stand. This large and sturdy swing is perfect for sitting and relaxing in the yard, as well.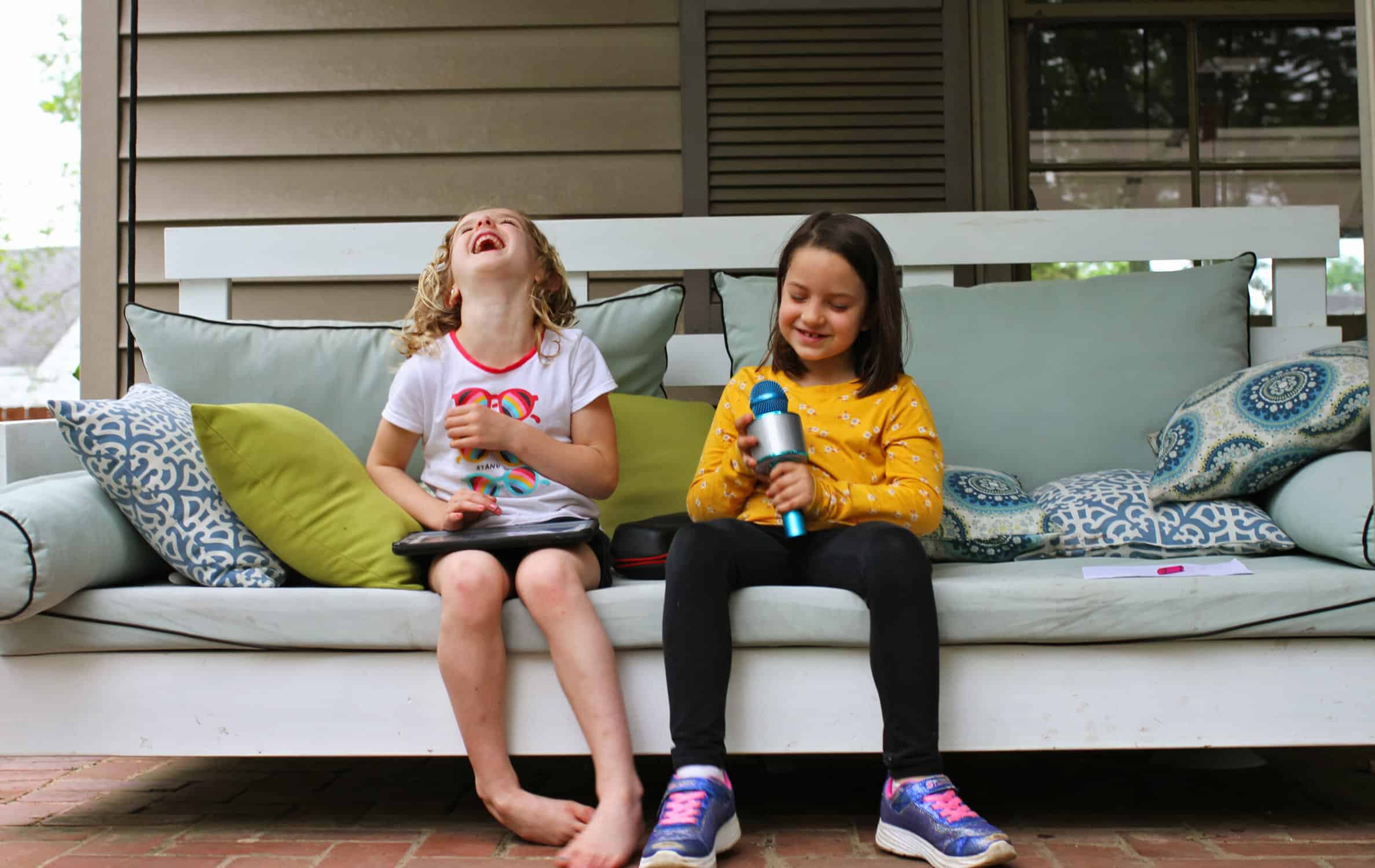 Photo credit @sara_mccarty
Get to swinging!
Having a swing at home has endless benefits. Swinging is enjoyed by many ages and many abilities. This activity can provide hours of endless fun for the whole family while encouraging physical activity and emotional bonding. You can never have too many types of swings.
What kind of swing is your kids' favorite?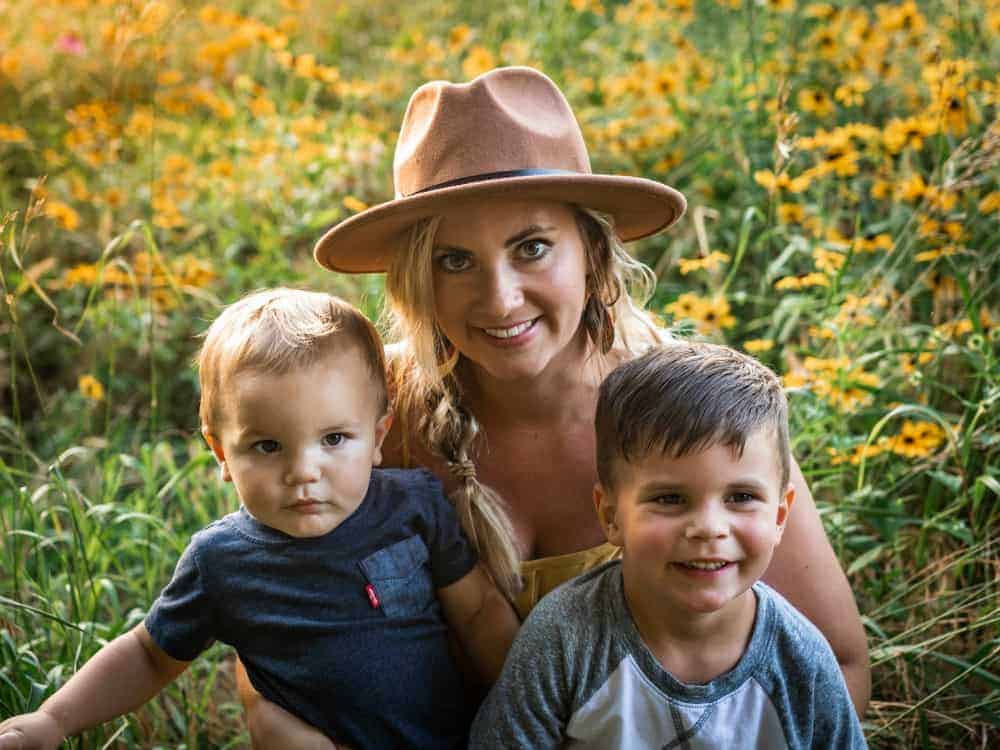 About the author
Meghan is a country-living mom of 3 kids in rural central Illinois. She is a Physical Therapist Assistant by trade but spends most of her time outside with her family. At home, she has large flower, herb, and vegetable gardens to tend to and 3 large dogs to play with. As a family, they enjoy hiking, camping, boating, fishing, and helping her in-laws show and raise livestock. Photography became a hobby while in isolation after her oldest son's bone marrow transplant. It has since become a passion for capturing her family's daily life. Throughout her family's journey with rare disease and transplant, the outdoors has been a safe space for the whole family to grow, learn, and thrive.
You can find more from Meghan online in the following locations:
Instagram: @meghangarriott
Meghan's RWMC posts: Meghan Garriott
The post Best Outdoor Swings For Kids appeared first on RUN WILD MY CHILD.