I packed seven of the most popular diaper bags and used them in my daily life as a mom of four. I liked some a lot more than others, and spoiler alert: Bigger isn't better. By Alexandra Frost
As I embark on my fifth time shopping for baby items, ahead of my May due date, I got into a deep, existential mom dilemma: What makes a great diaper bag? I've had ones that are too small, too large, bulky and inconvenient, and just plain not well-designed for a messy diaper change on the go. I had never really found one to meet all of my—and my kids'—needs. So when I decided to evaluate some of the top trending diaper bags, I had high standards. 
I was pleasantly surprised to learn that diaper bags have evolved since my first child was born in 2014. Not only are they more stylish and convenient, but it seems as if real parents were on the panel determining what should go where and why. From built-in stroller hooks to intuitive diaper changing stations, pockets clearly designed for the latest large smartphones, and nooks and crannies for pacifiers, modern diaper bags are a far cry from a basic tote or purse. Through this evaluation process, I went from highly doubtful I'd purchase a new bag to wondering how I lived without a more-than-basic one before.
What Do You Typically Pack in a Diaper Bag?
Rebecca Coluntino, occupational therapist, doula, and childbirth educator in Boston and surrounding areas, gets parents started on the must-haves of daily life with a new baby, including packing a diaper bag for the first time if needed. She says parents pack a variety of items: Diapers, wipes, diaper rash or barrier cream, bottle, sometimes a manual pump, and a change of clothes for the newborn as well as for the parent, nodding to any parent who has ever had their own shirt covered in spit-up unexpectedly.
"It's always nice when a diaper bag has a variety of compartments—for example, some insulated pockets to keep cold bottles inside or storing pumped milk if needed." She's also a fan of those fold-out changing table pads which can come in handy when a public bathroom has no changing table.
What Style of Diaper Bag Is Most Comfortable to Carry?
Parents should prioritize which style is most comfortable to them, whether it's a backpack, messenger bag (also sometimes worn crossbody style), a tote, or one that converts to multiple styles. Some diaper bags also have smaller wristlets and pouches that can be separated from the bag for a quick trip that doesn't require carrying the whole diaper bag. 
If you've ever carted a large diaper bag around an amusement park, or a similar adventure, you know that a parent's comfort is key in selecting the best bag. Ai Mukai, MD, physiatrist at Texas Orthopedics, Sports, and Rehabilitation Associates in Austin, has some tips for parents choosing diaper bags, to save their own backs and joints.
"Crossbody bags and messenger bags unevenly distribute the weight of the bag on your body and spine, and is not preferred compared to a backpack style bag," she says. "Ideally, find a backpack with wide straps so they don't dig into the shoulder. Make sure the bag bottom is above your hips." She recommends the bag and its contents weigh less than 10% of your body weight. "I think maximizing the ergonomics of the bag, minimizing the weight of the bag, and also being strategic about having a bag that fits on the stroller so you don't have to constantly carry it would be good."
She especially cautions those who might have just had a C-section to consider using an abdominal binder or pregnancy support belt for six weeks to 3 months after delivery to prevent pressure and stretching during diaper bag use. Finally, opting for thicker straps over thin ones can reduce strain on the neck and shoulder.
If you do opt for a backpack style, she recommends wearing it between the shoulder blades, down to the hips, in a snug position rather than "hanging out and pulling down." 
Using these experts' suggestions, we experimented with seven diaper bags, from designer brands to more budget-friendly products at widely varying levels of fanciness, size, and functionality.
How We Evaluated Diaper Bags
Is the Diaper Bag Comfortable to Carry?
You aren't going to want to wear a bag that isn't comfortable, especially when it's stuffed full of all your kids' wants and needs for the day. So, we kept an eye out for exceptionally comfortable straps and an appropriate bag weight that didn't feel cumbersome. In addition, knowing what we learned from our experts on choosing backpacks when possible over messenger-style bags, for neck and back health, we prioritized bags with those options. But it's not just the parent's comfort we considered—in exploring changing pads, we opted for those with a bit of padding in case a dreaded public bathroom floor diaper change becomes necessary.
How Functional Is the Diaper Bag?
Diaper bags come with some serious pockets, more than the most functional purses. But those pockets have to fulfill a few criteria. The drink pockets must be stretchy enough to accommodate multiple types of sippy cups and parent water bottles, which we tested using a standard and popular sippy cup, but one that is wider on the bottom than the top to ensure others will fit too. The diaper changing station access must be sturdy, if attached to the bag, with enough pockets to house diapers and wipes within easy reach. Finally, there needs to be a place for caregiver items like phones and keys, personal products, and more. So, we experimented with the most convenient spots to throw in our phones, opting for magnetic closures and easy-to-close zippers.
Is the Diaper Bag stylish?
As a go-to baby registry option, most parents want a diaper bag that reflects their style, and one that brings them joy to carry. All of the models we evaluated are available in a variety of trendy colors and fabrics, and we watched for details that make you feel like you have it together, even on your worst days. This means tiny details like leather pulls, gold hardware, and beautiful designs were pros.
Is the Diaper Bag Spacious but not Bulky? 
The diaper bag's size reflected how much stuff we were able to put in it. We evaluated the bags to include a variety of items a parent and at least one child would need. In each bag, we packed:
• 4 diapers
• 56-count pack of wipes
• Change of clothes for the baby
• Soft toy
• Bib
• Keys
• Lip balms
• 2 masks
• Continental-sized wallet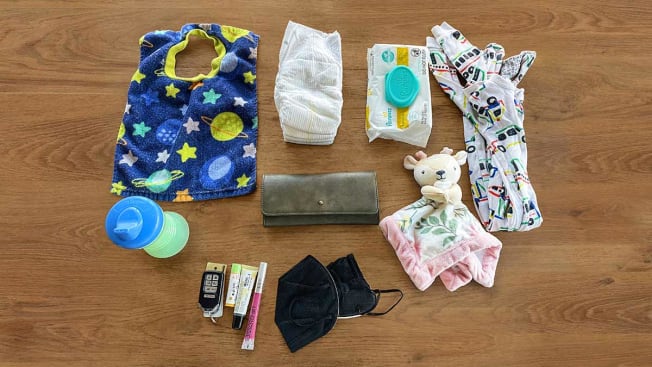 We packed each diaper bag with some basics for babies and infants, such as a diapers, wipes, clothing, and toys. We also added a few small items for adults, such as lip balm and face masks, among other items.
Photo: Alexandra Frost
This allowed us to see how much room we'd have to accommodate an additional child's items, if needed. We also watched for easy access to each compartment, especially the main internal compartment of the bag, because everyone hates digging for the last baby food pouch at the bottom when the baby is screaming.
Dimensions: 11.5 x 7.5 x 13.75 inches
Unique feature: Rubber design on the bottom protects bag 
Drawback: And this is picky—not much room for surprise extras when bag is fully packed.
This diaper bag was a small but mighty winner that I never saw coming. At first glance, it seems too small for most families with more than one child. But it has some serious internal storage and strategic pockets that outsmarted the rest. The vegan leather backpack with adjustable straps has a U-shaped zipper that opens the entire front of the bag, giving exceptional access to all of the interior compartments. It has two open fabric-lined side pockets that easily fit bottles, sippy cups, or adult water bottles, and keep them firmly in place. 
The diaper bag is lightweight and easy to carry for hours without a rest. It includes a vegan leather changing pad that is also lightweight and folds very small in a concealed vertical zipper behind the bag. There is enough room to include your essentials as a parent, in a total of eight compartments. The front pouch seems ready-made for your smartphone, though it will fit in the sides as well. It has one of the roomiest interiors of the bags we tried, because the compartments aren't too bulky, which means I was able to fit just what I needed without cramming things in or ruining visibility of items on the bottom.
The most ingenious aspect that differentiated this bag from the others is a rubber protection design on the bottom, which means you don't have to worry about setting it on the ground beside a picnic table at the park. It resembles the bottom of a sneaker, protecting the bag from wear and tear over time. In addition, spot cleaning is easy, with just a damp cloth. 
Finally, the straps themselves, though they are thin, are soft and comfortable, and don't put a strain on the neck, shoulders, or back. The eight colorways include leopard, olive, coffee&cream, and blush. 
The only downside of this bag is when it's packed for the day, there isn't much extra room for additional things—a toddler taking off a sweatshirt mid-trip, saving half of their snack for later, and the like.
Dimensions: 13.8" W x 13.8" H x 6.3" D
Unique features: Two insulated pockets (not included with all colors), longest changing pad
Drawback: A little too boxy to carry as an everyday bag 
The Boxy Backpack walks a fine line between a convenient diaper bag and one that's just too bulky, like the Béis Ultimate Diaper Bag (below). The Boxy Backpack—an unfortunate name that suggests bulky—has all the features of a complete diaper bag, including a zip-out changing station, with an additional velcroed-on removable pad (for easy cleaning), making it the longest changing pad we tried. It fits an entire small toddler, rather than just an infant like some of the other pads. In addition, the pad itself is much more plush and comfortable for the child, especially compared to the thin leather of the Itzy Ritzy pad or Coach's option. The changing station also features pockets for exactly what you need within reach, from a spot for wipes and diaper cream, to enough room in the pockets to fit multiple diapers. This frees up the main compartment for non-diaper-related items. Other diaper bags got wobbly when the diaper changing station was extended, but this one was stable, even when the bag wasn't completely stuffed with items weighing it down.
The convertibility of this bag makes it easily shareable between parents and caregivers with different preferences on messenger versus backpack carrying, and it quickly converts between the two. In addition, you can attach it to a stroller with simple straps. The magnetic closure of the main flap is exceptionally helpful if you've overstuffed your bag a bit, and it has an extendable section making the bag slightly taller than it is to begin with, in case you are really packing up for a day trip.
The Boxy Backpack comes in 16 colors and designs. We loved the chic sand/black colorway we tried.
This diaper bag is also roomy enough to fit a small purse or wristlet, for quick trips where you don't want to bring the whole bag in.
Other Diaper Bags We Tried
Dimensions: 11.8l x 7.8w x 16.5h
Unique feature: Laptop sleeve
Drawbacks: Fabric doesn't feel as nice, might have too many pockets
Because it can fit more gear, this bag is great for a variety of outings—a mountain hike, a cross-country airplane trip with multiple little kids, a quick stop at the office, and more. It can easily be used, in addition to holding baby items, as a laptop bag (with a nifty and secure internal spot just for this), or a bag that will truly hold all of your kids' and your own products with ease. Its main attraction is that it's exceptionally light for the amount of storage and height you get, which means you can prioritize adding weight from items you need, rather than from a bulky bag itself. The polyester material is easy to spot-clean, but it doesn't look like a cheap backpack. Leather zipper pulls elevate the style a bit, and handles toward the top mean you can carry it without the backpack straps if that reminds you too much of tromping across your high school. After all, we are grown-ups now. They say.
This incredibly budget-friendly bag is also an easy transfer between caregivers, as it really looks nothing like a purse that my husband would hesitate to carry on a daily basis. It comes with a reasonable-size changing pad, two large zipper closure compartments, and a stunning 16 pockets. Your main complaint will be not remembering which pocket the pacifier is in.
The bottle pockets hold a wide variety of bottle and cup sizes, thanks to stretchy side bands, which is a pro if you have multiple kids with different types of cups and bottles that you'll be using the bag for. 
The backpack straps are comfortable, partially due to this bag being so light to begin with, and feel comfortable to carry for multiple hours. Some might find that the fabric feels a bit cheaper than the leather bag options, but that's why it's so light, so it's worth the trade-off.
Dimensions: 10 x 6 x 11 inches
Unique features: Detachable pouches, insulated pocket
Drawbacks: Stiff zippers, not spacious enough
This bag is oddly heavy given its compact size, compared with some of its competitors. The sleek and modern look is attractive, and it comes with multiple add ons, including multiple removable pouches plus a changing pad, stroller clips, detachable key leashes, and a washable zipper bag. All of these extras make it an excellent all-inclusive choice for travelers. 
But, there are two main drawbacks. The oversized zippers are really stiff and don't easily open, especially with one hand (and do parents ever have more than one hand available?). The small size also means it's hard to fit all of the essentials in the bag, and we definitely don't have as much visibility as we do with the Itzy Ritzy backpack. The reason there isn't enough room inside is that an internal cupholder fabric compartment takes up a solid third of the internal space.
Dimensions: 13 x 13.5 x 7 inches
Unique element: Pebbled faux leather gives it a chic look
Drawback: No changing pad and very heavy
If you are going for a beautiful bag over everyday comfort and function, the Fawn is for you. It is made from faux pebbled leather, and has leather interior pockets as well, with gold zippers and other hardware. But, it's exceptionally heavy, more than double the weight of one bag we tried. This, compounded with the least comfortable straps on the back and shoulders, made it difficult to recommend the Fawn.
The design itself doesn't lend to visibility in the bag, as it has a top flap that zips open to reveal an otherwise very deep space in the middle. There was lots of digging around to find things at the bottom, in spite of the many pockets, which further contributed to the lack of visibility in the main compartment. 
It also doesn't come with a changing pad, nor does it really have space to add one in separately, necessitating parents solving this problem on their own. Finally, the side pouch doesn't hold the sippy cup we tried with all our bags.
The price tag also might give some parents pause, especially since they'd have to purchase a separate changing pad.
Dimensions: 13.75 x 11.5 x 5.5 inches
Unique element: Magnetic closure for quick access
Biggest drawback: Side compartments lack flexibility for different bottle/cup sizes
If you just can't decide between your favorite designer purse and a designer diaper bag, this Coach option is a have-it-all solution. It features all of your favorite go-to options in a Coach bag, such as refined calf leather and luxe fabric interiors, but with an eye on caregivers' needs. The magnetic closure is useful and quick for opening and closing the bag during a baby crisis, and the side compartments also have magnet closures. 
However, there are multiple downsides. The removable large wristlet, which is convenient for housing your personal items and keeping your wallet separate from baby wipes, is exceptionally hard to zip. After multiple uses, the zipper still wasn't easy to use and would get caught even with two hands working on it. The changing pad is included but isn't overly plush or comfortable. The side compartments don't allow for taller bottles or cups, and the bag's material doesn't have enough give to accommodate many types.
Finally, the strap is not as comfortable as some of our other options, partially because the bag is heavy. So, though it looks super stylish and you might feel like your mom style has been seriously elevated, the practical logistics and features aren't there.
Dimensions: 12.5 x 16 x 7.25 inches
Unique element: Detachable fanny pack
Biggest drawback: Extremely bulky
The BÉIS is a beast. Literally. It is a massive suitcase that I would only carry if I was traveling far and wide with kids, which is what it's intended for. But, I couldn't choose it as a top winner for daily use due to its bulky size. However, given how big it is, it isn't as heavy as some other smaller options, which is in part, because it's made of fabric, not leather. 
The bag does focus on providing what you need quickly, from multiple places to store wipes, to being able to quickly pull them through a "window" with one hand, to a fold-out changing station featuring "sides" so the baby doesn't roll away. These features are definitely nice for an airport pit stop between flights. 
A creative feature is the detachable fanny pack, which you can wear however you want—across the waist, as a crossbody bag, or slung over a shoulder. However, when you go to put the fanny pack back on the large bag with clips, you have to adjust the fanny pack back to its original settings or it will hang off lopsided. This eliminates the convenience of quickly grabbing the smaller bag and reattaching it because it needs to be readjusted each time.
The straps are among the most supportive and comfortable of any we've tried. So I'd choose this bag for long trips with many kids, or for around town only if I had triplets. 
This product evaluation is part of Consumer Reports' Outside the Labs reviews program, which is separate from our laboratory testing and ratings. Our Outside the Labs reviews are performed at home and in other native settings by individuals, including our journalists, with specialized subject matter experience or familiarity and are designed to offer another important perspective for consumers as they shop. While the products or services mentioned in this article might not currently be in CR's ratings, they could eventually be tested in our laboratories and rated according to an objective, scientific protocol.
Like all CR evaluations of products and services, our Outside the Labs reviews are independent and free from advertising. If you'd like to learn more about the criteria for our lab testing, please go to CR's Research & Testing page.
Consumer Reports is an independent, nonprofit organization that works side by side with consumers to create a fairer, safer, and healthier world. CR does not endorse products or services, and does not accept advertising. Copyright © 2023, Consumer Reports, Inc.