Many of us have either wrapped up our fall hunting seasons or are hoping to finally punch our tags in mere days. As the end of the year and hunting comes to a close, we at AllOutdoor have been hunting as well. In fact, I have spent the last 5 months hiking, fishing, shooting archery, and hunting with the Nexgen Outfitters Whitetail Caddy Pack in order to bring you this comprehensive review. You might not be able to put many miles on a hunting pack like this anymore this year, but it could still be a fantastic Christmas gift for someone in your hunting circle. So without further ado, lets dive in and take a closer look at the Nexgen Outfitters Whitetail Caddy Pack!
Specifications:Nexgen Outfitters Whitetail Caddy Pack
The Nexgen Outfitters Whitetail Caddy Pack might be proudly dubbed for whitetail deer, but it can effectively be used for any type of outdoor endeavors you might have in mind. As I mentioned earlier, I got 5 months of hard use out of this hunting pack and it essentially looks brand new and unscathed. It was brought into the Boundary Waters Wilderness Canoe Area of Minnesota while trout and salmon fishing. I used it while on an archery lottery hunt in Camp Ripley in Minnesota. It also saw a lot of field time while checking trail cameras for firearm season and tending cattle on my familys ranch. Anything that I had ever asked of it, it handled. The specifications for the Whitetail Caddy Pack can be read below as presented by Nexgen Outfitters:
Weight: 3 Lbs. 15 Oz.
Capacity: 1,950 Cubic Inches
18 Pockets/Pouches (7 External 11 Internal)
TriCot Polyester Outer w/ Water-Resistant Polyurethane Laminate
Double-Stitched Seams for Superior Strength & Durability
Adjustable Padded Shoulder Straps equipped w/ MOLLE Loops
Fully Adjustable 1.5 Nylon Webbing Waist Belt which can be hidden in the Back Panel when not in Use
AdjustableSternum Cross Straps
Reversible, Adjustable & Removable External Compression Straps to Carry Additional Gear
Adjustable Top Loop Handle
Side Pockets can Carry a Quiver, Bipod or Spotting Scope
Largest Main Compartment Pocket can accommodate most Hydration Bladders
Top Pocket Fleece-Lined making it ideal for items to not be Scratched
Sturdy YKK Zippers
Structured Base & Back Panel allow Pack to Stand Freely on its own to keep your Gear where it needs to be when you need it while still being able to access all your Pockets
Zippered Lid easily transforms into an External Shelf to keep your most accessible Gear always at the ready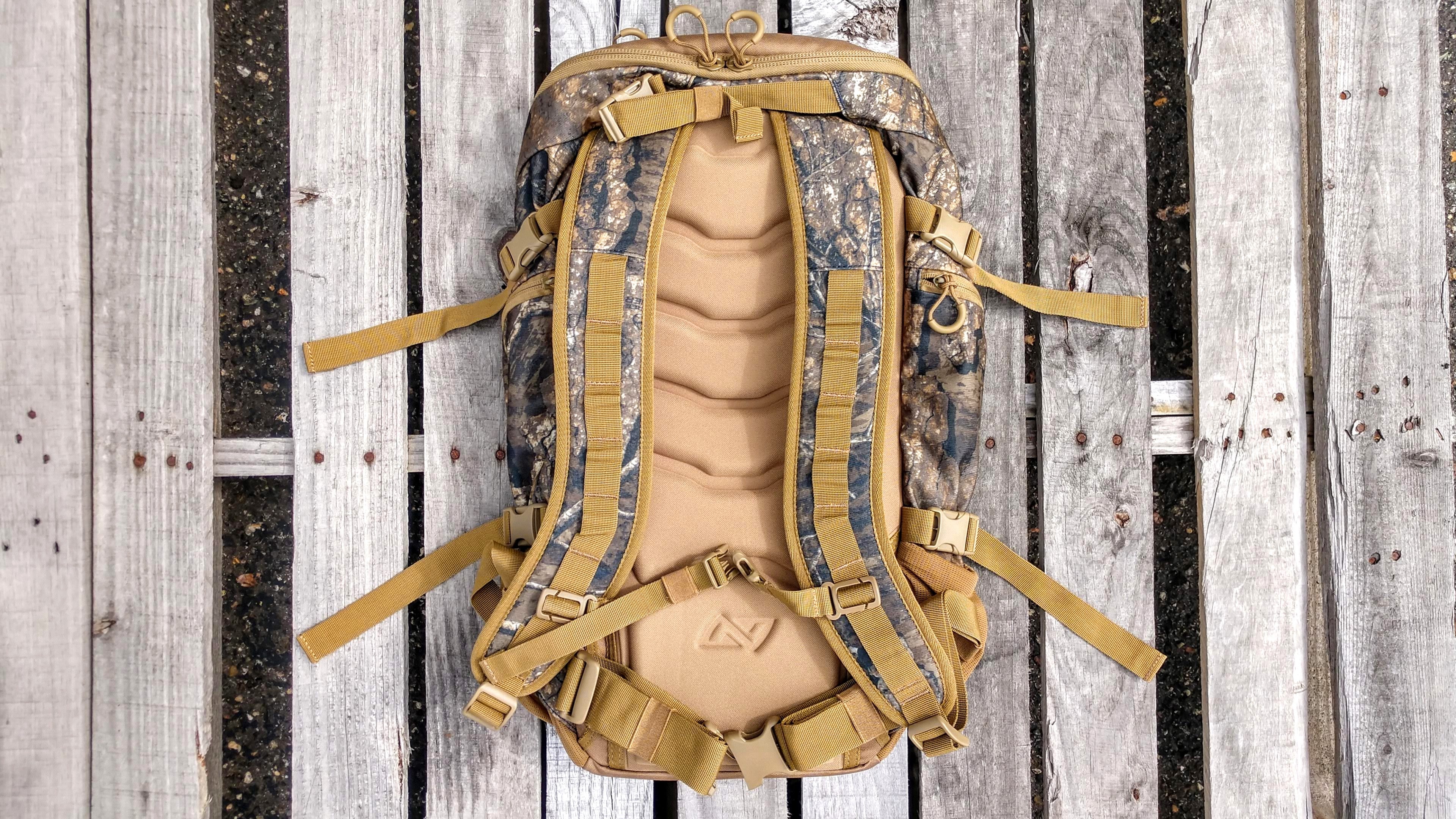 We know. Its called the Whitetail Caddy. But dont let the name fool you! This pack is ideal for predator, varmint and turkey hunters too

When you consider all these features are found in a pack weighing less than 4 lbs. and priced less than $100, youll recognize this Nexgen Outfitters exclusive is an outstanding value.
first look:Nexgen Outfitters Whitetail Caddy Pack
I was fortunate enough to receive this hunting pack as a sample to test this fall back in early August. While I personally was not extremely familiar with Nexgen Outfitters as a company I was excited to see what their hunting pack would have to offer. The explicit hunting pack we are looking at is the Whitetail Caddy Pack in a Realtree Timber camouflage. You can order this pack in your choice of 2 different camouflage patterns:
Realtree Timber MSRP $74.99
Realtree Edge MSRP $74.99
One of the first things I noticed while handling the hunting pack is how crisp the seams and stitching are. Nexgen Outfitters advertises that the entire hunting pack is double-stitched for superior durability and it absolutely shows. There are no rough or ragged surfaces to the zippers, stitching, or edges anywhere along the hunting pack. It handles and feels like a product that costs a lot more than $75.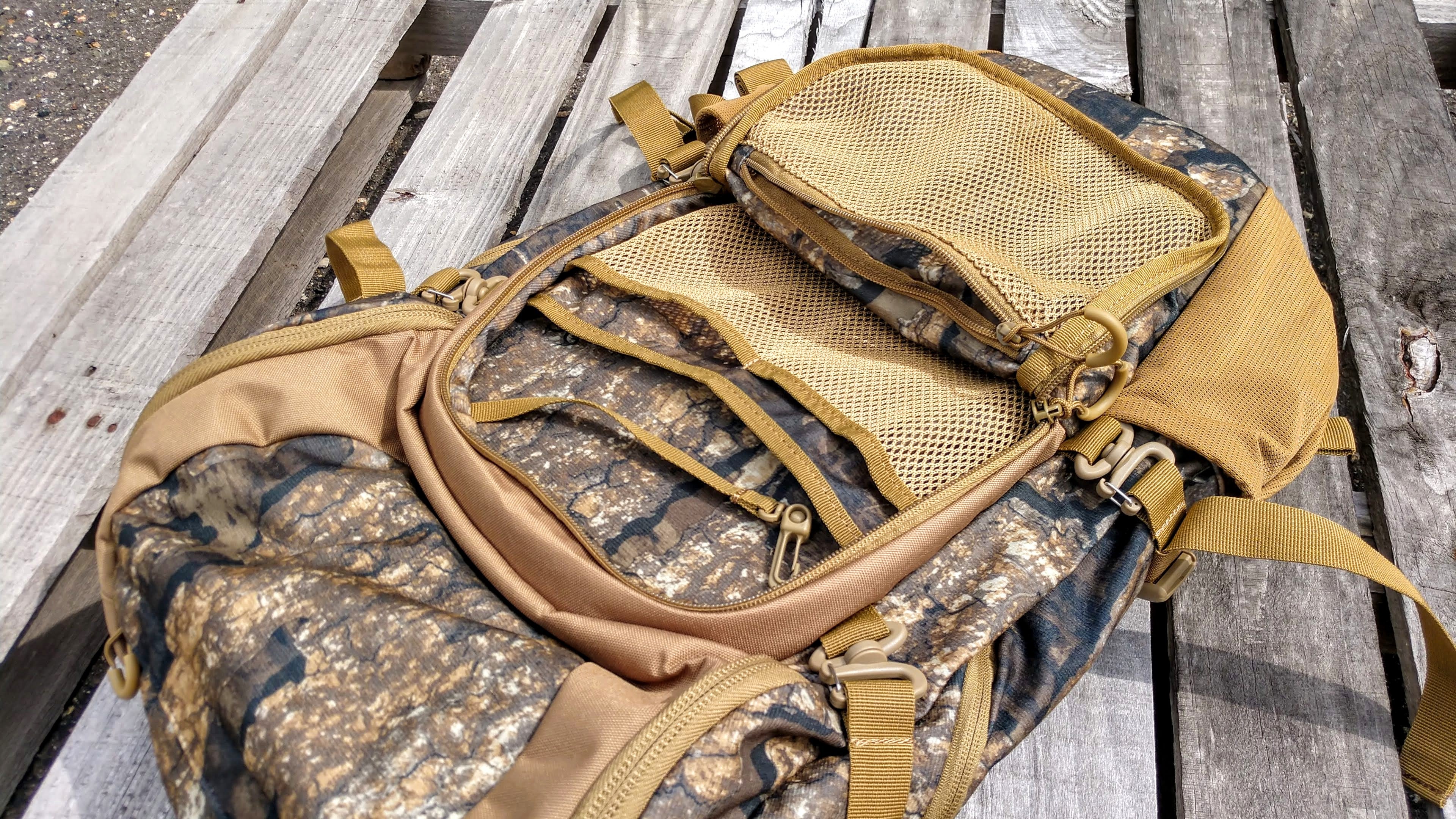 The next most noticeable thing about this hunting pack is the number of storage pockets. A lot of the hunting packs that I have run in the past were very simplistic; too simple, in fact. Sometimes there would be only 2 huge compartments where all of your gear is loosely rambling around inside. With the Whitetail Caddy Pack, there are actually 18 different pockets or specific storage areas to methodically separate out your gear as needed. I really appreciated this because you do not want spare batteries for a trail camera jostling around with your cellphone, wallet, and a bottle of doe urine. It is a hunters perfect cocktail for a disaster.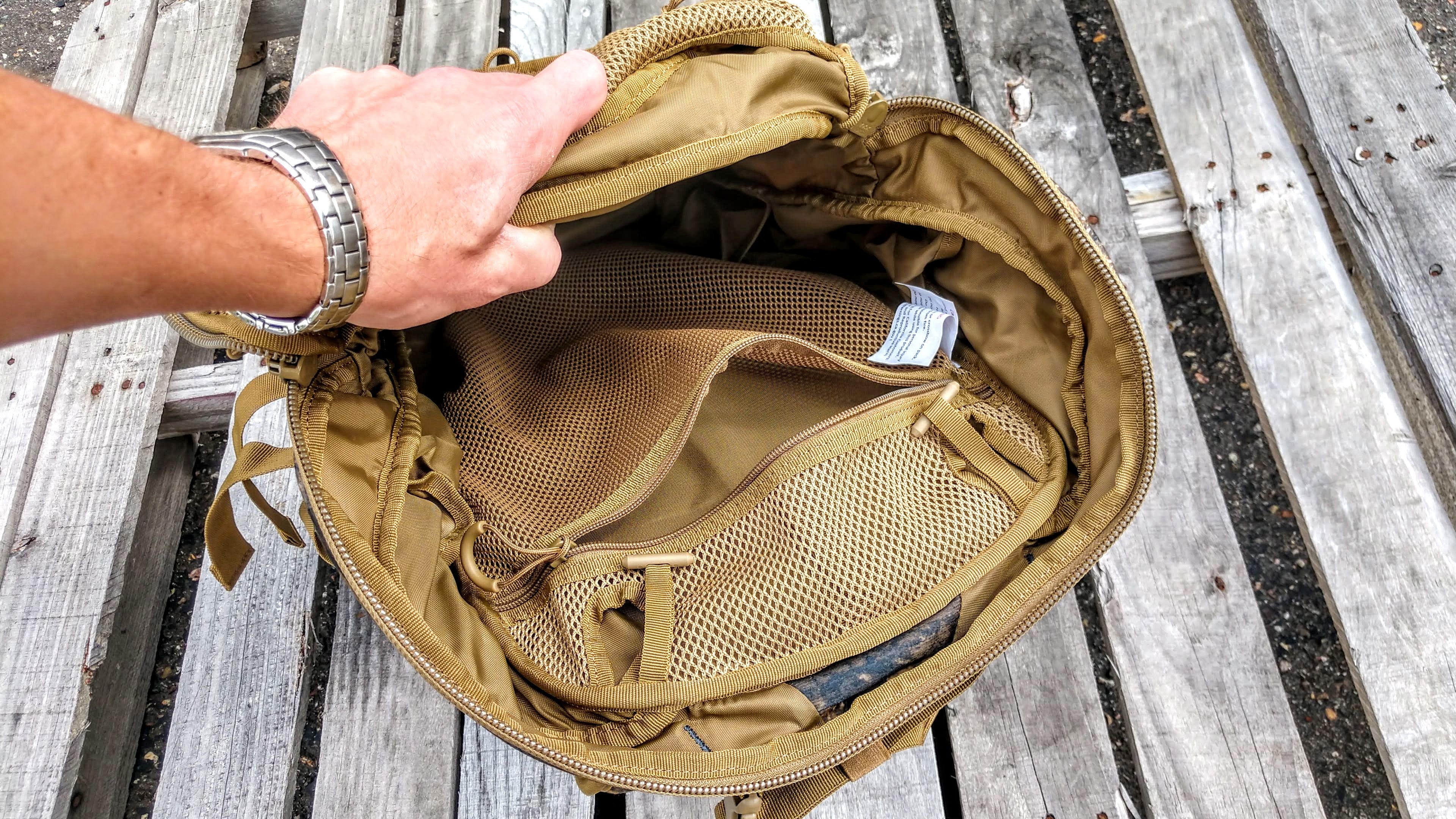 The mouth to the main storage compartment was plenty wide to easily cram an entire coat inside if a morning hunt quickly changed into a hot afternoon (and I did exactly that during archery season a couple times). Even the stitching and seam work internally was very well done. It was not one of those scenarios wherethings that cannot be easily seen are skimped on. Both the inside of the Whitetail Caddy Pack and the outside were well crafted.
out in the field:Nexgen Outfitters Whitetail Caddy Pack
While I was out in the field, I put this hunting pack to work in a lot of different capacities. For when I was fishing close to the Canadian border in Minnesota in the Boundary Waters Wilderness Canoe Area for salmon and trout, I treated the Whitetail Caddy as a pack mule. I would stuff it with all of my fishing gear, food for the day, and other essentials that I would need before I hiked into a location. I essentially loaded down the pack, cinched it tight with the waist belt and sternum cross strap, and marched off to my secret honey holes.
Once I was on location, I would park it next to a tree or somewhere nearby me, and dive into it as needed. Similarly, I spent some pack mule days helping my father get ready for whitetail firearm season in Minnesota. On one day, I squashed 5 trail cameras, a couple pounds of D cell batteries, food, water, memory cards, and brush cutting equipment into this bag to take inventory of the deer on our land. After about 6 hours of brush clearing and deciding on the best locations for trail cameras, the hunting pack was nearly emptied of its contents. While carrying it nearly full of gear and also practically empty, the hunting pack always carried well. The waist belt and sternum cross strap ensured the pack was never bouncing around on my body and the weight was primarily distributed on my hips and waist line. This made for a long day to not be so draining from carrying the pack everywhere.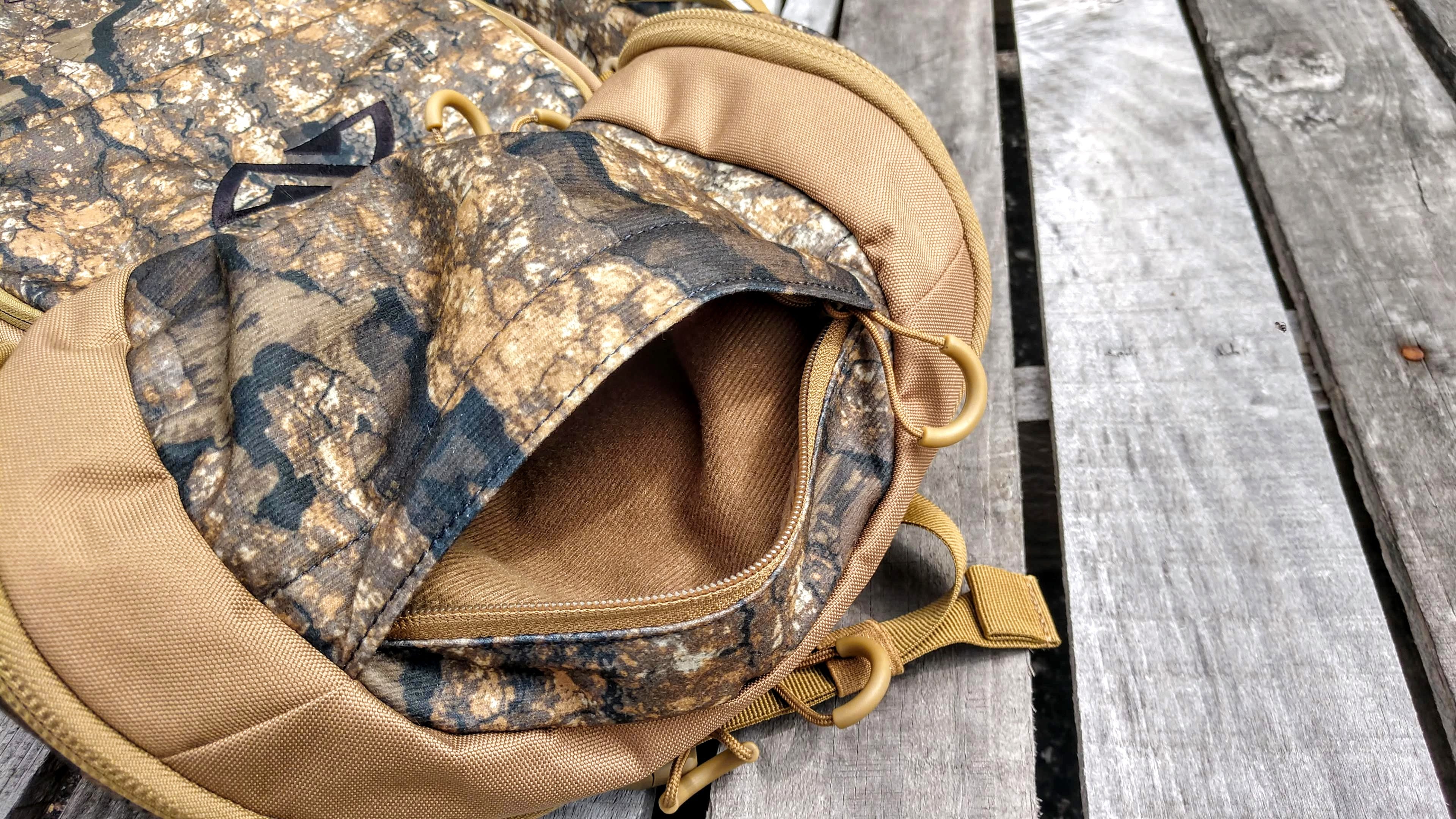 My favorite compartment in the Whitetail Caddy Pack that day was in the lid where I hid a secret ration of Snickers which can be invaluable when you are sweating, breathing heavy, and thinking you never got this tired when you were younger. A pretty spacious compartment to conceal valuables like a hunting license, wallet, cellphone, or emergency Snickers.
When I was actively hunting with this pack I really appreciated how I was able to neatly tuck it under the seat of a tree stand when it was full of gear. It was not bloated and bulging over from poor storage options so I could easily have it underneath me while archery hunting making it out of sight yet still easily accessible. Normally, I would have to hang a hunting pack on a tree limb or screw-in peg in order to bring it with me into a treestand, but the Whitetail Caddy Pack was pleasantly different.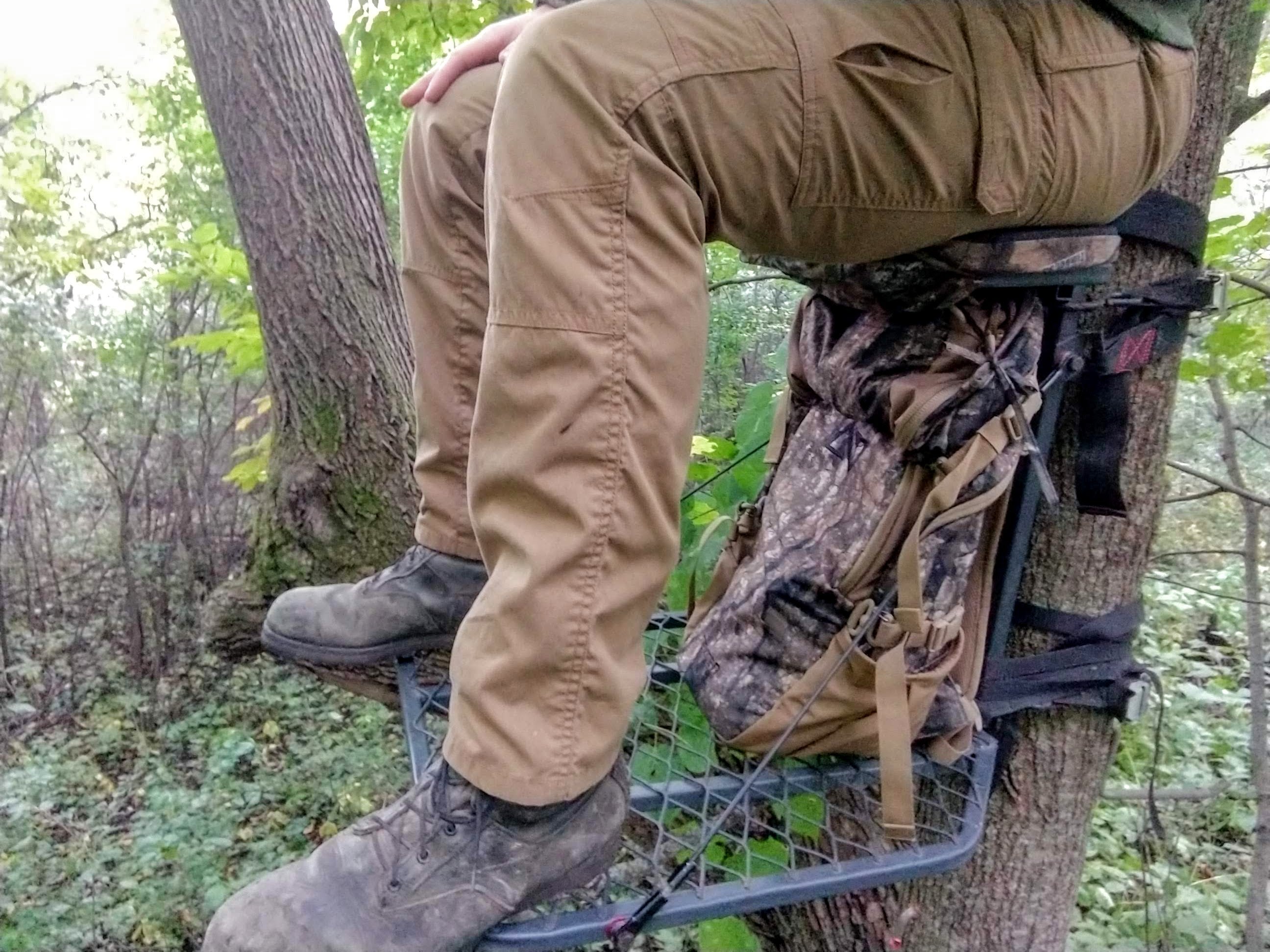 I typically use pretty small treestands for all of my hunting adventures because it is just less to carry into the woods so a backpack with robust storage yet a small footprint can be invaluable. Another thing I noticed while on stand were the details of the zippers. Some days when you are not seeing a lot of deer I can get to be a bit fidgety. I will dig into my hunting pack for food to eat, a rangefinder to range every shrub I can see, and binoculars (that bush 100 yards away totally looks like a deer). All of the zippers opened and closed very quietly which is fantastic. The last thing you want is to pull on a zipper and have it sound like you are trying to start a chainsaw.
conclusion:Nexgen Outfitters Whitetail Caddy Pack
While none of us outdoor enthusiasts are likely without a hunting pack of some sort it is also very likely we are not satisfied with our current ones. I most definitely fall into the latter category and have paid significantly more than $75 for some of my backpacks I trek into nature with. For that reason, I was very pleased with all of the features the Whitetail Caddy Pack offers at such an affordable price-point.
With 18 varying pockets and compartments to store all of your gear you definitely will not run out of ways to compartmentalize and squirrel away your tools. The quiet zippers can be really beneficial if you are actively hunting as well and do not wish to give away your location to every animal in the woods.
While some people might see it as a downfall that it is only offered in 2 different camouflage patterns, I found it to blend in really well in Minnesota. The clean stitching and edges gave it a strong appearance of quality and helped it hold up to my repeated excursions out into the woods. The only thing I cannot say with certainty is how it will hold up over possibly 3 5 years of hunting. All signs point towards it performing very well based on my experiences this fall.
All in all, I was very pleased with the Whitetail Caddy Pack from Nexgen Outfitters and would have no reservations recommending this to anyone. At a very affordable MSRP of $74.99 you really cannot go wrong. After hearing all of my experiences, what do you think though? Is there something you would have liked to see additionally from this hunting pack? Let us know all of your thought in the Comments below! We always appreciate your feedback.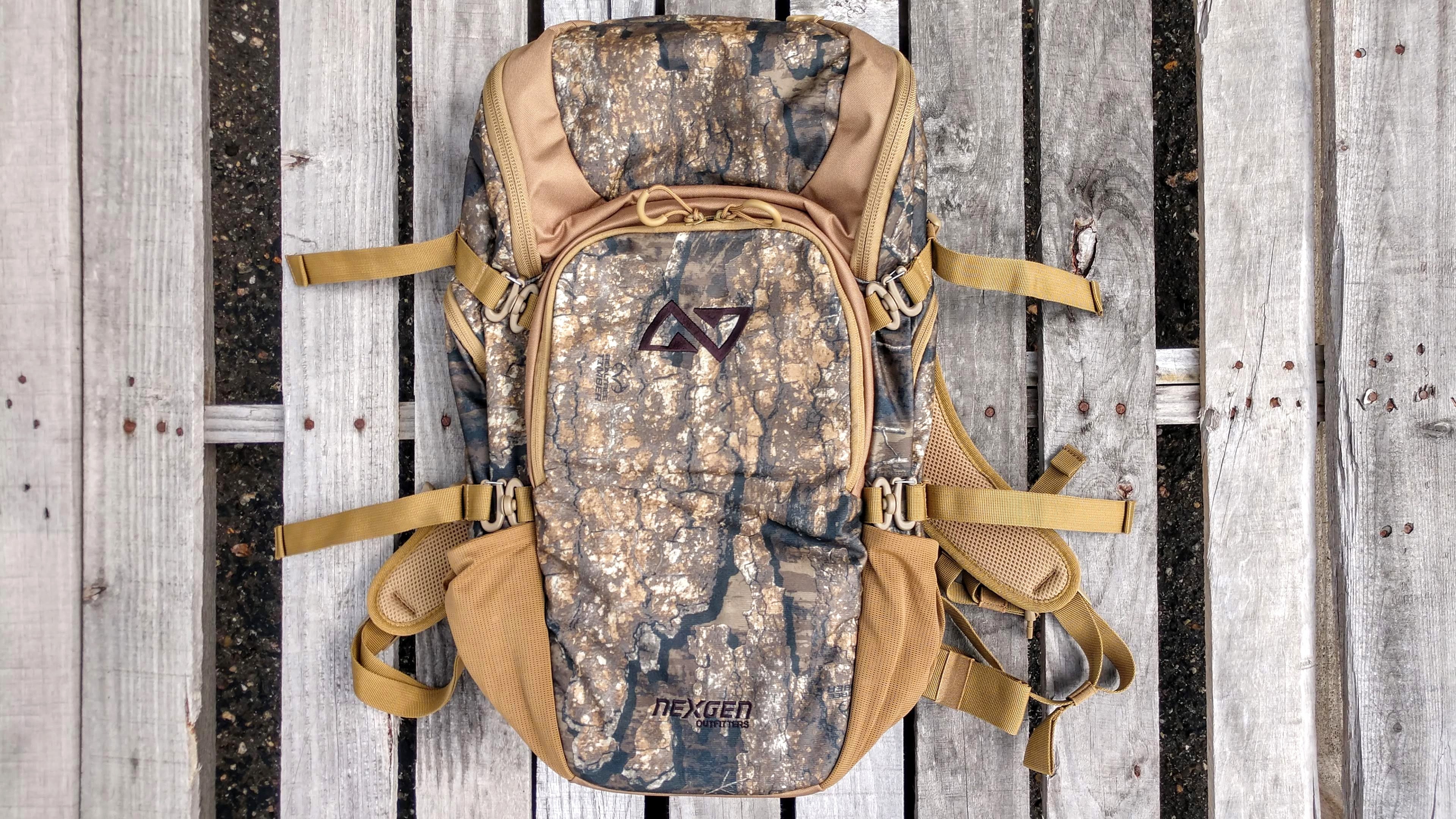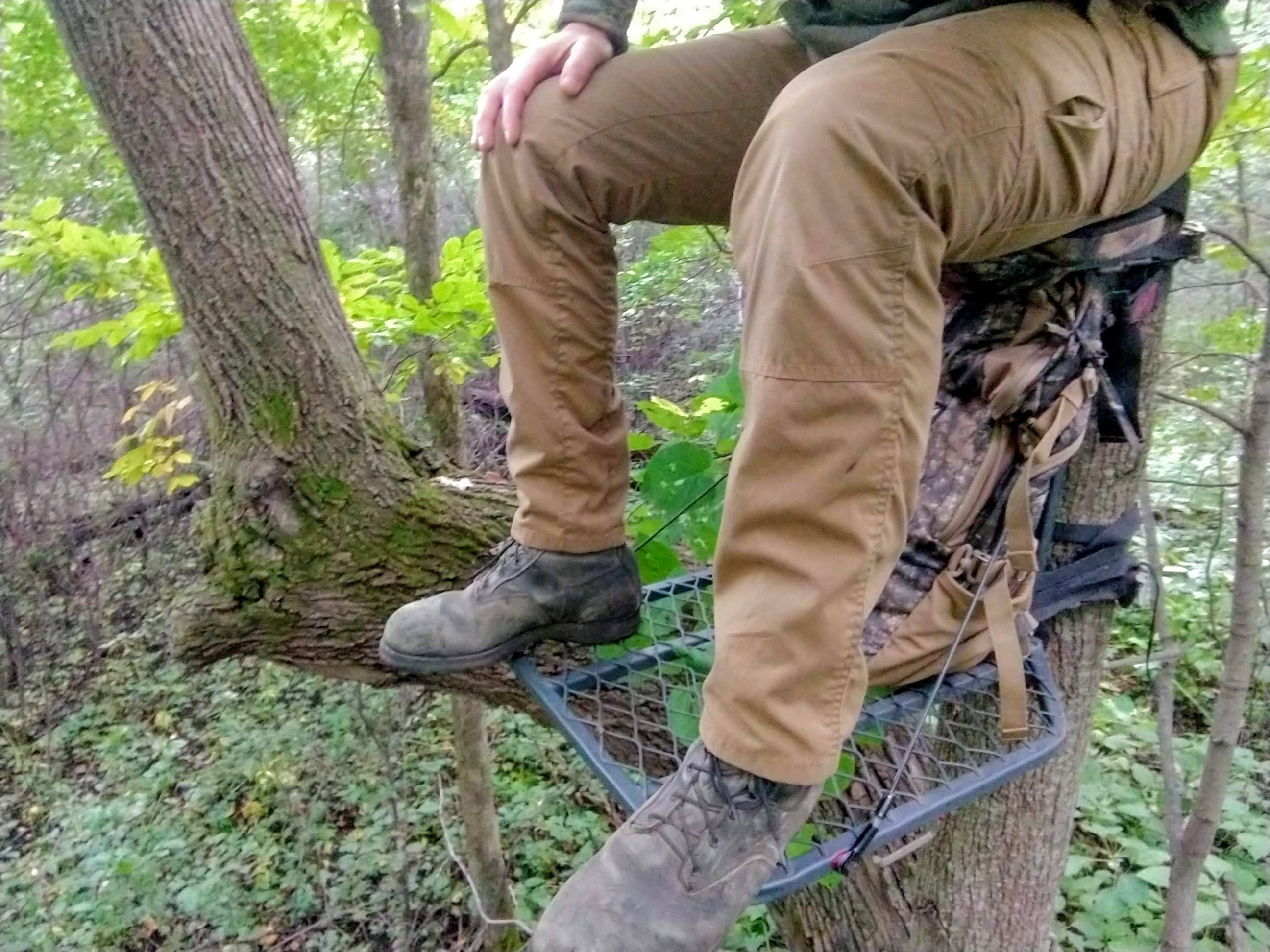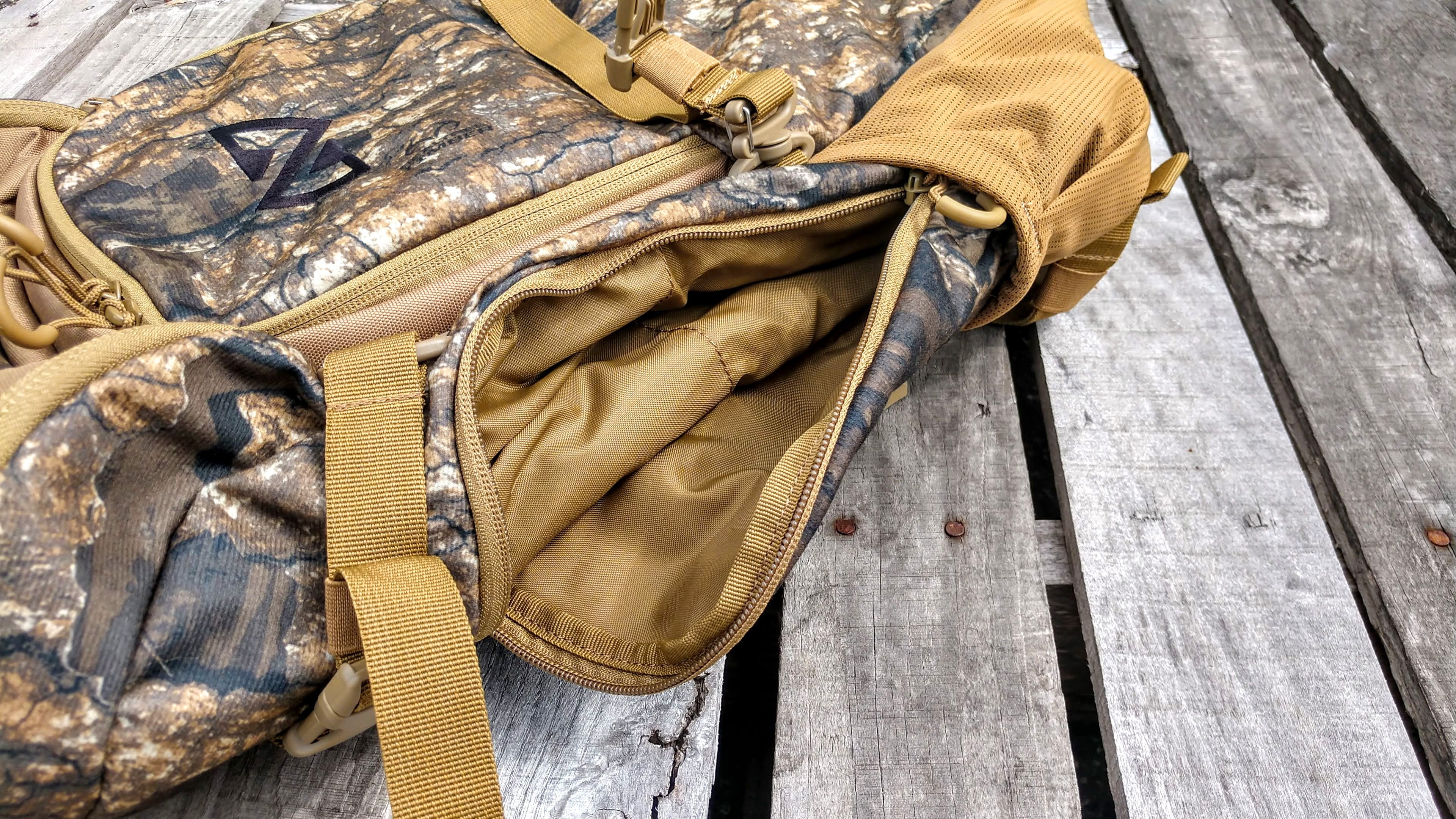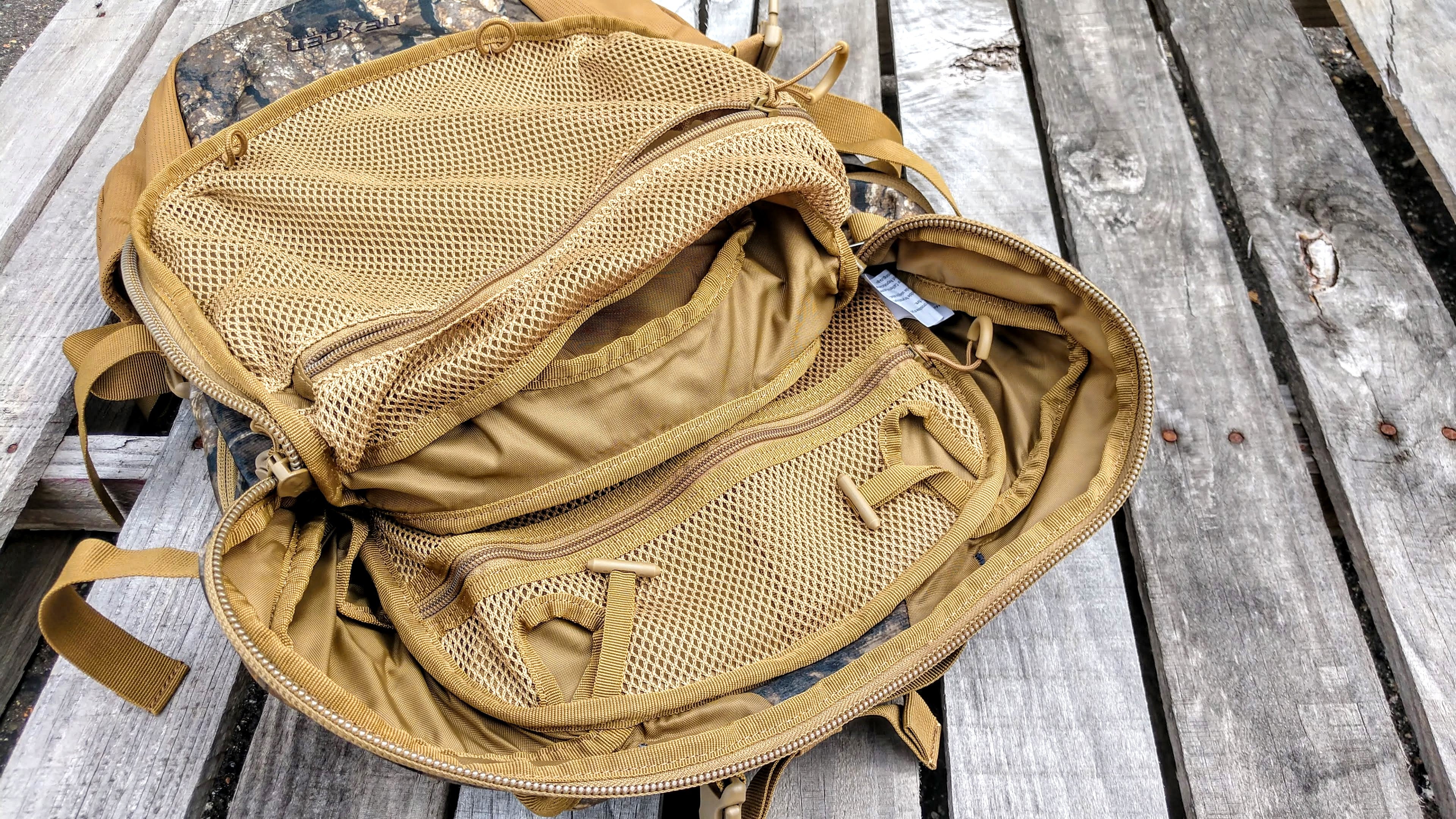 ---
Nexgen Outfitters About Us
First and foremost, we are outdoors men and women. We spend countless hours in the field every year demanding the very best from our gear, season after season. We dont believe in throw-away gear. We believe in gear that solves problems in the field, and gear that builds tradition.
We all of us, our spouses and our children instinctively treat the land and wildlife with utmost respect. That is a cornerstone of all we do and why we do it. And that respect influences what we do at Nexgen Outfitters provide quality products that equip others to maximize their enjoyment of the Great Outdoors. With that, we hope youll join us on this journey!
Our goal is more than just outfitting you for your next adventure. Its about ensuring that future generations can experience the outdoors the way we did growing up.
The post AllOutdoor Review: Nexgen Outfitters Whitetail Caddy Pack appeared first on AllOutdoor.com.