Summer is here and a fantastic pastime is doing some good old target shooting. Keeping that in mind, we were lucky enough to connect with the folks at Grizzly Targets and they were kind enough to send out their Grizzly Targets AR500 Dueling Tree which is rated for rifle, pistol, and shotgun. Grizzly Targets is known for making high quality durable reactive targets. The Grizzly Targets AR500 Dueling Tree is made to give positive feedback on hits while introducing a competition aspect to practicing. I personally always keep an eye out for things to help improve my handgun skills and what better product than a dueling tree! Competition always makes things like practicing fun. So, how did we react to this reactive target setup? Let's dive right into the Grizzly Targets AR500 Dueling Tree!
Grizzly Targets Coverage on AllOutdoor
What is a Dueling Tree?: Grizzly Targets AR500 Dueling Tree
Dueling tree-style targets are typically steel reactive targets used in competition shooting. This competitive style of targets has slowly been making its way into average folk's home ranges and backyards for some good old family fun or even a more enjoyable firearm practice regiment. They consist of a base, center post, and six to eight metal gongs that swing from side to side when hit. For the game aspect or "duel" aspect of a dueling tree the rules are simple: get all the targets to be on your opponent's side. This turns into a match of targets swinging back and forth into each other's side until there is an obvious winner and loser…Target practice with metal targets is fun so there really are not any losers!
Specifications: Grizzly Targets AR500 Dueling Tree
The Grizzly Targets AR500 Dueling Tree consists of three main pieces. It has a wide X-shaped stand with a base tiled forward to persuade fragments and spalling to go into the ground, a heavy-duty flat-faced center post that plugs right into the stand, and six 3/8″ AR500 steel gongs that sit in tubes on the backhand side of the center post. This is a very portable setup since you can disassemble it but I will warn anyone out there that the center post is VERY heavy. Out of the box…well, it did not really come in a box. I would wager due to its size and weight a traditional package or box is out of the question. This Grizzly Targets AR500 Dueling Tree arrived on a pallet (and it was strapped and wrapped up very well). I am unsure if this is how they normally ship if you yourself were purchasing one but it would not surprise me. If I remember the invoice from shipping it mentioned all together it was around 190 lbs.
Commercial-grade, Portable, Hot-dip Galvanized
6 Dueling Tree Target Paddles are each 6″ W x 3/8″ thick factory-tested AR500 steel
A reactive target that swings side to side upon being hit, resetting via inertia
Internal mechanisms are protected by a 3/8″ AR500 front guard
Front Guard is removable for easy replacement if needed
Made of 3/8″ AR500 steel, rated for Rifle up to .308, and Handguns under 3,000 fps at the target
The MSRP of the Grizzly Targets AR500 Dueling Tree is $839.95 which is a hefty chunk of change but honestly, this is a lot of metal. As of writing this article they are on sale on the Grizzly Targets website for $674.95. Besides this being a lot of metal it is machined, welded, and galvanized through the Grizzly Galvanization Process which makes it all long-lasting and durable. Opinions of the product itself aside(next headings) this is a buy once cry once sort of product. It is built to be abused and it will take basically everything you can safely throw at it, rain or shine.
"An industry steel target classic, with a few custom upgrades to make it last.

The Grizzly Rifle Rated Dueling Tree main body is our classic dueling tree style steel target, what we did different is make it commercial grade, portable, then we hot-dip galvanized it so it will never rust.

Grizzly customers now have the option to upgrade to SR500 Steel. SR500 is a ballistic protection steel specifically designed for use in targets, ranges and other armor applications. SR500 has a minimum hardness guarantee of 500 HBW, making it a superior alternative to AR500 plate. Learn more about SR500 Steel in our Learning Center.

Our Grizzly Galvanization Process assures that your target will continue functioning for a very long time even if left outside in the elements for years on end. It also ensures your targets are going to keep looking great and not turn into a pile of rust. This process is a key element of our commitment to providing the LONGEST LASTING Steel Target Systems on the market.

**Manufacturer's suggested distance for all rifle calibers is 100yds, 25yds or further for Pistol calibers and no more than 3,000fps at the target.**"
First Look: Grizzly Targets AR500 Dueling Tree
My very first impression of receiving the Grizzly Targets AR500 Dueling Tree was a mix of amusement and astonishment. Frankly, I was surprised to see this thing show up on a pallet. I personally (in the few years I have had this job) have never received a review item on a pallet. Like I said before it is kind of obvious in hindsight because this is not going to package well on literally anything else. Nonetheless, everything was strapped down and wrapped up well and the target system was flawless, with no scratches or dings from transit. I also looked it over for any burrs or sharp spots left over from machining and welding and I am happy to report none were in sight!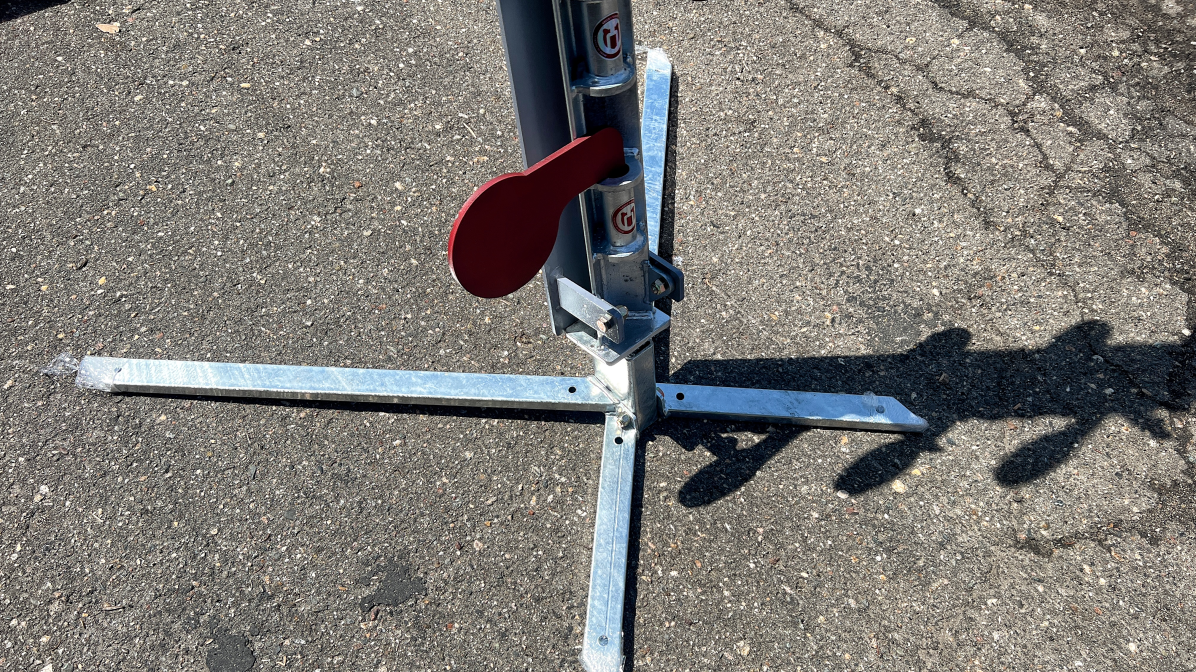 I could not help but assemble it on the spot in the back lot just to see how it all fit together. It was very self-explanatory and no instructions were necessary (none are included anyway). The Base is lightweight yet somewhat cumbersome given its "wingspan" and size. The center post is a solid dense piece of hardware and I found myself struggling to find the right spot to grab in order to lift it up. I weighed the center post a little while after this and it averaged around 95 lbs on its own.
The center post slides very easily into the base and it is already at a forward tilt so no adjustments need to be made. The six Dueling Tree Target Paddles are weighty  3/8″ AR500 steel (An upgrade to the superior SR500 Steel is available for an extra $67.50) and their "handles" for lack of a better word are easily slid into the pipes/tubes located on the back. From there the tree is ready to rock and it was an impressive monument upon the first assembly.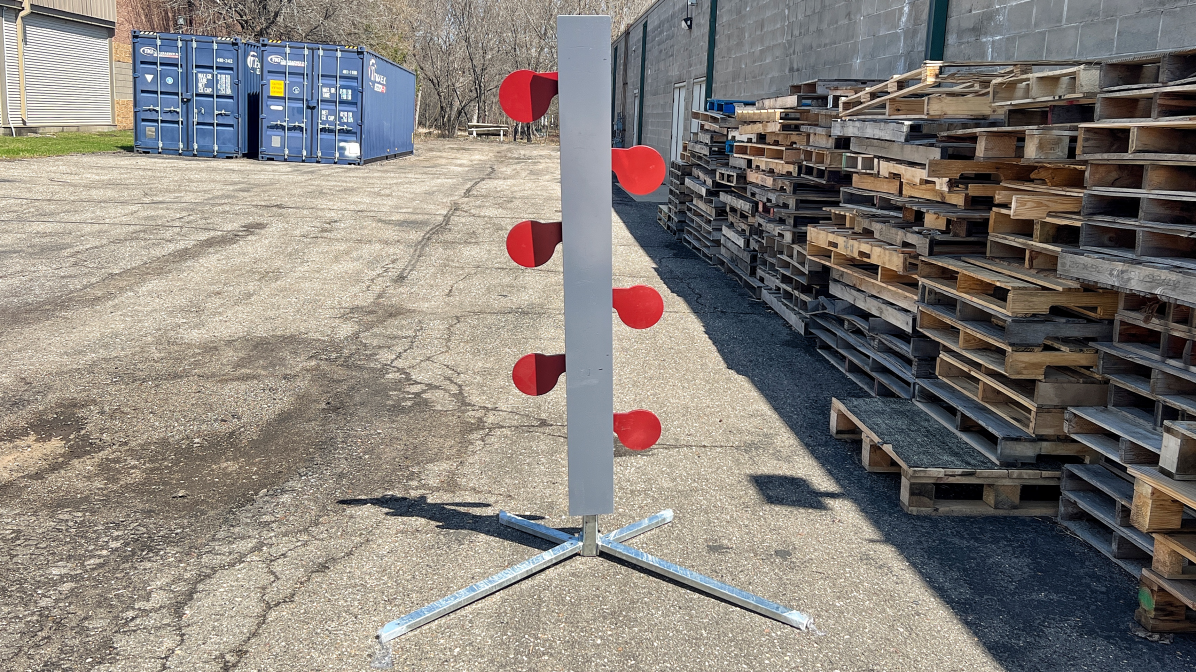 Range Time: Grizzly Targets AR500 Dueling Tree
As of writing this, I have two separate range sessions under my belt with the Grizzly Targets AR500 Dueling Tree. The first of which was a pretty fair christening by fire. The night before my range day I left it out in the elements and rainy weather all through the night fully assembled. Later the next afternoon my family and I had a great time putting the target through its paces. I had 500 rounds of 9mm on hand and several handguns to hand around to the contestants. Among that lot of ammunition and guns was also a 40 S&W and a smaller 380 ACP. This first range session was the most lengthy of the bunch and it was so cool to see the hits give the shooter a confidence boost and their opponent often fell apart under the pressure. This range session was conducted at around 25 yards and all present wore safety glasses and ear protection.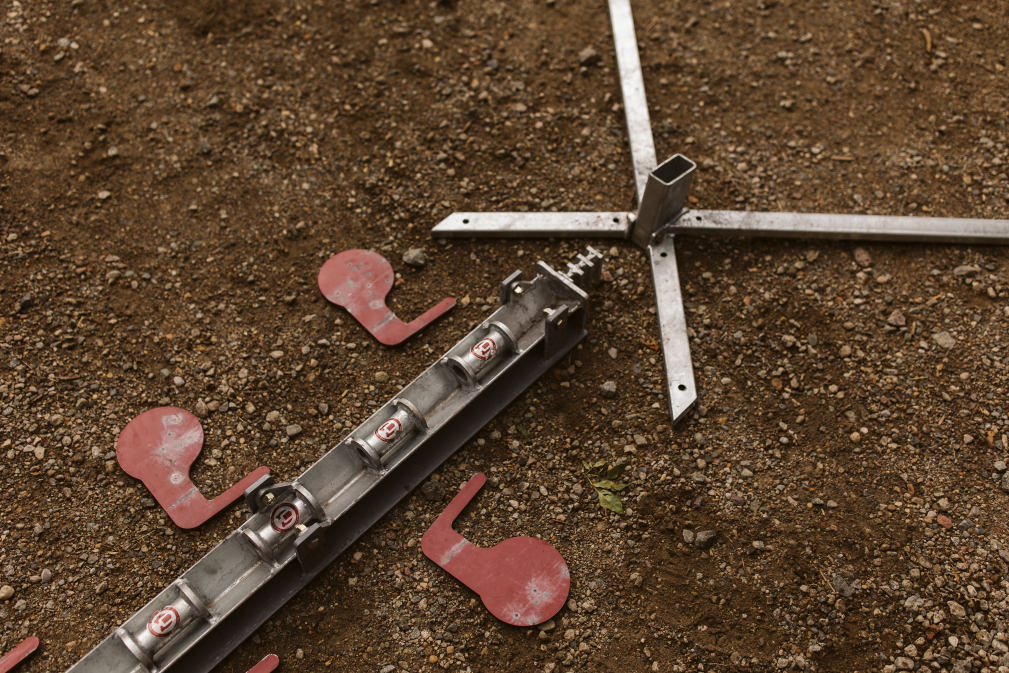 The base never faltered and the center post never moved when struck. The paddles swung firmly and smoothly also when struck in the right spot (towards the handle or on the edge)  they would move back but then quickly settle where they began. I liked that bit because it added a little more fairness to it all. YOu do not need to hit them perfectly but a glance is a no-go. Unfortunately, the only downside to note with this range session is at roughly 25 yards the little 380 ACP just did not have near enough pep to fully swing a target and more often than not only smacked them for a brief moment before returning.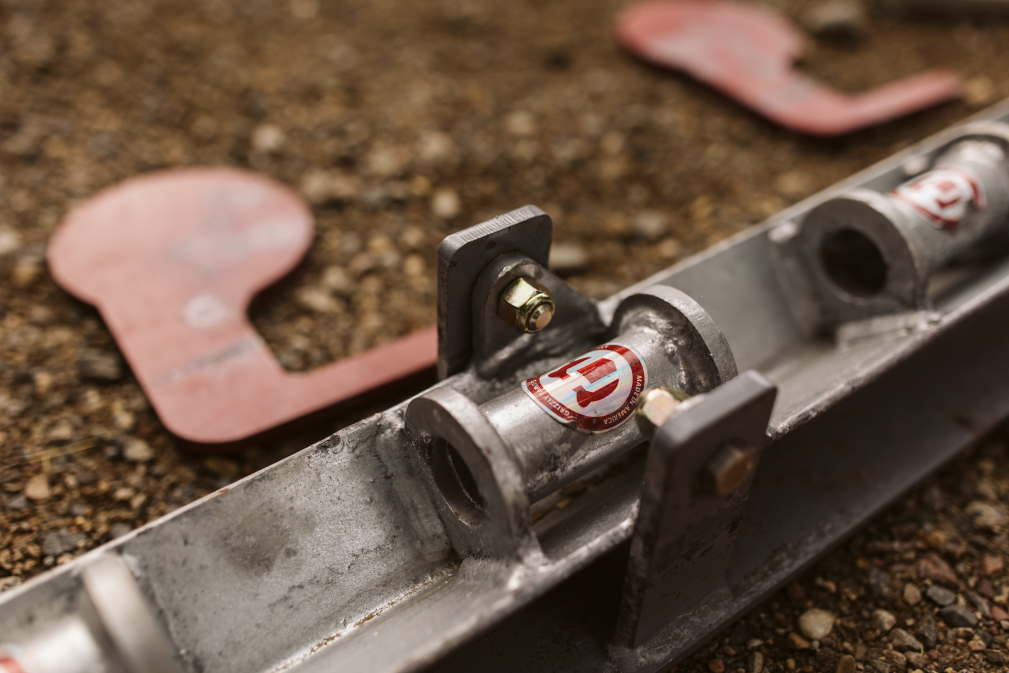 Note:  One side note is that the Grizzly Targets stickers on the rearmost portion of the center post became quickly chewed up in the shooting. This is a given and was expected but I figured I should mention it. This is why you should always wear eye protection, people!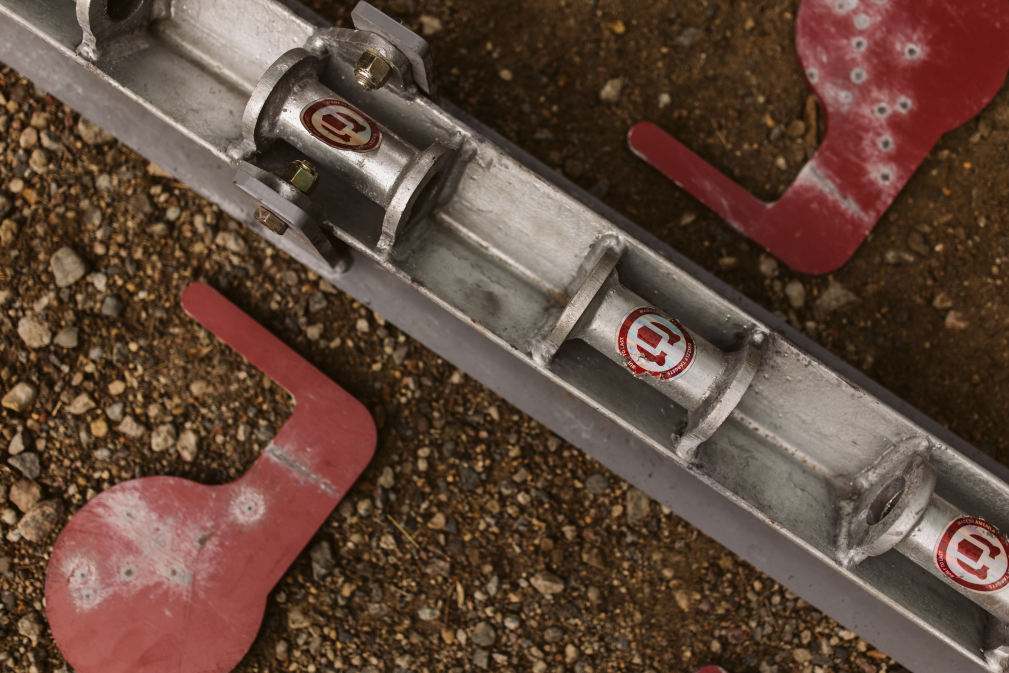 The second range session was much briefer but in all honesty, it was a very telling one because it was a different sort of fun. The editor of AllOutdoor.com, Adam S, joined me and we had our own showdown with the Grizzly Targets AR500 Dueling Tree. The full event can be viewed above (just under the specifications) or over on YouTube. Adam is much more well-versed and practiced in everything to do with handguns than I am. I was extremely excited about this session because my first range session was with people who had much less experience than me and well, it went quickly and a magazine change was never needed. I knew for sure I would get a magazine change out of Adam.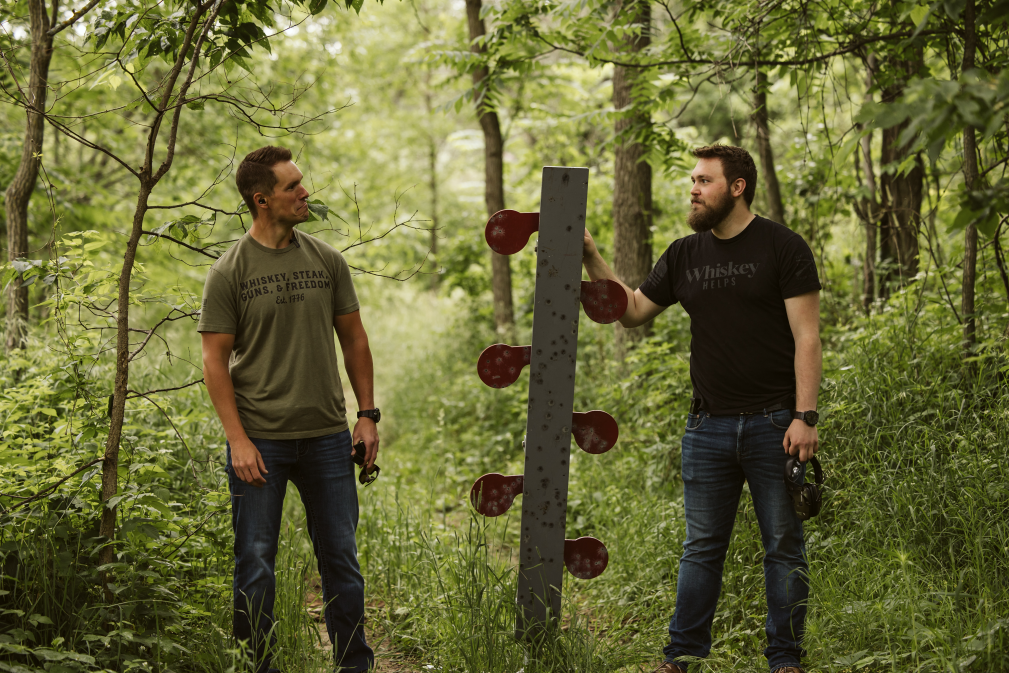 I will not spoil the result of our showdown here (that can be seen in the video) but what I will say is I got that magazine change. It was a much more back-and-forth battle than I had experienced earlier in my first range session. It made me take a second mid-way into our competition and tell myself to take my time and squeeze and all that movie inside-your-head narration sort of hoopla. That being said, it really does go to show how much of a good training tool this is. It is not just about being accurate and quick. This target forces you to be those things under pressure and it really has that sense of improvement with every new challenger.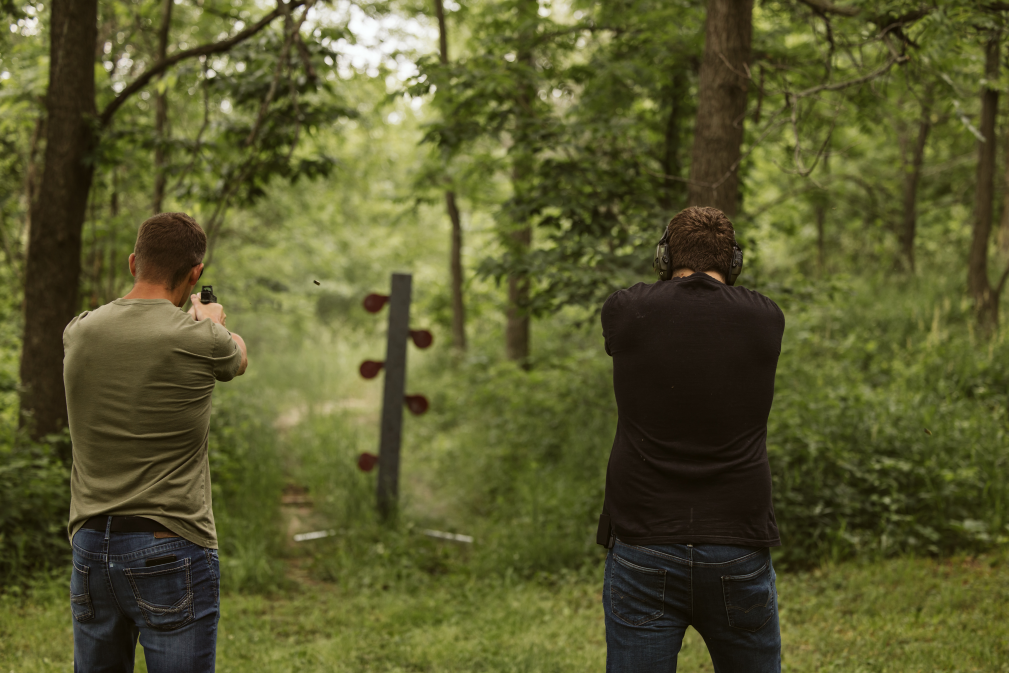 The plates flipped flawlessly. If you watch the video you will see me on my side struggle with a couple at the bottom because of how I was hitting them. One thing I really appreciate about this target is that the paddles do not get stuck backward. The tilt of the center post is such that they always settle. The tree performed wonderfully and as I mentioned early on it has a way of making you feel like no one actually lost at all.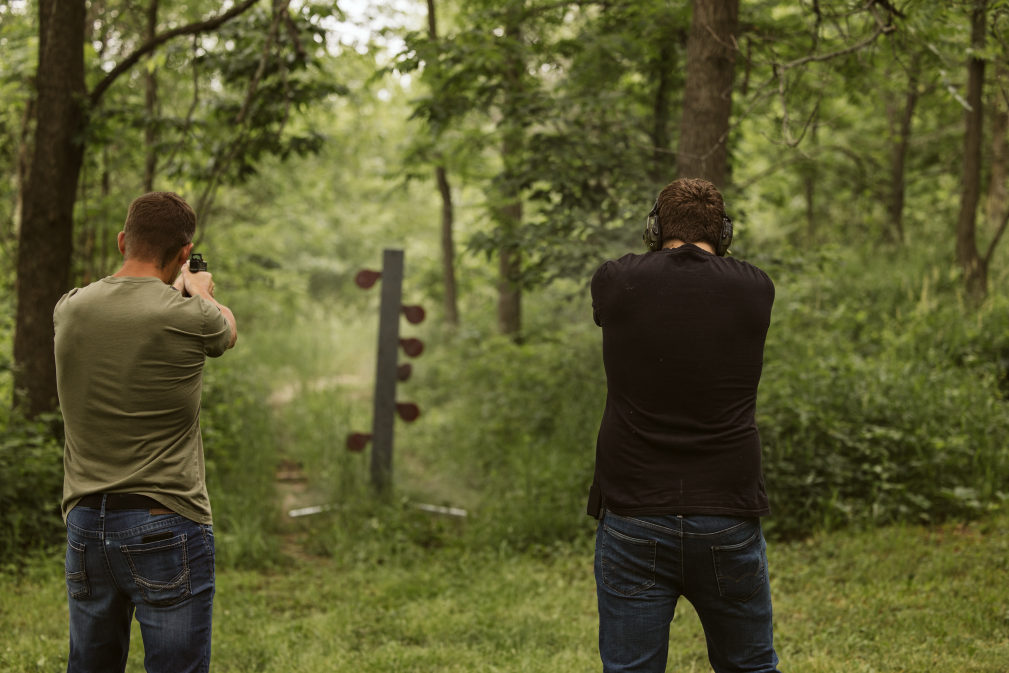 Final Thoughts: Grizzly Targets AR500 Dueling Tree
At the end of the day, this is an awesome training tool. It is great family fun and it is a wonderful practice. Unfortunately, the elephant in the room is that it is bulky, heavy, and expensive. That is what you get when you ask for durability and quality though. I have no gripes about the cost nor the pain in my back when I pick up that center post. That alone to me screams "it was worth it"! This entire thing (besides the base) is made from AR500 steel and it is hot-dipped-galvanized. The Grizzly Targets AR500 Dueling Tree is literally made to basically last forever and I find that invaluable. It may be expensive and heavy and durable and totally worthwhile in my humble opinion but at the end of the day, it has to be argued that the Grizzly Targets AR500 Dueling Tree is helpful! Holy cow is it a blast to use with someone but it also is such a positive feedback machine. No strings, cables, or chains. Your bullets alone do the flipping and you can make a game out of it if you have willing contestants. My final thoughts? This is one of the coolest and most worthwhile review items I have had the opportunity to use to date! I highly;y recommend you check out Grizzly Targets AR500 Dueling Tree!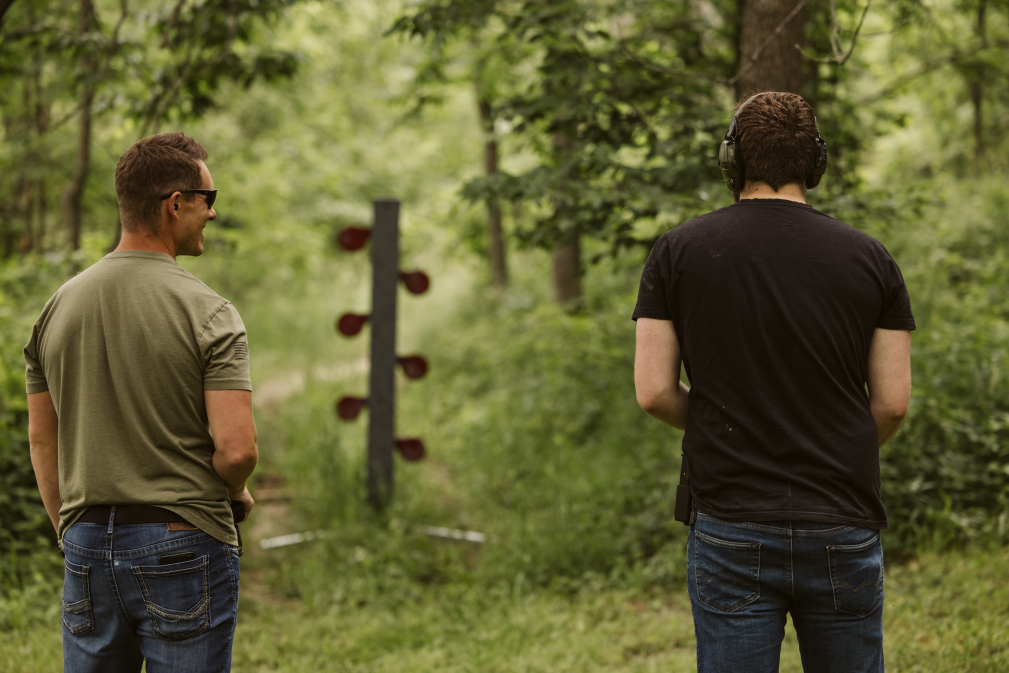 In closing, I want to say thank you to Grizzly Targets for allowing AllOutdoor and myself the opportunity to try out their AR500 Dueling Tree. That is greatly appreciated. Also, we would like to know what all of you guys and gals think? Do you believe that this reactive target is worth spending your money on? Would you take this out to the range? Would this be your go-to training tool? Let us know all of your thoughts in the Comments below! We always appreciate your feedback.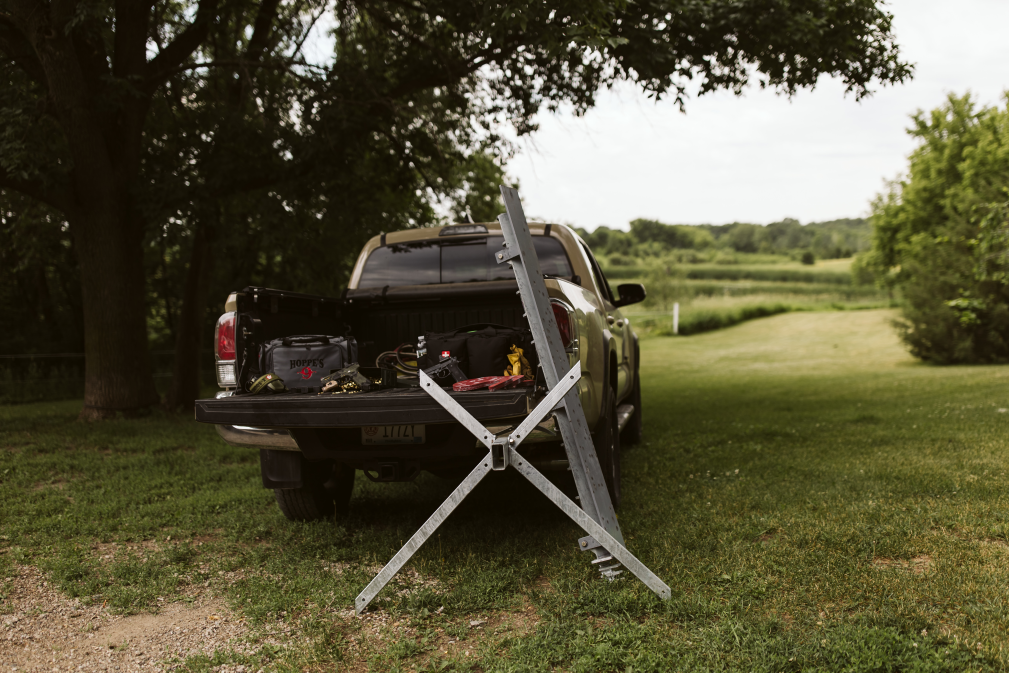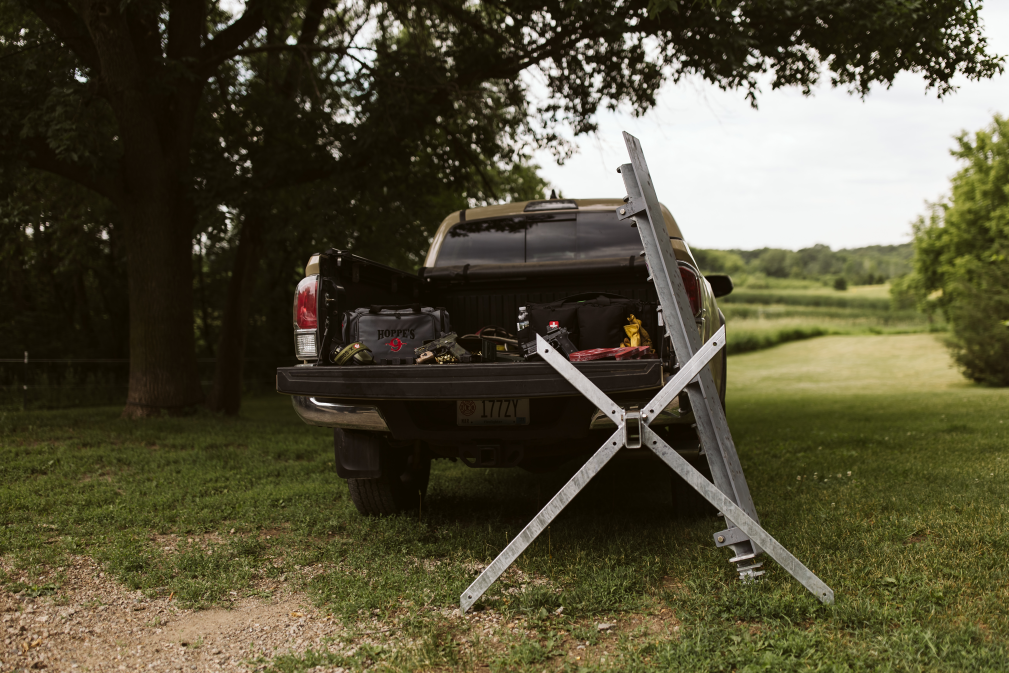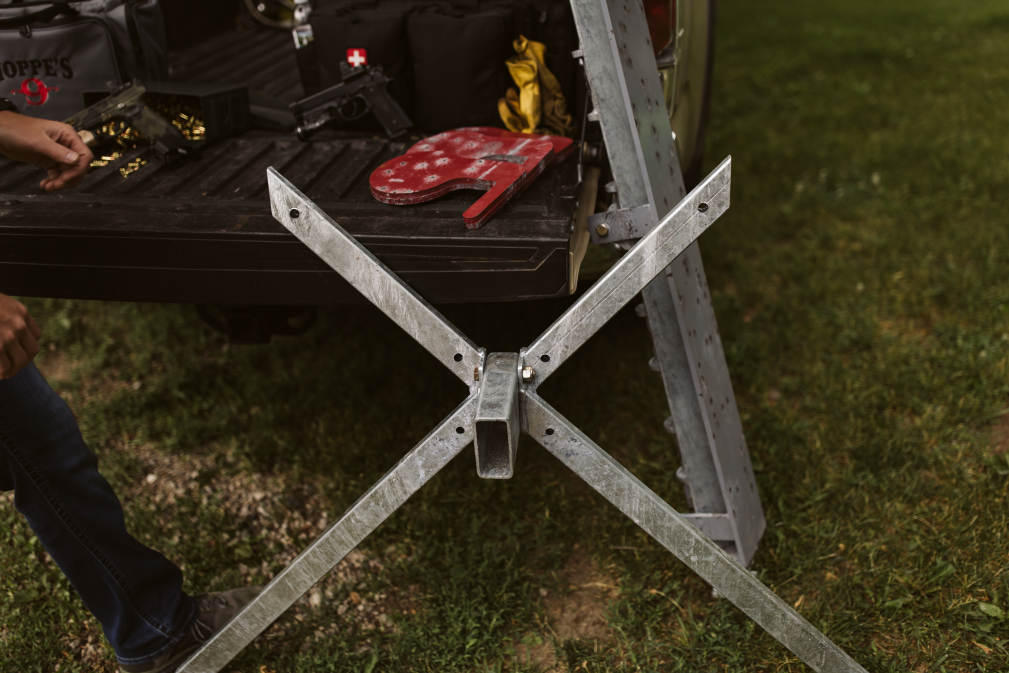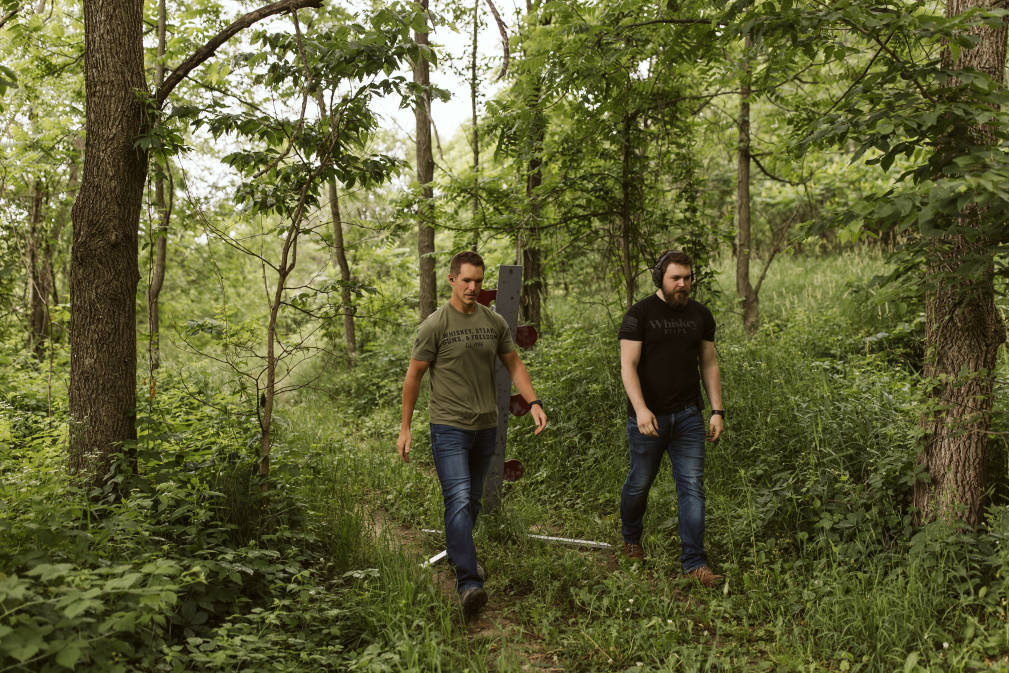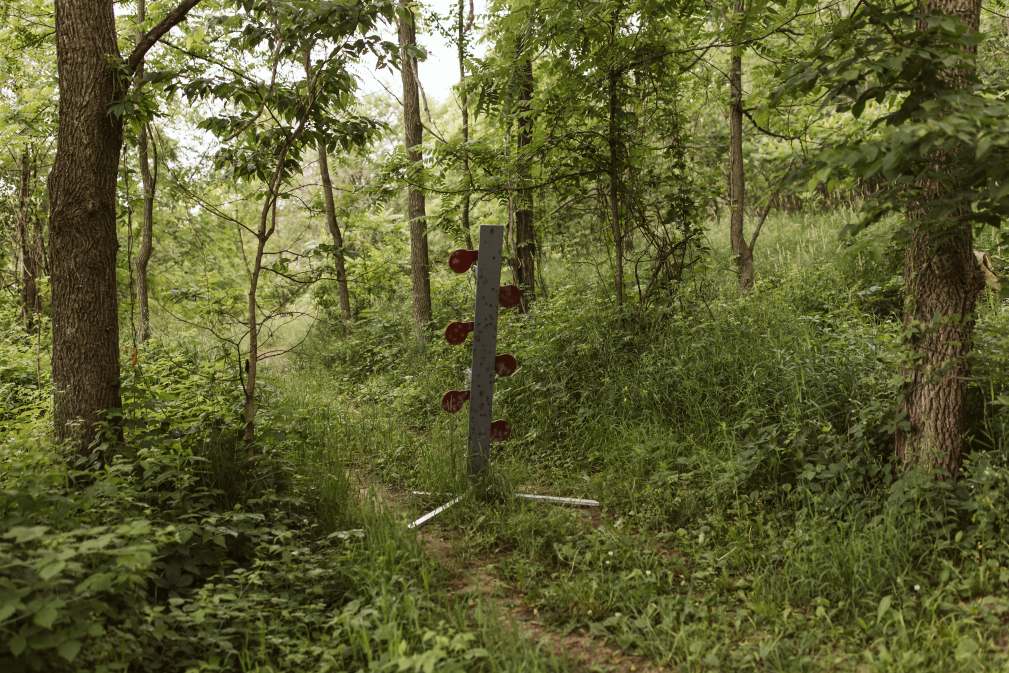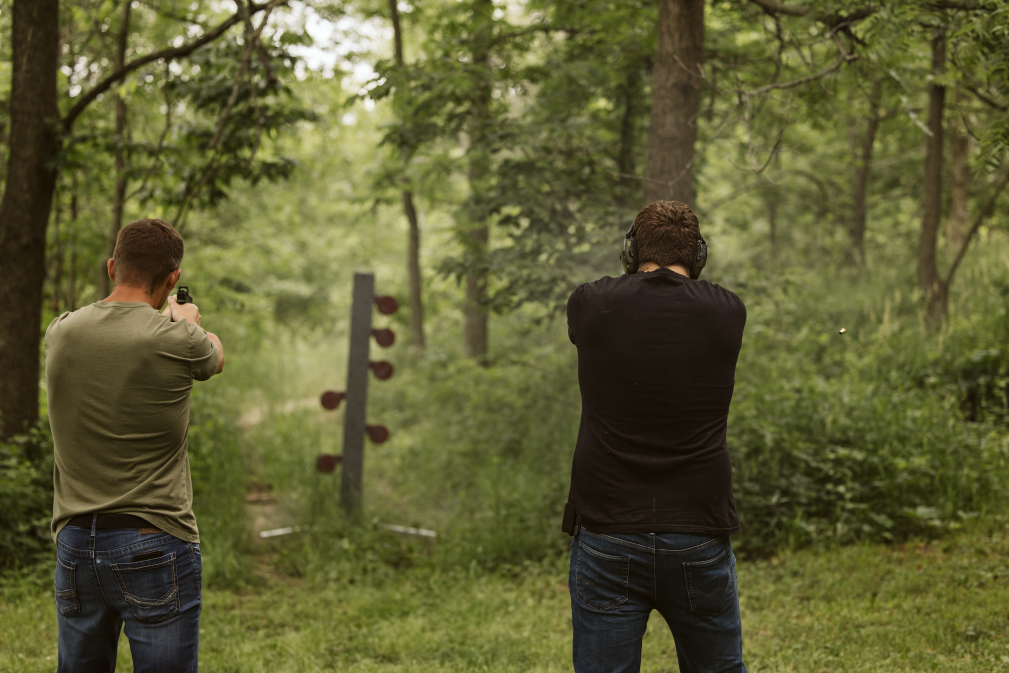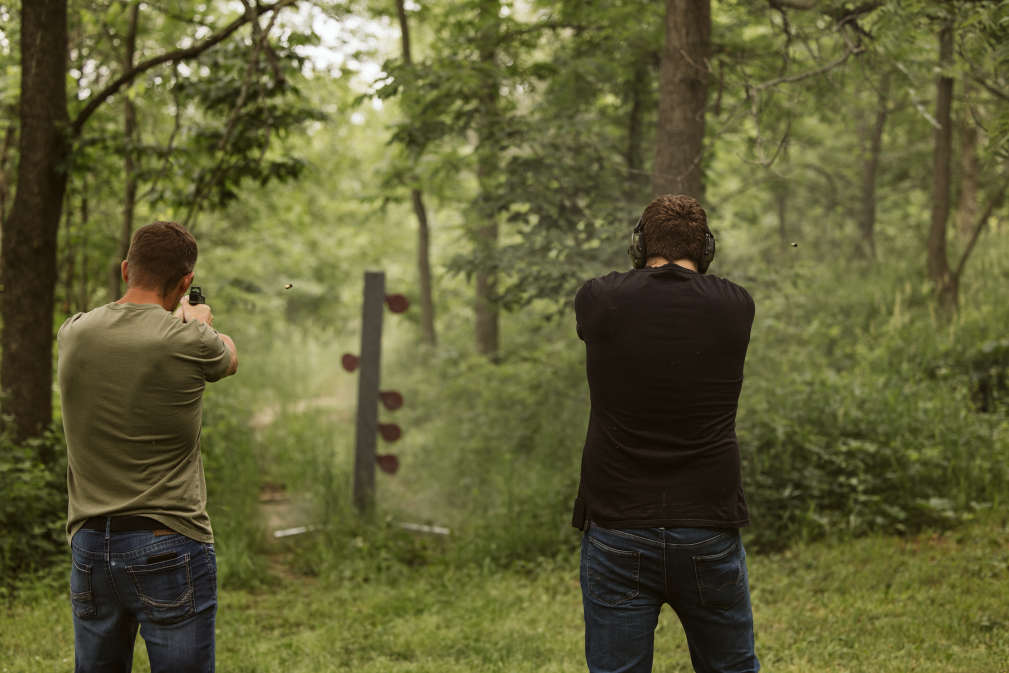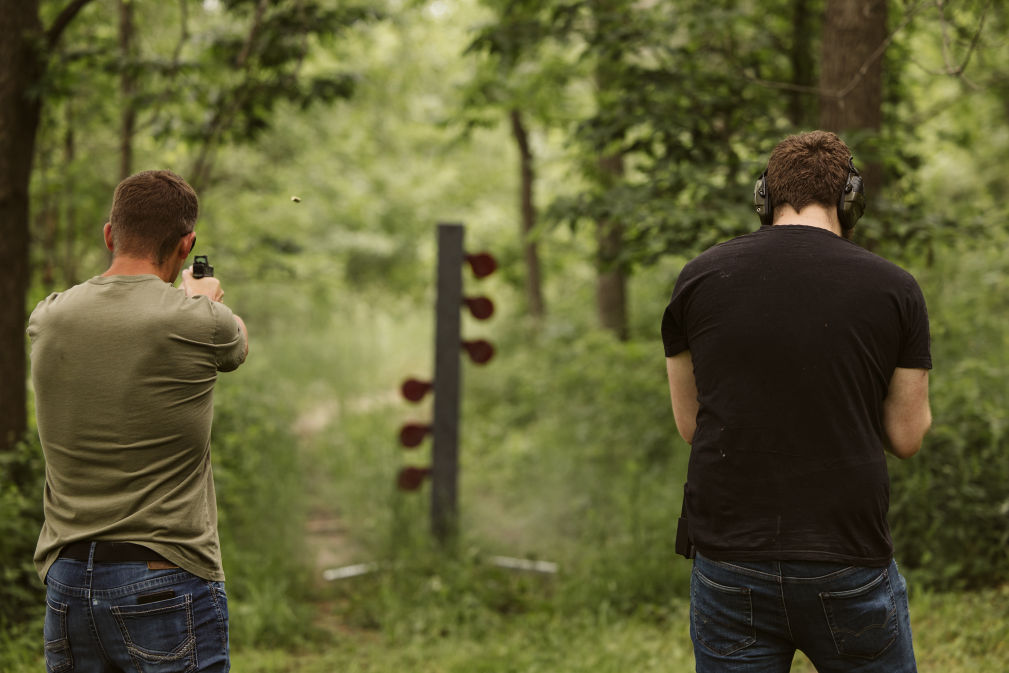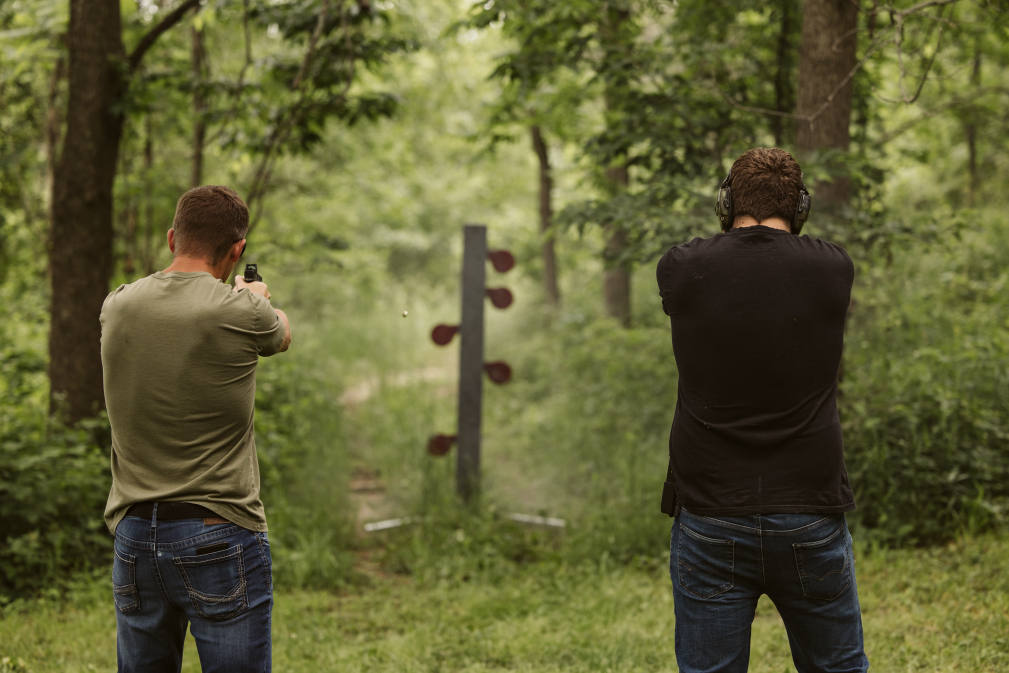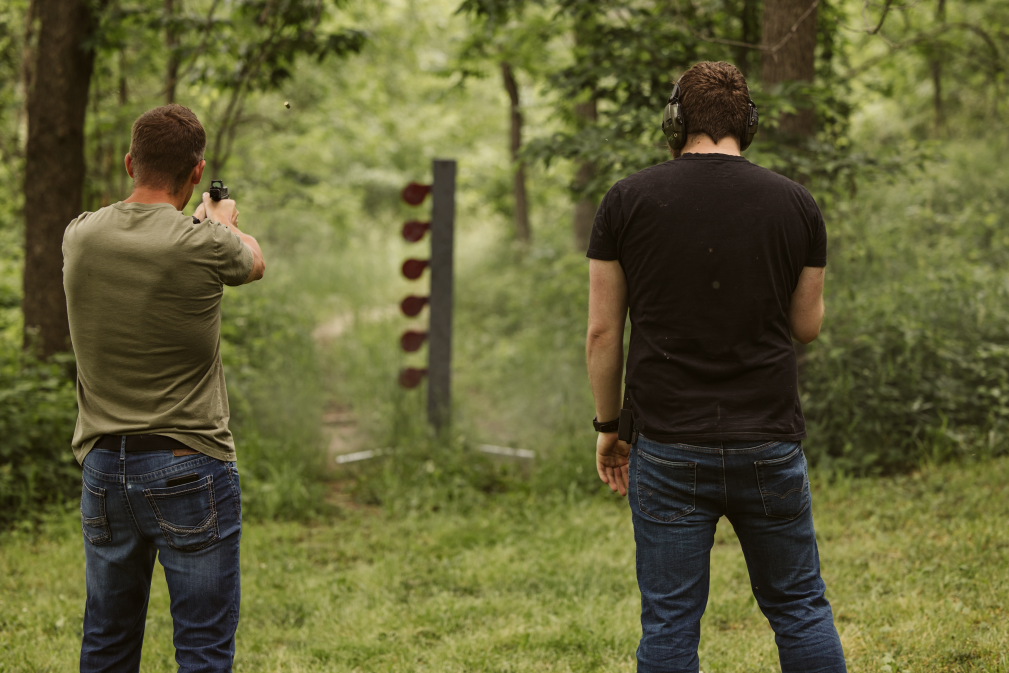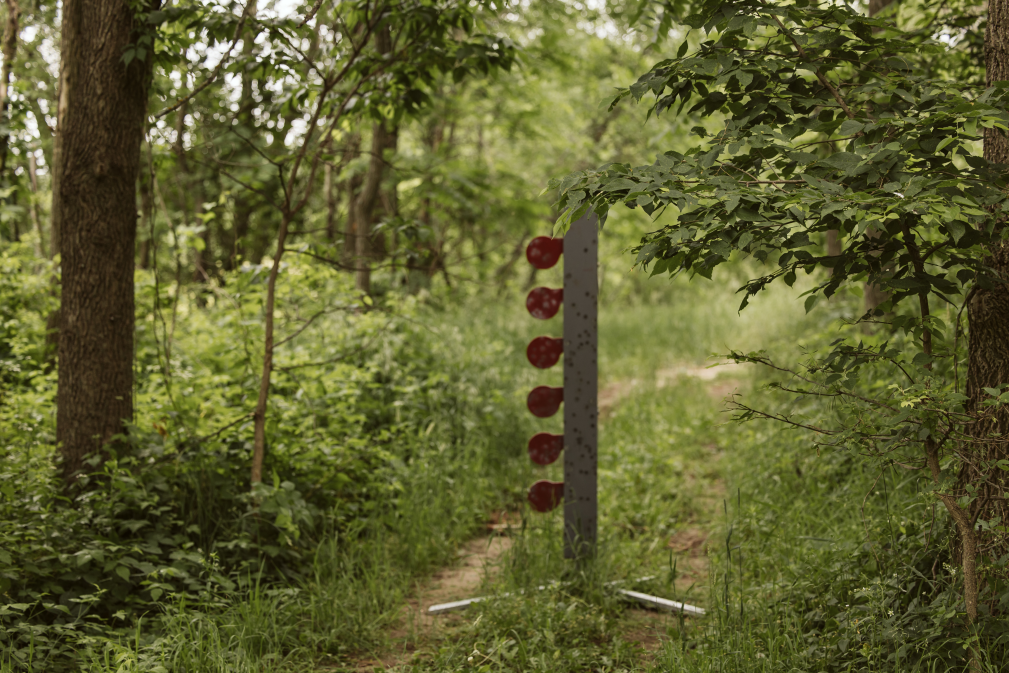 The post AllOutdoor Review: Grizzly Targets AR500 Dueling Tree appeared first on AllOutdoor.com.