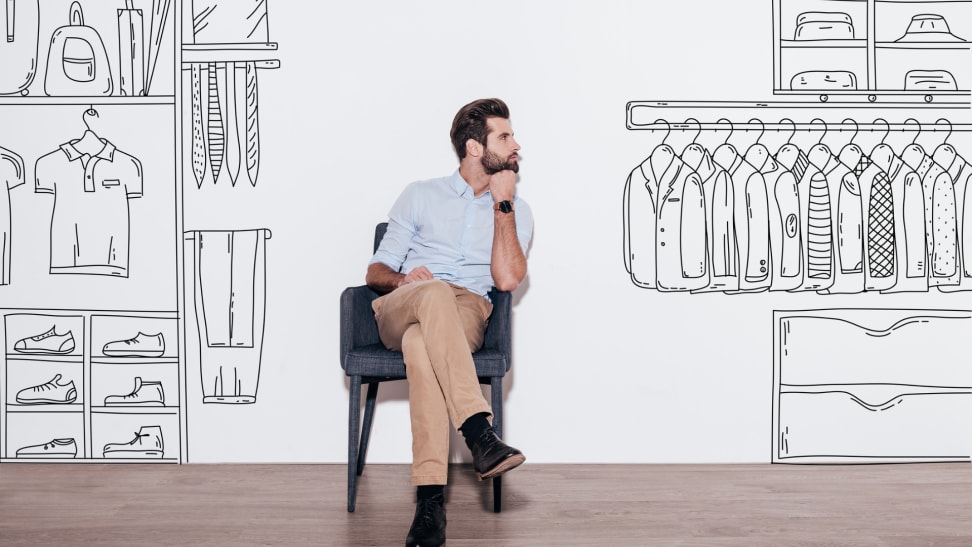 — Recommendations are independently chosen by Reviewed's editors. Purchases you make through our links may earn us a commission.
There are loads of hacks when it comes to a guy's closet, but some articles can get lost in the mound of organization tips. If you have the basics down, and your shirts and pants are tidily hung, folded, and stored, you may just need help with the smaller pieces: ties, belts, shoes, and caps. A shoe box full of ties and a hanger with belts toppling over aren't the best organization ideas for men.
In practice, these items should be considered with the same care as your favorite button-up or go-to pair of jeans. Properly storing both clothes and accessories will extend the life of the collection you've amassed and help maintain the quality you want in a purchase. It doesn't require a closet overhaul or a binge watch (or rewatch) of Marie Kondo's Tidying Up, just a desire to care for your things.
For some insight into closet organization tips for men, we talked to Frederick Castleberry, the creative director of the eponymous brand of made-to-measure and made-to-order menswear, and asked how he stores some of these accessories that crave a little more attention. His appreciation for garments isn't reserved just for those with his name on the inside tag, he wants a closet that is well organized, well preserved, and, as is the case for all of us, personal.
Castleberry's beautifully designed atelier in NYC is a testament to his attention to the use of space, and his vast knowledge of garments and textiles provides more in-depth reasoning as to why it's important to store a tie or suit jacket in a particular way.
1. Pare down your clothes and accessories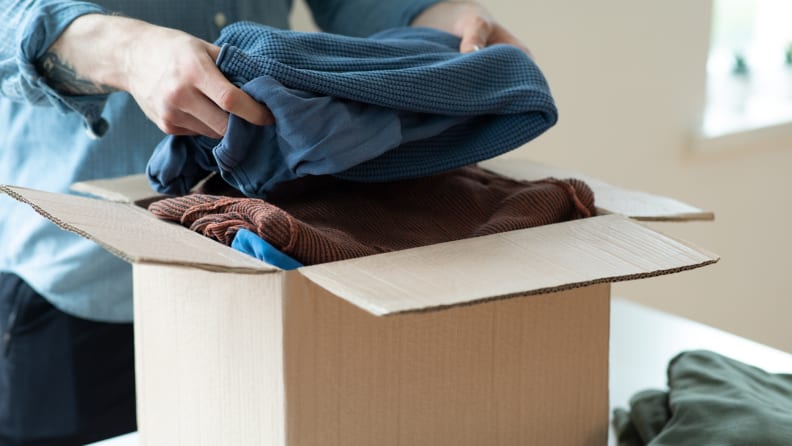 Before you start organizing the extras in your closet, make sure you actually like what you have. There's no sense in taking the time to fit something you aren't going to use into your newly organized space.
Take stock of the hat, belt, or tie you haven't worn in a long time; the rule of thumb here is if you haven't worn it in a year, get rid of it. The same can be said about items you've entirely forgotten you own—chances are you aren't going to miss it.
Donate these items, give them to friends or sell them online, whatever gets you to consolidate down to only keepers.
2. Consider seasonality and store what you can't wear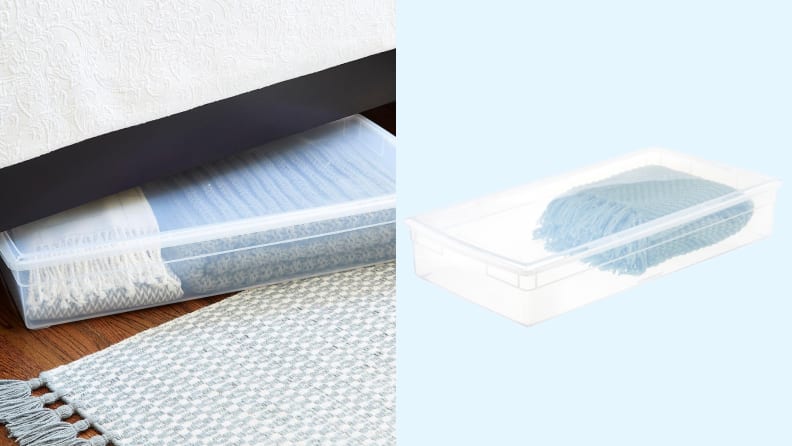 Setting up your closet by season, especially if you are low on space, makes a lot of sense. There is no need to rifle through thick wool pants in summer or a breezy linen shirt in the dead of winter.
"Living in New York, we have limited closet space," says Castleberry, "[so] the off-season goes into storage."
You can fold down whatever it is you won't be needing for the next couple of months and store them elsewhere. The less clothing and accessories that you have to arrange, the easier it is to keep it organized.
Use a plastic storage tub to easily stash clothes that are currently out of your rotation. Keeping the season at hand and hanging in front of you will simplify your day-to-day.

Get the Long Under Bed Box at The Container Store for $29.99
3. Invest in quality hangers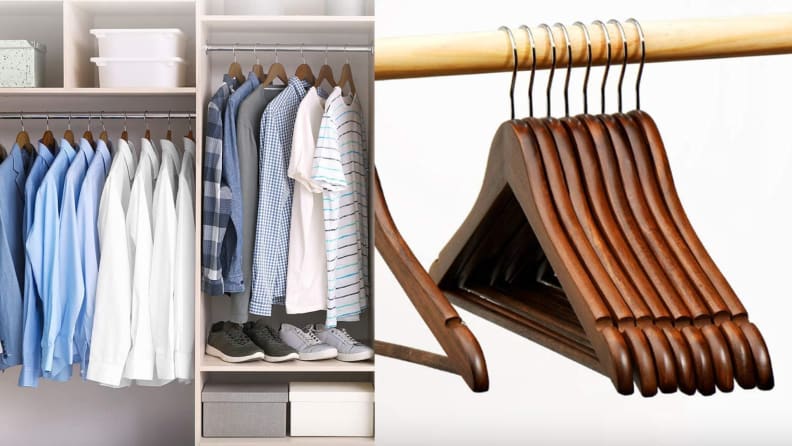 Even though those wire hangers were free from the dry cleaners doesn't mean it will serve your clothes well over the long term. Heavier clothes will pull down, possibly causing a pinch to form in the shoulder area.
It's also preferred to give your clothes some space, but wire hangers can be squeezed together tightly without you realizing, thus eliminating any breathing room.
Castleberry suggests using hangers from Kirby Allison's The Hanger Project. "They come in various sizes, finishes, and hardware. Most importantly, the hanger is contoured with blades wide enough to properly support the shoulder in your jackets."

4. Hang your ties, roll your belts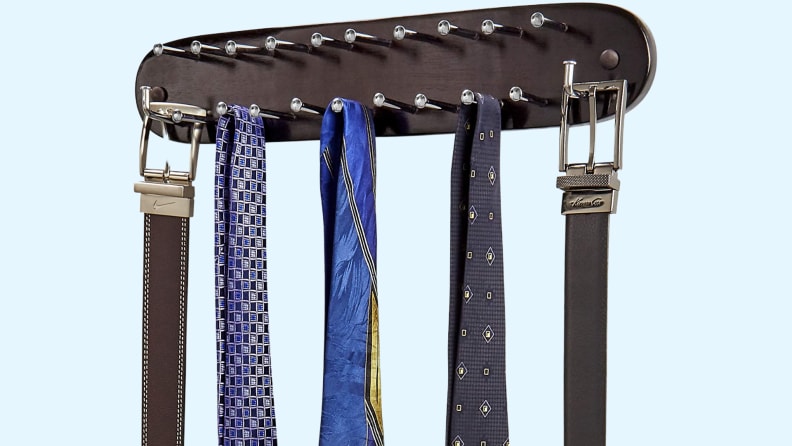 There is no way around it, you need to hang your ties in order for them to keep their shape. Keeping ties in a shoebox or on a middle shelf means you have to rummage through it trying to find the right one. This flawed system adds the extra step of having to iron out or steam creases that are certain to form on a tie that's been scrunched up for too long.
Castleberry explains, "This allows the silk and interlining an opportunity to relax back to some sort of stasis and breathe after being knotted."
It's also a matter of falling in line with simplicity. "It's easier to select a tie when you can see them all in front of you as opposed to rolled up in a drawer or shelf."
Bow ties offer slightly more wiggle room when it comes to organization. Since the surface area on display isn't as long, a crease won't be as noticeable. Still, Castleberry recommends hanging bow ties along with your other neckties.
You can get away with rolling belts, as they tend not to fold completely and crease. Castleberry assures that both a hook or an accessories drawer will work well.

5. Store different types of hats differently
When it comes to ball caps and knit caps, both may go on your head, but we don't advise storing them the same way.
"Knits caps are kept in an accessories drawer, while ball caps are stacked on a hat hook," says Castleberry.
Ball caps are more structured and therefore can be hung on a hook or a peg board. A fun way to mix up the display is to grab hooks in different finishes from a home improvement store and arrange them on the back of your closet door or any small empty wall space.
Knit caps, however, can get snagged on a hook depending on the gauge of the knit and may cause rips and tears. It's best to keep these laid flat.

6. Choose shoe racks over hanging organizers
Whether you're a sneakerhead or a two-pairs-of-shoes guy, a shoe rack is preferred to a hanging shoe organizer to store your footwear. A shoe rack is a more streamlined storage method, whereas a hanging shoe rack usually can only hold low-top shoes efficiently in its pockets and uniquely shaped sneakers or dress shoes may stick out awkwardly and fall out.
A shoe rack gives you the space for larger sizes and the option to store high-top sneakers or boots on the top shelf, at least.
Castleberry stores his sneakers and dress shoes in cedar shoe racks and suggests using shoe trees for your dress shoes. Shoe trees can draw out moisture and odor from a dress shoe while also maintaining the shape.
Stackable shoe racks are a good option if you're pressed for space.

7. Protect the items you've invested in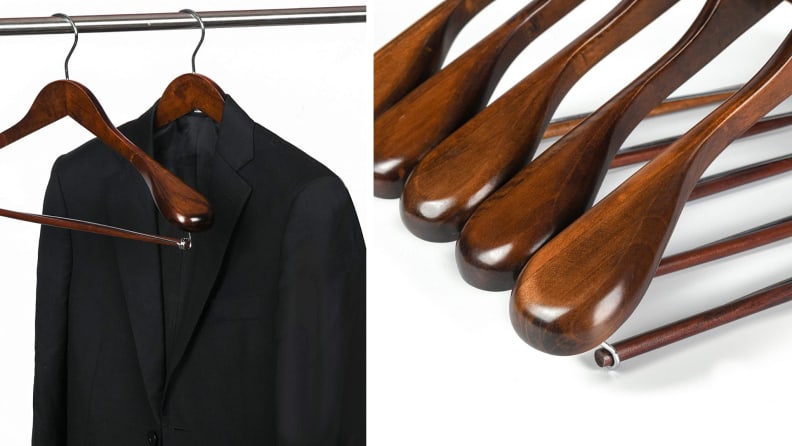 The beginning of the year is a good time to organize your closet, but the practice goes beyond just simplifying your morning routine or making it easier to pick an outfit when rushing to get ready for a night out. Proper closet organization is about preserving the investment that is your wardrobe.
Speaking of investments, the clothing item that you probably paid the most for is a sports jacket or a suit, so take care of it properly for longevity's sake. This is when investing in good hangers is a necessity because they will support the shape of your jacket.
"Blazer and suit jackets are hung on wide-arm contoured wooden hangers," says Castleberry.
He also confirms that a jacket left buttoned can cause the fabric to buckle. "Leave them unbuttoned and with enough space between each garment so that they're not touching," he says.

Get the Quality Heavy Duty Wooden Suit Hangers, set of 6, at Amazon for $38.49
The product experts at Reviewed have all your shopping needs covered. Follow Reviewed on Facebook, Twitter, Instagram, TikTok or Flipboard for the latest deals, product reviews, and more.
Prices were accurate at the time this article was published but may change over time.