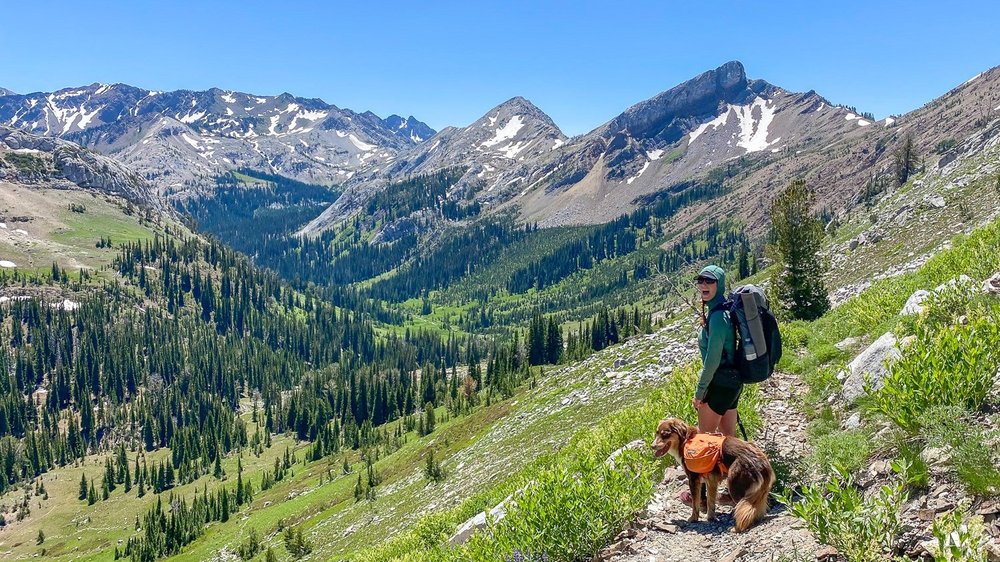 It's Member Rewards time at REI! That means REI members have just received 10% of their purchases from last year back to be used towards new gear, which is always rad. And if you have a backpacking gear addiction like we do, your dividend can actually add up to a good chunk of change.
To sweeten the deal, from March 17 to March 27 REI Members save 20% on one full-price item and an extra 20% off one REI Outlet item with coupon code MEMBER23. Now is one of the best times of the year to save on a big-ticket purchase such as a tent, sleeping bag, backpack, sleeping pad, or anything else with some sticker-shock pricing.
In this guide, we'll outline our favorite deals for members and give you the inside scoop on our top recommendations for how to get the most out of your 20% off coupon.
This is a sponsored post, but as always, our opinions and reviews are completely independent and unbiased.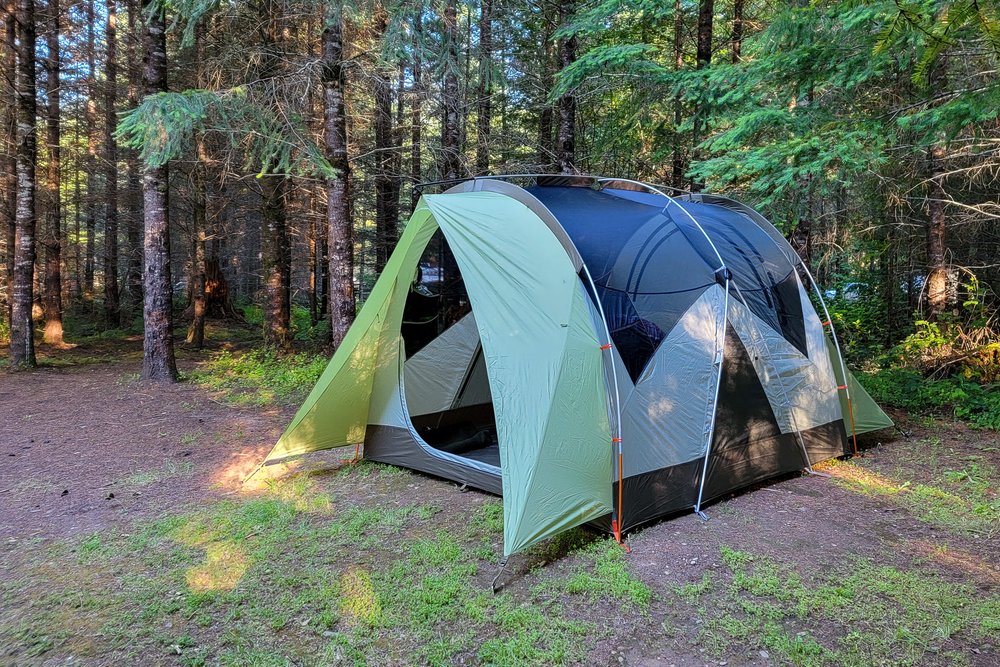 Not a Member yet?
All the sweet deals in this guide are for REI members only, but don't fret if you're not a member yet! You can pick up a lifetime membership for $30 and still get to use the 20% off coupons. So, your lifetime membership will pretty much pay for itself with one big purchase. Here are some of the reasons all of us here at CleverHiker have been REI members for years:
Knowledgeable and friendly staff - We always have an awesome experience with the sales and customer service staff. They're friendly and helpful, and they really know their stuff!

Save money - There are so many benefits to membership, but some of our favorites are access to 20% off coupons a few times a year, 10% back on full-price purchases, access to the used gear Garage Sale, and discounts on REI Adventures and in-store classes.

REI brand products are a great value - We generally find that REI brand products strike a great balance between quality and cost. The Magma line of sleeping bags and the Half Dome line of tents are some of our favorite products from their wide range of offerings.

REI has an excellent return policy - Customer service reigns supreme here. REI gives you 365 days to return or exchange items and we love the ability to buy online and return in store.

REI is getting into the ultralight game - We're pretty stoked to see REI jumping into the ultralight arena. They're now stocking their shelves with UL retailers, such as Hyperlite Mountain Gear, as well as upgrading many of their REI brand product lines to focus on fast and light gear.
---
Just for REI Members
REI's Wonderland tents come in a variety of sizes, but our top pick is the Wonderland 4. This tent is a redesign of the popular Kingdom Tent, and it still features the same high ceiling, giant doors, and convenient storage pockets that made the Kingdom so well-loved. The roomy Wonderland will last for many years of adventure since it's built solid with high-quality materials. Seriously, this is a can't-miss deal if you're in the market for a new camping tent. See how it stacks up against the competition on our Best Camping Tents list.
---
The REI Half Dome 2+ has an exceptional balance of price, durability, and interior space. Its symmetrical freestanding design and very roomy dimensions make it comfortable and user-friendly for hikers of all experience levels. This tent is our favorite budget-friendly crossover choice for those who like camping in the frontcountry and the backcountry. Naturally, the Half Dome ranks highly on both our Best Camping Tents and Best Backpacking Tents lists.
---
The REI Hunker Down 20 (also available as a two-person) is one of our go-to sleeping bags for car camping because it's roomy, durable, and comes in at a great value price. The rectangular hood adds extra warmth and holds a full-size bed pillow. Other small features, like a built-in stash pocket to keep your small items close and a wraparound zipper that allows you to use the bag like a blanket, make it even more user-friendly. The Hunker Down earned a mention on our Best Camping Sleeping Bags list and is a down-filled version of our top pick, the synthetic-filled REI Siesta 20.
---
REI's Helix Insulated Air features the highest R-value of any pad in its price range, so it's an excellent value for cold sleepers on a tight budget. At 3 inches thick, the Helix is very cushy and comfortable. It's a bit heavier than some of our other favorite backpacking sleeping pads, but we think the extra warmth is worth the weight if you tend to get cold at night. See how the Helix stacks up against other top sleeping pads on our list of the Best Backpacking Sleeping Pads.
---
REI's Camp Bed is already one of the best deals on a car camping pad in the whole store, and now at 50% off it's truly a steal. The Camp Bed is cushy, quick and easy to inflate/deflate, and is much more compact when stored than many other car camping pads, so it won't take up as much real estate in your garage or gear closet. The Camp Bed is offered in regular and XL - we prefer the XL size since the extra width is comfier for our arms. Learn more about the REI Camp Bed on our Best Camping Mattresses list
---
50 Great Ways to Use Your 20% Off Coupon
You only get to use your 20% off coupon on one full-price item and one REI Outlet item, so it makes sense to use it for a big purchase to really make it count. Remember to use coupon code MEMBER23 at checkout. 
Here are some of our top picks from our most popular Gear Guides to get you inspired.
---
Backpacking Gear
The Copper Spur HV UL2 and UL3 are some of Big Agnes' best-sellers, and they're among our all-time favorite backpacking tents. The ultralight freestanding design of the Copper Spur enables hikers to pitch almost anywhere, and it doesn't sacrifice convenience, weather protection, or livability. The UL2 has enough space for two regular-width sleeping pads and some gear, while the UL3 is roomy enough for two wide pads and keeping all of your gear inside. Learn more about the Copper Spur 2 and 3 on our Best Backpacking Tents list.
---
The Sea to Summit Telos TR2 is an innovative tent with a lot of unique features to love. It has more headroom than any 2-person backpacking tent in its weight class, which makes it feel a lot more livable than many others. Creature comforts, like the light-dispersing Lightbar and adaptable ventilation, provide luxurious and practically condensation-free nights in the backcountry. See all the things we love about the Telos on our Best Backpacking Tents list.
---
The REI Flash 2 is brand new lightweight tent offering from REI, and we have high hopes for it! We haven't had a chance to field test one yet, but looking at the specs already has us drooling. Its weight and space are very competitive with crowd favorites, like Big Agnes' Copper Spur 2 and MSR's Hubba Hubba 2, but it costs significantly less. On top of that, this freestanding tent has a unique shape that we expect will provide ample headroom for two hikers to sit up.
---
Therm-a-Rest's NeoAir XLite NXT is hands-down the best 3-season sleeping pad on the market. It has a combination of comfort, warmth, and weight that make it very tough to beat for backpacking. The new NXT version of the XLite is 3 inches thick, so it's a bit cushier than before, and it has a slightly higher R-value too. The NeoAir XLite is a truly exceptional sleeping pad that we've put through the wringer over thousands of miles on the trail, which is why it's number one on our list of the Best Backpacking Sleeping Pads.
---
The Therm-a-Rest NeoAir XTherm NXT is a warmer and more durable version of the XLite pad listed above. So if you're a cold sleeper or you backpack in sub-freezing temps, we recommend bumping up to the XTherm. The latest NXT model is warmer, thicker, and even a touch lighter than before. With such a preposterous warmth-to-weight ratio, the XTherm is undoubtedly one of the best backpacking sleeping pads out there.
---
The Therm-a-Rest NeoAir UberLite is often the sleeping pad you'll find in our packs on summer backpacking trips. It's very comfortable, has a tiny packed size, and best of all - it's ridiculously lightweight. This helps us keep our pack weight to an absolute minimum on burly, high-mileage adventures. We named the UberLite best ultralight sleeping pad on our list of the Best Backpacking Sleeping Pads.
---
The REI Magma 15 and Magma 30 (women's Magma 15 and 30) sleeping bags offer a combination of weight, warmth, and cost that few other sleeping bags can match. If you're looking for one sleeping bag that can do it all at a very fair price, the Magma 15 is an excellent choice. If most of your backpacking trips are during summer months or you're a warm sleeper, the Magma 30 is perfect for keeping pack weight to an absolute minimum. The Magma 15 and 30 are our top picks on our Best Backpacking Sleeping Bags list.
---
The REI Magma Quilt 30 is one of our go-to sleep sacks for trips where nighttime temperatures stay in the 40s or above. This pared-down design will keep your summer base weight as low as possible, and it compresses down small to leave room in your pack for other luxuries. Its combination of weight, warmth, and cost makes the Magma one of our favorite quilts of all time, and it ranks highly on our Best Sleeping Bags and Best Backpacking Quilts lists.
---
The HMG Southwest 2400 (40L) and 3400 (55L) are some of our all time favorite backpacks due to their weight, weather-resistance, and durability. These ultralight packs have frames that're highly effective at transferring weight to the hips and they're sturdier than most lightweight packs. The DCF fabric and taped seams make the Southwest about as close to waterproof as backpacks get. We've been using ours for thousands of miles, so we think the Southwest is worth the cost. The Southwest took the number one spot on our list of the Best Backpacking Backpacks.
---
The REI Flash 55 backpacking pack is an affordable option for hikers looking to keep their pack weight down. This pack has a comfy hip belt, a supportive foam back panel, and a removable top lid. One of our favorite features of the Flash backpacking packs is what REI refers to as Packmod - the straps and pockets can be reconfigured into a whole bunch of combinations. The Flash 55 is a top pick on our list of the Best Backpacking Backpacks.
---
If comfort reigns supreme for you and you don't mind carrying some extra weight into the backcountry, the Osprey Atmos 65 (men's) & Aura 65 (women's) are great options. Thanks to their ample padding and beefy suspension, these packs transfer weight to the hips much better than any lightweight pack. The Atmos and Aura are fan favorites in many backpacking circles, and they rank highly on our Best Backpacking Backpacks list.
---
The Osprey Exos 48 (men's) and Eja 48 (women's) are some of the most comfortable lightweight backpacks on the market, and they're a great all-around value. The frame is sturdier than that of most lightweight packs and can carry heavier loads more comfortably. The newest iteration of the Exos/Eja brought back the hipbelt pockets and includes an updated suspension system. If comfort is your main priority, these packs are a top pick from our list of the Best Backpacking Backpacks. These backpacks are also offered in Exos 58 and Eja 58 models for those who need more space. 
---
We're big fans of MSR stoves, and the Pocket Rocket 2 has been a top pick on our Best Backpacking Stoves list for years. This stove is lightweight, compact, durable, and it has great simmer control. The upgraded Pocket Rocket Deluxe has some extra features, like a push button ignitor and better performance in bad weather. Both are truly excellent backcountry stoves that come in handy kit versions as well.
---
The Sawyer Squeeze has been a mainstay on our Best Backpacking Water Filters List for years. It's incredibly lightweight at only 3 oz., very compact, and is quite affordable for how long it lasts. While squeezing the bag can become tedious over time, we find the Sawyer Squeeze to be one of the more convenient water filters on the market - no pumping, no pills, no wait times.
---
The convenience of the Platypus GravityWorks is tough to beat for couples and groups. To use the GravityWorks, simply fill up the "dirty" water bag, hang it above the "clean" bag, and let gravity do its thing. The main benefit? No tedious pumping or squeezing required. See how the Gravityworks compares to other water filters on our Best Water Filters list. 
---
At only nine ounces, the Distance Carbon Z-Poles are the lightest trekking poles we've tested. The folding Z-pole design allows them to break down to a small size for easy storage, so they're a great choice for hikers who will only use their poles occasionally. See how they stack up against the competition on our Best Trekking Poles List. 
---
For hikers who mostly use a stove for boiling water to rehydrate freeze-dried meals, you'd be hard-pressed to find a better option than the Jetboil Flash. When it comes to boiling water quickly, the Flash lives up to its name and costs less than many other stove systems. If you're looking for the fastest and most convenient stove for backpacking, The Flash is one of the fastest and most convenient stoves for backpacking, which made it a top choice on our Best Backpacking Stove List.
---
Petzl makes a lot of dependable and user-friendly headlamps, and the Actik CORE is our favorite in their lineup. It's a bright and lightweight headlamp with an included rechargeable battery - but it can also run on AAA batteries if you prefer to keep it old school. Many hikers find the Actik's single-button design easier to use than the two-button setup of other leading headlamps, so it's great for those seeking simplicity. The Actik CORE is our top pick from our list of the Best Headlamps.
---
Ursacks are much less bulky and far lighter than any bear canister and they're a lot easier/faster than any bear bagging method. The kevlar fabric on the Ursack is strong enough to keep critters out of your food. Mice will quickly chew through expensive backpacking gear to get into food, so we almost always travel with an Ursack in the backcountry. We're partial to the Ursack Major for the best balance of protection and weight.
---
For wilderness areas that require a bear canister, we always pack along our trusty BV500 from BearVault. This thing is super tough and has plenty of space for five or so days of food. Our bear can has traveled over a thousand miles with us from the Sierras to the Smokies. If you've got plans to visit the backcountry of any national parks, you're likely to need one. So this is a great time to snag one at a discount.
---
Camping & Day Hiking Gear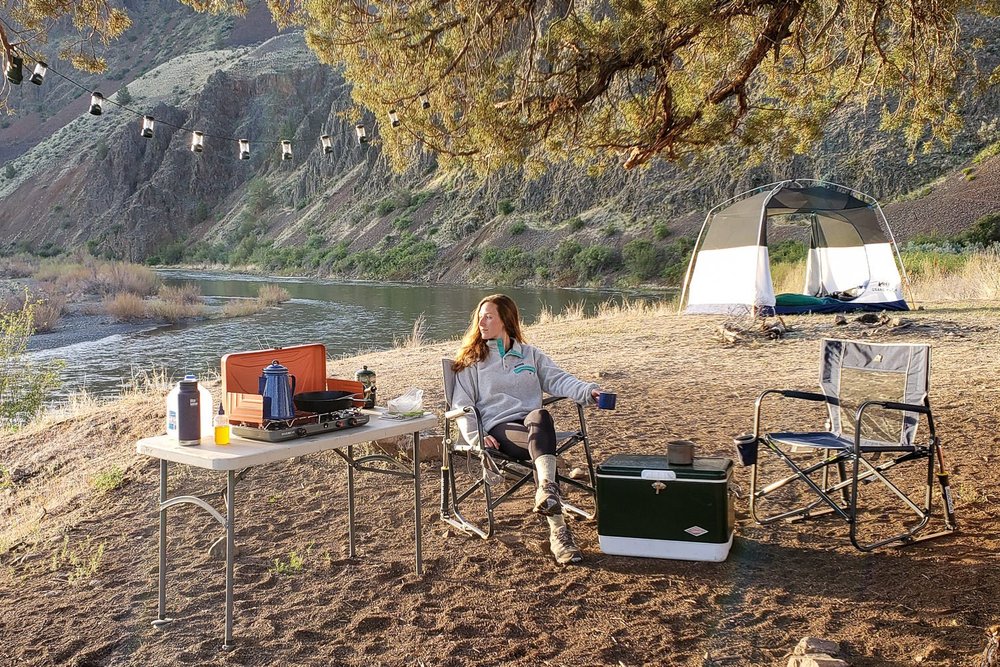 The REI Skyward 4 is the latest iteration of our longtime favorite camping tent, the Grand Hut. We like the Skyward tent for its high-quality tent poles/fabrics, spacious interior, and ease of setup. It has near-vertical walls and a 6.5 foot peak height, so you can stand and move around freely. The vestibule off the front is handy, and we like that there's an awning over the door for drip-free entry. The Skyward is a well-rounded tent with a sweet balance of simplicity and spaciousness which made it our number one pick on our Best Camping Tents list.
---
Eureka's Space Camp 4 is a welcoming shelter with nearly vertical walls and a versatile rainfly. There are two generous vestibules to protect your gear when bad weather hits and multiple vents to promote airflow. For taller campers, the Space Camp 6P has a peak height of 6'4" for more headroom. The Space Camp is among the highest-quality budget options on our Best Camping Tents list.
---
The Exped MegaMat Duo and Single are two of the most luxurious camp mattresses we've ever tested, and may be just what you need to complete your car camping kingdom. These pads are four inches thick, so you won't feel pressure points or bottom out if you toss and turn. The Megamat self-inflates most of the way, so all you have to do is top it off for the perfect pressure. And when your trip is over, the one-way deflation valve and top-loading stuff sack make packing up the MegaMat quick and easy. Both sizes of the Megamat are at the top of our Best Camping Mattresses list.
---
Down bags are typically a lot more expensive than synthetic bags, and they tend to only come in a mummy shape that doesn't allow you to stretch out as much. This is where the down-filled rectangular Kelty Galactic 30 shines! It's priced similarly to many of the high-quality synthetic bags on the market, and the rectangle shape offers plenty of room to sprawl. It also packs down super small for convenient carrying and fluffs up to provide impressive warmth for how slim and lightweight it is. The Kelty Galactic 30 is near the top of our Best Camping Sleeping Bags list.
---
The Camp Chef Everest Stove is a must have for all you creative camp cooks who love whipping up gourmet camp meals. This thing is seriously powerful - each burner has a heat output of up to 20,000 BTU. By comparison, household stoves have an average output of 7,000 BTU. Needless to say, that's a lot of fire power! The Everest also features a convenient igniter button and built in wind blockers to maintain efficiency. The Everest stove is our top pick on our Best Camping Stoves list.
---
The portable and convenient Eureka Ignite 2-Burner Stove is perfect for cooking some gourmet meals around the campfire. Its push button ignitor makes it easy to use, and the simmer control function allows for precise cooking. If you'll be cooking for a larger group, you may want to upgrade to the Ignite Plus for the wider burners. Check out the Ignite Plus on our Best Camping Stoves list.
---
The GSI Outdoors Bugaboo Base Camper Cookset covers all your camp kitchen needs and has an impressive volume to weight ratio. It's big enough to cook for a group and a cinch to pack. The non-stick coating makes it possible to cook food with less oil, and the pots and pans are really easy to clean in the field with minimal water. The Bugaboo set is our favorite non-stick cookware from our Best Camping Cookware list.
---
The Osprey Talon 22 (men's) and Tempest 20 (women's) are our top picks on our list of the Best Hiking Daypacks. They provide an exceptional balance of comfort, convenience, and functionality. With cushy hip belts, padded shoulder straps, and ventilated back panels, the Talon and Tempest ride very comfortably on the trail. These packs have plenty of room for a full day adventure and convenient storage compartments to keep our gear organized nicely.
---
We often find that a small, simple pack like the REI Flash 22 is all we really need for short day hikes with a lightweight load. The Flash series has been a hiking staple for many years because it's affordable, has convenient pockets, and there's enough structure to feel comfortable against your back on a day hike. The minimal, yet effective design of the Flash 22 earned it a top spot on our list of the Best Hiking Daypacks. This pack also comes in a Flash 18 model, but we prefer the Flash 22 because of its water bottle and top lid pockets.
---
The Gregory Citro 24 H2O (men's) & Juno 24 H2O (women's) are our favorite hydration packs overall on our Best Hydration Packs list because they have the best balance of weight, capacity, and price. The frame on these packs is supportive enough to carry heavier loads comfortably (up to 20 lbs.), but they still feel lightweight and streamlined on your back. They have all the pockets we find most useful on trail with a refreshingly uncomplicated layout.
---
The Yeti Trailhead is hands-down the most comfortable and highest quality camp chair we've sat on. It's supportive, yet soft and springy so it holds you in a relaxed upright position and cradles your curves without pressure. The material is also super airy and breathable, which feels great on warm days. We're not gonna lie the Trailhead Chair is spendy, but with your 20% off coupon we say this is a deal that can't be passed up! Check out our Best Camping Chairs list to learn more.
---
If you're looking for a chair you can share, the Kelty Low Loveseat is a practical and cozy perch for two. Its best asset is its durability, with a strong steel frame, thick quilted fabric, and quality construction. The smartly-designed carrying case wraps around the chair and buckles so it's easy to pack up. The case also serves as a load hauler for firewood/gear, or a small ground cloth to keep your feet clean and dry. The Kelty Low Loveseat is our top two-seater choice on our list of the Best Camping Chairs.
---
The Yeti Tundra 65 has made such a big name for itself due to its best-in-class insulation and durability. No matter how hard you play, you don't have to worry about dents or breaking hardware. It also doesn't hurt that it comes in a variety of attractive colors. Learn more about why we like the Yeti Tundra on our Best Coolers list.
---
The Doublenest Hammock is roomy and tough enough to fit two people comfortably, so it's awesome for lounging around camp with a pal. It comes in a bunch of fun color combinations for showing off your personal style, and it's incredibly easy to set up using the included carabiners. If you're hammocking solo, the SingleNest may be all you need. These hammocks can be found on our Best Hammocks list. 
---
The Rumpl Original Puffy Blanket is like a cozy comforter that's made for the outdoors. It's highly resistant to moisture and dirt, so it easily sheds spills, debris, or pet hair with a quick shake. We like this blanket for wrapping up in camp or to use on top of a summer sleeping bag for extra warmth when temperatures dip. The Original Puffy is our top pick on our Best Camping Blankets list because it's affordable for the quality and it comes in a huge variety of attractive colors from subdued to bright. 
---
Footwear
Salomon makes some of our favorite hiking footwear, and their X Ultra 4 GTX shoes (men's / women's) and boots (men's / women's) are among the best in the lineup. They feel great right out of the box, they're lightweight, and they're durable. So we highly recommend them for hikers who want a happy medium between lightweight trail runners and heavier boots. The X Ultra line of shoes has been near the top of our lists of the Best Hiking Boots for Men / Women and Best Hiking Shoes for Men / Women for years.
---
We've hiked thousands of miles in Saucony Peregrines (men's / women's), and they're some of our favorites due to their exceptional traction. The mesh upper keeps these shoes lightweight and breathable, so your feet stay comfortable while covering serious distance on trail. The Peregrines rank highly on our Best Hiking Shoes for Men / Women and Best Trail Running Shoes for Men / Women lists.
---
Altra Lone Peaks have long been the flagship shoe of lightweight hikers due to their low weight, grippy outsole, and roomy fit. The 7th iteration of the LPs (men's / women's) got another big makeover - a narrower midfoot keeps the shoe more secure, a seamless upper increases longevity, and modern colorways make these shoes stand out. We're loving the newest Lone Peaks, and recommend them for hikers looking for a comfortable ultralight hiking shoe. The Lone Peaks landed spots on our Best Hiking Shoes for Men / Women and Best Trail Running Shoes for Men / Women lists. 
---
The Salomon Quest 4 GTX (men's / women's) offer some of the most robust ankle support of any boot on our Best Hiking Boots for Men / Women lists, making them a great choice for those wanting maximum stability. The durable materials and aggressive traction - in combination with that supportive design - will keep you moving confidently on the most rugged terrain. And while these boots are on the heavier side, they feel more nimble than other heavy-duty boots thanks to their well-balanced design.
---
For hikers who regularly tackle tough terrain, the Lowa Renegade GTX Mid (men's / women's) is a widely popular boot that offers great durability and foot protection. We often find that boots with this level of support can feel a bit restrictive, but after a short break-in period the Renegades are very comfortable. Check out how the Renegades stack up against other boots on our Best Hiking Boots for Men / Women lists.
---
The Chaco Z/1 Classics (men's / women's) are our favorite hiking sandals because they're adjustable to fit all kinds of different foot shapes, surprisingly supportive, and ridiculously durable. The soles on these sandals are pretty firm, so go with the Z/Clouds (men's / women's) if you prefer more cushion. The Z/1 Classics and Clouds are number one on our lists of the Best Hiking Sandals for Men / Women.
---
Clothing
The Mountain Hardwear Ghost Whisperer/2 (men's / women's) is everything you need for fast and light adventures, and nothing you don't. Its exceptional balance of warmth to weight is its key strength, and its sleek, layer-able design is also a huge plus. Supplement it with a lightweight fleece or a rain shell, and you're set for cooler shoulder-season conditions. We named the Ghost Whisperer best ultralight jacket on our list of the Best Down Jackets.
---
The REI 650 Down Jacket 2.0 (men's  / women's) is a great option for lightweight adventurers on a budget. It's made with lower-fill-power down, which means it's not quite as technical and efficient as more expensive jackets, but we're pretty happy with its performance for the price. The 650 Down is our favorite budget-friendly ultralight jacket on our Best Down Jackets list.
---
The Patagonia Down Sweater Hoodie is a warm, well-rounded jacket with classic stylish looks. Little touches like a soft zipper cover at the chin, an internal chest pocket, and hem adjustments that are accessible from inside the hand pockets make the Down Sweater comfortable and practical to wear on a daily basis. This hoodie is our top pick for everyday wear on our list of the Best Down Jackets.
---
The Patagonia Torrentshell 3L (men's / women's) is one of our all-time favorite rain jackets because it's well-priced, durable, and has a great fit. Its laminated triple-layer construction is highly protective in sustained rain and the jacket still feels lightweight on your body. Because it's so versatile and such an awesome value, the Torrentshell is the number one rain jacket we recommend for all-around use on our Best Rain Jackets list.
---
If you're looking for a high-quality rain jacket that won't break the beak, the REI XeroDry GTX (men's / women's) is a solid option. It costs a bit more than some other rain jackets from our Best Rain Jackets list, but the materials feel more durable and comfortable against the skin. The XeroDry is also less fitted than some jackets, so it's more comfortable and flattering for those who prefer a relaxed fit or want a little extra roominess to accommodate insulation layers.
---
The REI Rainier Rain Jacket (men's / women's) is already a budget-friendly jacket, so it's quite the steal if you use your coupon for an additional 20% off. We love it because it has all the bells and whistles (like pit zips and hem/hood adjustments), it's lightweight, and it comes in a wide array of nice color choices. Pick up the Full-Zip Rainier Rain Pants (men's / women's) to complete the look and to feel like an unstoppable rain defying machine. The Rainier rain gear can be found on our lists of the Best Rain Jackets and Rain Pants.
---
The REI Sahara Convertible Pants (men's / women's) are designed with a plethora of useful features for utilitarian hikers. These pants provide protection for your legs on exposed or brushy trails, then they quickly and easily convert to cargo shorts for warm days when you wanna catch a breeze.  Learn more about what makes these pants great on our Best Hiking Pants for Men / Women lists.
---
PrAna makes a lot of great hiking pants, but our favorites are the super comfy Stretch Zions for men and the ultra durable Halle Pants for women. Both styles strike an excellent balance between trail-worthy performance and body-flattering fit. We've rocked the Stretch Zions and Halles for years, and both rank highly on our Best Hiking Pants for Men / Women lists.
---
If top-notch comfort and excellent value are what you're after, the REI Hyperaxis Fleece Jacket is pretty tough to beat. It's made with super soft stretch fleece that has an excellent warmth-to-weight ratio. The Hyperaxis Jacket is capable in the backcountry, and we've been pleased with its breathability on challenging cold-weather hikes. That said, we love wearing it in the frontcountry too since the high-pile lining is so warm, comfortable, and inviting. The Hyperaxis ranks highly on our Best Fleece Jackets guide. 
---
We love the versatility of Patagonia's Better Sweater (men's / women's) - it's stylish enough to wear around town and functional enough to wear as a layer for adventures. The material is comfortable against the skin and it holds up incredibly well over time. One of our staff has been wearing hers for almost a decade now, and it's still going strong! The Better Sweater is our top pick on our Best Fleece Jackets list.
---
More Information
We hope this guide helps you find the perfect gear for your needs. If you have more questions or a suggestion, we'd love to hear from you! Sign up for our newsletter to stay updated on our latest posts then visit our Facebook page and Instagram to join the community conversation.
If you found this guide helpful, please share on social media and click the little heart button below to give us a digital high five! Also, be sure to check out our CleverHiker Gear Guide to see all of our top gear picks.
For more popular CleverHiker content, check out the following links:
Thanks for reading and happy trails!
---
---
Some of the links on this page are affiliate links, which means we may receive a modest commission if purchases are made through those links. This adds no cost to our readers and helps us keep our site up and running. Our reputation is our most important asset, which is why we only provide completely honest and unbiased recommendations.