You've planned your cruise, and now it's embarkation day. You can't wait to get on board your ship and relax, sip a tropical drink and stare out to sea. You're on vacation – woohoo!
Not so fast. You might be ready to cruise, but the ship's crew still is getting the ship ready, having just disembarked last week's passengers.
You have to go through the ship's pier-side check-in process, which can take time, especially given all the health and safety protocols added post-pandemic. Remember, you are one of thousands of people entering a floating city at basically the same time. As with any other secured structure, you can't walk right onto a ship.
The best way to start your cruise is to arrive at the pier expecting some lines and minor hassles – and perhaps a bit of chaos – and then be thrilled if you don't encounter any of them. Keep a level head and look forward to good times once your sailing actually gets underway.
For more cruise news, reviews and tips, sign up for TPG's cruise newsletter.
Here are some dos and don'ts to help make embarkation day as hassle-free as possible.
DO check that you have the necessary paperwork and documentation
The cruise line will send pre-cruise reminders explaining what to expect at check-in, including health and safety procedures. It will outline which documents, IDs, QR codes or other electronic receipts you will need to have ready.
However, it's your responsibility to arrive at the pier with the proper documentation in hand. Personally, I like to print out and bring paper copies of documents as a backup to electronic documents.
Related: Do you need a passport for a cruise?
DON'T arrive at the pier early
Since cruising restarted post-pandemic, most cruise lines now assign passengers a staggered time to arrive at the pier. Arrive early and you'll just have to wait – often, outside in the hot sun, without access to water, restrooms or other necessities. Arrive at the pier as close as you can to your scheduled time, but don't freak out if you are a few minutes late. You won't be turned away.
DO hand over your big suitcases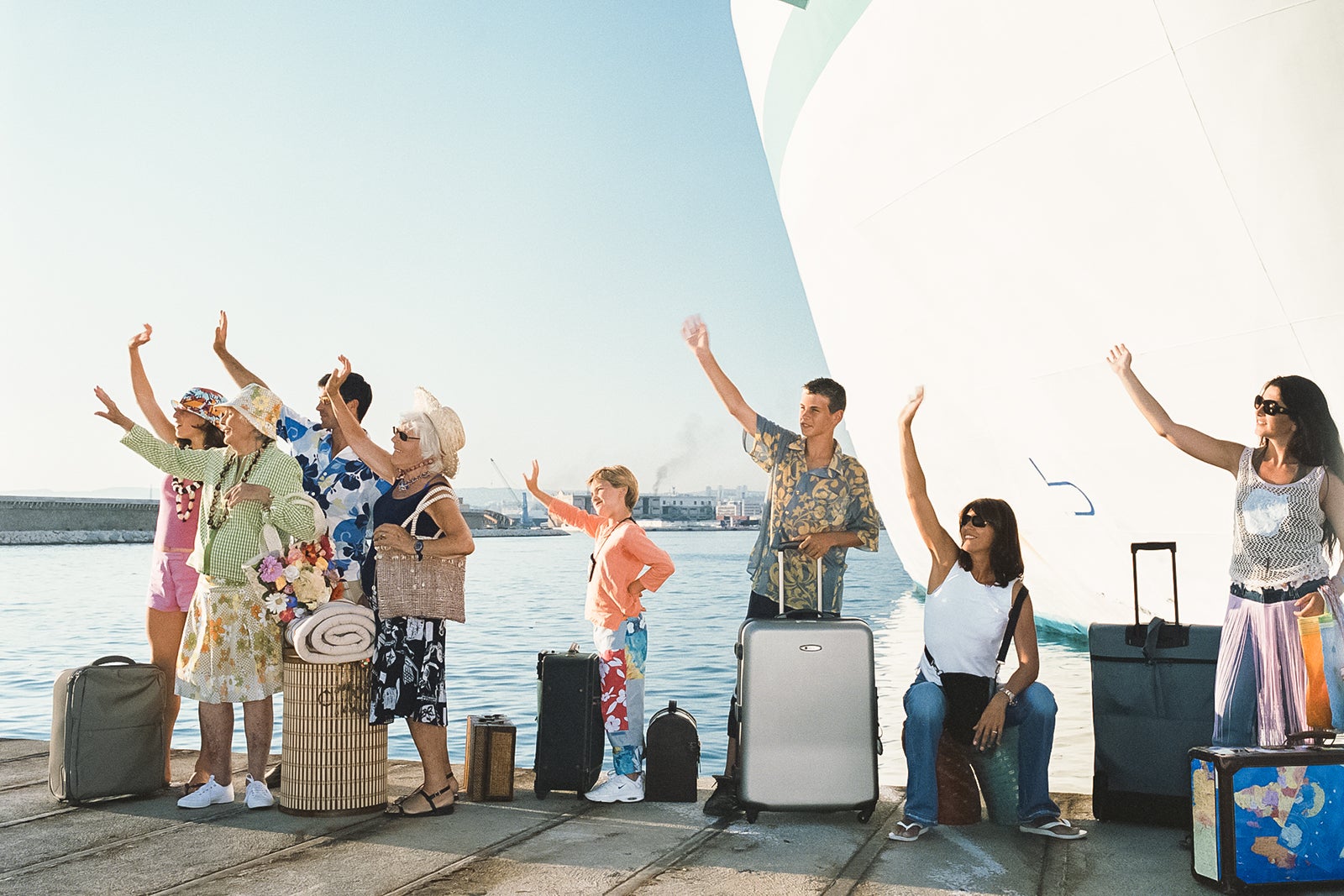 As soon as you arrive at the pier, porters will be available to take your large suitcases, which will be delivered later to your cabin. (Dock workers expect a small tip for the service.) Without your luggage, you'll have your hands free for the rest of the embarkation process. Make sure your suitcase is tagged with your name and cabin number, ship name and sail date.
DON'T relinquish your carry-on bag
In your cruise carry-on, pack your medications, valuables, documents and anything else you will need until your luggage arrives in your cabin. Since you're likely leaving from a sunny destination, you also may want to have a sun hat, sunscreen and sunglasses. If you've come from a cold-weather place, pack shorts, flip-flops and your bathing suit so that you don't have to wait for your suitcases to arrive before you hit the pool.
DO be prepared to go through security
Once you prove (through your paperwork or electronically) that you belong on the ship, you will go through security. The set-up is similar to an airport. You put your belongings on a screening belt and walk through a metal detector. You won't have to take off your shoes but will have to remove belts and bulky jewelry and clear your pockets.
DON'T try to sneak any banned items onto the ship
Your carry-on items will be inspected via an X-ray machine at the security checkpoint and your checked bags might be searched before they're delivered to you. While most cruise lines allow passengers to bring a small amount of alcohol, soda and bottled water for their personal consumption in their cabin, make sure you have not gone over the cruise line's allowance for bringing your own beverages on board.
Cruise lines have very specific rules for other banned items, which you can find on your line's website. These items will include weapons, fireworks, flammable liquids, candles, clothing irons, incense and anything else that produces a flame. Royal Caribbean also bans martial arts gear, baby monitors and extension cords, among other items. Carnival bans handcuffs.
DO freshen up
After your flight or drive to the port, you will want to freshen up, because the fun begins at the embarkation pier. You'll find both official and unofficial photo spots at the terminal. Smile for the shipboard photographers, who will have a backdrop with the ship's name or picture set up, or take your own photos.
DO pause and look up as you enter the ship's atrium
Some ship atriums are impressively high or have cool artwork or chandeliers hanging from the ceiling. You've arrived at your floating home for the week. It's OK to stand in awe.
DON'T expect to be able to go right to your cabin
Depending on when you arrive, cabins may or may not be completely ready, as the crew needs to clean and straighten them after the previous guests have left. It's best to stay out of the way of the cabin stewards and instead find a place for you (and your carry-on luggage) to hang out until the ship announces all cabins are ready.
DON'T follow the crowds to the buffet
As the boarding process begins around noon and continues well into the afternoon, a lot of people arrive hungry. Crew members may direct passengers to the buffet — but experienced cruisers know there are other, often less crowded, options.
For instance, on Carnival Cruise Line ships go directly to celebrity chef Guy Fieri's poolside Guy's Burger Joint and indulge in a decadent burger or fries. If you're on one of the newer or recently updated Carnival ships, there's also the embarkation day treat of Fieri's pork butt, chicken and Mac Daddy Mac n Cheese served on the promenade (or Deck 10 on Carnival Sunrise).
Royal Caribbean fans in the know make a beeline to the Park Café for Royal Kümmelweck roast beef sandwiches, an embarkation day rite of passage. A main dining room with waiter service and specialty for-a-fee restaurants also may be alternatives for an embarkation day lunch.
DO head to your cabin when it's ready
Your big bags may or may not have arrived at this point, but you can drop your carry-ons and take a look to see that everything is to your satisfaction. Your cabin steward likely will stop by, and this is a good time to ask how the air-conditioning, TV and safe work and to ask for any extras you might need such as more towels, pillows and hangers, or to have the bed split from a queen into two twins. The steward also will let you know how to keep in touch should you need anything extra throughout your cruise.
DO read the safety instructions and check lifejackets
On the back of your cabin door will be safety instructions including your assigned muster station in the event of a shipboard emergency. In your closet, or in another location in the cabin, will be life jackets. If you are traveling with kids, now is the time to make sure there is an appropriate infant or child life jacket in addition to a life jacket for each adult. If there isn't, alert your cabin steward.
DO watch the safety video
It used to be that everyone on a cruise ship was required to gather on embarkation day at their assigned muster station, listen to a safety briefing and be checked off a list as having been briefed. As a result of COVID-19, and a desire to keep crowds at a minimum, most cruise lines have moved to e-muster drills.
You are required to watch a video on your cabin TV or cruise line app that tells you what to do in the event of a fire or other shipboard emergency. Your smart TV or app will record that you have watched the video. You may also be required to check in with a crew member at your assigned muster. Those who skip this step will hear their cabin numbers called out over the PA system, which can be embarrassing.
DO make sure the kids understand the safety procedures
Eyes may roll, but now is the time to talk to the kids about the danger of climbing on any railings and remind them that other people on the ship are strangers and that they should use the same caution they would at home.
DO go out to explore the ship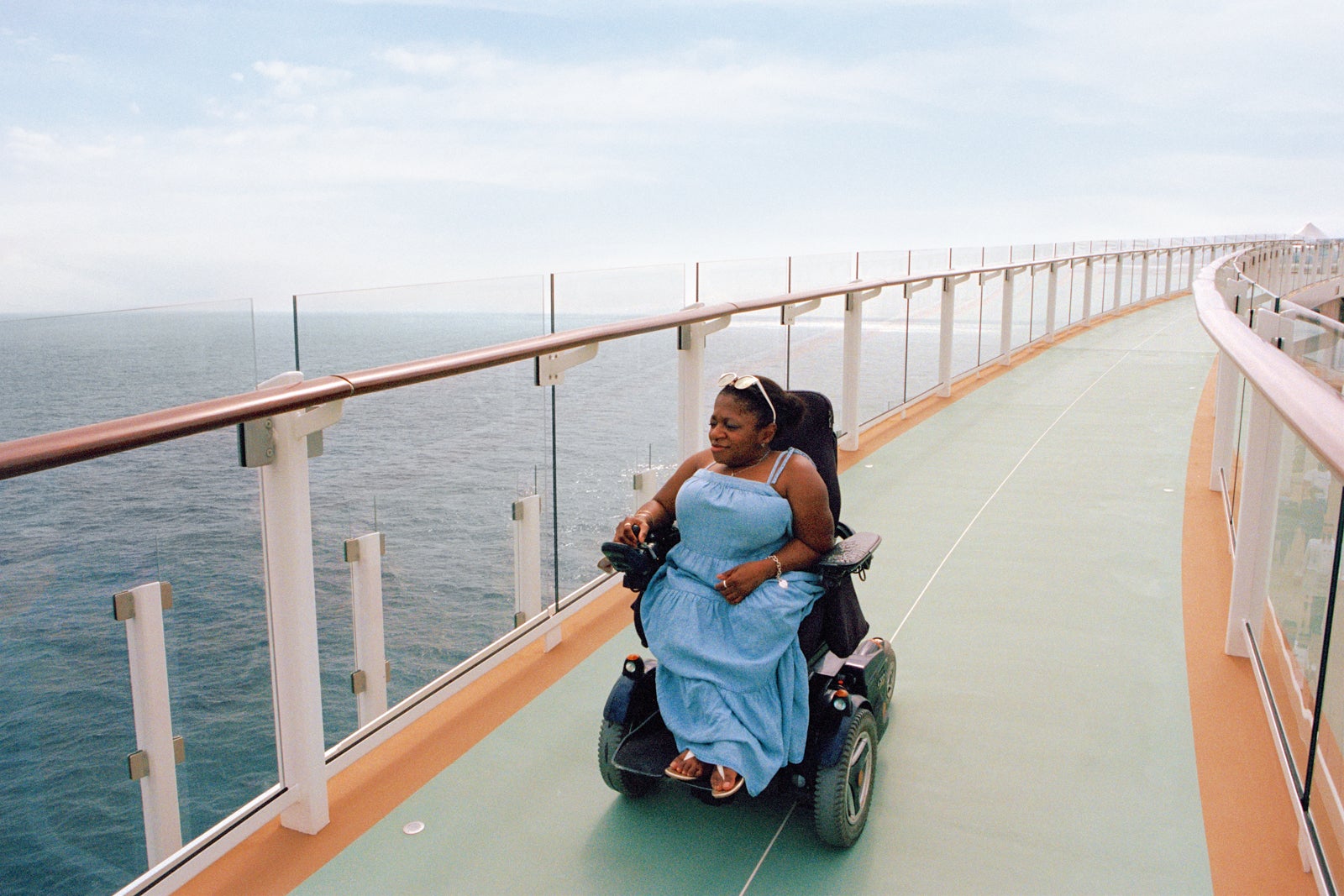 You'll have time to see a lot during your cruise, but at this point I like to get the lay of the land. You may find a ship deck plan (map) in your cabin, or there may be one available at the purser's desk. It's fun to find not only the main spaces but also the hidden pools, hot tubs and other treasures you'll want to return to throughout your sailing. It's fun to do the exploring as a family.
DO sign the kids up for cruise ship camp
While you're exploring, stop by the kids' centers and sign the kids up for the onboard kids program. Staff will be on hand to welcome your progeny and show them around the play spaces and hangouts available just for them.
Related: Best cruise ships for kids
DO stop by the spa and fitness center
If you plan to do spa treatments or have hair and other beauty appointments during your cruise, now is the time to book them (if you haven't booked them in advance). Take the spa tour and sign up for the raffle — you may win a free treatment.
If you like what you see in the soothing thermal suite – which typically has hot and cold treatments – sign up now as spaces may sell out. Also put your name on signup sheets for fitness classes, as these also fill up quickly.
DO take time to veg out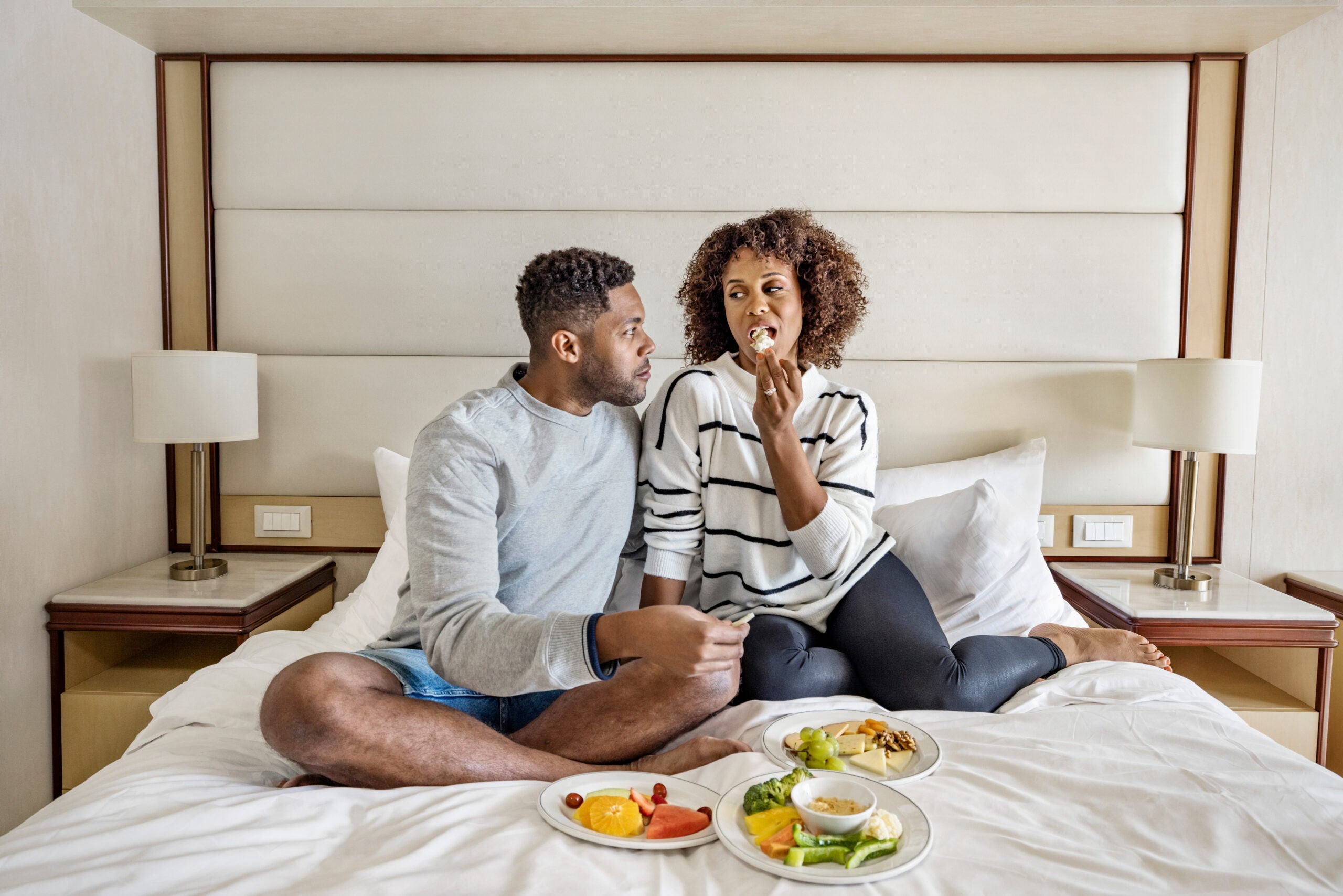 You don't need to do everything your first day, so if you spot a perfect spot in the sun or shade, rest your weary bones. There are fun times ahead; a little cat nap may be in order.
DON'T assume drinks are free
As you wander, especially out on deck, smiling crew members may be carrying trays of very tempting and colorful icy drinks, maybe even decorated with sweet little umbrellas. Go ahead and grab one if you want — just understand you will be charged for the welcome drink.
DO watch your alcohol consumption
We get it, you bought a drinks package (in which case the above drink is included) and you want to make the most of it. But do you really want your first day on board to result in an unpleasant morning after? Pacing yourself and drinking lots of water between adult beverages is recommended.
DO take time to unpack
Once you've got the lay of the land, you probably want to unpack and get ready for your first evening on board. If you have brought sanitary wipes, this is a good time to further sanitize your cabin, including high-touch areas such as door handles, light switches and that TV remote.
DO call if your luggage hasn't arrived
It takes time to deliver thousands of suitcases to thousands of cabins. But if it's getting close to the time that your ship is set to leave the pier and your suitcases have not arrived, alert your cabin steward. (If you've had a last-minute cabin change, look for your luggage by your original room.)
DO take your seasickness tablets
If you are prone to seasickness, plan to take your first pills a couple of hours before the ship is scheduled to leave the pier. They need time to kick in.
DO turn off your cell phone
To avoid costly roaming charges you will want to keep your cell phone on airplane mode. To keep in touch with those at home and brag about your trip on social media, consider buying a shipboard Wi-Fi package. Crew members will be on hand on the first day to help set up your package.
DON'T forget to figure out dinner
Perhaps you plan to head to the main dining room the first evening or want to go casual at the buffet. Consider the option of specialty dining. These intimate, for-a-fee restaurants can be hard to get into (reservations are required) but are usually not as crowded the first night of the sailing.
Related: The ultimate guide to cruise ship food and dining
DO check out the daily program
Printed out in your cabin, on your cabin TV and on the shipboard app, you'll find a list of all the daily activities. Take a look and see what's in store for your first evening shipboard.
DON'T miss the sailaway party
This is the first big activity of your cruise and not to be missed. These parties are about music, laughter and the opportunity to check out the crowd you'll be with for the week. Plus, watching the land disappear as your ship heads to sea is a dreamy experience. You're off to new horizons. Grab a drink and toast the official start of your cruise vacation.
Planning a cruise? Start with these stories: