Virgin Atlantic has a special new seat on its latest aircraft, the Airbus A330-900neo: the Virgin Atlantic Retreat Suite.
In addition to the usual 184 economy and 46 Premium (premium economy) seats you'll find on all Virgin Atlantic planes, the airline's A330-900neos feature not just new Upper Class seats, but two larger business-class suites at the very front of the cabin — seats 1D and 1G. Virgin has dubbed them Retreat Suites to reflect their superior personal space and comfort compared with the rest of the seats in the business-class cabin. 
How do the Retreat Suites differ from Virgin Atlantic's regular business-class experience, and are they worth the extra cost? That's just what I flew them to find out.
Here are 10 things to know about flying Virgin Atlantic's Retreat Suite.
Related: On board Virgin Atlantic's 1st A330-900neo commercial flight
What is the Virgin Atlantic Retreat Suite?
Virgin Atlantic installed a new type of Upper Class seats on its A330-900neos, all of which are 22 inches wide between armrests, have direct aisle access, sliding doors (turning the seats into suites) and lie-flat beds. The Retreat Suites have the following additional benefits, though.
A significantly larger inflight entertainment screen — 27 inches compared to 17 inches in the rest of Upper Class.

Two inches of extra legroom.

An ottoman instead of a cubbyhole for your feet while in lie-flat mode.

The option to dine with a companion.

A larger tray table that can be set for two passengers.

A large additional storage compartment to the right of the footrest.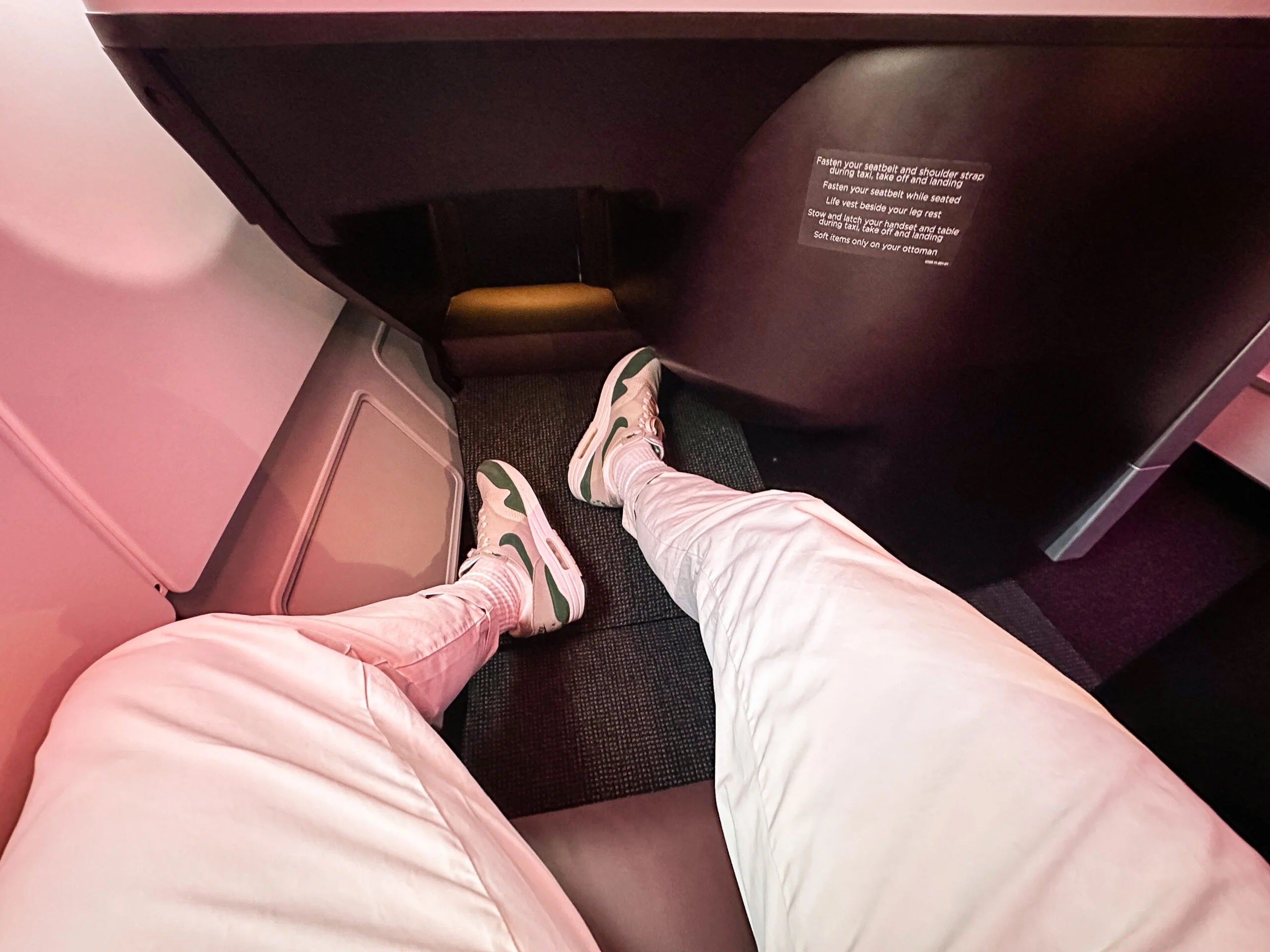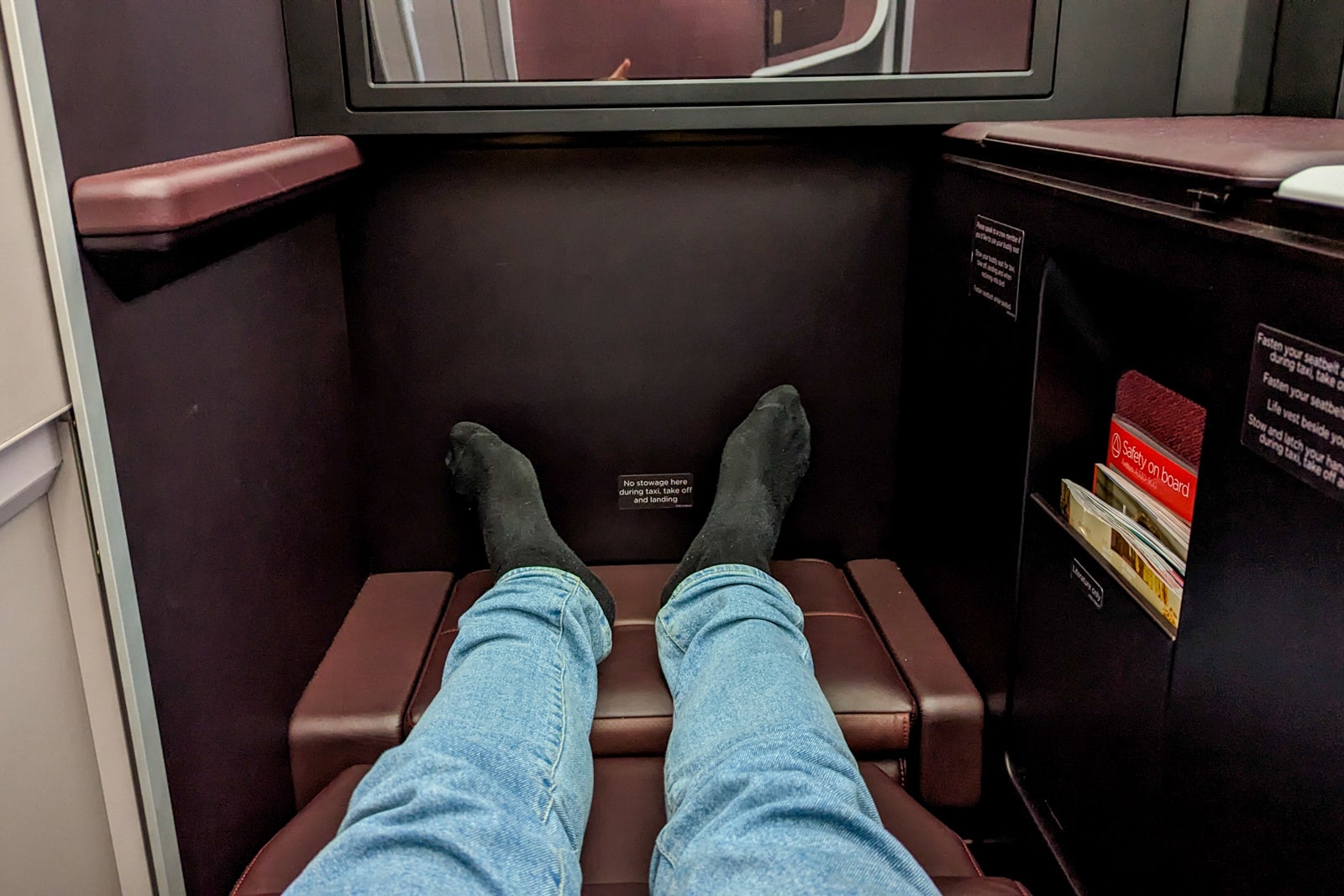 The Retreat Suite in 1D is slightly better than 1G because it has a larger panel in the center console, perfect for resting a laptop, headphones or handbag.
The Retreat Suite is the best seat in any class that Virgin Atlantic has ever offered. It is light years ahead of the airline's first-generation Upper Class seats still flying on its 787 Dreamliners and older Airbus A330s.
In many ways, this is more like a first-class experience than a business-class seat thanks to its incredible privacy (including a sliding door) and more personal space and storage than the other Upper Class seats on the jet.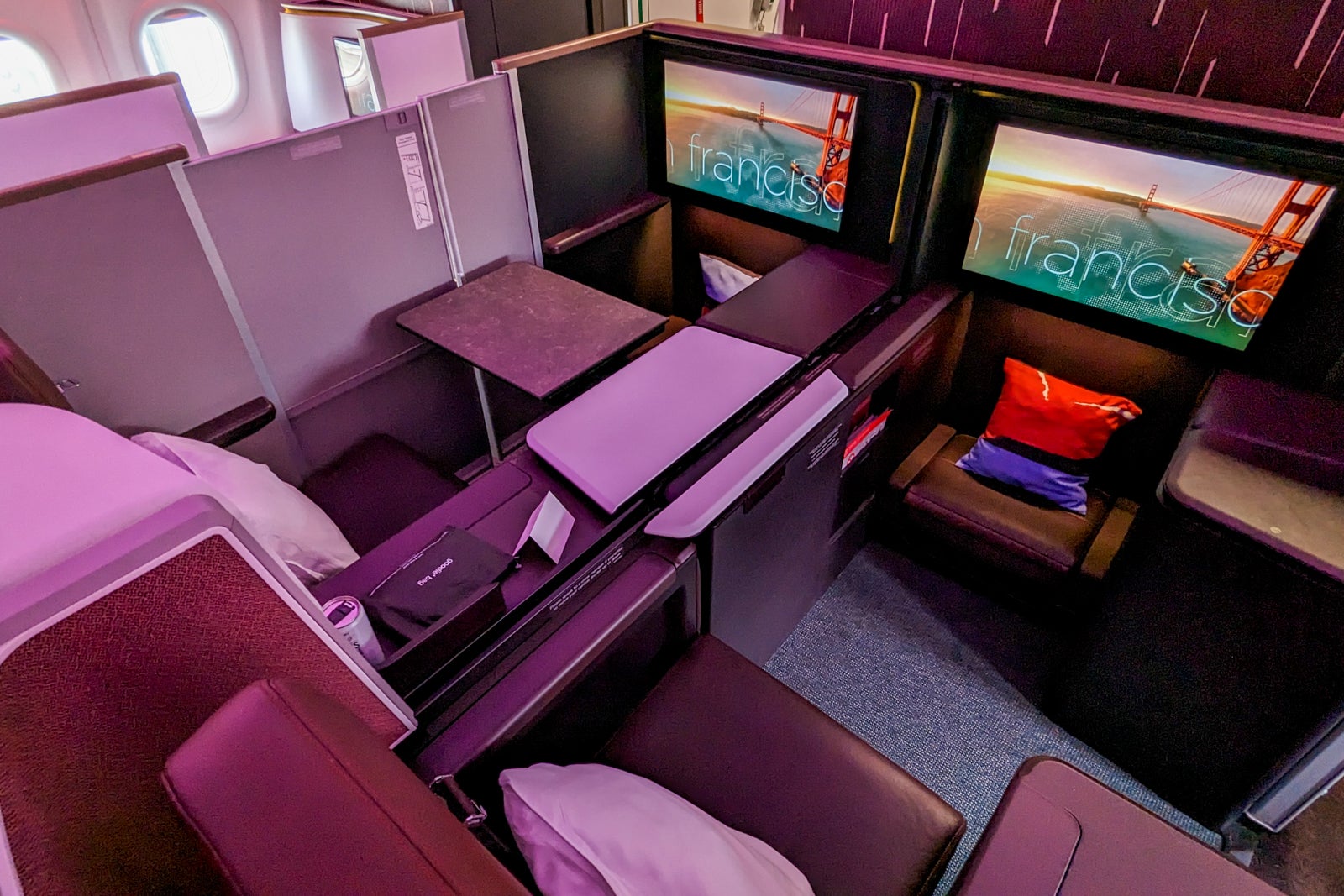 The Retreat Suite is only available on the A330-900neo
The Retreat Suite is only installed on Virgin Atlantic's Airbus A330-900neos, and the airline only has three of these aircraft in its fleet so far, with another due to enter service in April, and 12 more on order after that.
Moreover, there are just two Retreat Suites on each plane, in the center of the front of the Upper Class cabin (seats 1D and 1G).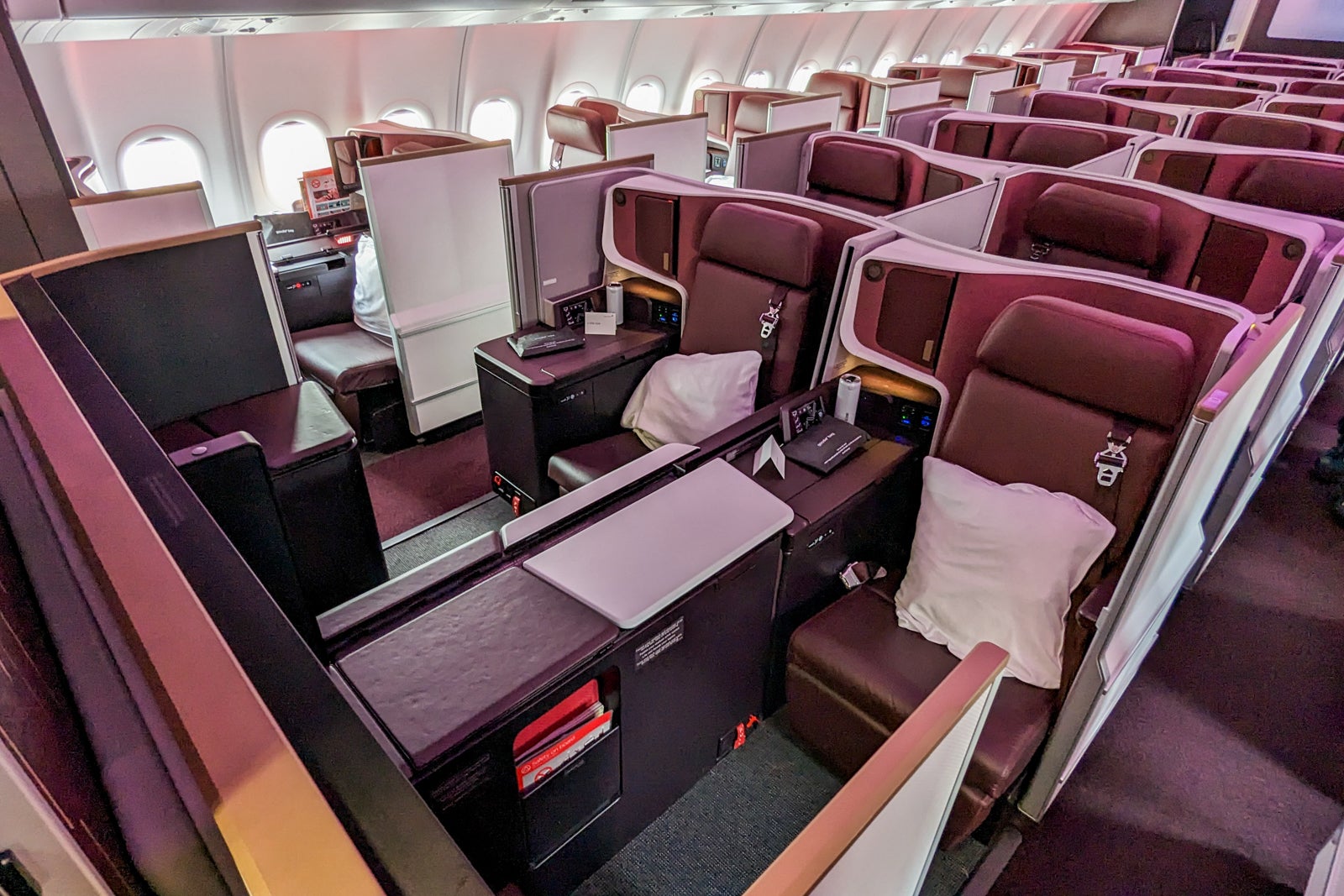 That means there are few chances to book the Retreat Suite. This month, though, you will be able to find it on the following routes, flight numbers and frequencies:
Between London's Heathrow Airport (LHR) and Hartsfield-Jackson Atlanta International Airport (ATL): Daily from April 7 onward (VS103/104).
Between London and Boston Logan International Airport (BOS): Daily, except for April 2-4, 10, 17 and 24 (VS11/12).
Between London and New York's John F. Kennedy International Airport (JFK): Daily except for April 11, 18, 25 and 30 (VS9/4).
Between London and Miami International Airport (MIA): April 5 and 6 only (VS5/118).
Between London and Tampa International Airport (TPA): Daily, except for April 5 and 6 (VS129/130).
Schedules remain subject to change, and there can be last-minute operational shifts, so before you book anything, be sure to check the aircraft type and seat map of your flight. Upper Class passengers who have paid the additional fee to select the Retreat Suite can receive a refund if an aircraft swap means their new plane does not have an available Retreat Suite.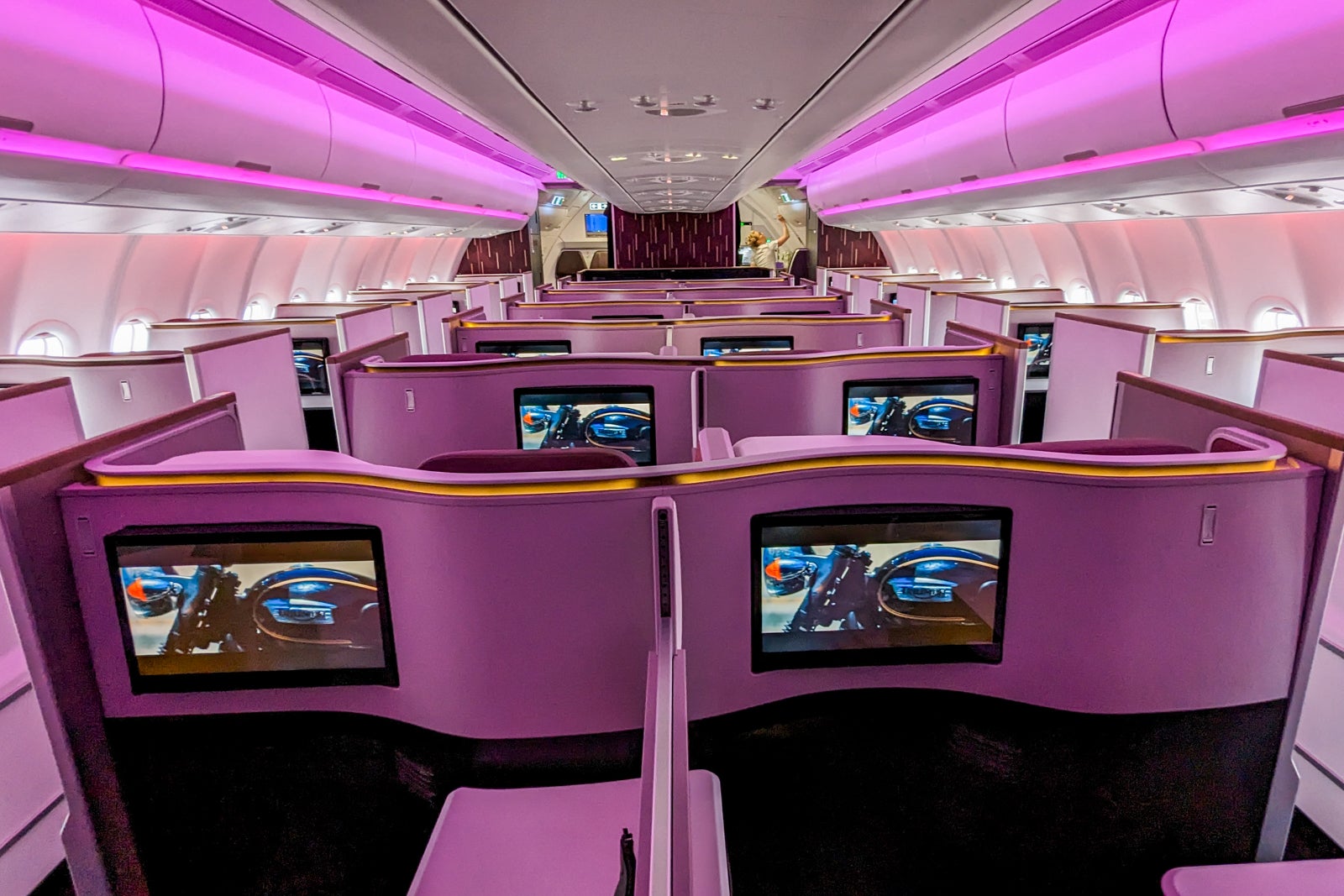 How can you book Virgin Atlantic Retreat Suites?
Although you can simply pay cash for a flight in Retreat Suites, you can also book them using a combination of points and cash.
We booked a one-way flight from Heathrow Airport (LHR) to Tampa International Airport (TPA) in Upper Class by redeeming 47,500 Virgin points and paying $750 in fees, taxes and carrier-imposed surcharges.
Award availability on this route is excellent, as it was only launched last year. The fees, taxes and surcharges were paid with The Platinum Card® from American Express, which earns 5 Membership Rewards points per dollar on purchases made directly with airlines (on up to $500,000 on these purchases per calendar year). That earned us a further 3,750 Membership Rewards, worth $75 by TPG's current valuation.
With the Virgin Atlantic World Elite Mastercard®, you can earn 30,000 bonus Virgin points after spending $1,000 or more in purchases within the first 90 days of account opening.
The information for the Virgin Atlantic Mastercard has been collected independently by The Points Guy. The card details on this page have not been reviewed or provided by the card issuer.
TPG's valuations peg Virgin points at 1.5 cents each, so this welcome offer is worth $450. However, depending on how you use your points, you may get even more than $450 in value from them. The card also earns 3 Virgin points per dollar spent on Virgin Atlantic tickets and duty-free items purchased directly from Virgin Atlantic. This means you can get a 4.5% return on these purchases based on TPG's valuations.
You can also transfer American Express Membership Rewards, Chase Ultimate Rewards, Citi ThankYou Rewards and Capital One miles at a 1:1 ratio to Virgin Atlantic's Flying Club program.
The Retreat Suite becomes available to all Upper Class passengers 14 days before departure. The first two passengers to pay for it get it.
Passengers who have booked an Upper Class seat with cash or any mileage currency (including Virgin points and Delta SkyMiles) are eligible to select the Retreat Suite by paying an additional fee of 200 British pounds (about $248) online, which we did right at the 14-day mark. Unfortunately, there is no way to use Virgin points to pay this additional fee, though I hope the airline considers charging Virgin points to reserve it (I'd estimate the upcharge should be about 20,000 points).
Passengers are not notified when the Retreat Suite becomes available 14 days before departure. Instead, it is a good idea to set a calendar reminder to log in to your Virgin account, go to "Manage My Booking" and select or change your seat to 1D or 1F, making the additional payment at the same time.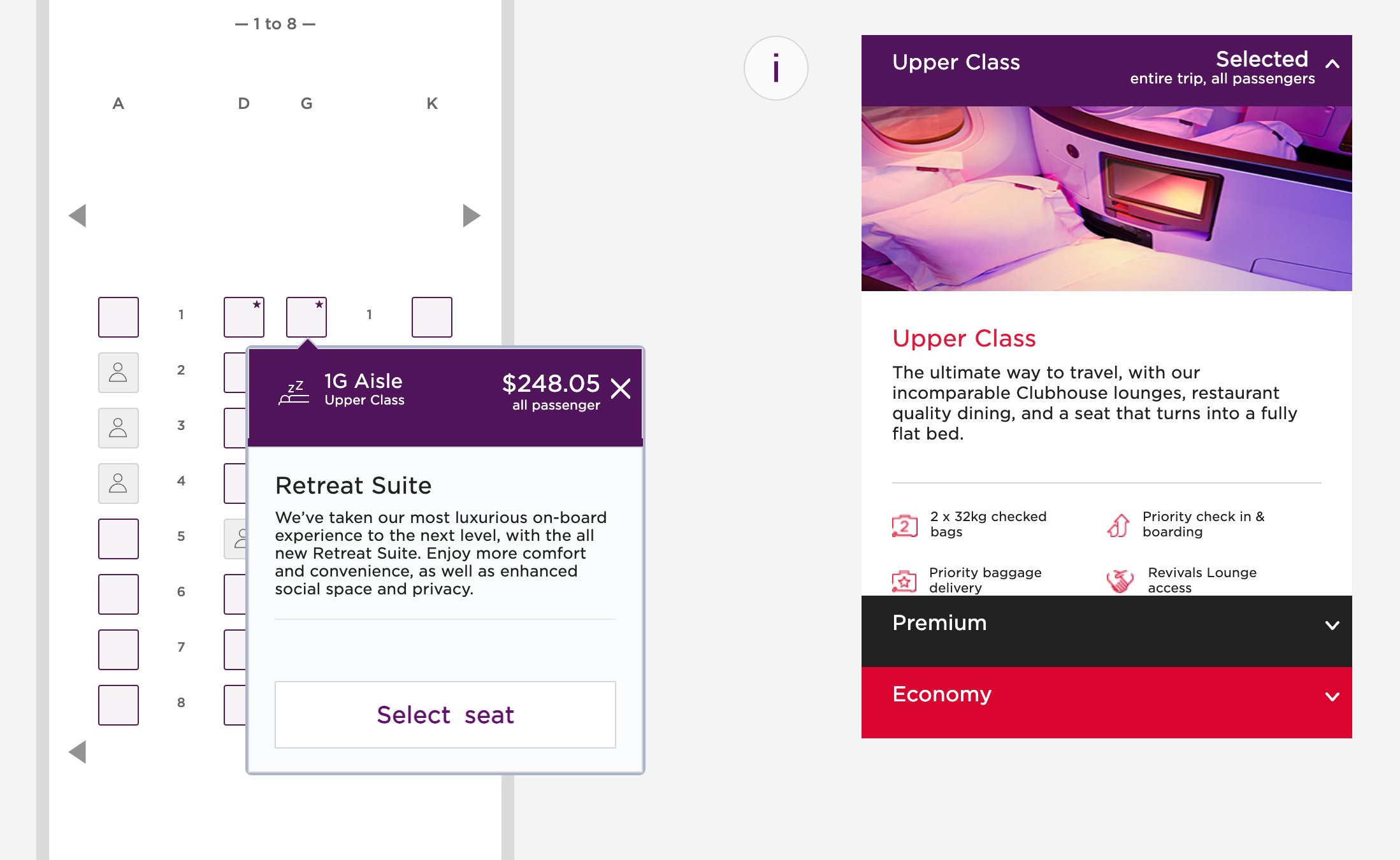 If the seat is still showing as blocked with an X, it is not yet available; if it is showing as occupied, someone else has beaten you to it.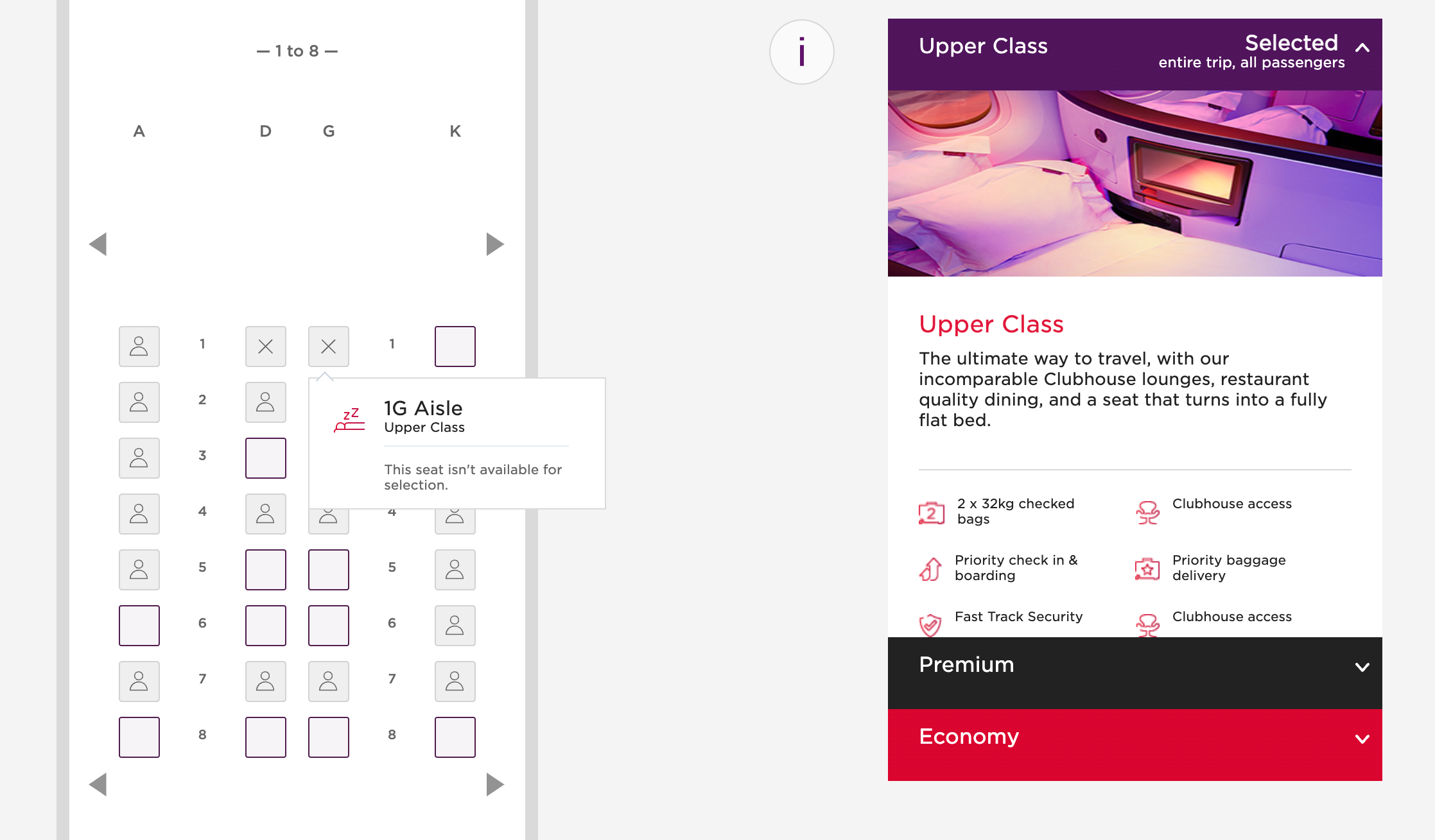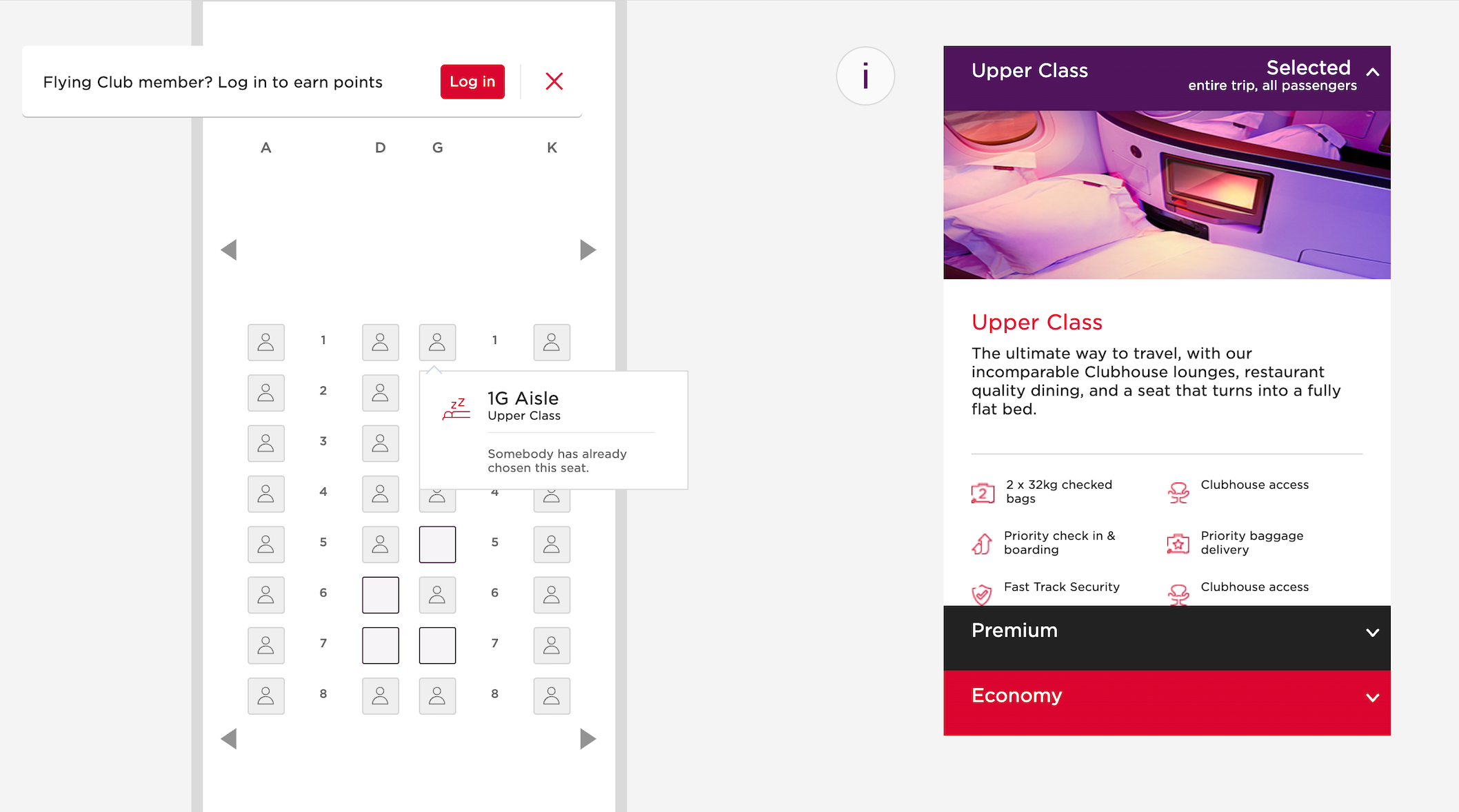 The ground experience at Heathrow is terrific
Passengers traveling in Virgin Atlantic Upper Class, the Retreat Suite or Delta One can use Virgin's special Upper Class Wing to check in at Heathrow's Terminal 3. It's a peaceful, sophisticated and private way to start your journey, with a private entrance, drop-off space and check-in desks.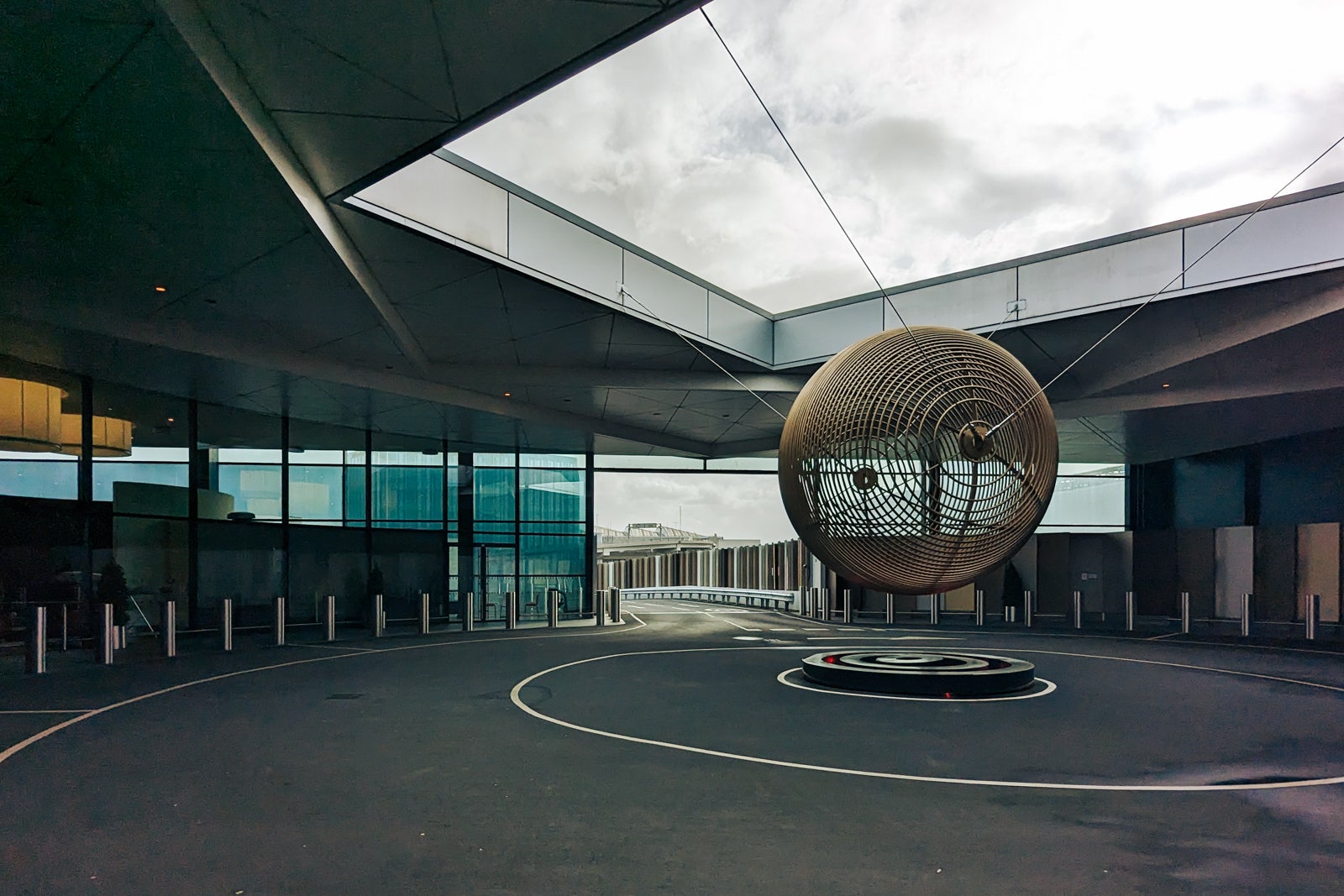 Smiling staff members were waiting to help take my bags from the Uber I arrived in, and I was checked in within seconds by the helpful Virgin ground staff members in their smart and distinctive fire-engine red uniforms designed by the late Dame Vivienne Westwood.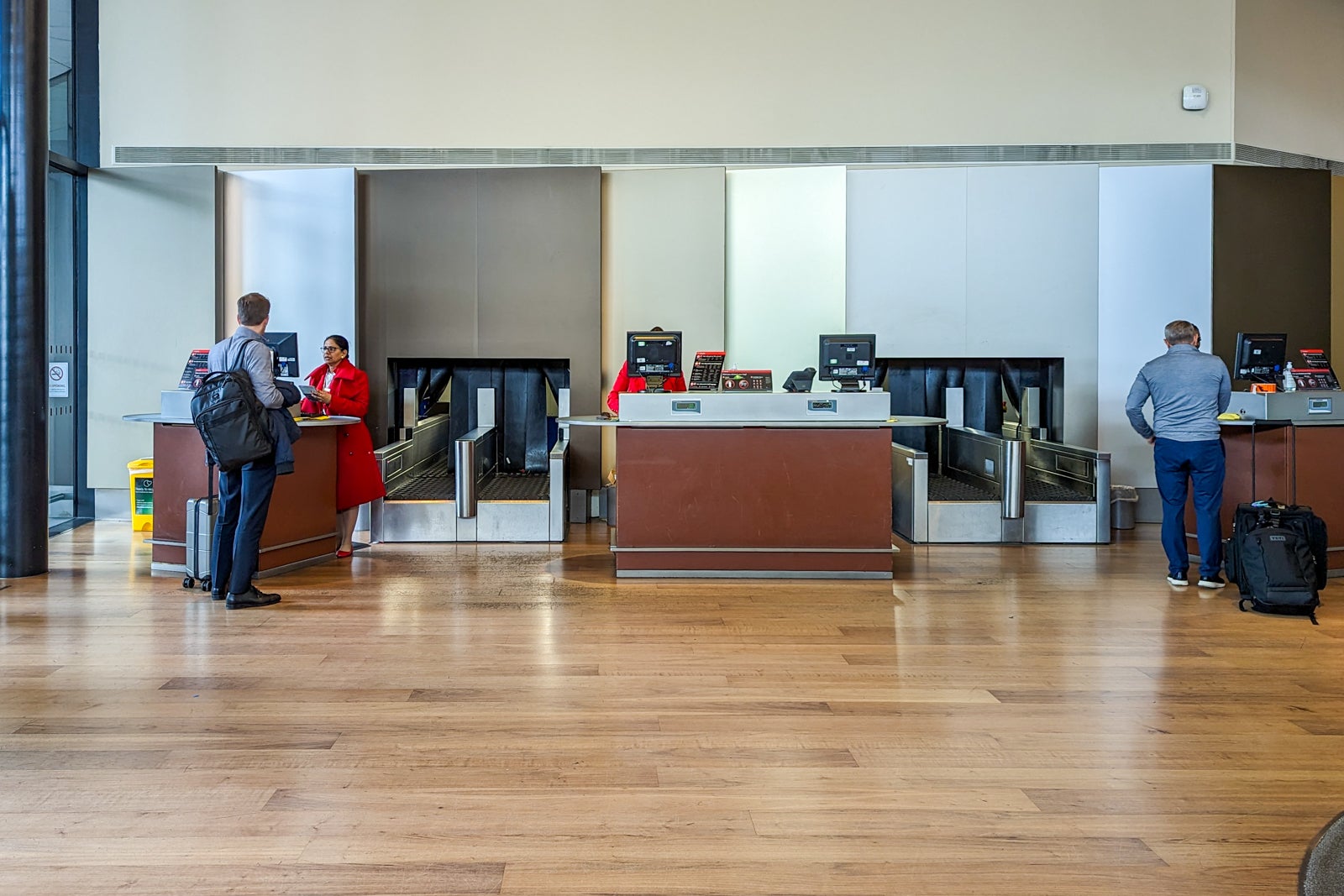 The Upper Class Wing has its own private security channel.
While the line initially appeared long, it moved quickly and I was through to the airside section of Terminal 3 within minutes.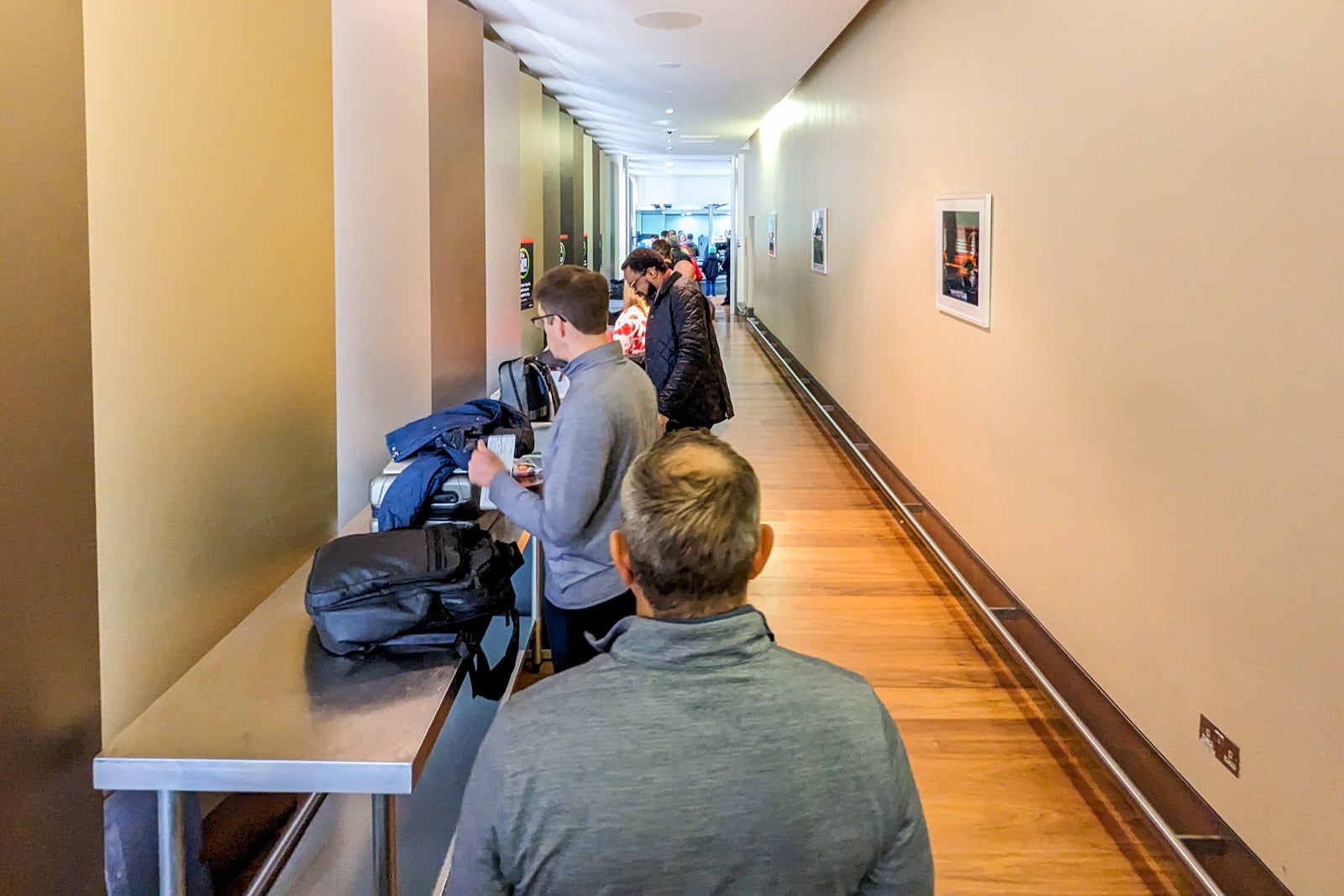 From there, passengers can follow the signs to the H lounges in Terminal 3, which is about a five-minute walk from security, and access the Virgin Atlantic Clubhouse there.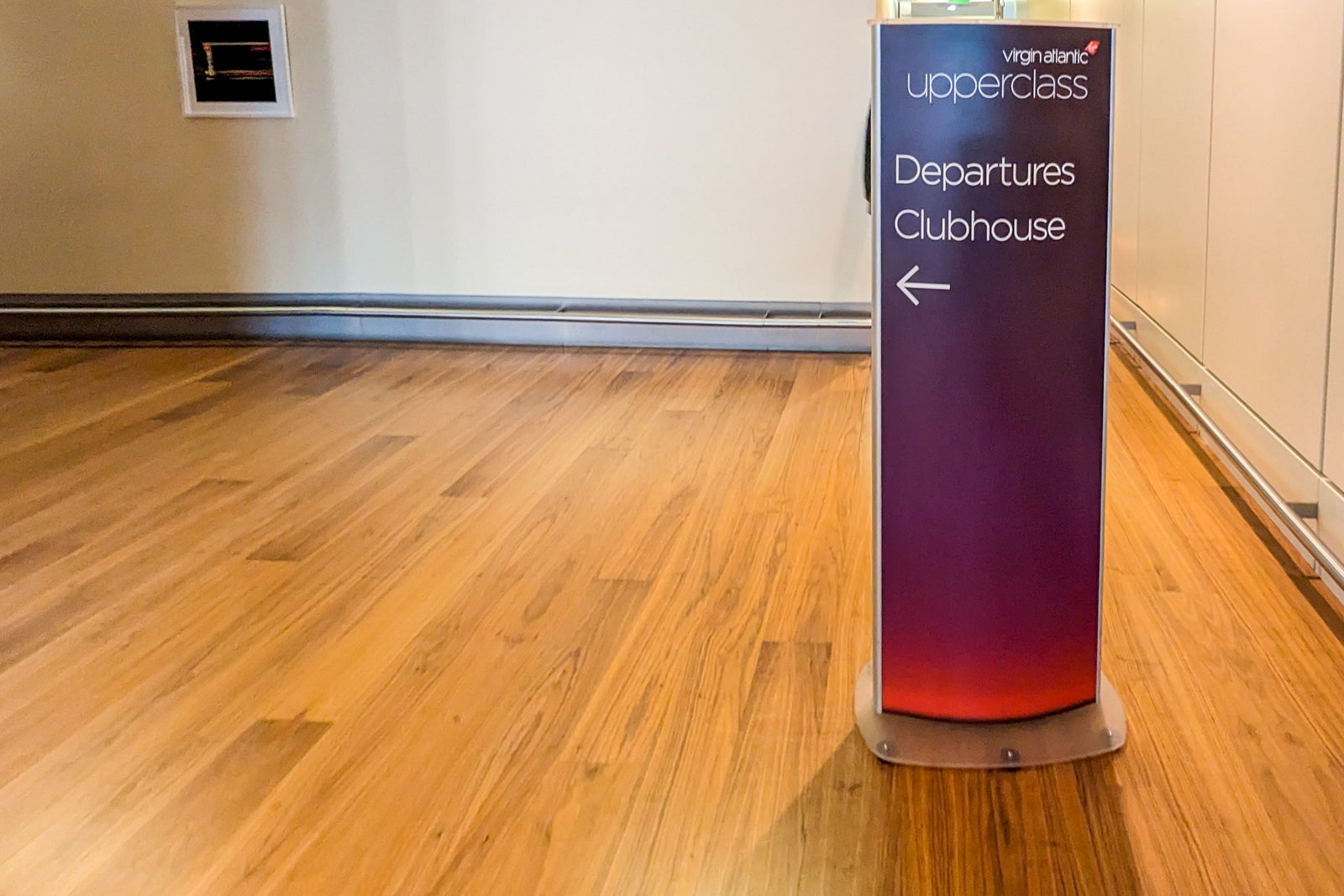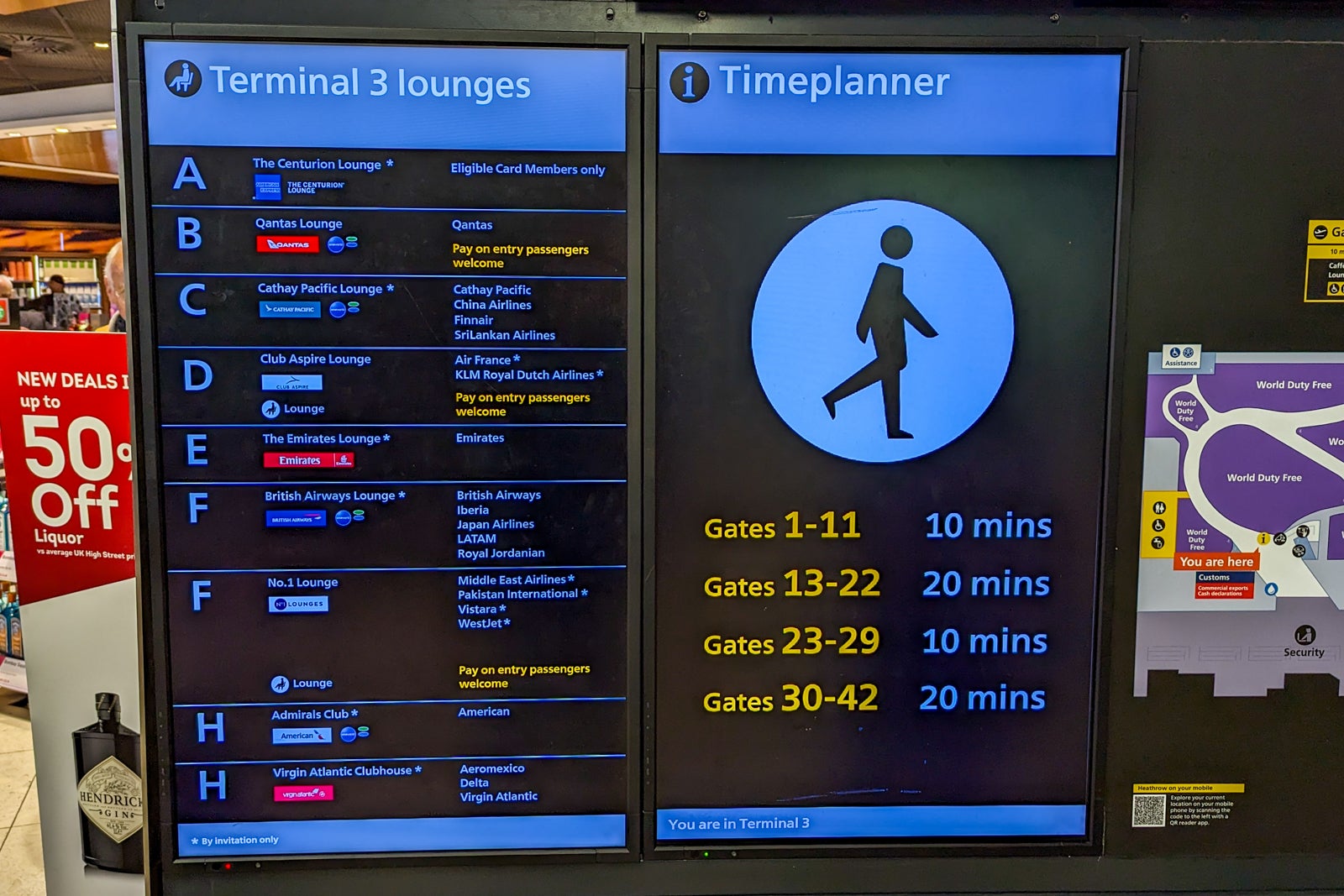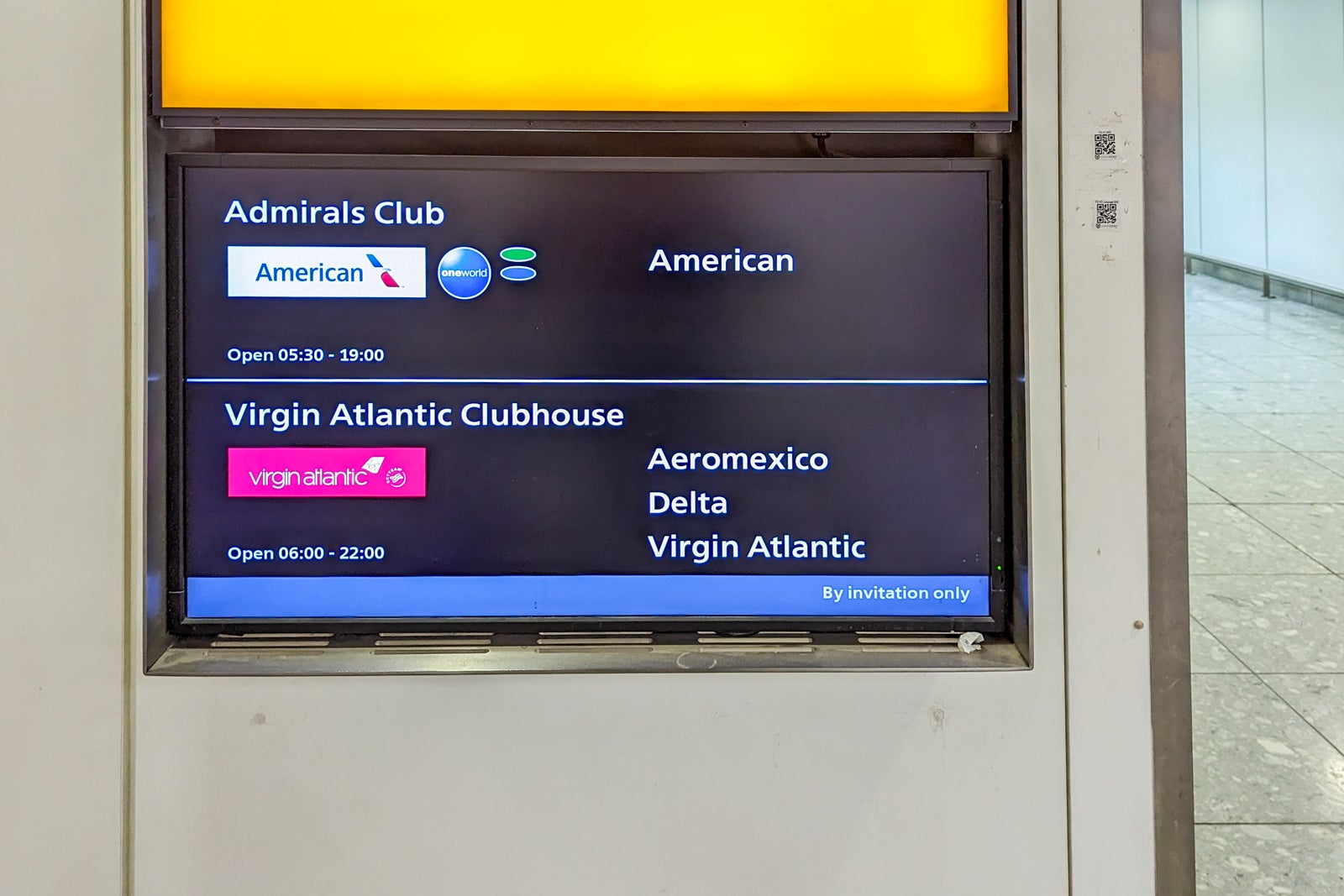 Upper Class passengers (including those flying in the Retreat Suite), Delta One passengers and Gold members of Virgin Atlantic's Flying Club program, as well as SkyTeam Elite members (such as Delta SkyMiles Diamond and Platinum Medallions) flying Virgin Atlantic, Delta or Aeromexico in any cabin, can access the Clubhouse lounge at Terminal 3 before departure.
Related: Virgin Atlantic is now a member of SkyTeam — here are 6 things you need to know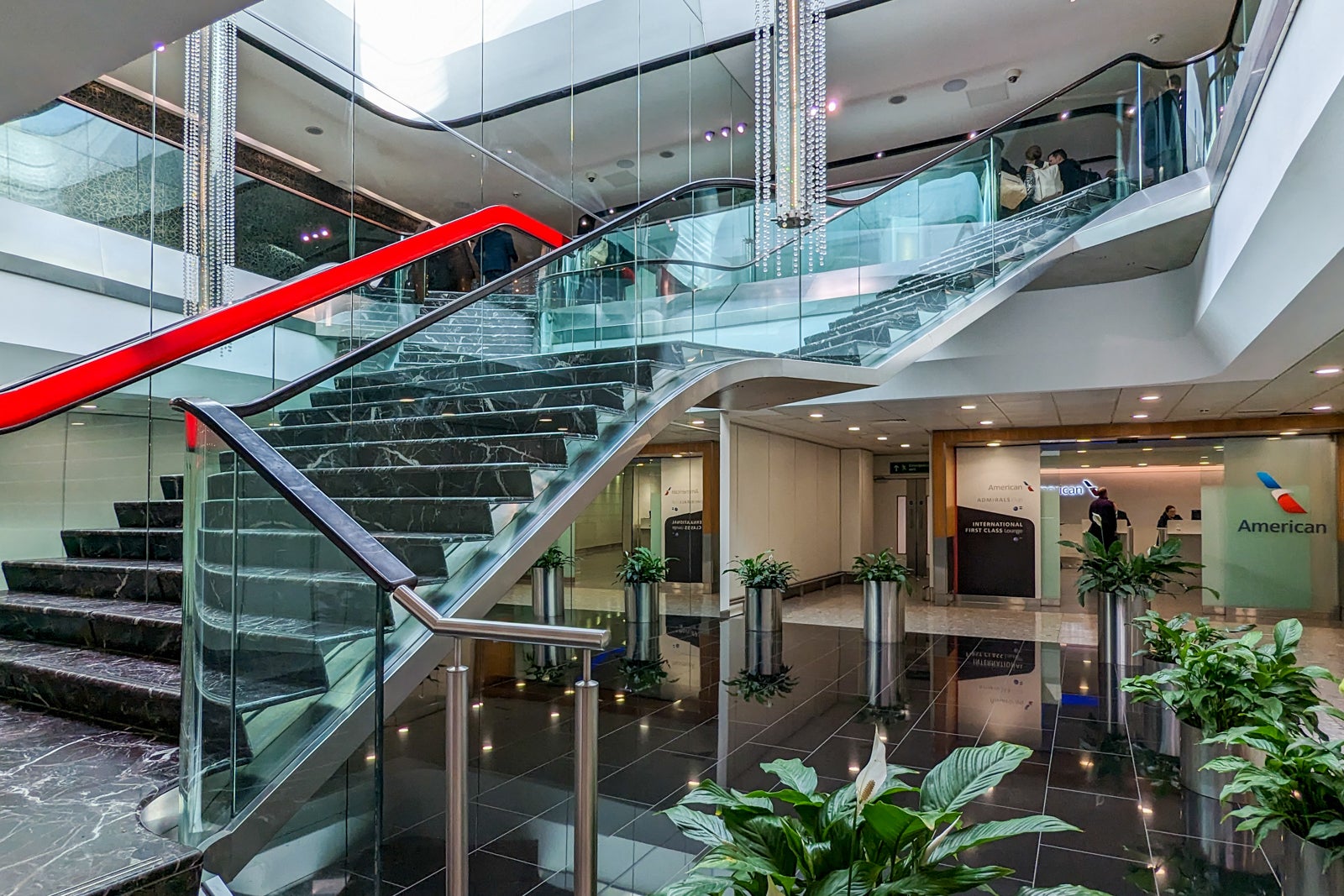 This award-winning space remains one of the world's best business-class lounges.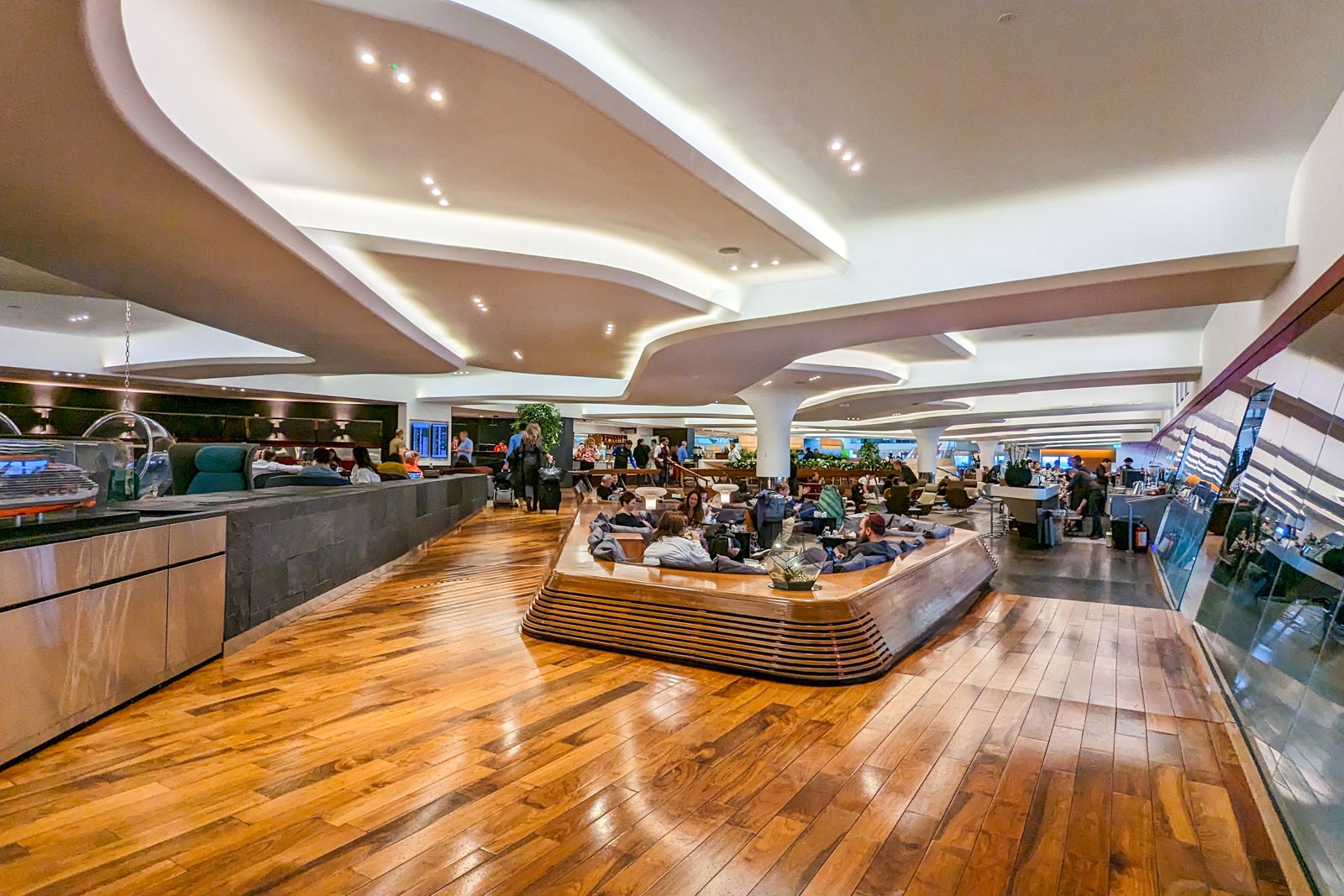 There are plenty of different zones to explore across 26,000 square feet, from Instagrammable photo backdrops to Peloton bikes and an outdoor rooftop for fantastic planespotting opportunities.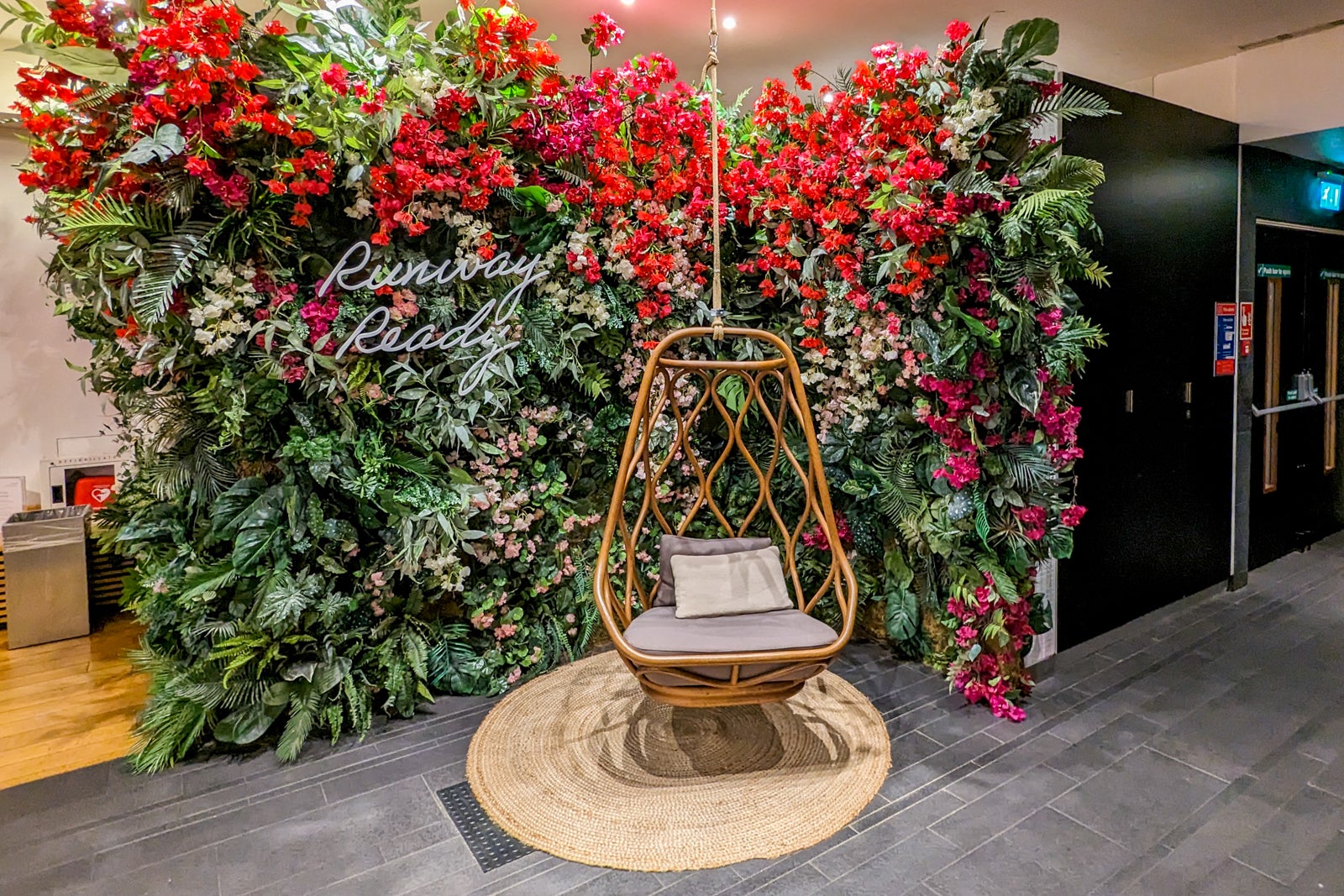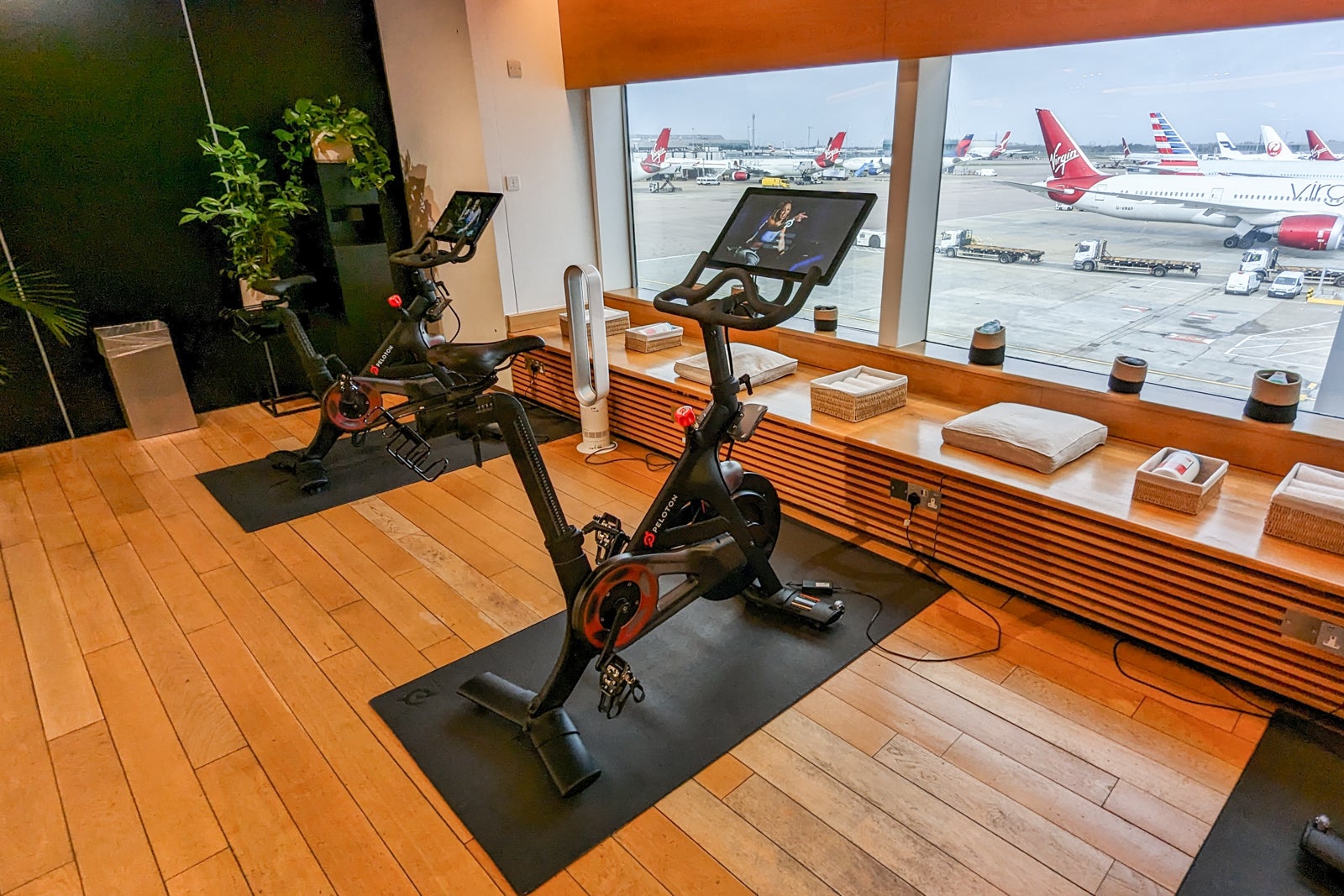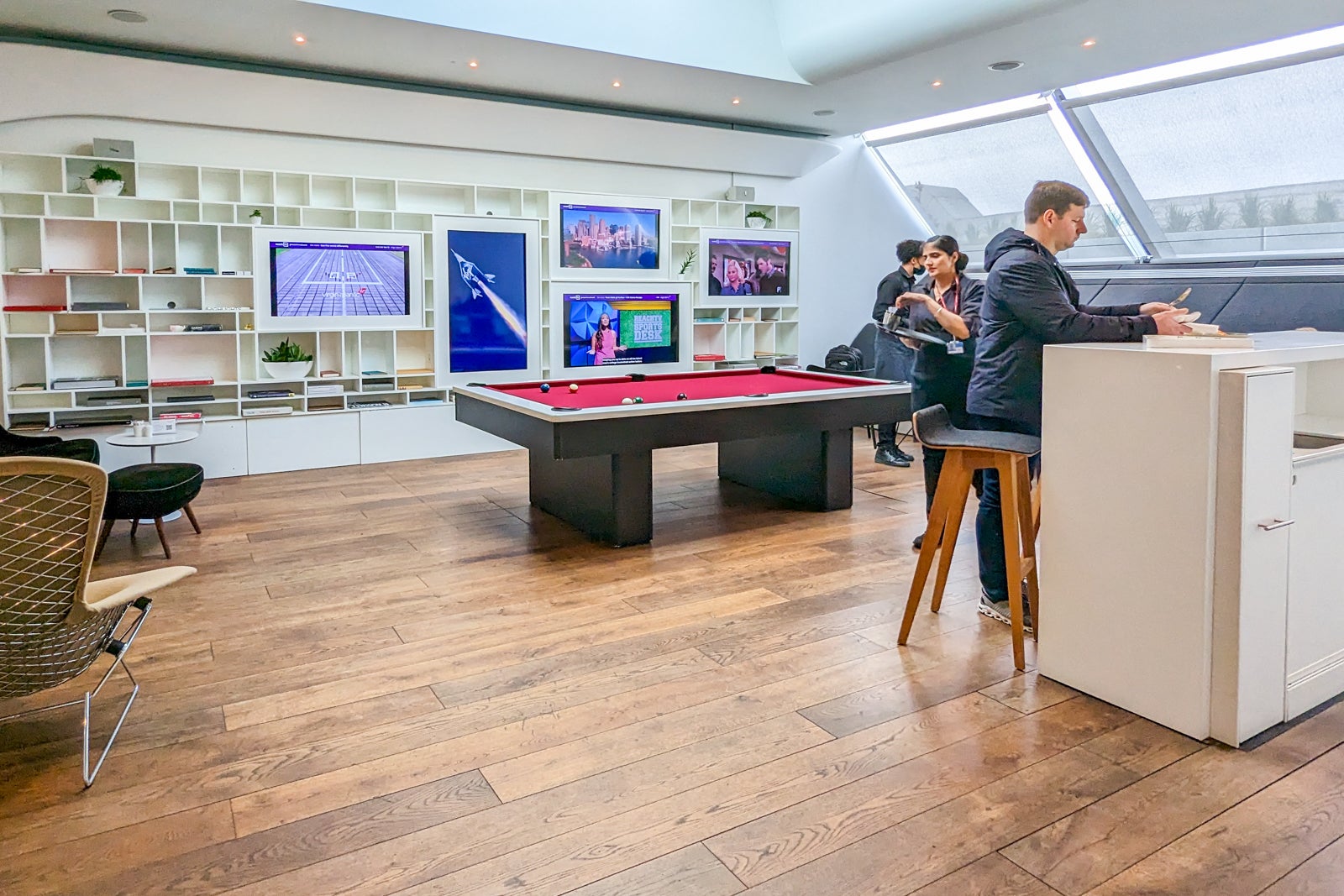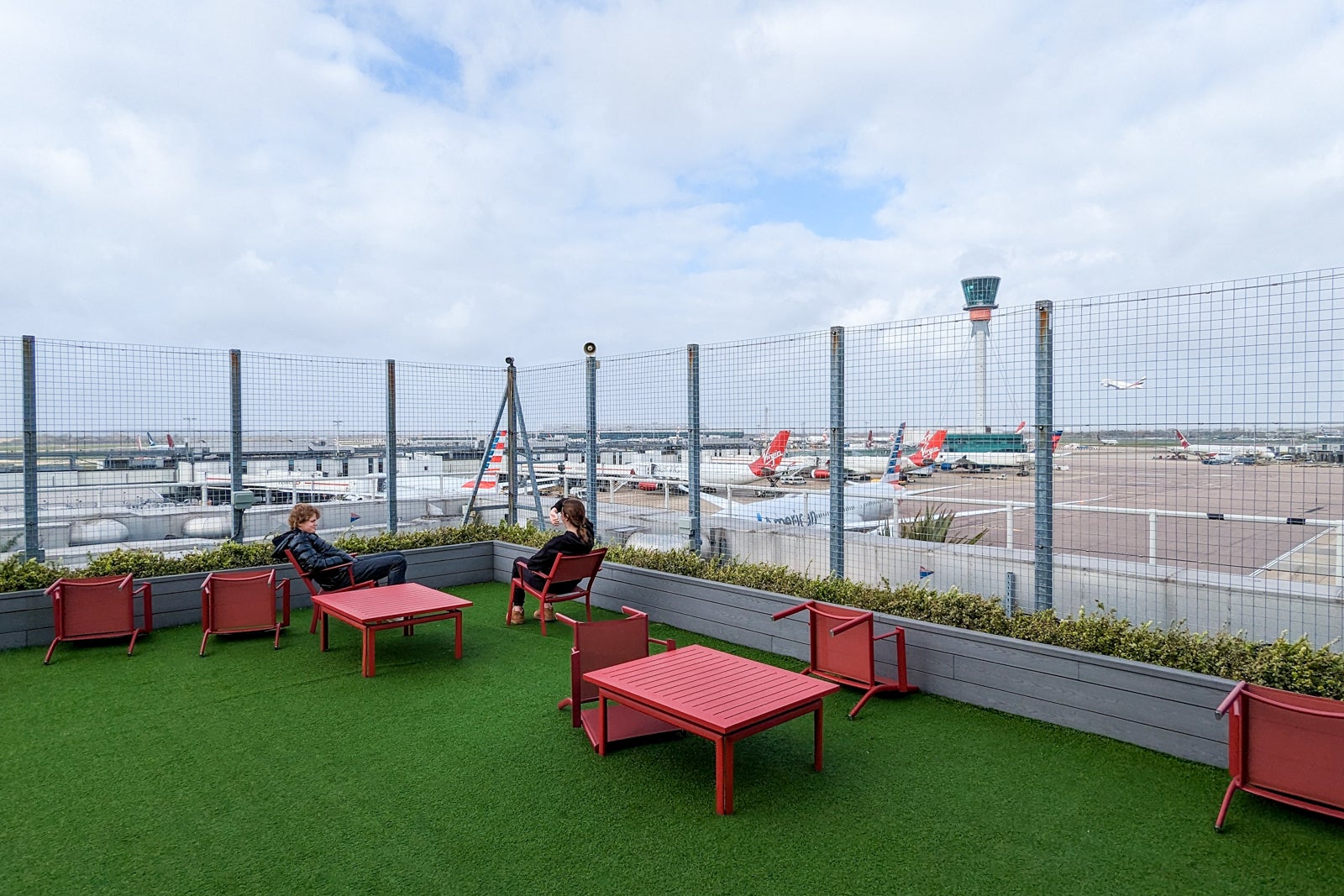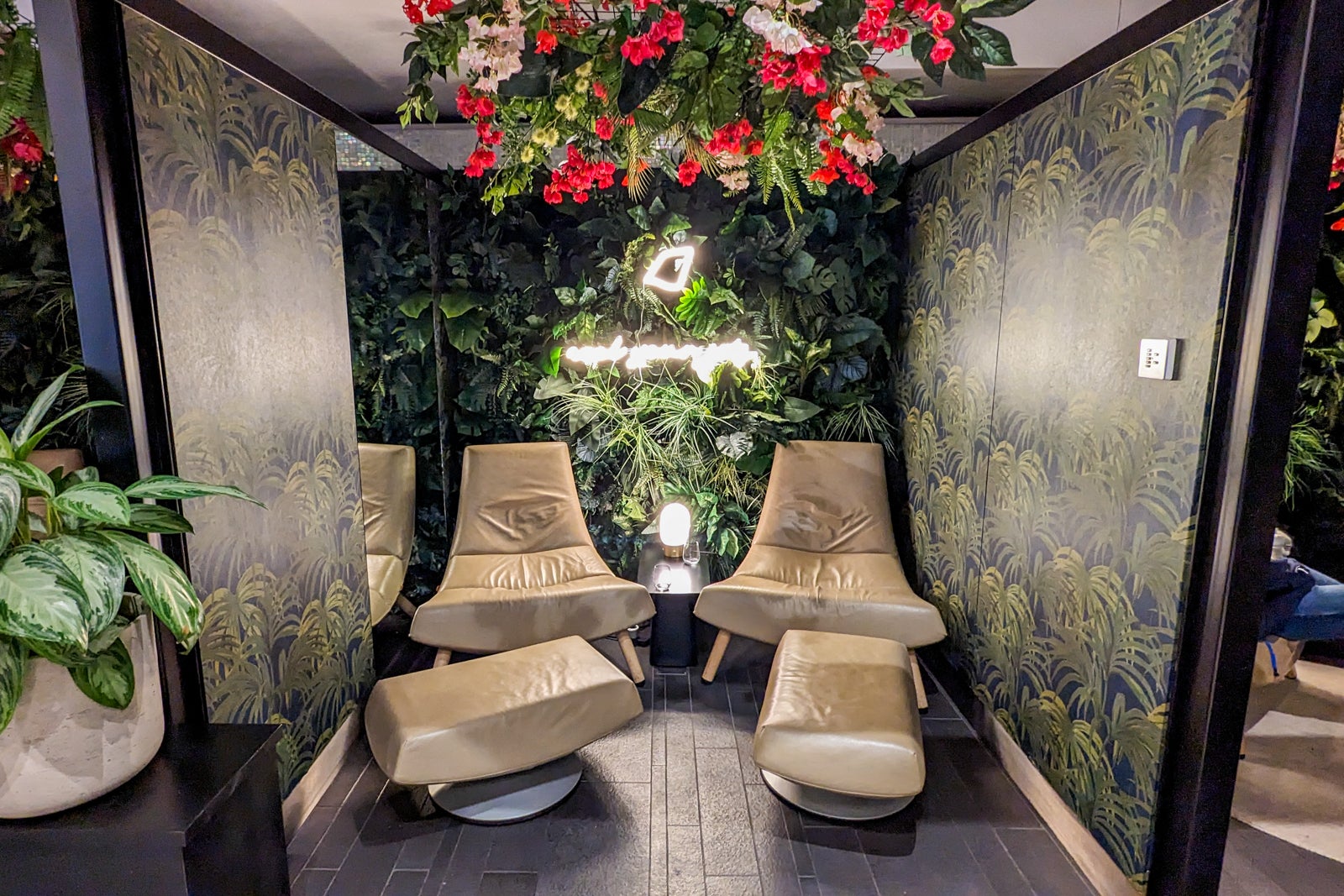 A small deli counter offers cold cuts, cheeses and fresh bread for morning departures, but I recommend instead finding a seat in the dining area and ordering off the a la carte menu. My eggs Benedict were a tasty way to start the day, washed down with an excellent barista-made flat white coffee and a glass of Jacquart Rose Mosaique Champagne (retailing for around $40 a bottle.)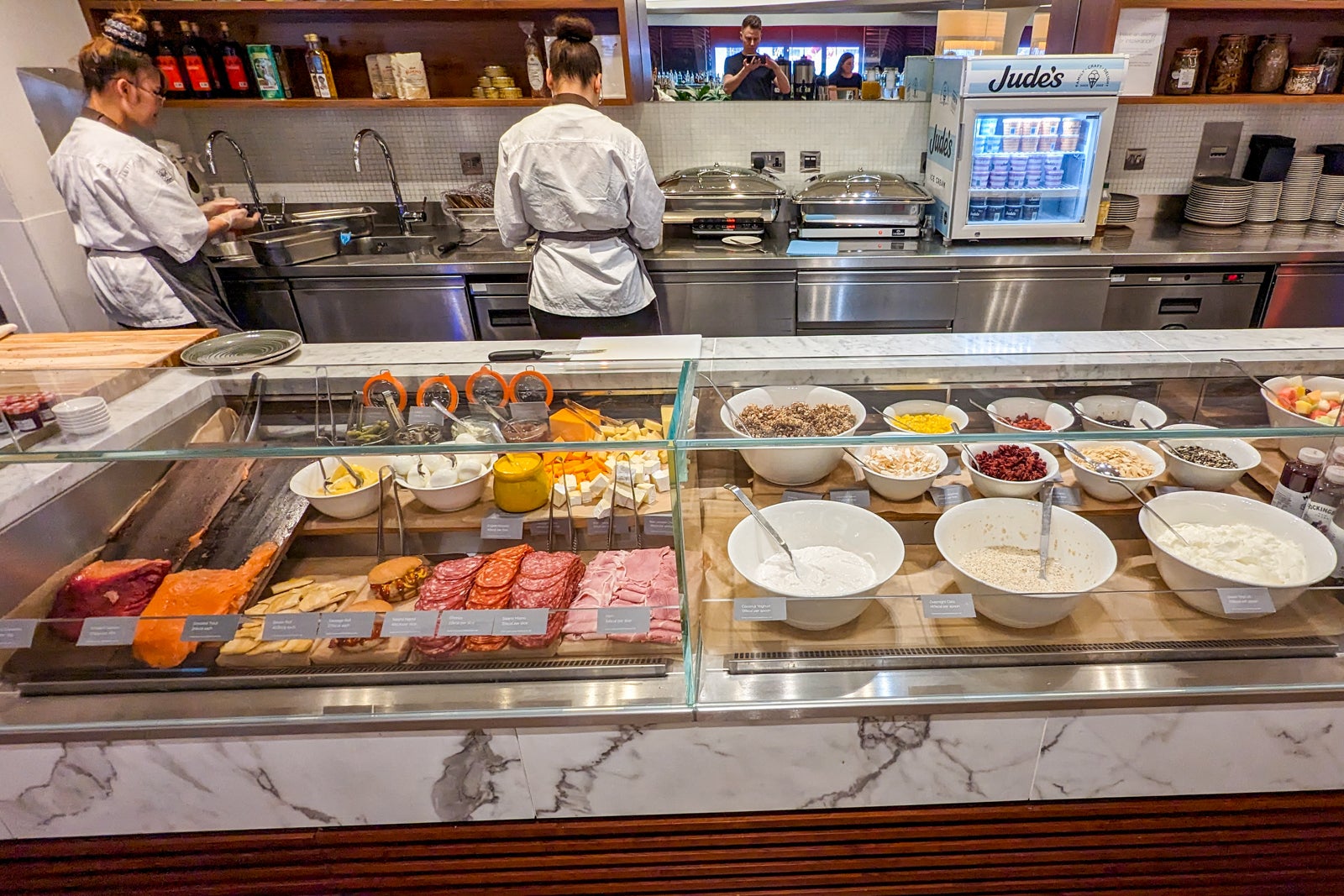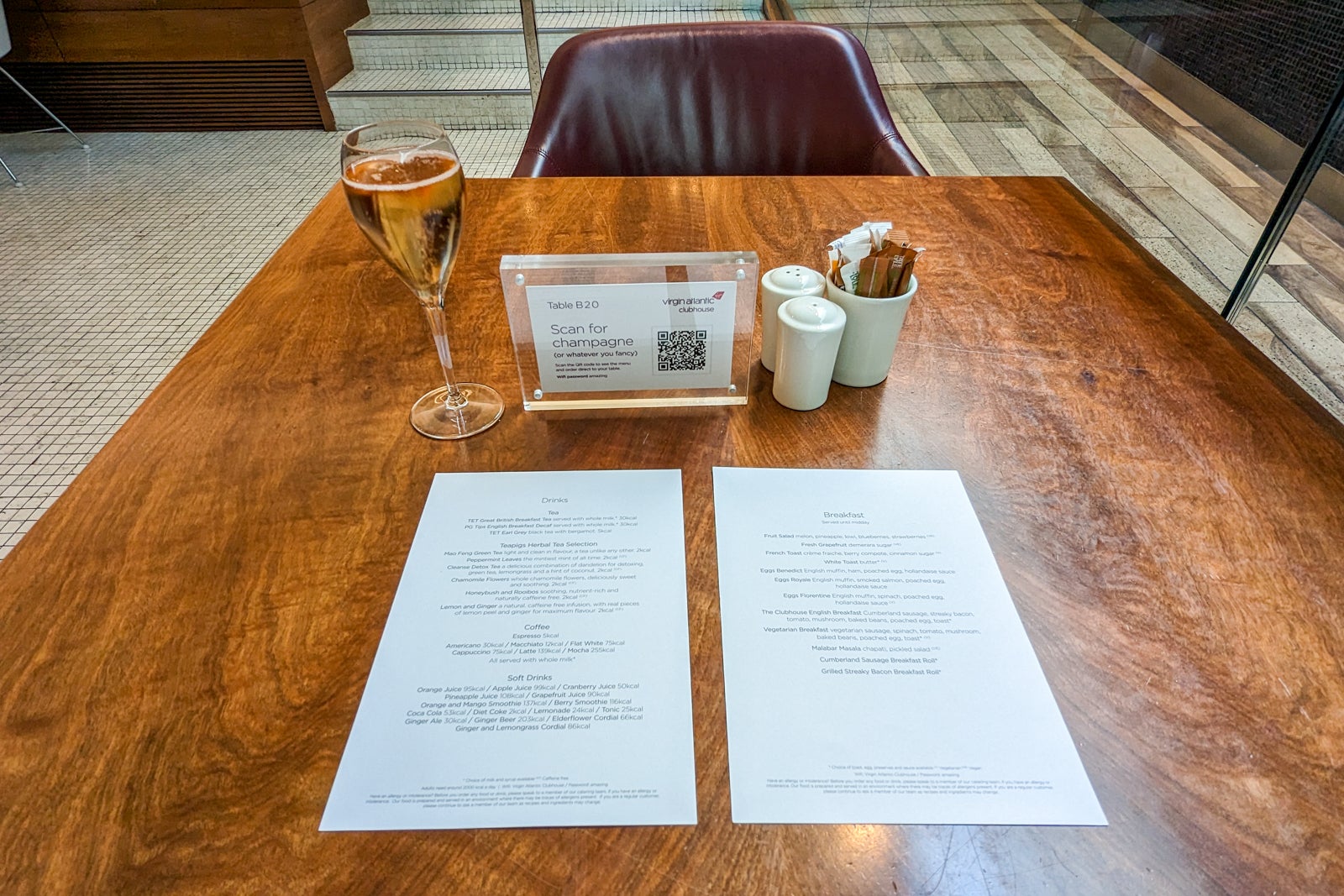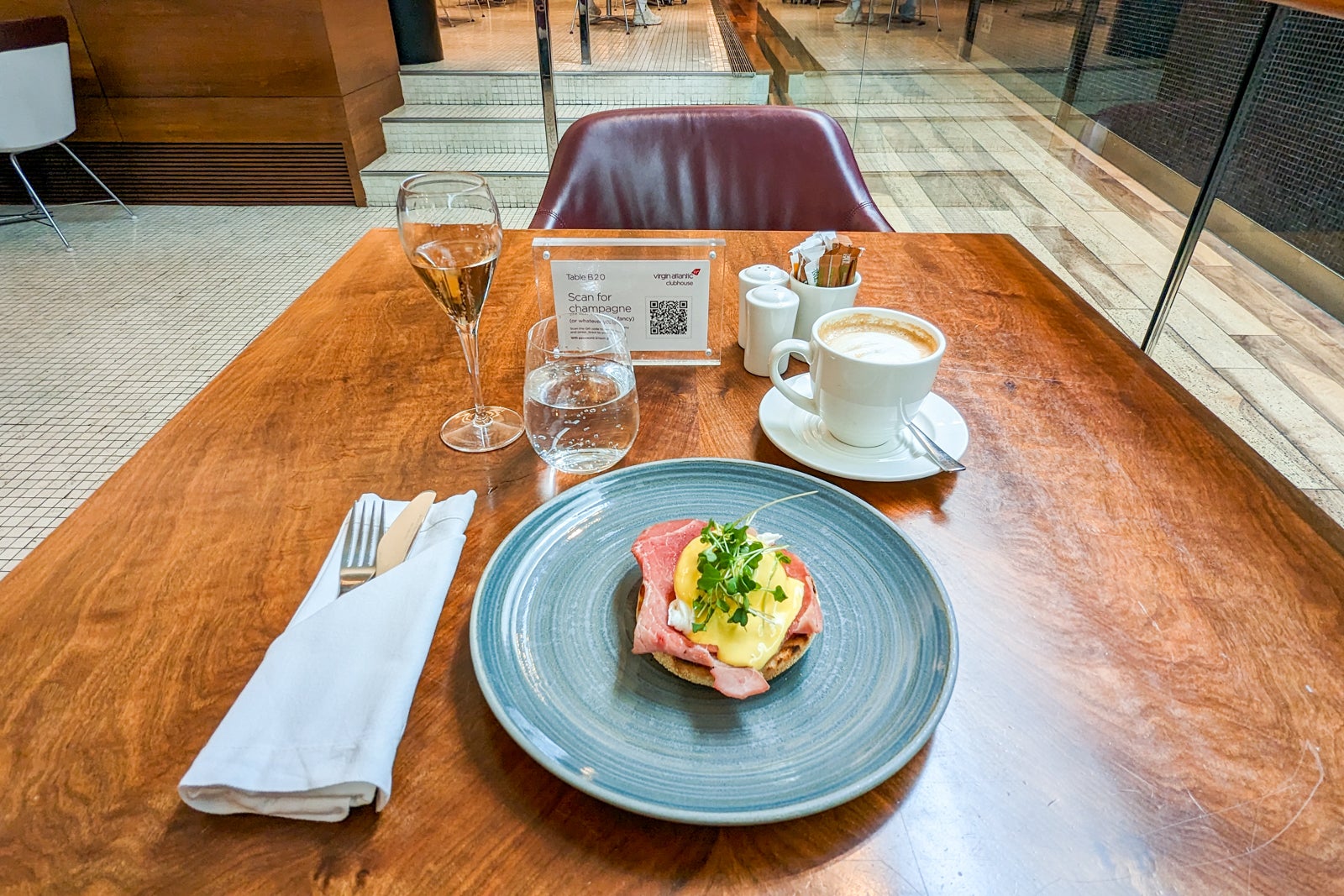 The Clubhouse lounge staff members were terrific, constantly checking that I was OK and offering me more of everything. It is a lounge well worth arriving early for.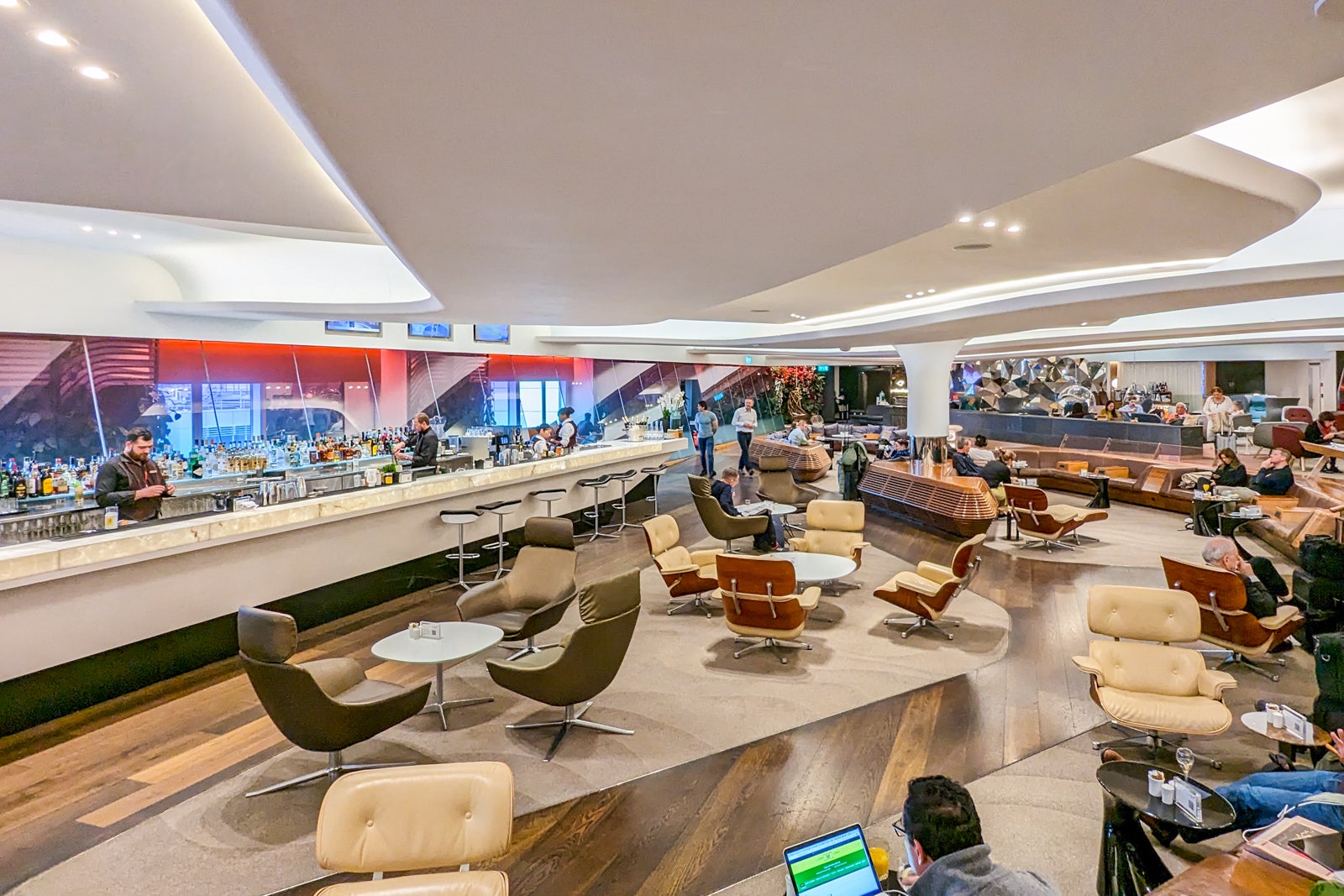 The entertainment screens are massive
Along with the impressive 79-inch lie-flat bed and 22-inch seat width, my favorite feature of the Retreat Suite was the crisp touchscreen displaying Virgin's Vera inflight entertainment system. At 27 inches wide, it was significantly larger than the 17.3-inch ones found in the rest of the Upper Class cabin, and is more like a screen you might have in your living room than on an aircraft.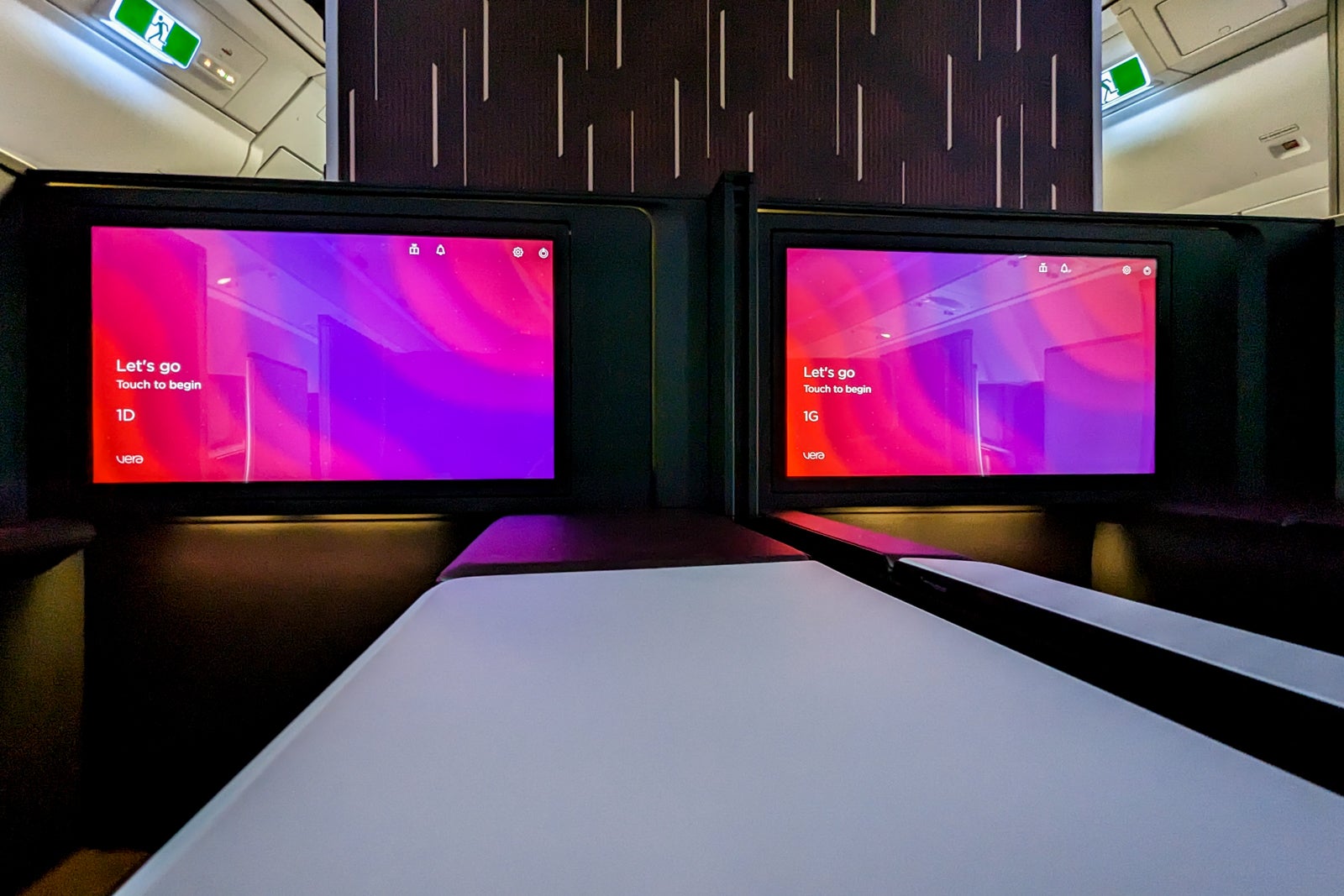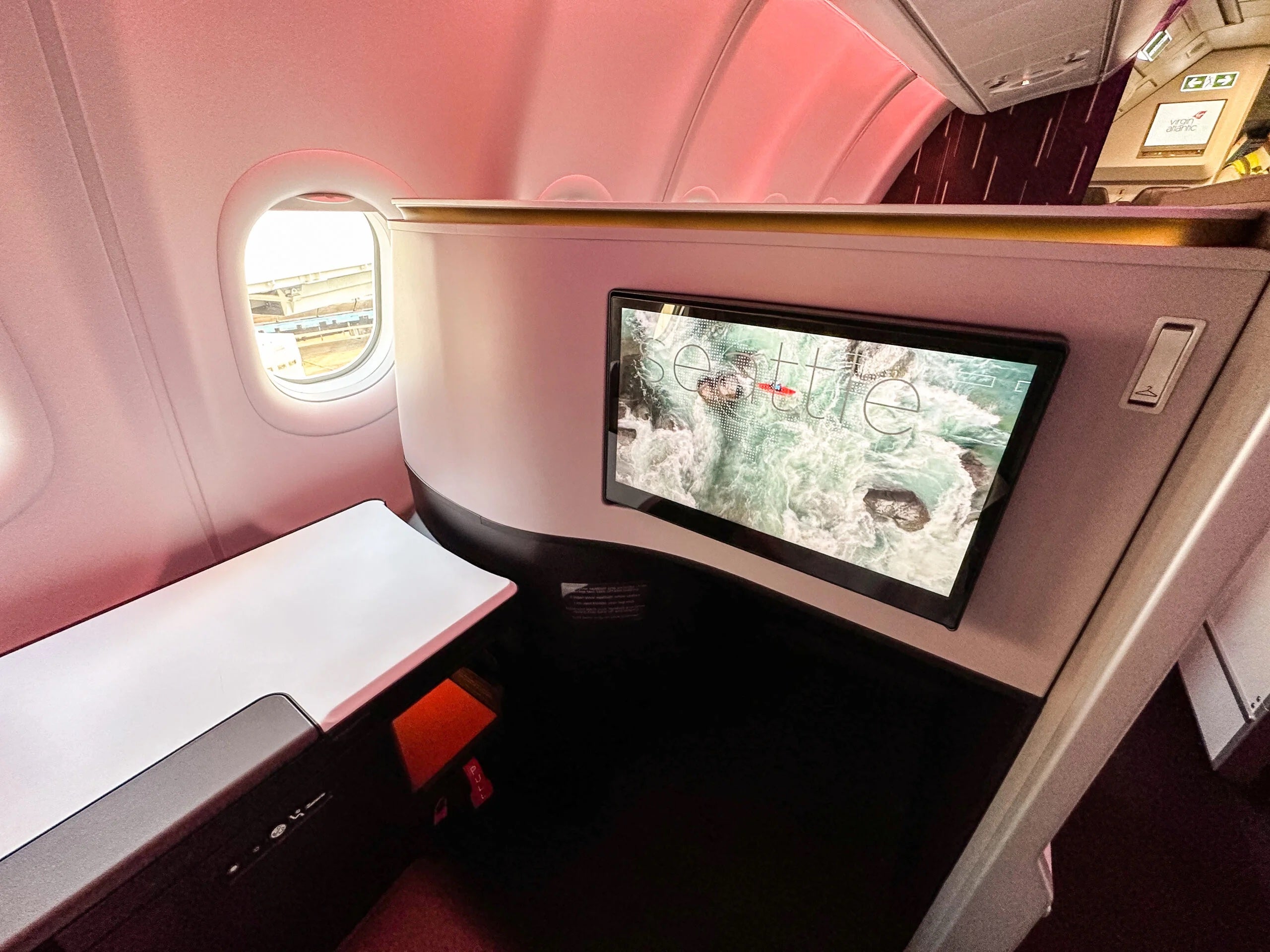 All of the Upper Class seats, including the Retreat Suites, have remote controls for the inflight entertainment system with a fun trackpad to control the cursor. There was a wide range of more than 100 movies and almost 100 television shows, including dozens of popular new releases and an interactive inflight map.
Wi-Fi was available throughout the flight, with pricing from 2.40 pounds (about $2.60) for a messaging-only option up to 16.80 pounds ($18) for the full-flight option, with decent speeds of 18 Mbps download and 6 Mbps upload.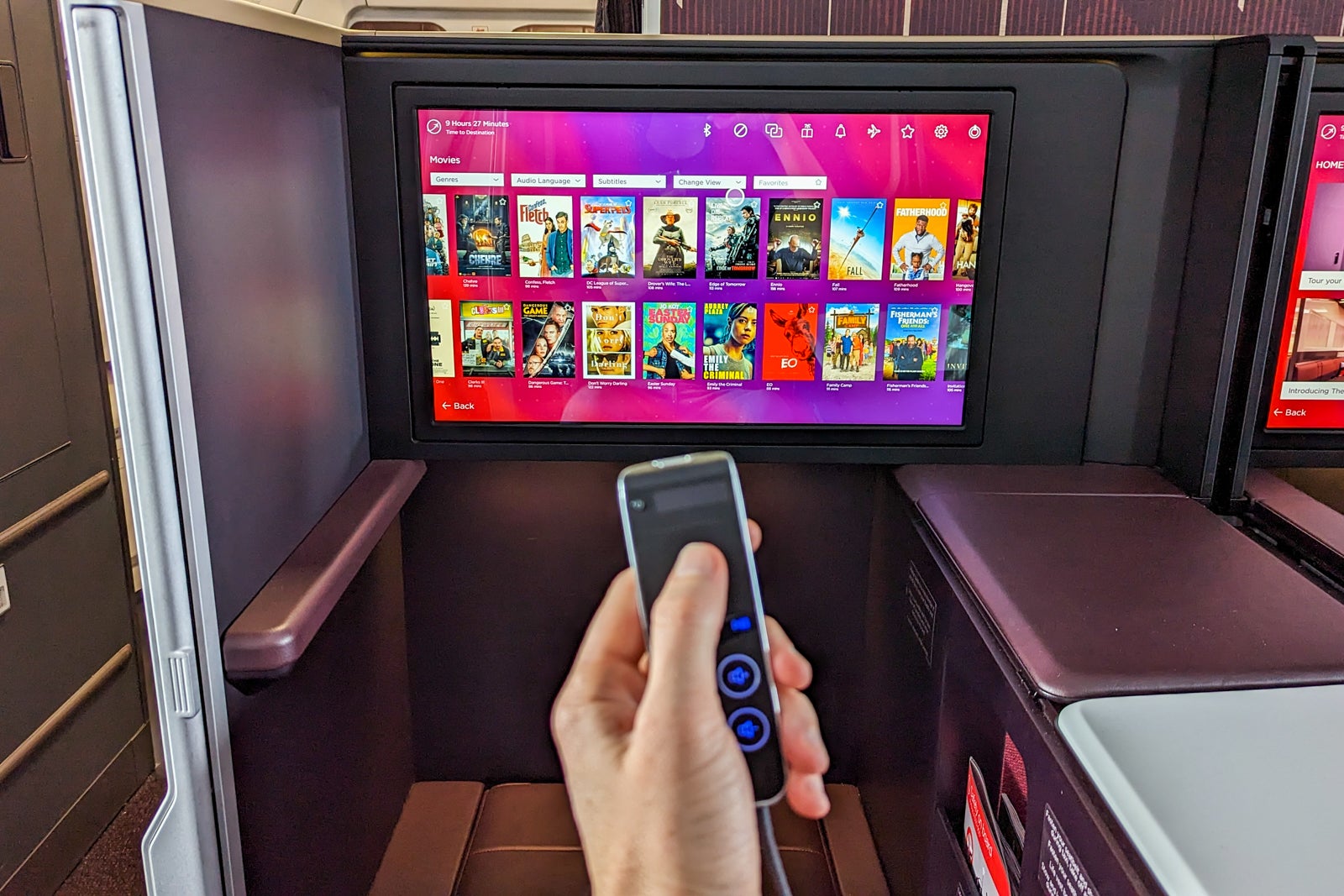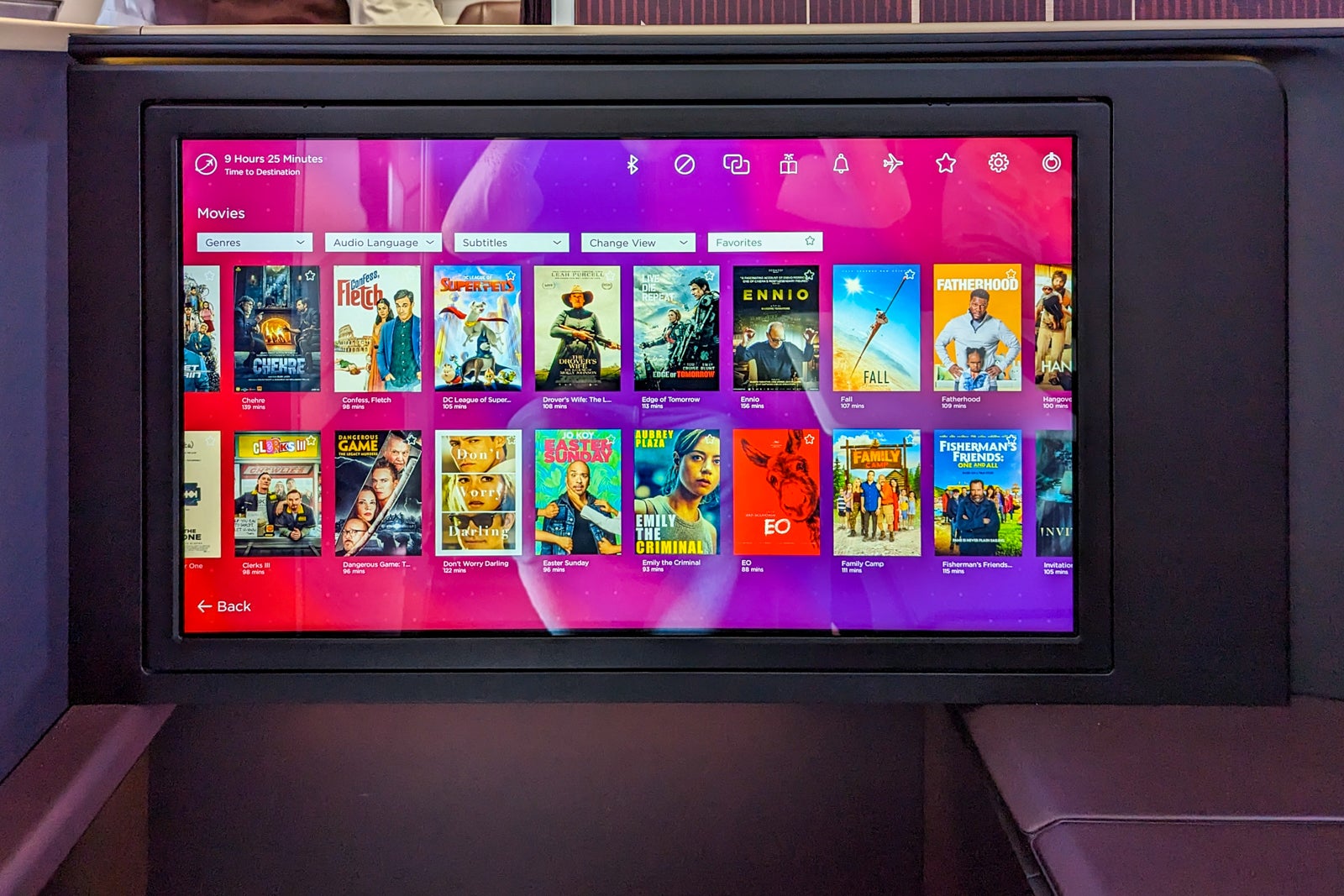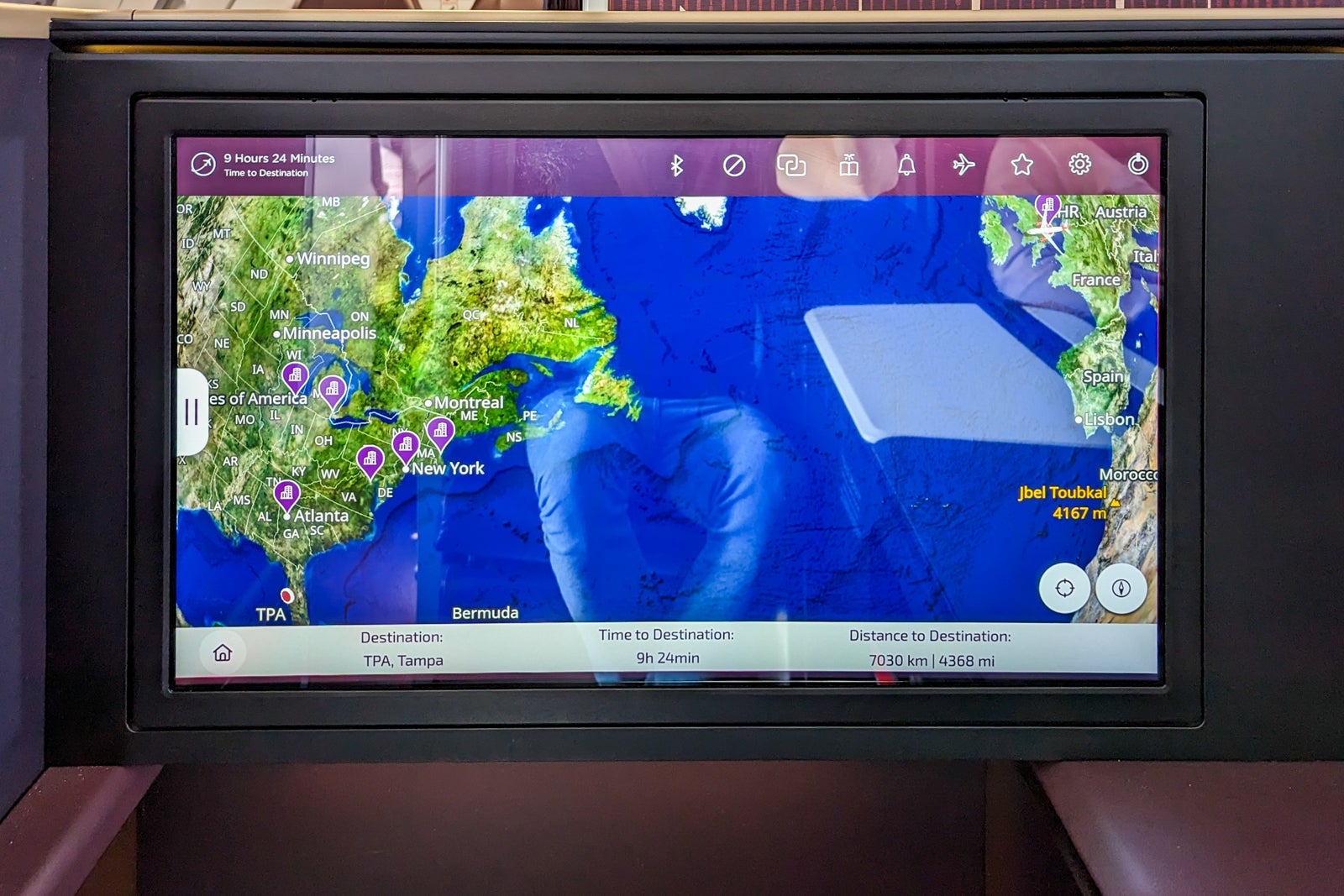 Retreat Suite passengers can also enjoy a reading light; USB-A, USB-C and universal charging points; and wireless phone charging, all housed in the back right-hand side of the suite. All you need to do is place your phone on the lightning bolt icon on the back of the right armrest, and it will commence charging immediately if it's compatible. The sheer amount of personal space and impressive tech is among the best of any business-class seat.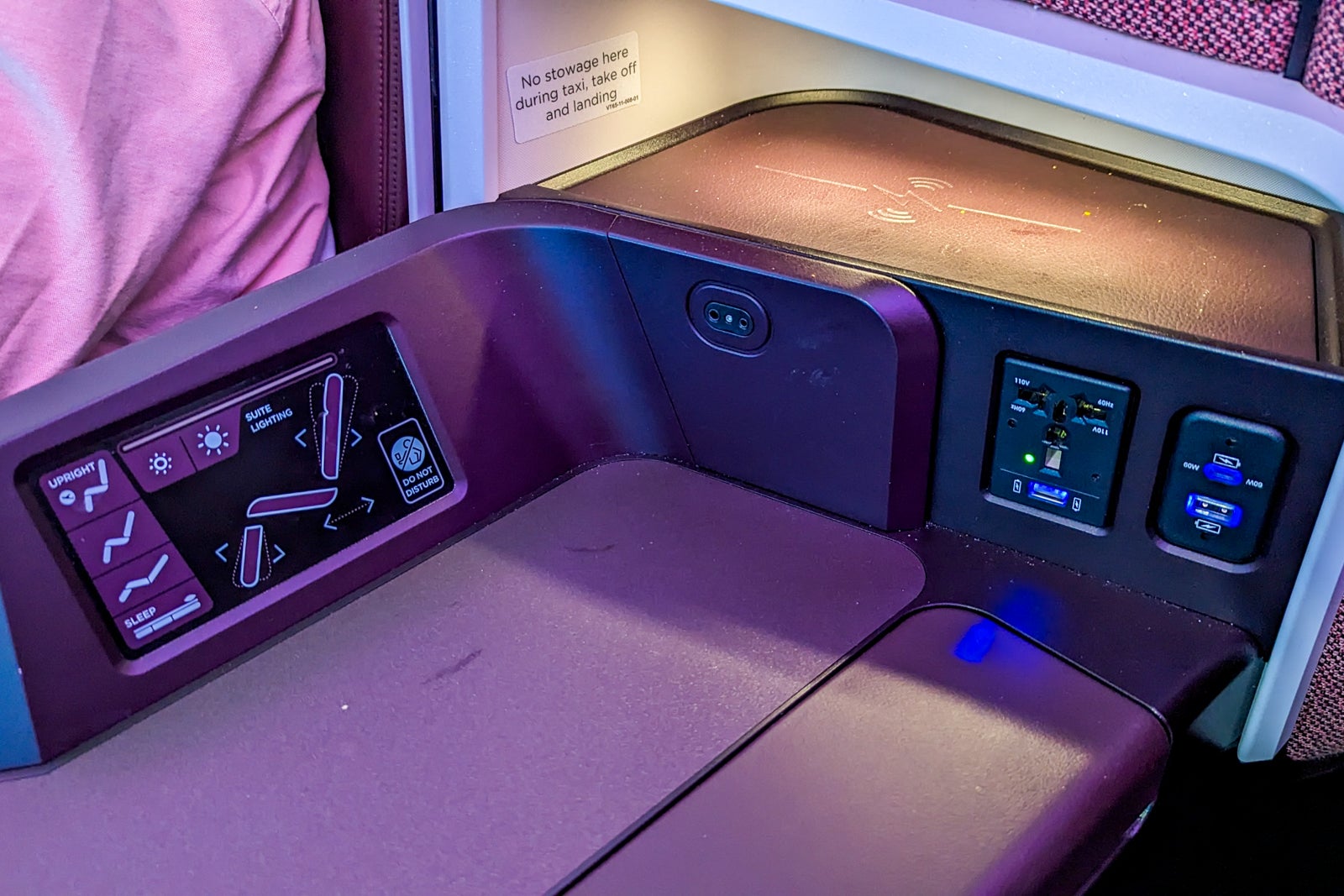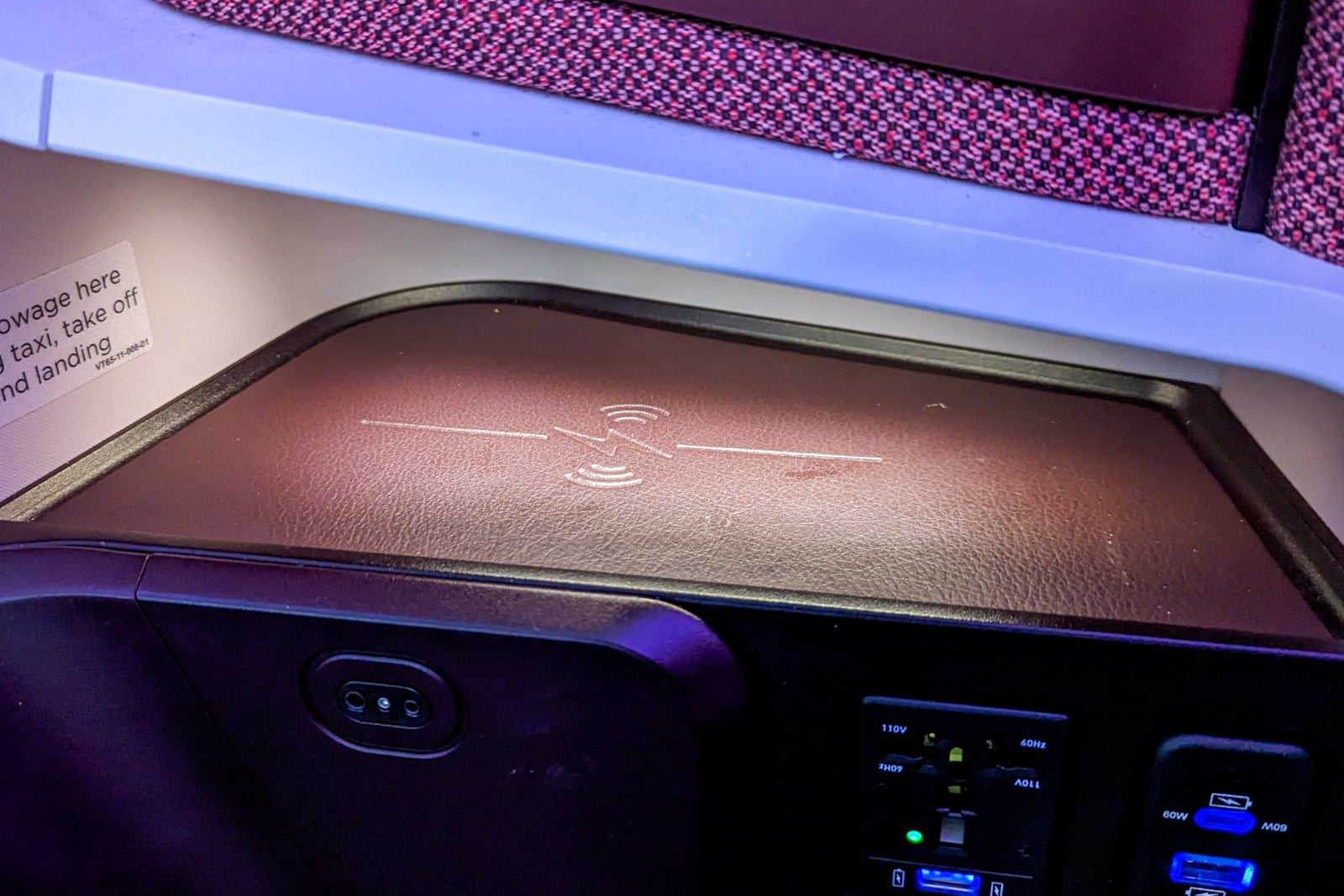 The Retreat Suite amenities and meals are the same as for the rest of Upper Class
Though the Retreat Suite passengers have much more personal space and a larger inflight entertainment screen than other Upper Class passengers, the rest of the experience is the same as in business class on all Virgin Atlantic flights. There was a basic amenity kit made from crumpled recycled paper that was sustainable but not stylish. Inside was a biodegradable bamboo toothbrush from BambuuBrush and REN toiletries. A mattress pad, thick pillow and duvet were also provided for this daytime flight.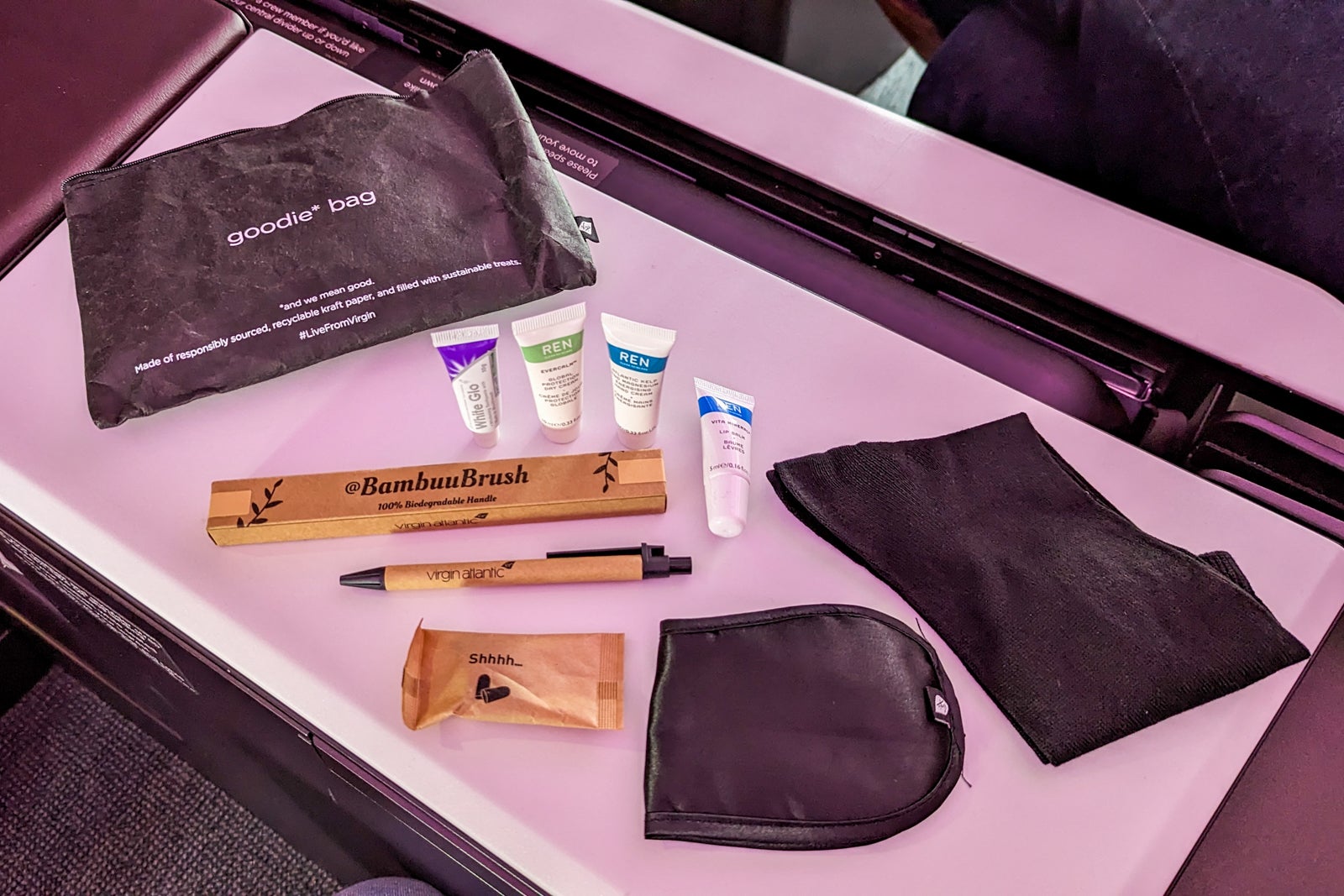 Chanoine Freres Reserve Privee Brut Champagne, retailing at around $45 a bottle, was served during boarding, as well as juice and water.
Lunch service began shortly after takeoff with more Champagne and Hambledon English sparkling wine, prosecco and a choice of two different white and red wines, along with a bowl of potato chips.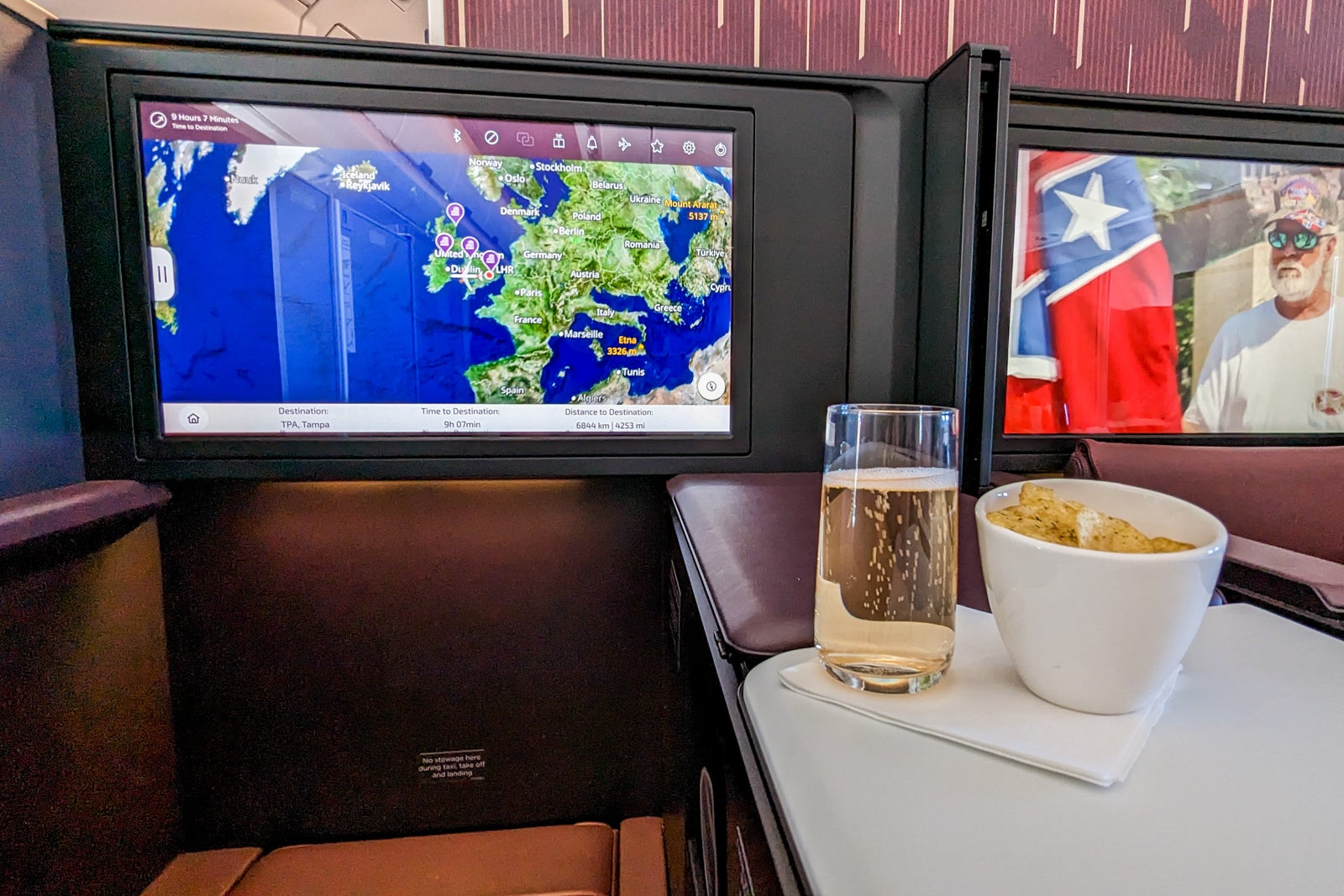 For lunch, I chose an appetizer called "textures of beetroot" with goat-cheese mousse, warm artisanal bread and an entree of miso- and sesame-crusted salmon with sweet potato puree, bok choy and a honey-ginger sauce. I opted for a very British warm sweet brioche bread and butter pudding with fresh cream for dessert.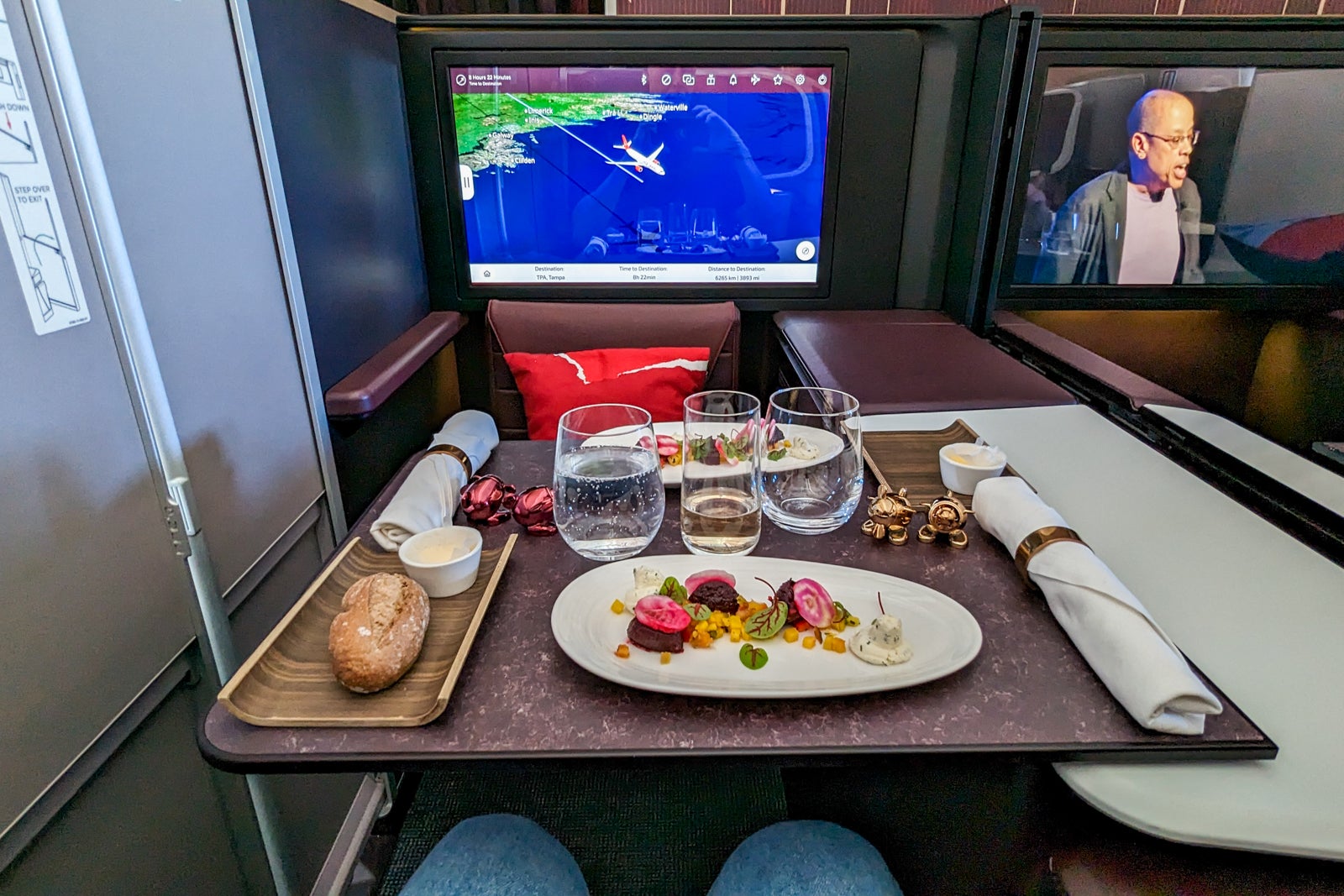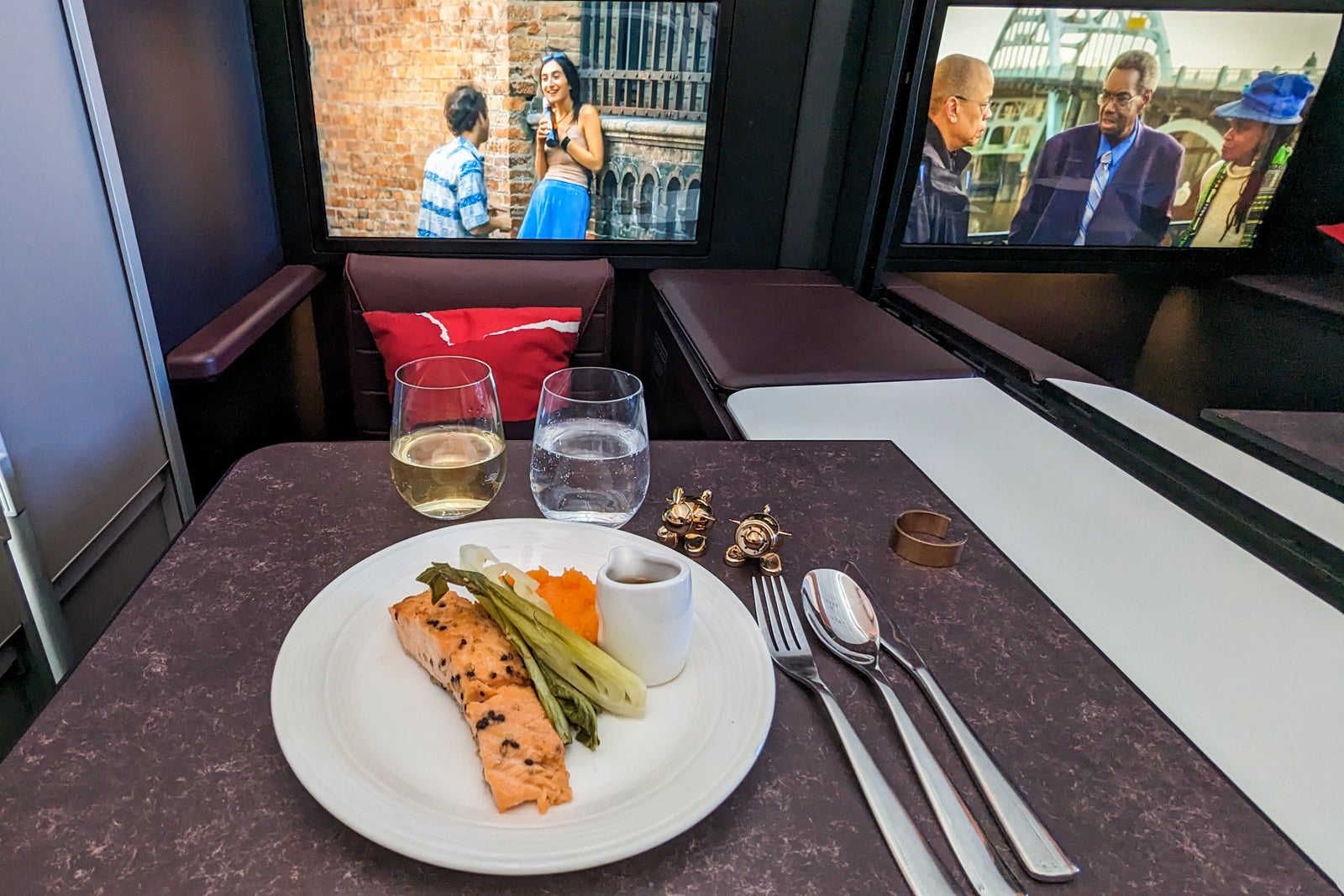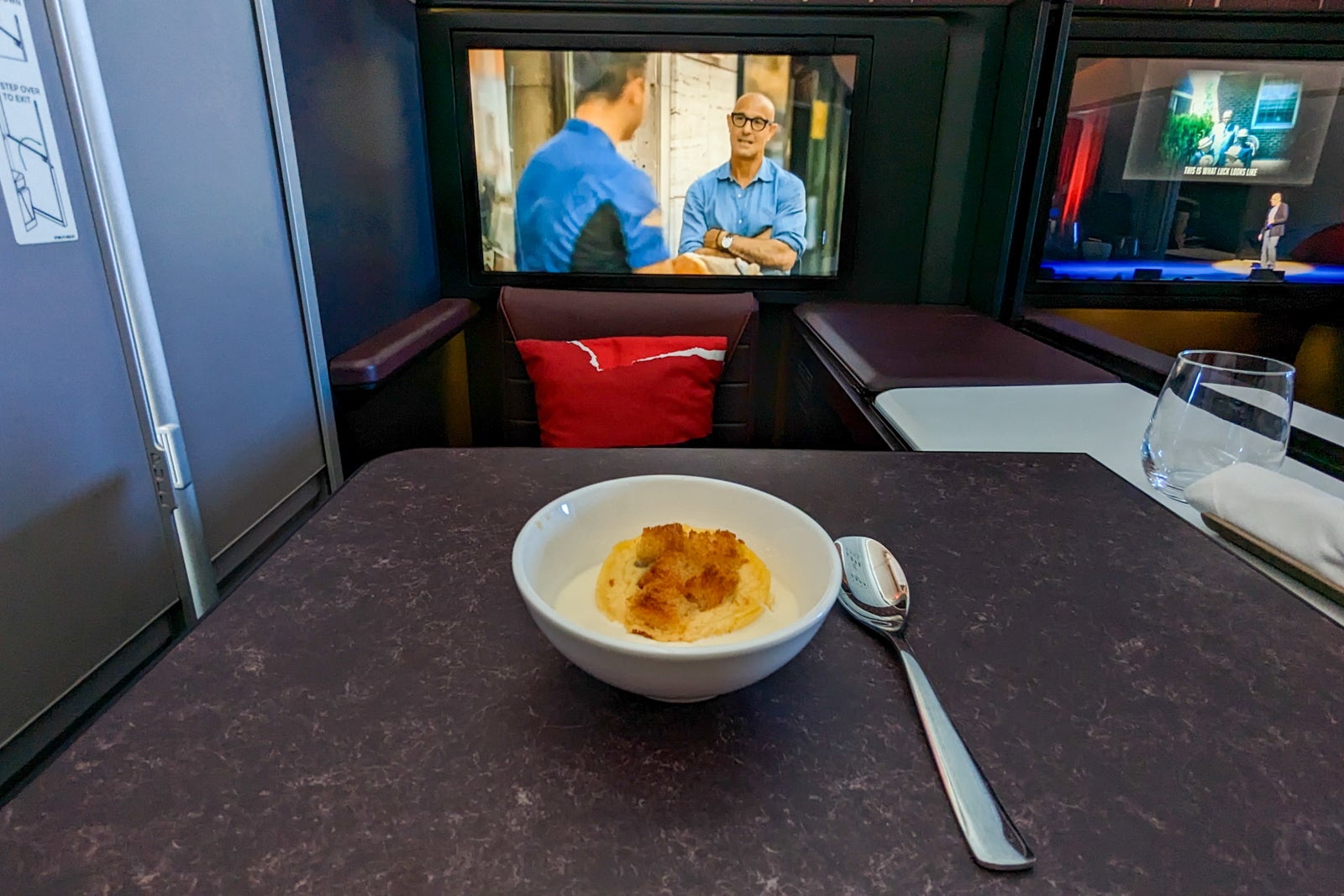 All three dishes were elegantly plated, served at the correct temperature and pleasing to the palate. I especially enjoyed the combination of the honey and ginger sauce with the salmon.
Rather than a regimented second meal service, Upper Class (including Retreat Suite) passengers were encouraged to order from a choice of small plates at any time until 45 minutes before landing. I had the chicken Caesar club sandwich and the chickpea fritter and vegetable samosa. While not as memorable as the lunch service, they did the job of satisfying my hunger until landing.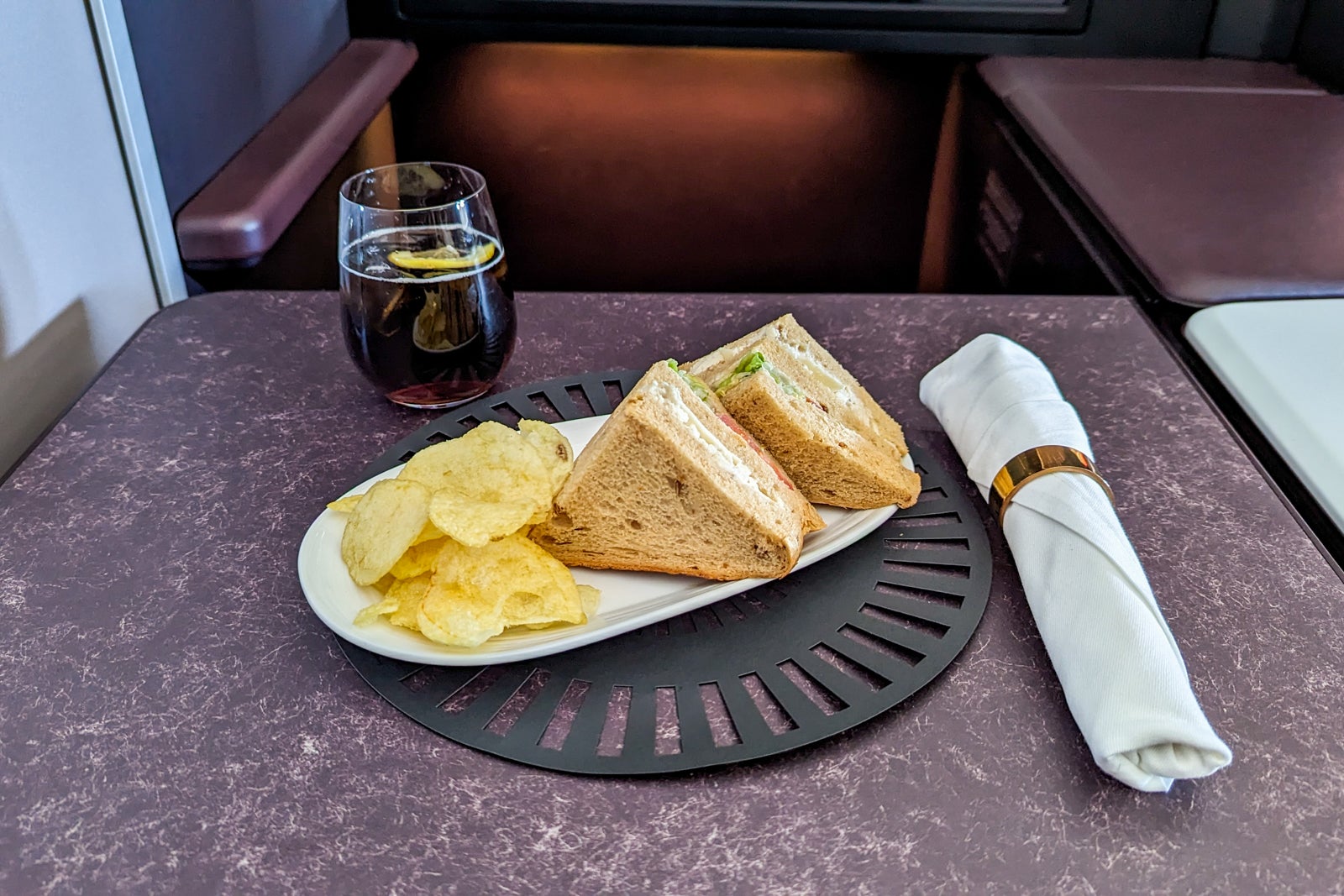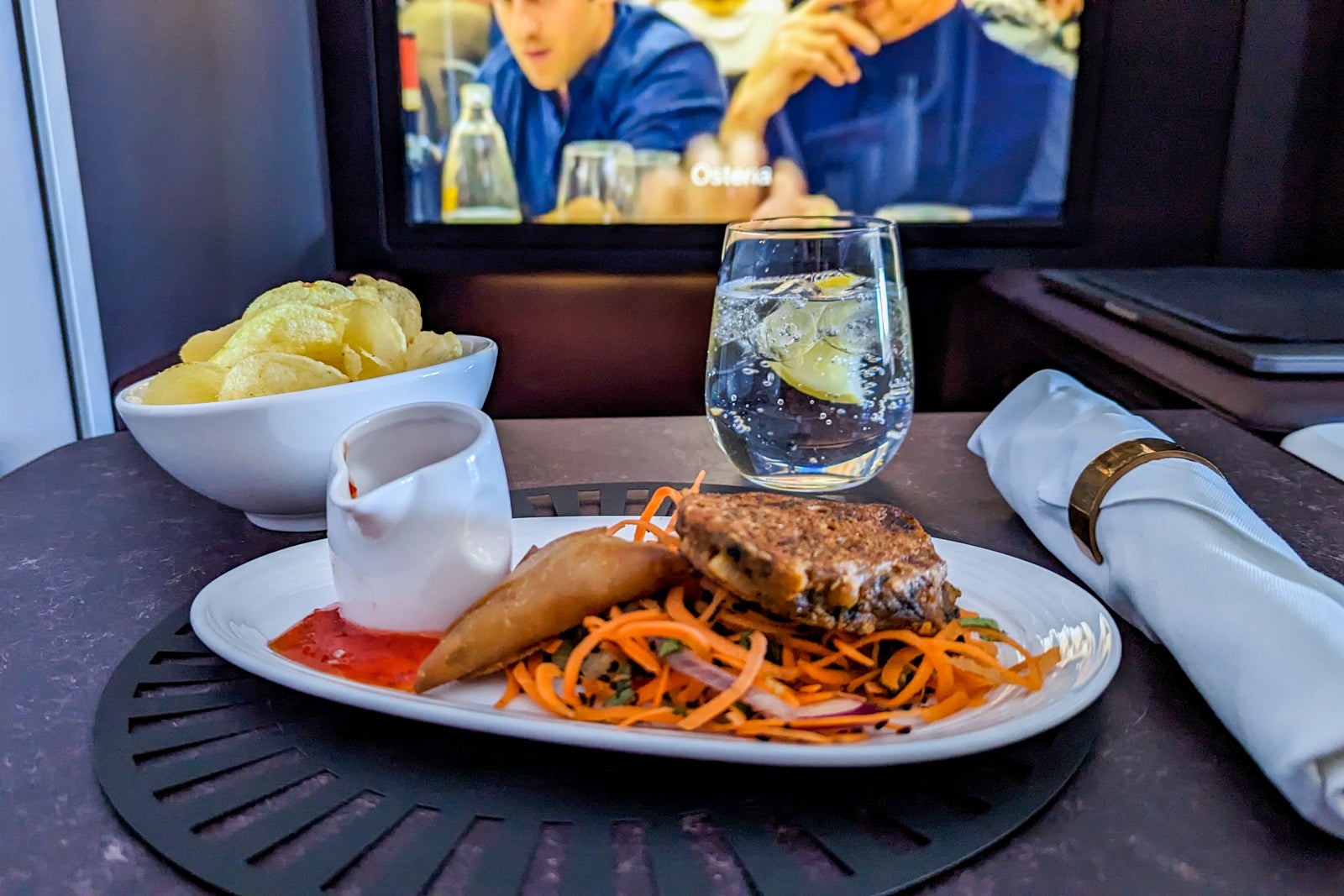 You can dine with a companion in Retreat Suites
One of the features of the Retreat Suite that you won't find in any other seats on the A330-900neo is the ability to dine with a companion. The crew can raise the suite's footrest to form a seat with its own seat belt if turbulence strikes. Two passengers can face each other, and there's just enough room on the tray table for two place settings at mealtimes.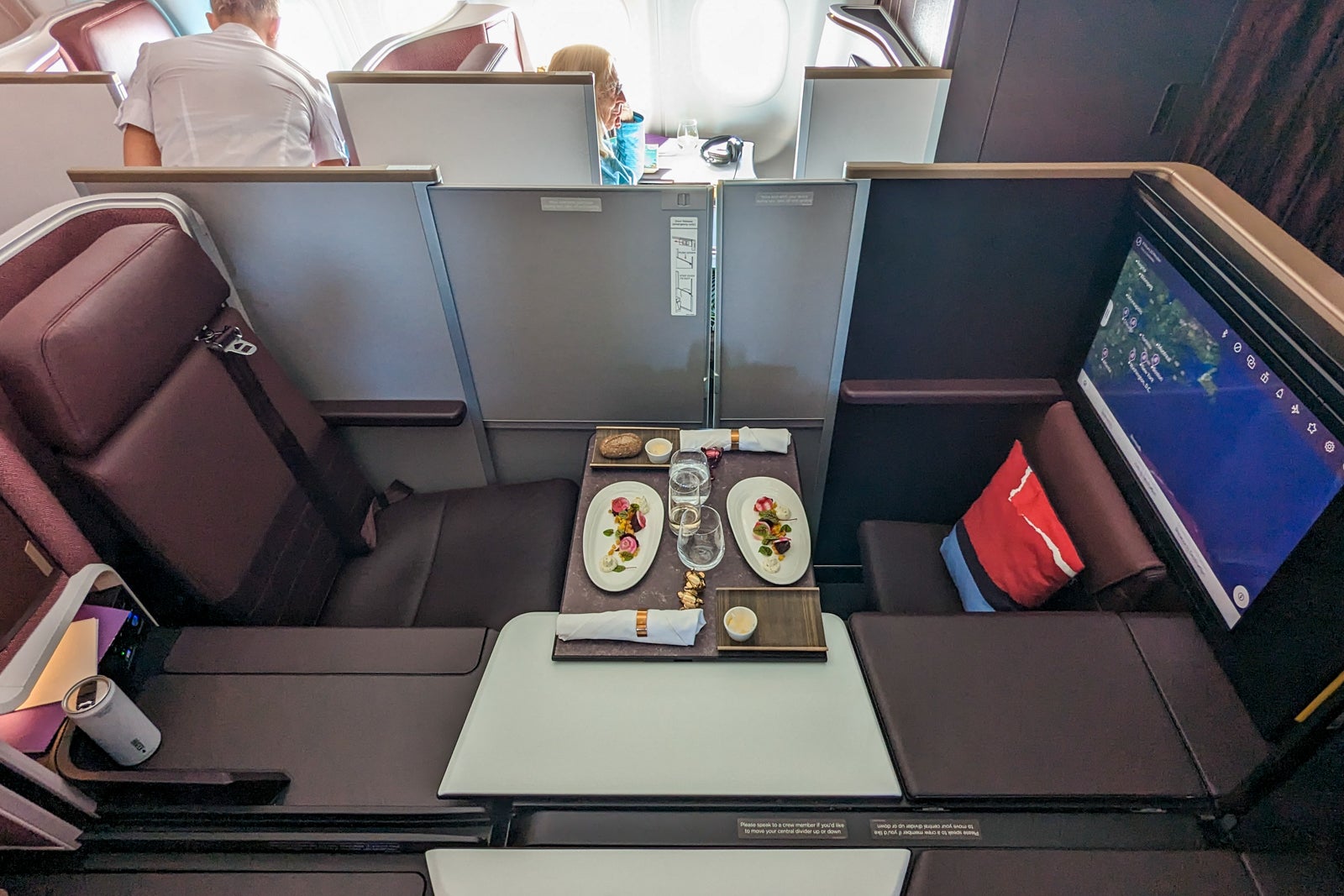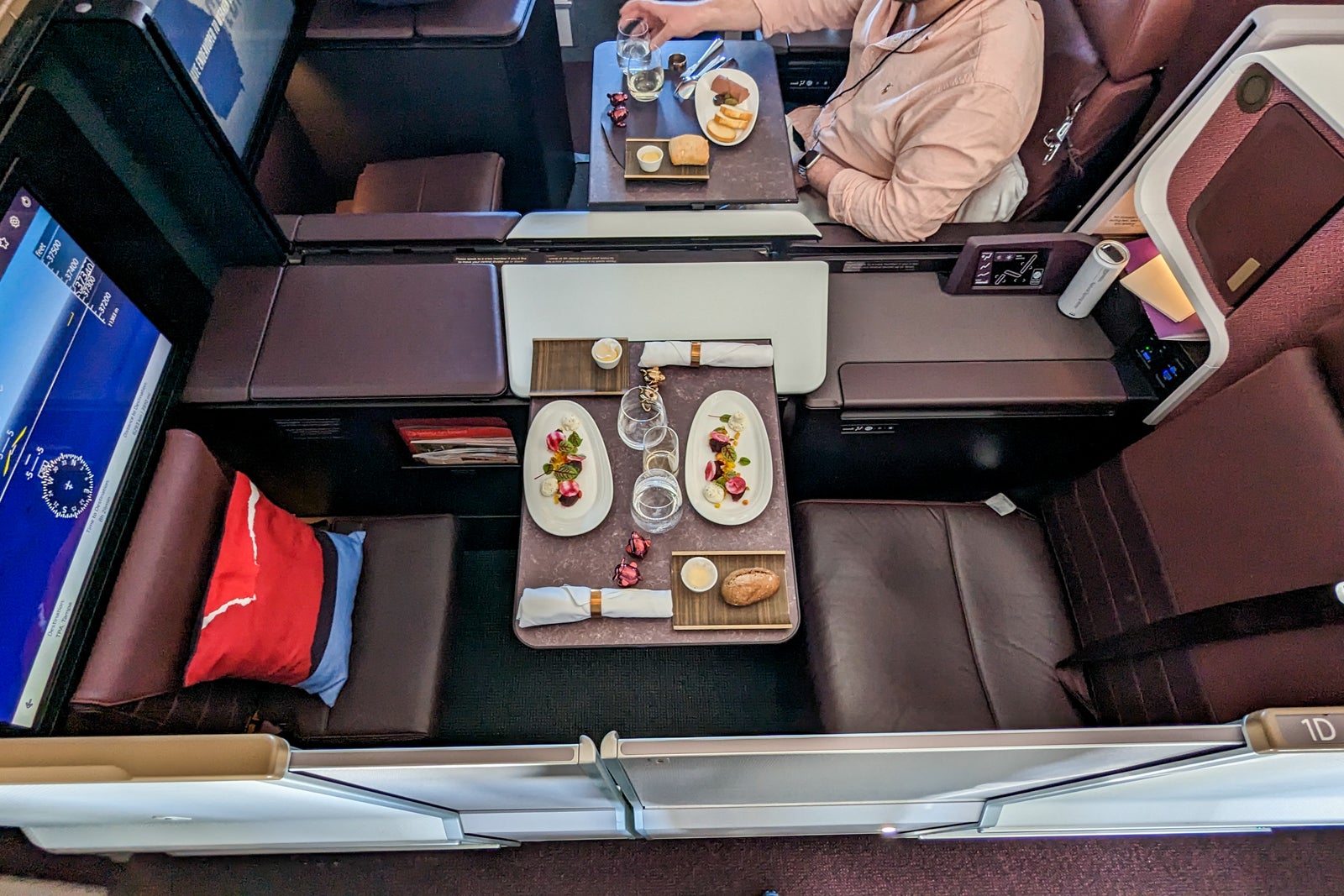 When two passengers are traveling together in the two Retreat Suites, I would argue it is still more comfortable to sit side by side with the center divider down, as the legroom is a bit tight with two passengers facing each other. If you have a friend or family member traveling in a regular Upper Class seat (perhaps because only one Retreat Suite was available to reserve), dining with a companion is a unique experience. Passengers seated in economy or premium economy are not permitted in the Retreat Suites.
Virgin Atlantic Retreat Suites already suffer maintenance issues
Virgin Atlantic only started flying its A330-900neos about five months ago, so seeing and hearing of several maintenance issues the Retreat Suites are already suffering from was worrying.
The passenger in the Retreat Suite next to me was as excited as I was to fly in one of the suites, having booked it specially. He was supposed to be flying to Miami that day, but had been advised by Virgin that the 1G Retreat Suite on his original aircraft was inoperable and he would have to move to a regular Upper Class seat. Instead, he managed to move to my flight to Tampa to reserve the second Retreat Suite on it instead.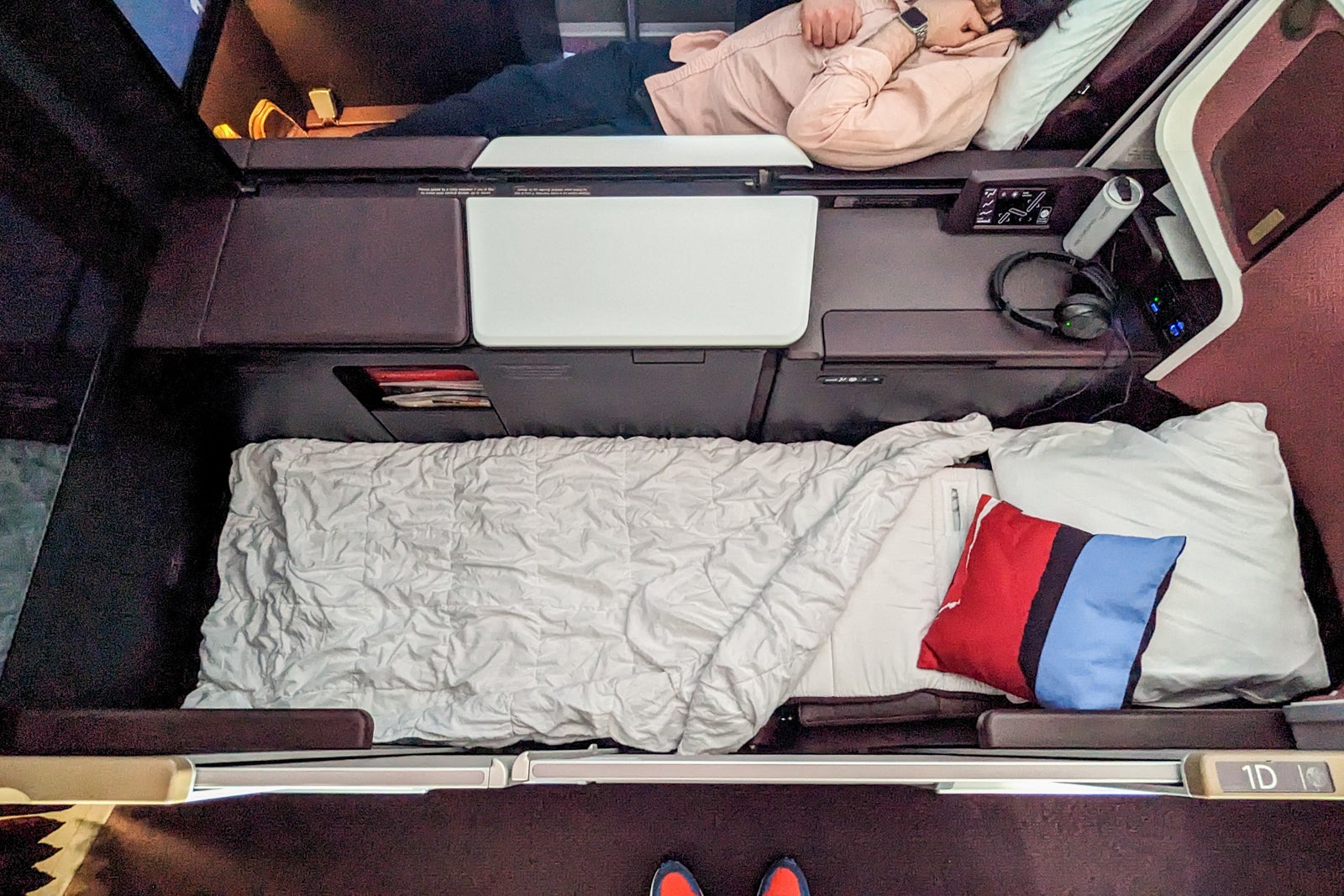 While he got the seat experience, it was still not quite the full effect. Try as they might, the crew could not raise the divider between our two Retreat Suites for the entire flight and admitted the numerous mechanical moving parts in the seats were prone to breaking down. This made the seat far less private than designed. With these issues arising after just a few months of flying, I can only imagine the problems these seats might have a few years from now.
Virgin's A330-900neo social space is uncomfortable
Virgin is well known for its onboard social spaces. The older Airbus A330s, as well as the Boeing 787 Dreamliners, feature a bar at the rear of the Upper Class cabin where business-class passengers can stretch their legs, mingle with each other and enjoy a made-to-order cocktail. It is a fun way to pass the time on long flights.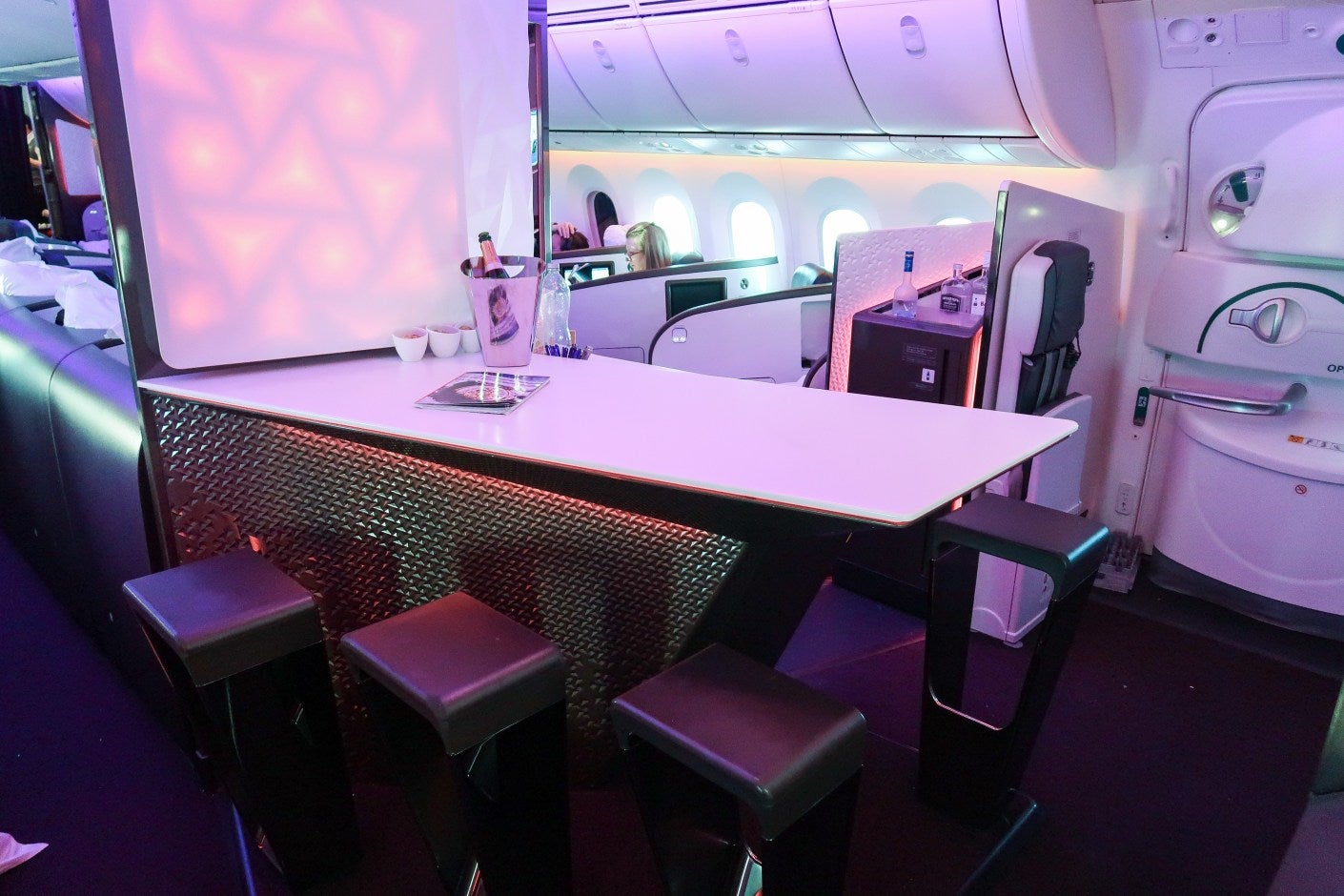 On the airline's newer Airbus A350 aircraft, Virgin instead decided on a different concept for the space, which they named The Loft.
More of a lounge than a bar, it features banquettes with space for several people and seat belts, allowing passengers to stay there even when the seat belt sign is on, plus a large entertainment screen. It can display a moving map, but it can also show movies and TV shows, allowing Bluetooth connections to listen to audio. On the leisure-configured version of the A350 with only four rows of Upper Class, there is no need for such a large social space, so Virgin instead has The Booth, a smaller space for two passengers to socialize, dine or work.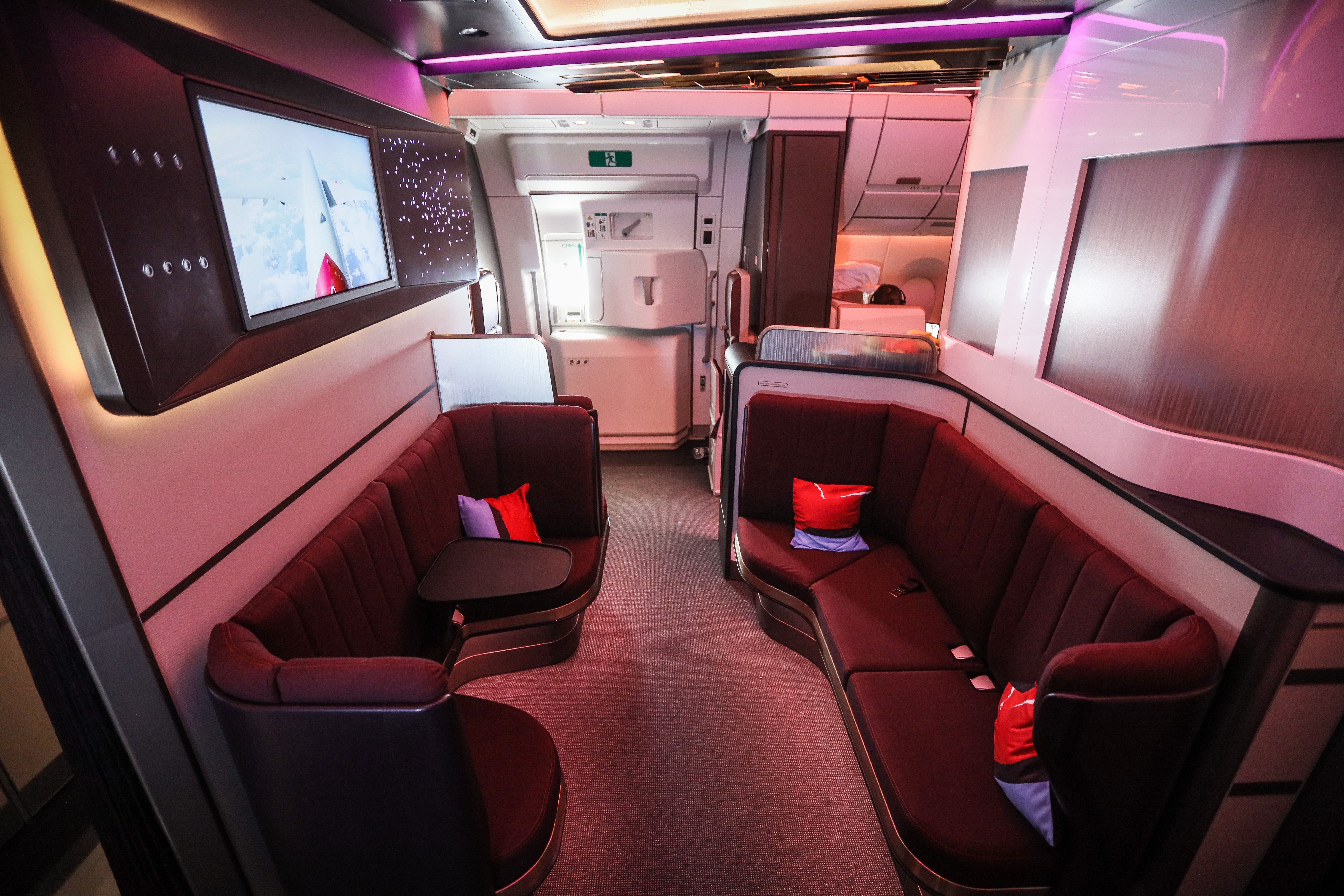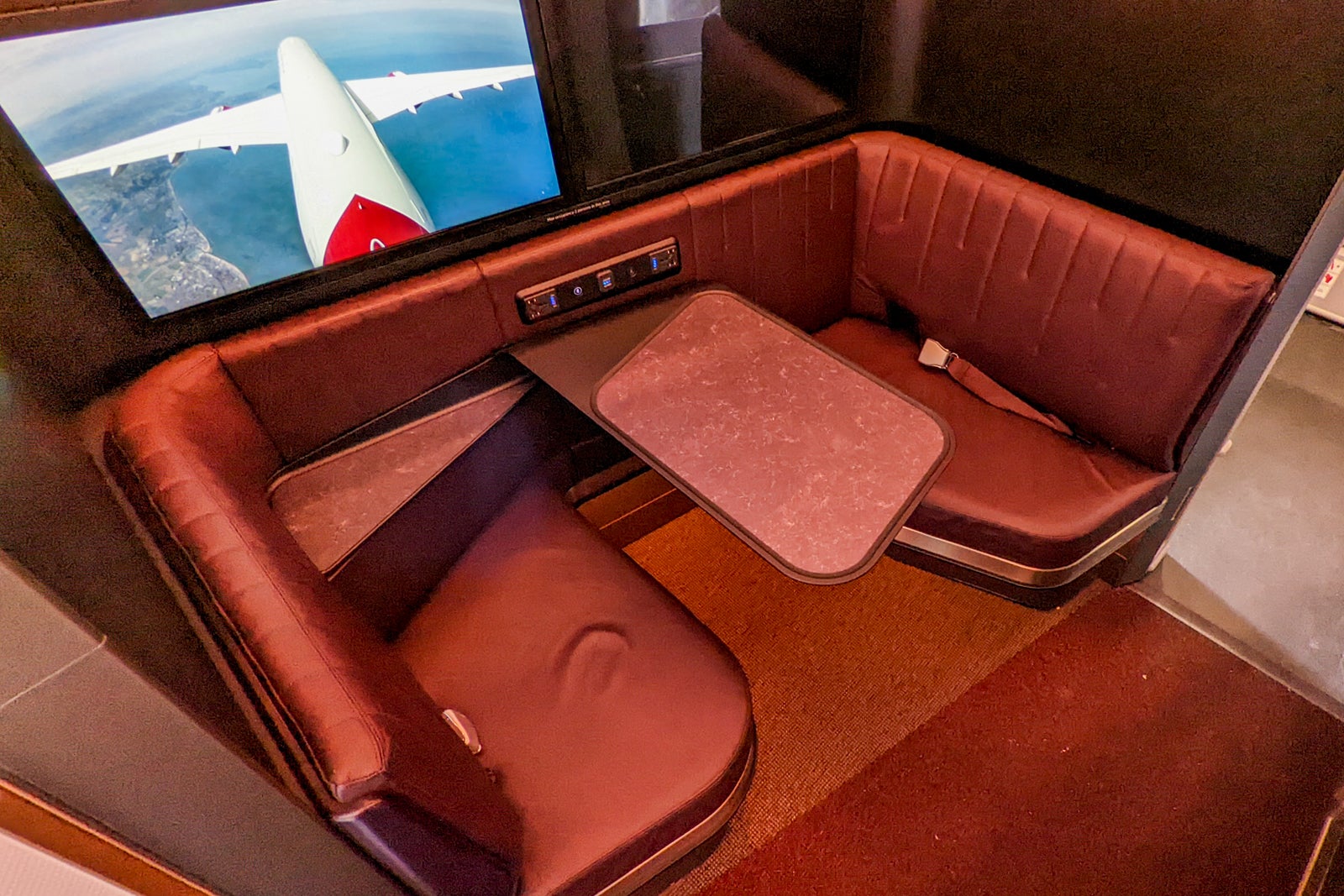 On the new A330-900neo, Virgin has a modified new social space at the rear of the Upper Class cabin, also named The Loft. The crew advised me the area has space for four people to sit and four people to stand, and features self-service fridges containing canned wine and cocktails and ice cream cups to encourage passengers to hang out and socialize.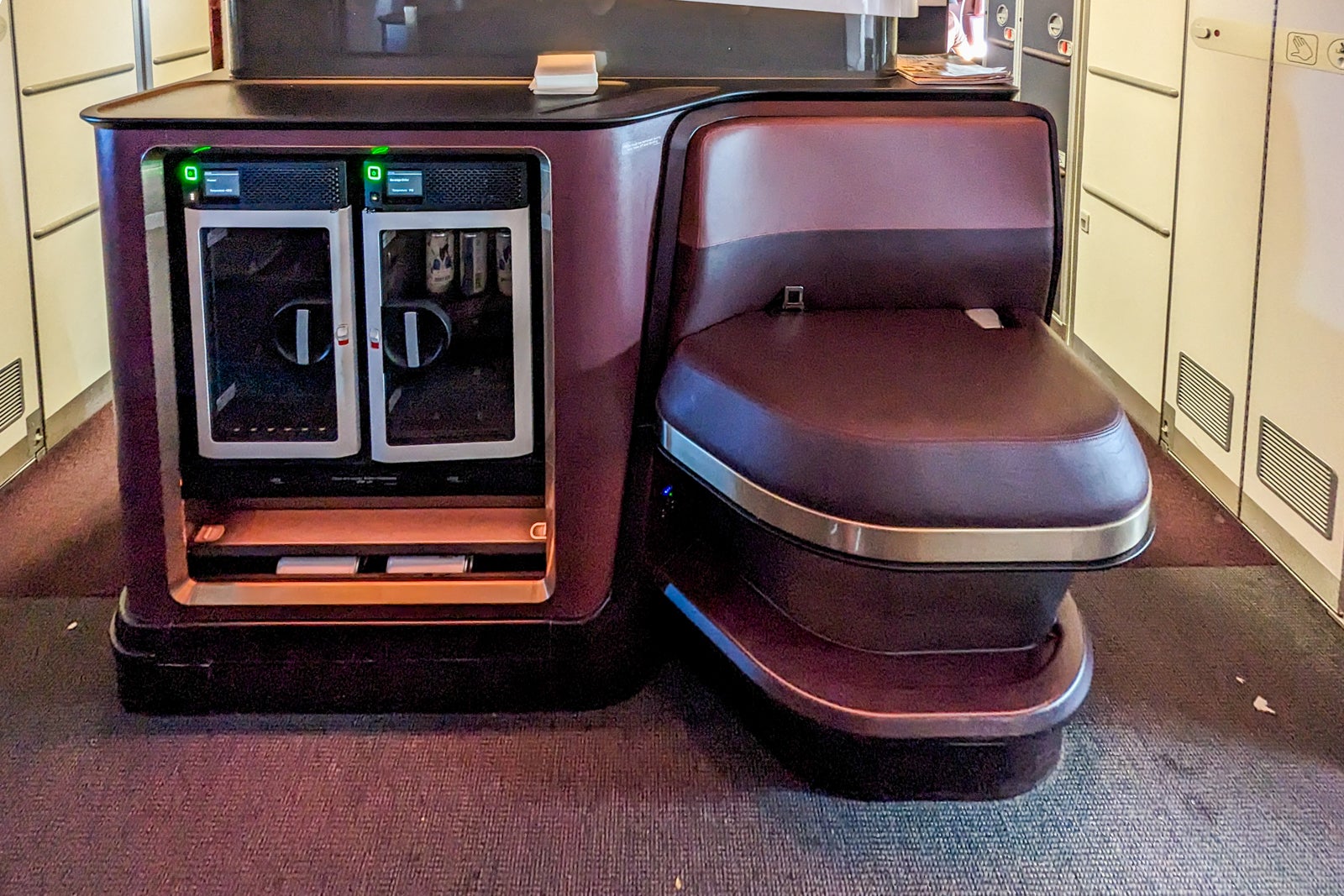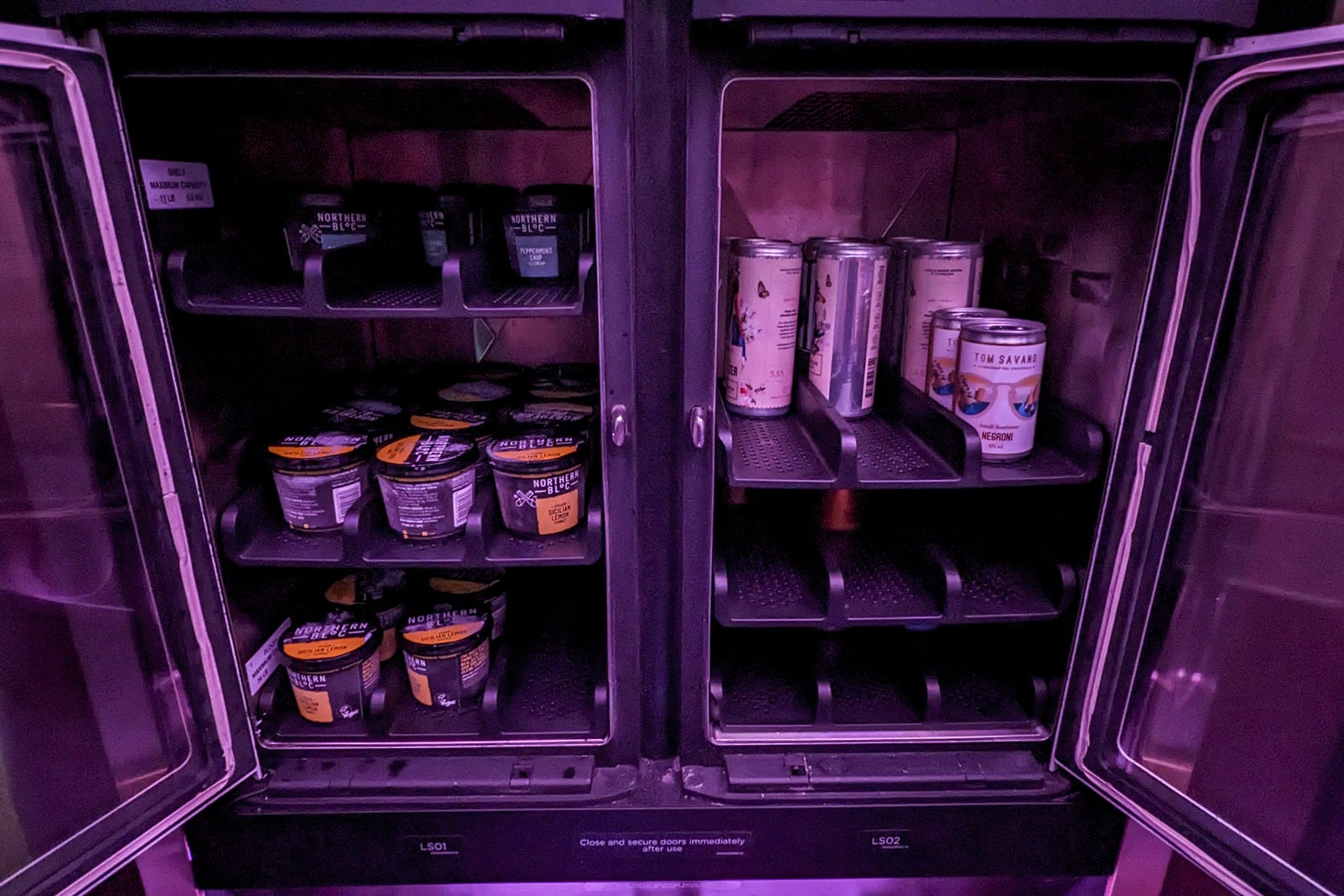 The seats in the A330-900neo Loft are higher than those on the A350, and there's a reason for that. Virgin explained to TPG last year that passengers seated in The Loft love interacting with both the crew and other passengers mingling about the cabin. Having higher seats allows them to be closer to the eye level of those standing around them.
Unfortunately, the seats in The Loft on the A330-900neo are too high and too shallow to be comfortable and were barely used during my nine-hour daytime flight to Tampa. What makes the design even worse is that most of the seating is at the front of The Loft, facing the rear of the plane. Because aircraft fly at a slight incline, these seats are angled slightly downward while airborne, making them feel a bit precarious.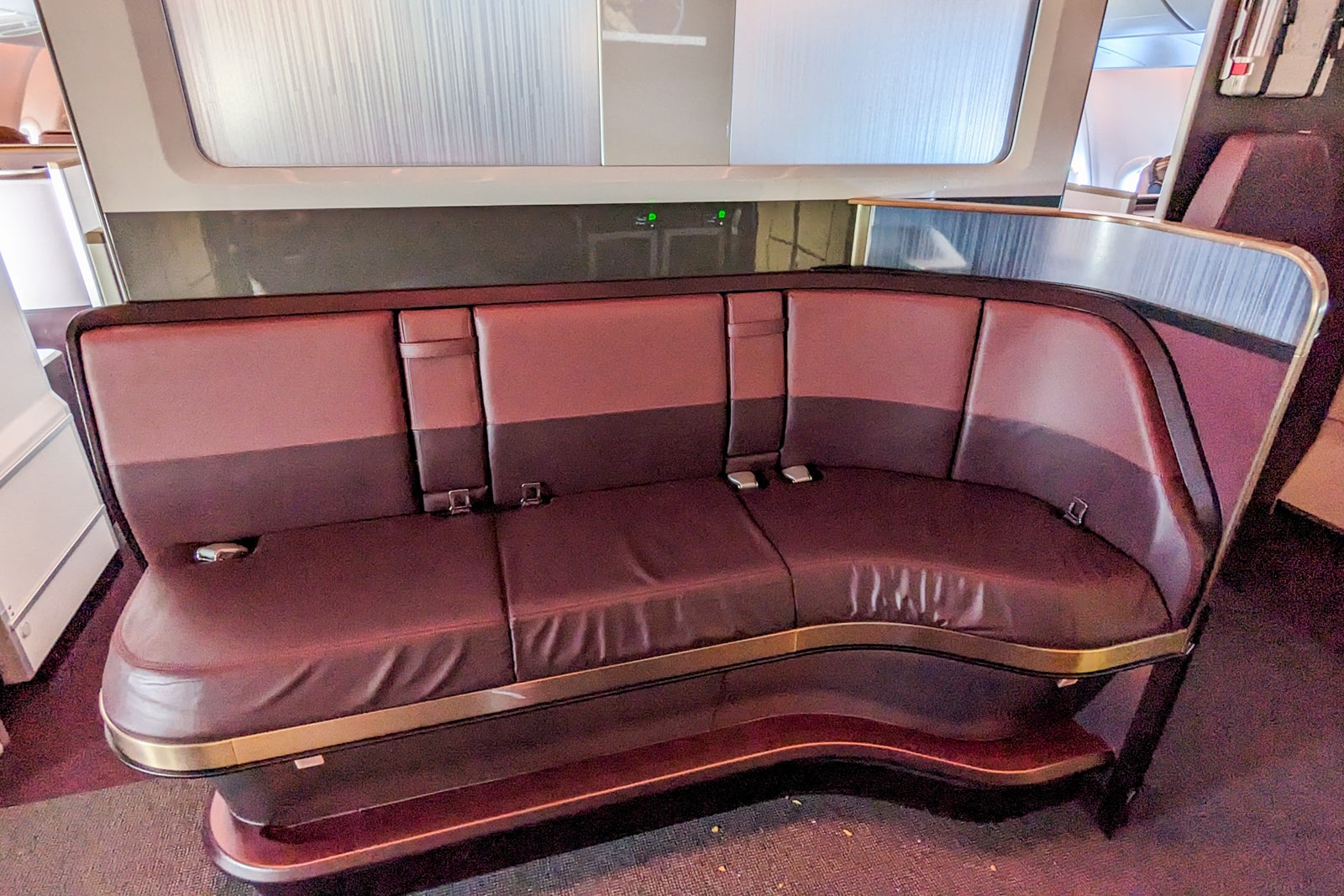 After five minutes perched on these seats, I was ready to head back to my Retreat Suite rather than mingle with a mix of passengers and crew members.
Virgin Atlantic Retreat Suites are still worth the surcharge
I've flown Virgin Atlantic's Upper Class numerous times on numerous routes, and it is a consistently solid, enjoyable experience.
My flight to Tampa on the new Virgin Atlantic A330-900neo was no exception. The food was tasty, the Champagne chilled and the service professional yet friendly. It's true that, beyond the spacious suite itself, the rest of the experience, from the airport lounge to the food and beverage to the service, is exactly the same as regular Upper Class passengers receive.
However, the Retreat Suite is noticeably better than the A330-900neo's Upper Class suites, with a much larger entertainment screen and the opportunity for dining with a companion, plus plenty of space for your legs and feet in lie-flat mode so that sleeping is more comfortable than in the seats.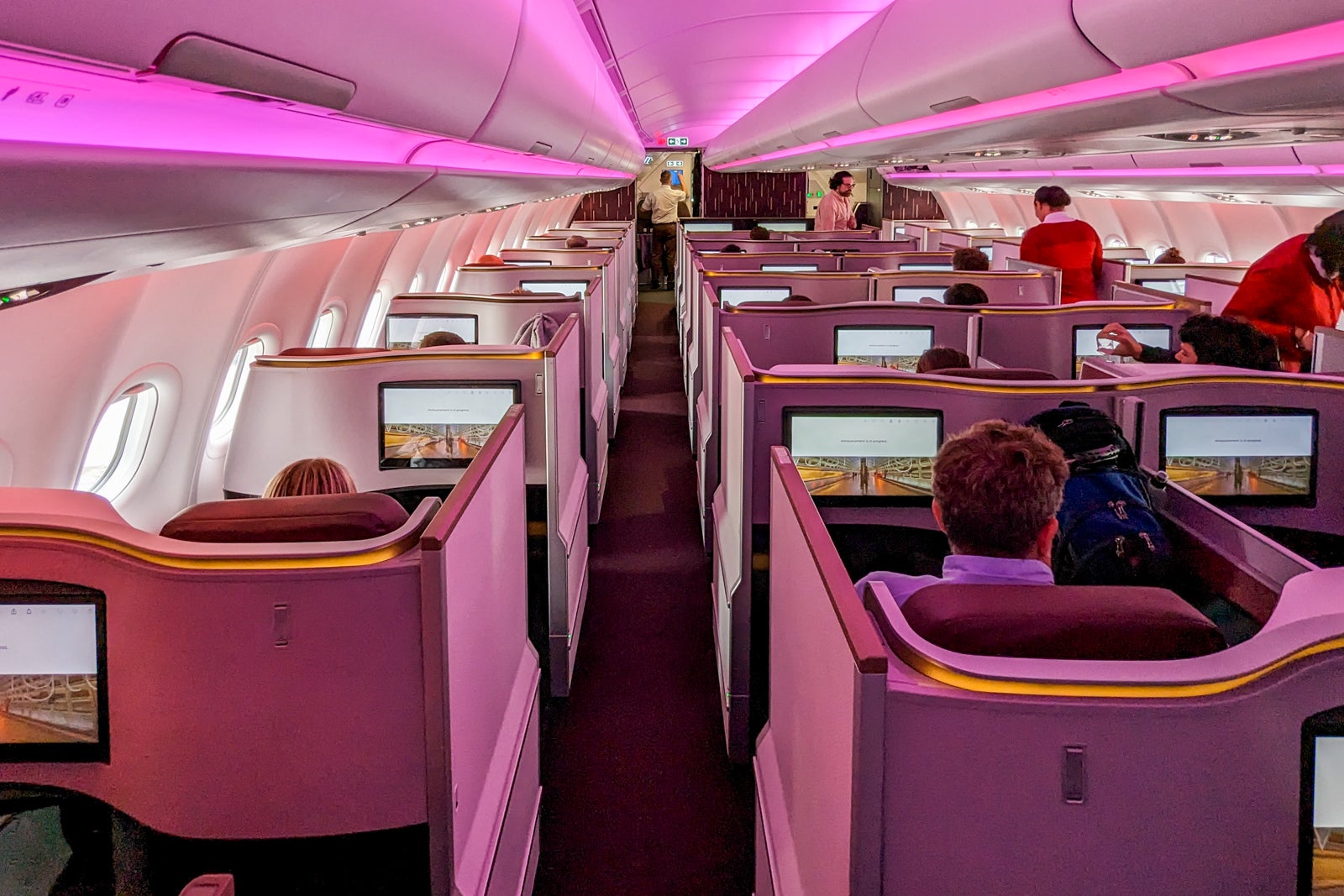 Mechanical issues aside, Virgin Atlantic's Retreat Suite is arguably the best all-around business-class product flying across the Atlantic at the moment, and worth the surcharge of 200 British pounds for a nine-hour flight, especially if you are traveling for a special occasion.